This whole thing started while I was thinking about making some more Sweet Potato Hummus. Since I've been looking for ways to use up the plain Chobani that I have left in my fridge, I contemplated mixing that in. Then I thought that sounded pretty gross. I like the idea of mixing in guacamole but hummus? Not so much. But I really wanted the sweet potato.
Hi, my name is Lindsay, and I'm addicted to sweet potatoes.
I started thinking about what I could mix with the sweet potato and Greek yogurt and I settled on a red pepper. They were on sale for $1 each at the grocery store a couple weeks ago and I may or may not have bought 10 a few. I decided roasting the red pepper was in order so into the oven it went. I poked some holes in a sweet potato and stuck it in the microwave for 6 minutes.
Then into the food processor it went. I added about half a container of the yogurt…and then I got a little crazy and just dumped the whole thing in.
After the first mixing, I added the juice from one lemon, some paprika and some cayenne pepper.
Then, as usual, I added more cayenne pepper.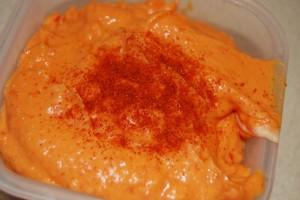 Then I started thinking hmm…these ingredients are suspiciously similar to what I use to make my curried roasted sweet potatoes. Except the curry powder was noticeably absent. Not gonna lie, I was a little nervous about what that would do to my lovely dip, so I scooped out a little bit (so I wouldn't potentially ruin the whole batch), dumped in some curry powder and gave it a whirl. AND IT ROCKED.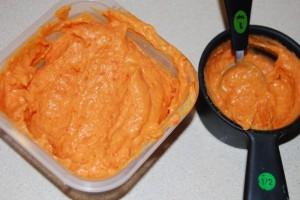 The sweet potato and roasted red pepper and pretty sweet. If you like sweet, you could definitely leave the curry powder out and enjoy it. HOWEVER, the curry powder really takes it up a notch. It helps cut the sweetness and gives it some heat. AND, it tastes just like my roasted sweet potatoes.
Here's the recipe. Give it a try!
Curried Sweet Potato & Red Pepper Dip
Keywords: food processor appetizer snack healthy vegetarian sweet potato greek yogurt
Ingredients (approx 1 cup)
1 medium sweet potato
1 red bell pepper
1 lemon
6 oz plain Greek yogurt
1 tsp paprika
1-2 tsp curry powder
1/2 -1 tsp cayenne pepper
Instructions
Preheat oven to 425 degrees. Place red pepper on a baking tray and roast until the skin is blackened and blistered, about 40 minutes.
Allow it to cool and remove the outer skin, stem and seeds.
Poke holes in the sweet potato with a fork. Microwave on high for 6 minutes, turning once half way through.
Slice the sweet potato open and scoop out the cooked potato.
Place the red pepper and sweet potato in a small food processor.
Add the greek yogurt and combine until smooth.
Add the juice from the lemon, and the spices to your desired taste and mix again.
Chill until cold, then serve with crackers or raw veggies.
So tell me, what's your favorite kind of dip?
Enjoy!
–Lindsay–