Tonight I have another family recipe for you! My mom used to make this meatloaf all the time when I was growing up. I never ate it. BUT, it wasn't because it wasn't good. I was just picky and hated pretty much everything that wasn't Cheerios 🙂
My sister loves this meatloaf. My parents love it. My husband loves it. I, in my wise older years, have come to like it. Trust me, it's a good one! While we were visiting my parents for Christmas, my dad suggested that I put it on the blog so that all of you could enjoy it to!
*If you've looked at my last few posts, you'll notice I've started putting a printable recipe at the bottom. This was a reader request and I'm doing my best. As you know, I don't usually measure things…so please understand that some of the recipes are not set in stone, I'm just giving you my best estimation on how much of each ingredient I used. Feel free to adjust as necessary. (Eventually I'll hopefully add printable recipes to everything I've posted so far…but it might take a while).
That being said, this is the only meatloaf that I make where I actually follow the recipe!
So here we go!
Dice your veggies and saute in butter. Add the spices, Tabasco and Worcestershire.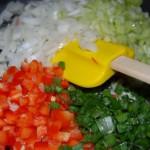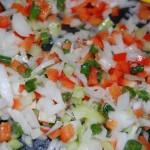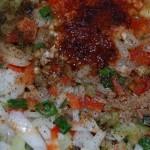 Next, add the ketchup and evaporated milk and cook for another two minutes: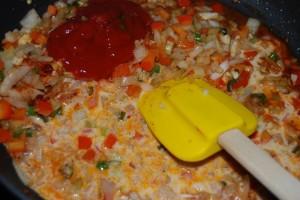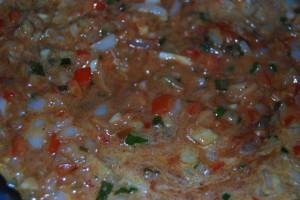 Transfer the veggies to a bowl and let them cool. Once they've cooled, add the meat (I used 1 lb ground pork and 1 lb ground turkey), 2 eggs and breadcrumbs. You can either mix everything together right on the pan, or in a bowl. Then form the mixture into a loaf (or two).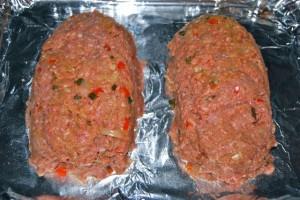 Bake at 350 degrees for 25-30 minutes or until meat is cooked through.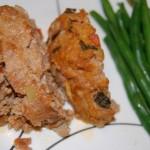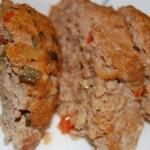 This is one of those recipes that I can never make quite as well as my mom did, so my loaves were a little loose, but after I let them rest, they were sliceable!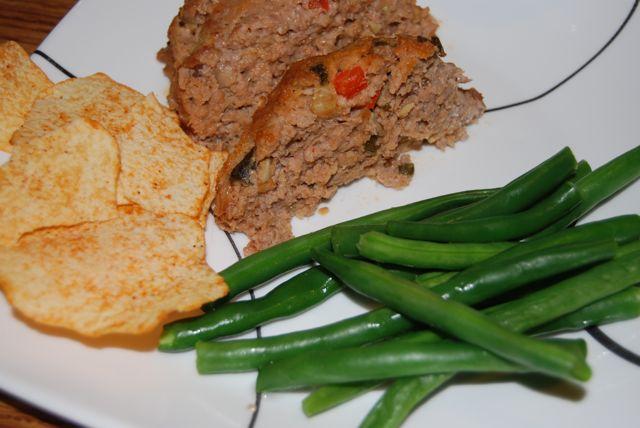 Cajun Meatloaf
Prep Time: 15 min
Cook Time: 30 min
Ingredients (Serves 4)
2 bay leaves (optional)
1 tsp salt
1 tsp cayenne pepper
1 tsp black pepper
1/2 tsp cumin
2 Tbsp butter
3/4 cup onion, chopped
1/2 cup celery, chopped
1/2 cup green or red pepper, chopped
1/4 c green onion
2 Tbsp Tabasco
1 Tbsp Worcestershire
1/2 cup evaporated milk
1/2 cup ketchup
2 tsp garlic, minced
1 1/2 lb ground beef (or turkey)
1/2 lb ground pork
1 cup breadcrumbs
2 eggs
Instructions
1. Preheat oven to 350 degrees.
2. Melt butter in a large pan. Add onions, celery, peppers, green onion, garlic, Tabasco, Worcestershire, and seasonings.
3. Saute until soft, then stir in milk and ketchup. Cook 2 min more.
4. Remove from heat and cool to room temp.
5. Put meat in bowl or pan. Add eggs, breadcrumbs and vegetables (take out bay leaves if using).
6. Shape into one large loaf or two smaller loaves.
7. Bake 25-30 minutes or until meat is cooked through.
8. Let rest 10 minutes, slice and serve!
So tell me, do you like meatloaf?
Enjoy!
–Lindsay–
LEARN HOW FOOD AFFECTS YOUR BODY.
Get my free Table Talk email series where I share bite-sized nutrition information about carbs, protein, and fat, plus bonus information about snacks and sugar!