Normally I'm pretty good at managing my time. In fact, I'd even go so far as to say I'm great at it. I'm a busy girl, and I do a pretty good job of getting everything done on time, and in an organized fashion.
I'm also slightly obsessive. Obsessive compulsive when it comes to things like checking three times in a row to make sure my alarm is set, or that I did in fact put my keys in my bag. Other times I get obsessive about ideas. Like the time I decided, despite the fact that I had just started 3 weeks of vacation, that my office need to be cleaned and organized at one o'clock in the morning. Or the time I decided I needed to scrapbook an entire year of photos in 2 days. Or the time I found a wallet that I was in love with but was too cheap to pay for and I decided I needed to find one at half the price they were selling it in the stores. You get the idea…
So yesterday, when I decided that I HAD to make homemade nutrigrain bars, nothing was going to stop me. Did I have other things I should have been doing instead? Yes. Do I have a huge biochem test next week that I should be studying for? Absolutely. Am I supposed to be writing a dietary menu for a renal patient and doing a 9 page case study for my practicum? Yep. Did any of that stop me? Absolutely not.
It all started on the bus ride back to my car after class. I don't usually eat Nutrigrain bars because they higher in sugar and they have a super long list of what I view as unnecessary ingredients. But occasionally I buy them for the hubby because he likes to have things to snack on. Yesterday I was a little out of sorts and running behind and I grabbed one of the bars on my way to class. As I sat there on the bus eating it, I started thinking about fig newtons. And how they were sort of similar. And how I loved them as a kid. And how I want to try this recipe for them. Sidetracked. And how I loved them. See what I mean about being out of sorts? What it boils down to is that I decided that I was quite capable of making my own version of homemade nutrigrain bars and that's what I spent my evening doing. (After I took a 3 hour nap because I am feeling pre-sick and am trying to fend it off…but let's not talk about that).
After doing some googling and not finding any recipes that I deemed super healthy, I made up my own but these two gave me a starting point: Jenna's Fig Newtons and Carrie's Almost Nutrigrain Bars.
Here's what I came up with:
Combine some greek yogurt and brown sugar. Add an egg and some vanilla. Stir in some flour and oats, baking powder, baking soda and cinnamon.
Freeze the dough for a little bit and then press it out into nutrigrain sized rectangles (Yes I'm aware that that's not very precise…deal with it!) Use a knife to cut off the scraggly edges.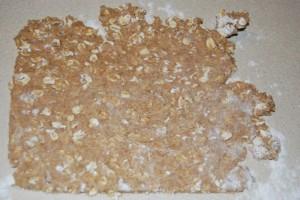 For my fruit filling, I used the leftover blackberry jam I made back in December when I was making these blackberry oatmeal bars and had stored in the freezer until now.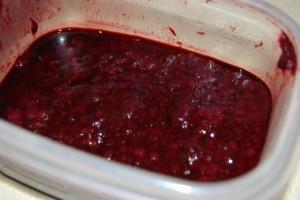 You could also make your own by mixing some frozen berries with a little bit of sugar and letting it boil away 🙂 Or just use store bought.
Spread some fruit on the rectangles, fold the dough over the top and pinch the seams to seal.
Bake and enjoy! I literally closed my eyes when I opened the oven because I was afraid the blackberries would have leaked out everywhere, but they didn't! This was as bad as it got!
I did learn, however, that if you're going to put a little dough patch over a place where the dough split when folding, you should spend a little time making it blend in instead of just slapping it on there, or it will look like a tumor after baking: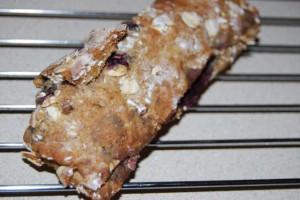 The result? They're not bad guys! Considering I didn't use any butter or oil and very little sugar! They puffed up a bit more than i thought they would, but that's ok. I thought I was putting too much filling in, or that the filling would be too watery but it stayed put! The shell is chewy. It's been my experience that using greek yogurt in baking makes things chewy. And the shell doesn't have as much flavor as if I had used some butter or a little more sugar, but i'm used to doing that with my baking so it tastes pretty good to me!
[print_this]
Homemade Nutrigrain Bars
1 1/4 c whole wheat flour
1 c oats
1/2 c plain Chobani greek yogurt
1 egg
1/4 c brown sugar
1 tsp vanilla
1 tsp baking powder
1/2 tsp baking soda
1/4 tsp cinnamon
Directions:
1) Mix the yogurt and brown sugar on medium for 1 minute.
2) Add the egg and vanilla.
3) Stir in the flour, oats, baking powder, baking soda and cinnamon.
4) Shape dough into a ball, cover with plastic wrap and put in the freezer for 30 min.
5) Divide the dough in half, put half back in the dough back in the freezer.
6) Roll or press the dough into a rough rectangle. Trim off the sides and cut into squares that are approximately 3 or 4 inches by 4 inches.
7) Spoon some fruit onto the square, fold dough in half and press seams to close.
8 ) Repeat with the rest of the dough.
9) Bake at 350 degrees for 20 minutes.
*Makes 8-9 bars
[/print_this]
So tell me, how would you tweak this recipe but still keep it healthy?!
Enjoy!
–Lindsay–
LEARN HOW FOOD AFFECTS YOUR BODY.
Get my free Table Talk email series where I share bite-sized nutrition information about carbs, protein, and fat, plus bonus information about snacks and sugar!