Hold on to your socks, folks! Because this recipe could possibly knock them right off!
My friend Sarah told me via The Lean Green Bean facebook page that she was looking for a recipe for banana cookies. She told me they could have peanut butter and chocolate chips and even oats! I personally love banana baked goods. I'm constantly making banana bread and banana muffins, but i'd never tried cookies before so I was super excited. The hubby, however, was not so excited. He doesn't like banana baked goods. In fact, he's requested that I place a moratorium on reader requests for anything banana.
You know what that means? Keep them coming!! 😉
Anyways, I began my cookie quest by doing a little google research. As usual, I couldn't find anything that was striking my fancy….so after getting the basic idea, I did my own thing.
They turned out great! So here's what you do:
Start with your butter and sugar: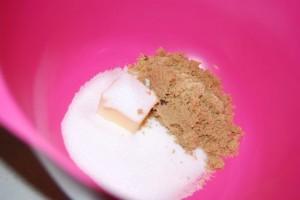 Look who I caught sneaking in for a taste: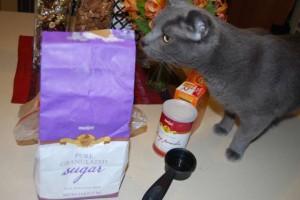 Add your egg, bananas, peanut butter and vanilla. My bananas were super soft so I didn't even bother mashing them first. I made these last week and wanted to make sure there were still some left on Superbowl Sunday so Sarah could taste the finished product. To make sure this happened, I waited until Thursday to make the cookies and my bananas were ready to use on Monday. Hence, my bananas were super speckly. But that's fine, perfect for baking:
Stir in your dry ingredients and add your chocolate chips:
Scoop them onto cookie sheets and bake at 350 degrees F for 12-14 minutes.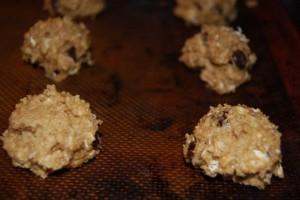 While Poco likes to sneak in during the baking process, Marcus prefers to just wait until the cookies are baked before he tries to steal one. They keep me on my toes: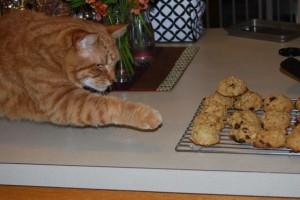 Banana Cookies
Prep Time: 10 min
Cook Time: 12-14 min
Keywords: bake dessert healthy banana chocolate peanut butter
Ingredients (approx 30 cookies)
1/2 c peanut butter
1 egg
2-3 mashed bananas (about 3/4 c)
1 tsp baking soda
1 tsp baking powder
1/4 tsp cinnamon
1/4 c white sugar
1/4 c brown sugar
1 1/2 c oats
1 tsp vanilla
1 c chocolate chips
2 Tbsp unsalted butter, softened
3/4 c whole wheat flour
1/2 c AP flour
Instructions
1. Preheat oven to 350 degrees.
2. Cream butter and sugars. Add the egg, peanut butter, vanilla and bananas and mix until well combined.
3. Mix in flours, baking powder, baking soda, cinnamon and oats until just combined.
4. Stir in chocolate chips.
5. Scoop onto cookie sheet at bake 12-14 minutes.
The result? Delicious. The only things I might recommend are that if you really want the peanut butter taste to come through, add a bit more. It's pretty faint in this version. And don't add too many chocolate chips because they can overpower the taste of the bananas.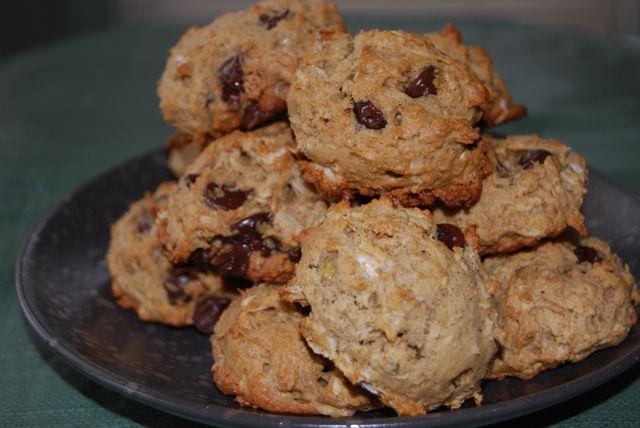 So tell me, do you like banana baked goods?
Enjoy!
–Lindsay–
LEARN HOW FOOD AFFECTS YOUR BODY.
Get my free Table Talk email series where I share bite-sized nutrition information about carbs, protein, and fat, plus bonus information about snacks and sugar!