This is what two hours in the kitchen on a Sunday morning can get you: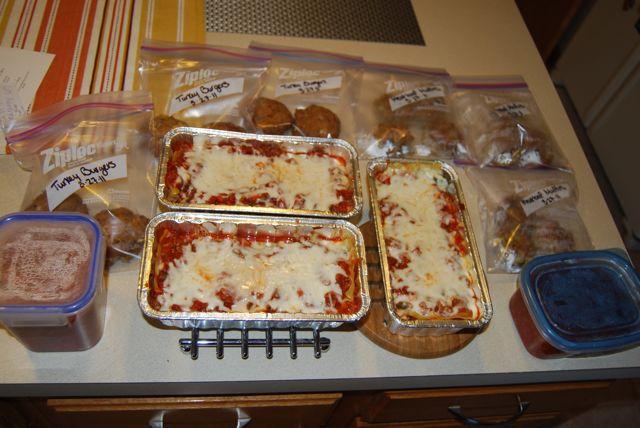 That would be 10 meat muffins, 6 turkey burgers, 1 pan of lasagna (baked in 3 individual pans) and 2 containers of spaghetti sauce.
Also known as "what the hubby will be eating on Tuesdays and Thursday evenings for the next several weeks."
Spring quarter starts today, and since I'll now be gone on Tuesday and Thursday evenings, I knew I needed to prepare some simple meals for the hubby…unless I was ok with him eating an entire frozen pizza two nights a week! That doesn't exactly jive with my "Dietitian in training" status so I got to work.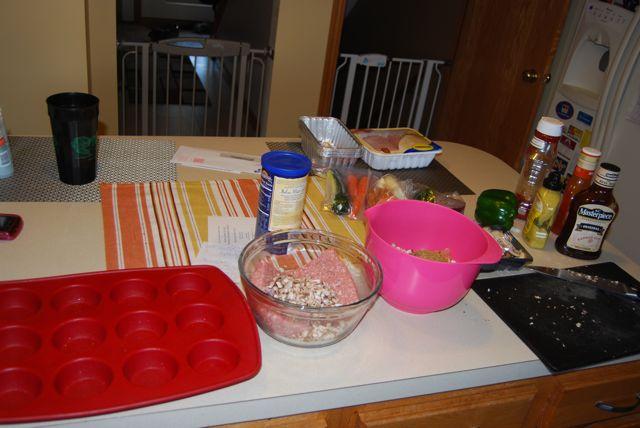 I started with the meatloaf and the turkey burgers. Since they have pretty similar ingredients, it was easy to make them at the same time. I opted to cook the meatloaf in muffin form to make it easy to store in individual batches.
While those were cooling, I got to work on the meat sauce for the lasagna. As usual, I added a ton of vegetables and garlic. After they had been sauteing for a while, I added two big cans of no-salt-added crushed tomatoes and a can of no-salt-added fire roasted diced tomatoes to the pan.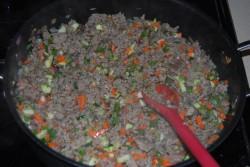 While the sauce simmered, I cooked the lasagna noodles and mixed together the frozen spinach and ricotta cheese. I had to trim each noodle by about 2 inches so that they would fit in the disposable pans I bought, but I knew it would be a lot easier to store the three separate pans than it would be to make room for an entire pan of lasagna in my freezer. I essentially put one "row" of my typical pan of lasagna in each container.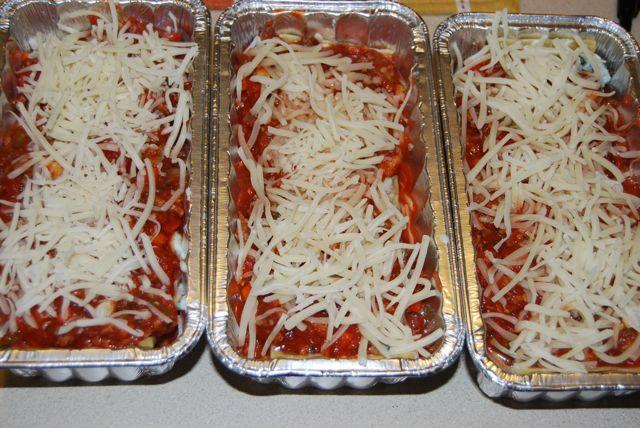 I covered each one with foil and into the oven they went for 30 minutes. Once everything was cooled, I got it ready for the freezer. I wanted to divide everything into typical "dinner portions" for the hubby so I paired the turkey burgers and split the meat muffins into 3, 3 and 4. This will make it easy for me to simply grab a bag out of the freezer the night before and put it in the fridge so that all the hubby has to do is heat it up. For the lasagna, I can take out on pan at a time and he can eat half for dinner and the other half for lunch.
I divided the remaining sauce into two tupperware containers so I can just pull one out and defrost it for an easy spaghetti dinner during the week!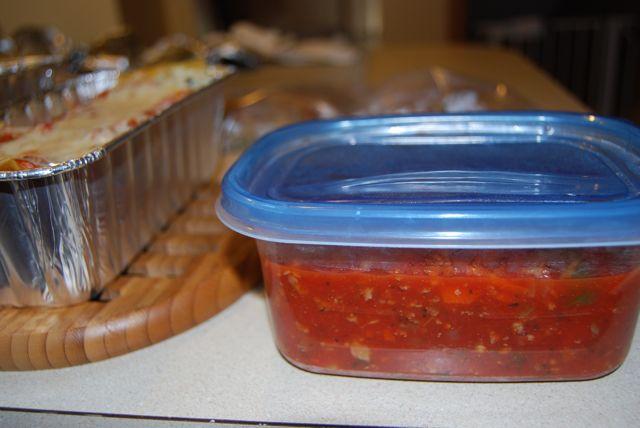 Later in the afternoon, I did some more prep work. I cooked a big batch of quinoa to eat throughout the week and I roasted a couple cans of chickpeas (one of my favorite snacks!) so that I could pack them to munch on between classes.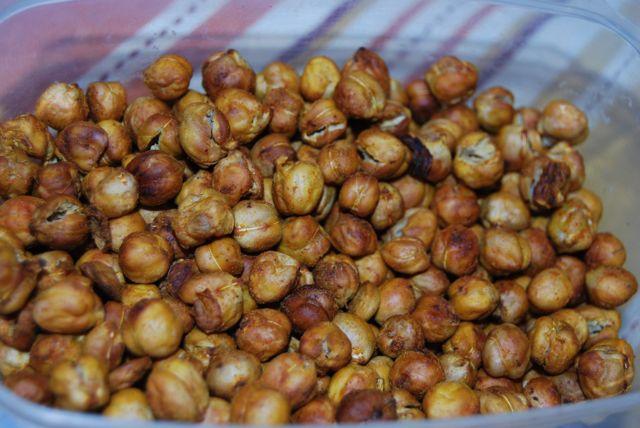 Last week, I saw Heather's post for Crunchy Green Split Peas and I was immediately intrigued. I've never cooked split peas myself and have no conscious memory of ever eating them…although I suspect my mom probably made them when I was younger…but they're packed with protein and fiber so I decided to give them a try. Like lentils, you don't have to soak them- just rinse them off, put them in a pot with some water and let them simmer for 20 minutes or so. Since I was already roasting the chickpeas, I decided to do the same to the peas. I patted them dry, sprayed them with olive oil and seasoned them, then stuck them in the oven at 400 degrees F, stirring them every 10 minutes or so until crunchy.
The result? They're good! I saved half of them after cooking so I can try them non-roasted. I'll have to get back to you on my opinion.As for the roasted kind? Perfect to munch on mixed with my chickpeas.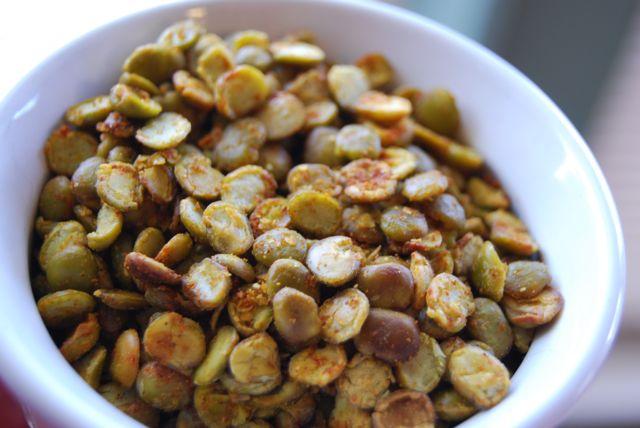 If you close your eyes and use your imagination, they taste just like candy buttons. Remember those?!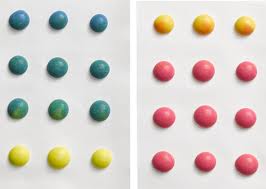 Ok, so not exactly….but the size and shape are dead on!
So there you have it! I'm ready to face this quarter head on 🙂 Now you tell me- have you ever had split peas? What's your favorite way to eat them?
Enjoy!
–Lindsay–
LEARN HOW FOOD AFFECTS YOUR BODY.
Get my free Table Talk email series where I share bite-sized nutrition information about carbs, protein, and fat, plus bonus information about snacks and sugar!