After college, when I moved out of my parents house for good, my dad gave me a stack of index cards held by a rubber band that was so old it was practically disintegrating. The cards were his recipe collection from way back when he was living on his own.
I love looking through them and thinking about my dad cooking some of these meals on his own so many years ago. Especially since my mom was always the one that did the cooking while I was growing up. (Except when my dad made waffles for dinner as a special treat!)
Since my mother-in-law has been asking me to post some recipes that are easy enough for my father-in-law to put together on nights that she's working late, I thought these recipes would be a perfect place to start!
Enter Scott. Scott is my father-in-law. I love him to death, but he's not what one would call proficient in the kitchen. In fact, I've never actually seen him do anything in the kitchen besides open a beer! Now, I'm not saying there's anything wrong with that….I'm just trying to give you a clear picture of what we're working with here.
This first recipe has a limited number of ingredients and doesn't involve anything more complicated than boiling water so it seemed like a good place to start! Here's the original recipe: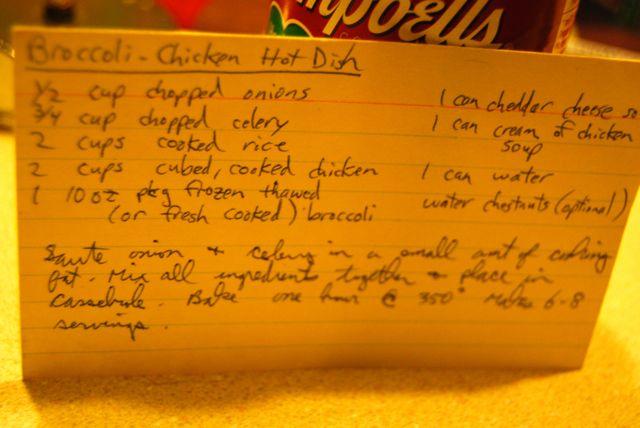 Here is what I did, and what you can do to make it even easier:
Turn the oven on and set it to 350 degrees. Consult your oven's manual for step-by-step directions.
Take some frozen, pre-cooked meat out of the freezer, because we don't want to push the limits by actually requiring any cooking yet. In my case, it was pork tenderloin. Usually it would be chicken. Most people probably have some sort of pre-cooked meat in the freezer. If not, next time you cook some, throw in a little extra and freeze it for occasions such as this.
Next, I steamed some broccoli. Don't panic, Scott. All that involves is tossing some pre-cut broccoli in a tupperware container, adding a little water and putting it in the microwave for 3 minutes. OR just use a bag of frozen broccoli.
Finally, the most complicated part…the onion. I'd bet that most people have a partial onion in their fridge. I almost never use all of one at one time. So all this requires is taking it out of it's container and roughly chopping it with a big knife a few times. YOU CAN DO IT!!
Put these three things in a small baking dish:
I opted to leave out the celery because the hubby doesn't like it. I also opted to skip cooking the onion "in a small amount of cooking fat" as the recipe says, because you're going to bake it anyways so who cares.
Next, open a can of cream of something soup. I chose to use cream of mushroom soup (healthy request) because I was using pork instead of chicken…but either would be fine. You could also use cream of celery or something. Pour that on top of everything else.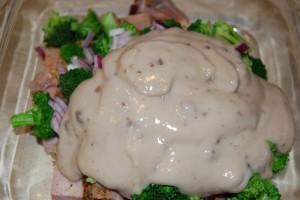 Here's where I changed it up a little bit. I realized I didn't have any cheddar cheese soup on hand. I'm not sure if they even make that anymore? I contemplated mixing in some shredded cheese, but opted to just open a can of cream of chicken soup (healthy request) and mix that in too. I also opted to leave out the can of water. If you want your sauce a little runnier, all that would entail would be filling up the can that the cream of mushroom soup came out of with water and pouring it into the dish. Then mix everything together. You could add some spices here if you want to get fancy, like black pepper or cayenne pepper…If you're a fan of rice, pull out an Uncle Ben's 90 sec rice, tear each edge at the top, microwave for 90 seconds and dump the rice into the dish too. If you'd rather have pasta, follow the instructions below.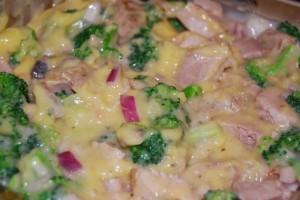 Put it in the oven for 1 hour until hot and bubbly.
Meanwhile, fill a big pot with water and put it on the stove. Turn the burner on high and when the water starts boiling (that means big bubbles will be steadily forming), add some noodles 🙂 Cook for the amount of time stated on the bag/box of noodles.
When everything is done, put some noodles on a plate and top with the meat and broccoli mixture!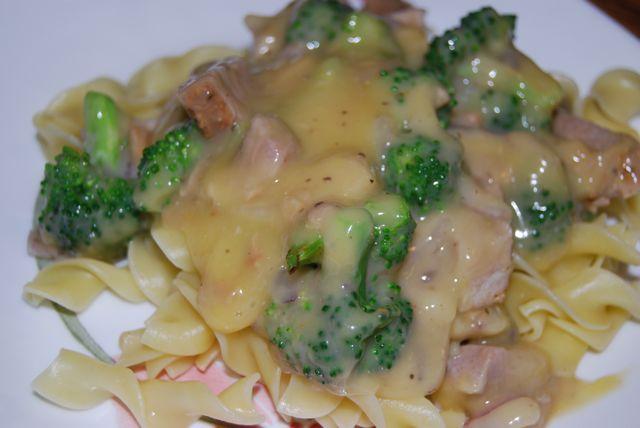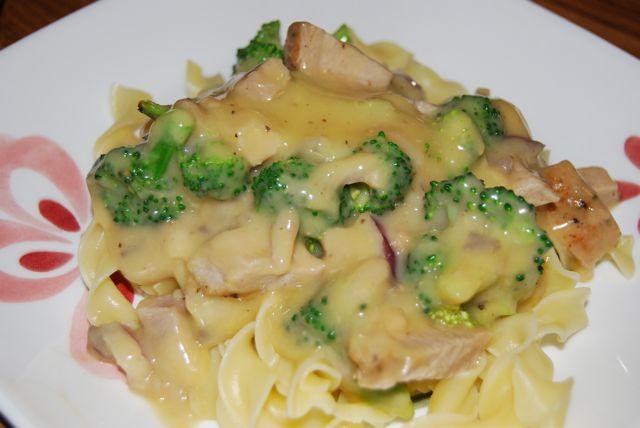 Congrats, Scotty…you just made your first meal 🙂
Enjoy!!! (and then put your dishes in the dishwasher)
So tell me, have your significant other learned to help you out in the kitchen? What's the first thing you taught them?
–Lindsay–
LEARN HOW FOOD AFFECTS YOUR BODY.
Get my free Table Talk email series where I share bite-sized nutrition information about carbs, protein, and fat, plus bonus information about snacks and sugar!