A few weeks ago, I came across a recipe for a Tex Mex bake that involved barley in the March issue of Rachel Ray's Magazine. I'd been thinking about using barley as my pick of the week for a a couple weeks and this seemed like a good way to ease into it since the hubby adores Mexican.
I wasn't totally digging Ray Ray's version because it had snap peas in it, which I'm all about, but not in a dish like this…I also had 1/2 lb ground turkey that I needed to use up, so I made my own version.
Here's what you do:
Start by cooking your turkey with some garlic, onion, mushroom and green pepper. Then add some black beans, tomato and corn. I seasoned the mixture with cumin and cayenne pepper.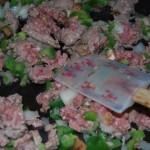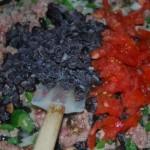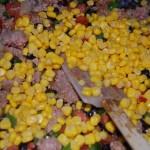 While that's cooking, cook your barley. I found quick-cooking pearl barley at my grocery store and decided it would be perfect. Just boil water, add and let simmer for 10 minutes.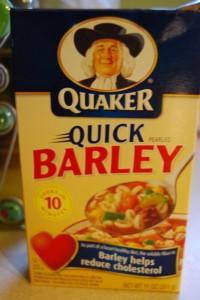 Add your barley to the meat mixture and remove from heat. Then, melt 1 Tbsp butter in a pan and add 2 Tbsp flour. Whisk together for 1 minute, then add some warm milk. Bring to a simmer, then added some shredded pepperjack cheese and stir until melted. Then add the cheese mixture to the meat mixture. I used 1 1/2 c milk and about 1 1/2 c cheese, which is a reduced amount compared to what Rachel used. I didn't even end up using all of that once I had the cheese mixture made. It's up to you how cheesey you want to make it. I probably would have been fine with about 3/4 c milk and 1 c cheese.
Transfer the mixture to a baking dish, cover with foil and bake at 400 degrees for 20 minutes. Uncover, top with crumbled tortilla chips and return to the oven for 10 more minutes.
Tex Mex Barley Bake
Prep Time: 15 min
Keywords: bake saute entree healthy ground turkey barley black beans Mexican
Ingredients (Serves 4)
1/2 lb ground turkey
1/2 c green pepper, diced
1/2 c mushroom, diced
2 cloves garlic, minced
1/2 c onion, diced
1 can (no salt added) or 1 1/2 c black beans
1 medium tomato, diced
1/2 c no salt added corn
1 tsp cumin
1/2 tsp cayenne pepper
1/2 tsp black pepper
1 c cooked barley
1 Tbsp butter
2 Tbsp flour
3/4 c skim milk, warmed
1 c pepperjack cheese, shredded
tortilla chips
Instructions
1. Preheat oven to 400 degrees.
2. Combine garlic, onion, green pepper, mushroom and turkey in a large skillet over medium heat.
3. Add black beans, corn and tomatoes and cook until turkey is cooked through.
4. Cook barley according to package directions and add to meat mixture.
5. Melt butter in a saucepan. Add flour and whisk for 1 minute.
6. Slowly add milk and bring to a simmer.
7. Add shredded cheese, stirring until melted.
8. Pour cheese mixture over meat mixture and stir to combine.
9. Transfer mixture to a casserole dish, cover with foil and bake for 20 minutes.
10. Remove foil, top with tortilla chips and return to oven for 10 minutes.
11. Serve warm.
I served mine with roasted balsamic asparagus for the hubby and sauteed balsamic kale for me!
Serve with extra chips, or over extra chips like taco salad:
In conclusion, the hubby would like you to commiserate with him because he has consumed almost his entire Costco-sized bottle of Cholula. Waa waa….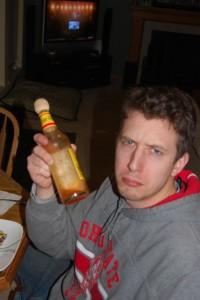 So tell me, are you a hot sauce fanatic?
Hope you guys enjoy this recipe. I thought it was delicious and I'm sure the hubby will be eating the leftovers in a taco for lunch tomorrow 🙂
Enjoy!
–Lindsay–
LEARN HOW FOOD AFFECTS YOUR BODY.
Get my free Table Talk email series where I share bite-sized nutrition information about carbs, protein, and fat, plus bonus information about snacks and sugar!