"The best chicken I've had."
That's what the hubby said to me last night while eating this. He said "Bean, this is the best chicken I've had." I said, "Ever?" He said, "Yes."
So there you have it. It's that good, and it couldn't be easier. Inspired by this recipe from Tessa that I've been thinking about for the past few weeks, here's what I did. I was too lazy at the time to pull up the recipe again….but it turned out just fine 🙂
I did some prep work in the afternoon, before I left for work. I grabbed a handful of fresh spinach, diced it up and put it in a bowl with a little bit of water. After 2 minutes in the microwave it looked like this: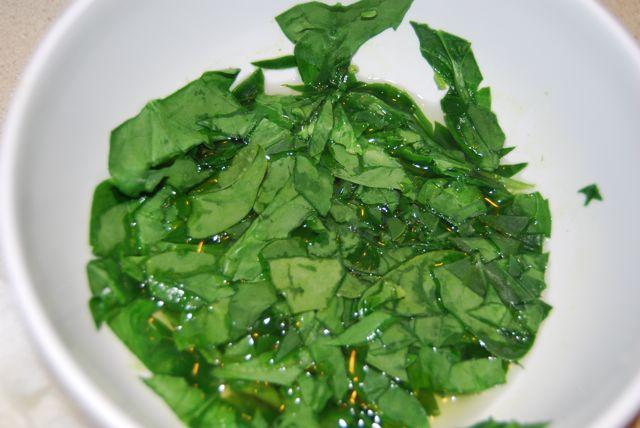 I scooped the spinach into a paper towel and wrung out the excess water before returning it to the bowl. Then I added a few tablespoons of goat cheese, and two strips of turkey bacon, diced, that I cooked up on the griddle.
Mix it all together and set it aside. I had three chicken breasts thawed out in the fridge so I cut slits in the side (kinda difficult since they were thinner than I thought they were!) and divided the mixture between the three breasts.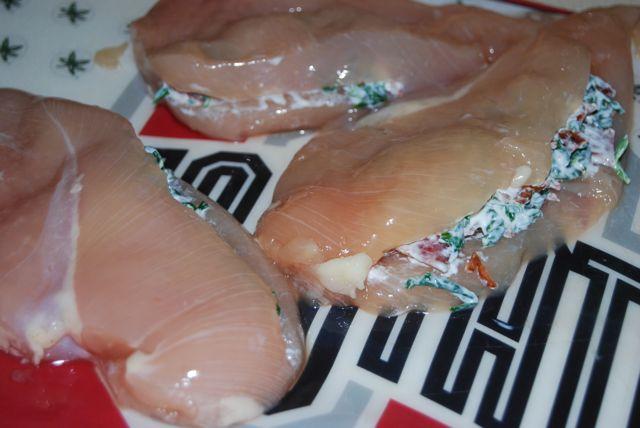 I knew I was going to bake these, but I always like to pan sear chicken for a little extra flavor. Bonus this time because, after seasoning with paprika and black pepper, I just plopped them on the griddle I cooked the bacon in for a little more bacon-y flavor. I didn't even feel bad doing this since turkey bacon makes WAY less grease than regular 🙂
I put the chicken in a greased, glass baking dish, covered it with foil and stuck it in the fridge. Then the hubby popped it in the oven for about 20 minutes at 400 degress while I was on my way home from work, along with a sweet potato I had diced up! When I got home, dinner was almost ready.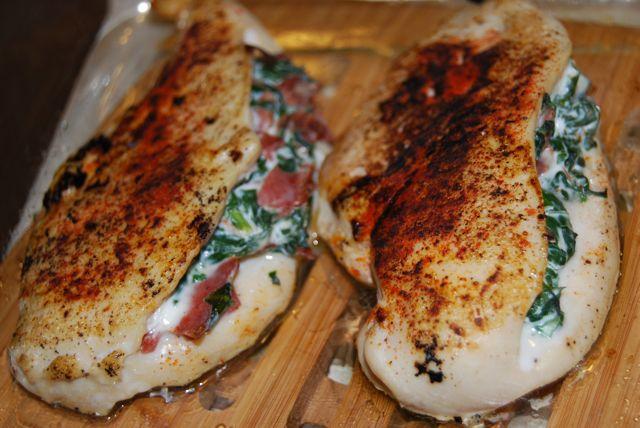 If you want to be extra fancy, slice it up so it looks pretty…but I'm not gonna lie, I only did this for you guys! Hubby got his piece whole on the plate.
So there you have it! It's good stuff, give it a try 🙂
Goat Cheese & Spinach Stuffed Chicken
Prep Time: 10 min
Cook Time: 20 min
Keywords: bake entree chicken goat cheese spinach
Ingredients (Serves 3)
3 boneless, skinless chicken breasts
1 cup fresh baby spinach
3 Tbsp goat cheese
2 strips turkey bacon, diced
paprika and black pepper to taste
Instructions
1. Roughly chop the spinach and place in a small bowl with 1/4 c water. Microwave on high for one minute. Drain excess water.
2. Add the goat cheese and bacon to the bowl with the spinach and stir to combine.
3. Cut a slit in the side of each chicken breast and stuff 1/3 of the mixture inside each one.
4. Sprinkle with paprika and black pepper and sear both sides in a hot pan (Optional: cook in the same pan you cooked the bacon in for added flavor).
5. Transfer the chicken to a greased baking dish, cover with foil and bake at 400 degrees for 20 minutes or until chicken is cooked through.
Finally, thanks to everyone who commented, texted, tweeted, called and facebooked me a happy birthday!! I had a wonderful day and am lucky to have such great people in my life.
Enjoy!
–Lindsay–
LEARN HOW FOOD AFFECTS YOUR BODY.
Get my free Table Talk email series where I share bite-sized nutrition information about carbs, protein, and fat, plus bonus information about snacks and sugar!