We all know I'm a big fan of stirfrys. And for some reason, right after I go to the grocery store, I can't help but crave one! I think it's because my fridge is stuffed so fun of delicious looking vegetables and they're all I can really think about eating.
But yesterday I took my stirfry to a whole new level. First of all, I had a plethora of peppers. I picked up a poblano and cubanelle pepper this week just because they looked good….and yellow peppers were on sale for $1 each so you know I buy at least 4 every time I've been in the grocery store since that started! Add a red pepper and you've got yourself a pepper explosion!
Before I went to work, I chopped up all of my peppers, along with some broccoli, onion, green beans and carrots. I put them in a tupperware with some garlic and threw them in the fridge. Then I sliced up a leftover chicken breast from our weekend grilling. When I got home from work, all I had to do was heat up the pan and toss everything in.
I wanted to change things up a little bit and a peanutty sauce was sounding really good. I wasn't sure how it was going to turn out, but I thought I'd give it a whirl.
I added 1/4 c peanut butter and 1/2 c vegetable broth to a small pan, along with some soy sauce and ginger and heated it up, stirring until smooth. Then I added a little cornstarch to thicken it up. First taste test? Blah. It definitely needed something else. I added a little more vegetable broth, a pinch of brown sugar and a splash of orange juice and voila! Deliciousness.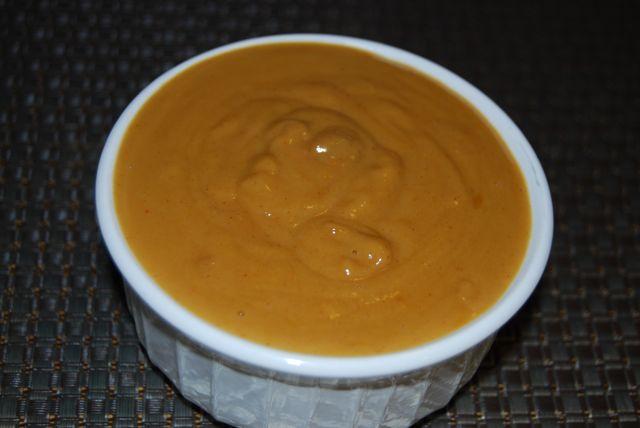 You could also pour the sauce over the stirfry before serving, but I'm a control freak when it comes to sauces so I like to serve mine on the side.
After the veggies cooked to crisp tender, I added the chicken to warm it up. I also added some chopped cashews for a nice nutty crunch!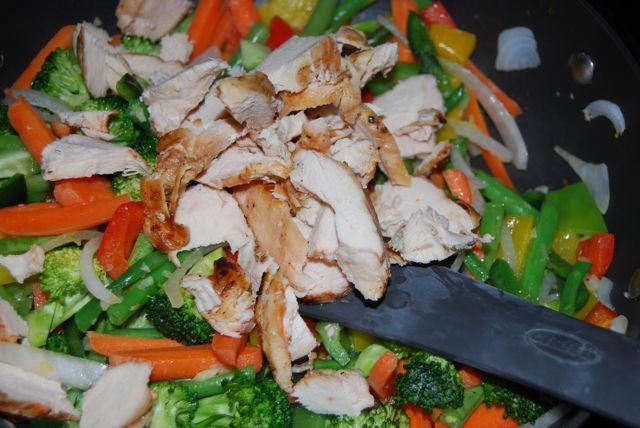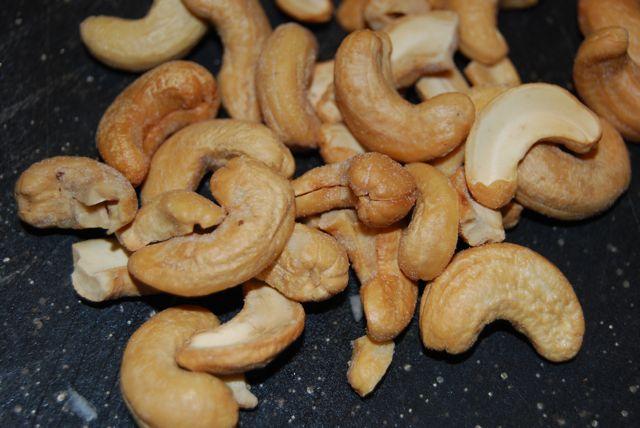 Serve the stirfry over brown rice and top with peanut sauce.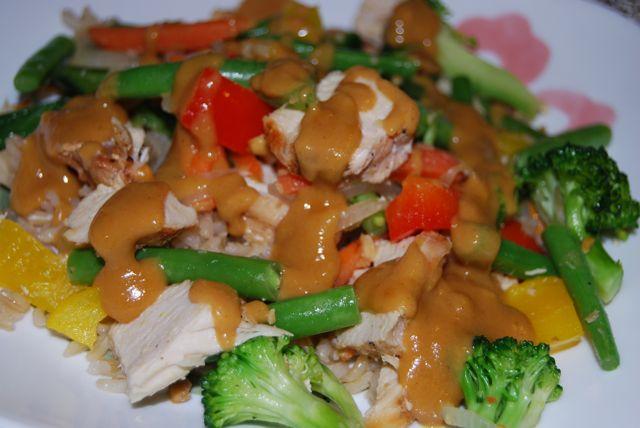 I didn't really measure stuff as I was adding it to the sauce, but here's my best guess as to the amount of each ingredient I used:
Nutty Pepper StirFry Sauce
Cook Time: 10 min
Ingredients (1 cup)
1/4 c creamy peanut butter
3/4 c low sodium chicken or vegetable broth
2 Tbsp low sodium soy sauce
2 Tbsp orange juice
2 tsp grated fresh ginger
1/2 tsp cayenne pepper
1 Tbsp brown sugar
1 Tbsp corn starch
Instructions
Combine all ingredients in a small saucepan over low heat until thickened.
Serve over stirfry.
Enjoy!
–Lindsay–
LEARN HOW FOOD AFFECTS YOUR BODY.
Get my free Table Talk email series where I share bite-sized nutrition information about carbs, protein, and fat, plus bonus information about snacks and sugar!