So remember when Erica posted these Jalapeno Cheddar Turkey Burgers?
Well, I tried really hard to wait patiently for nice grilling weather so I could make some burgers on the grill….but apparently we're heading straight into another week of rain, so this weekend I just gave into my craving and made a batch of burgers indoors.
I was drawn to her recipe because I just so happened to have a random jalapeno that needed to to be used up. However, over the past couple of years, I've had a few issues with making things so spicy they they are almost inedible. So, I knew I wanted to tone down the spice a bit.
I've also been thinking about making burgers stuffed with caramelized onions for a while now. While I didn't end up doing that exactly, I used that idea to make my own burger.
Here's what I did:
I diced up about 1/2 c onion and put it in a hot pan. I made sure not to stir it too often so that it started to caramelize.
After the onions began to caramelize, I added some balsamic vinegar.
The onions soaked up almost all of the yummy balsamic! I removed them from the pan and set them aside to cool.
Next, I put 1 lb of lean ground turkey in a bowl, added one jalapeno (minced) and two cloves of garlic. When the onions were cool enough to handle, I added them to the bowl along with about 1/4 c shredded low-fat Mexican cheese and some McCormick's Grill Seasoning.
When everything was mixed together, I had five nice sized burgers: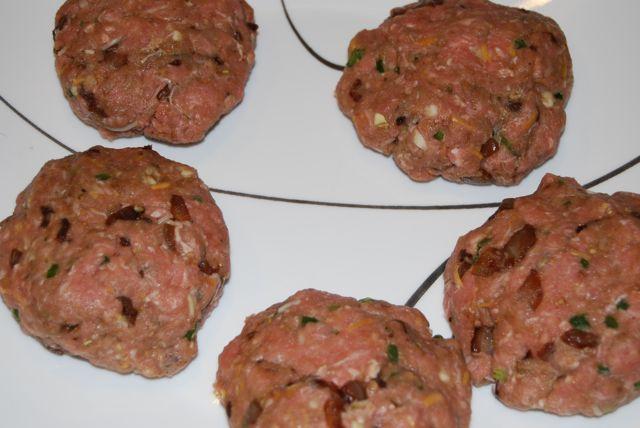 Balsamic Onion & Jalapeno Turkey Burgers
Keywords: grill pan sear burger sandwich entree healthy turkey
Ingredients (4-6 burgers)
1/2 c onion, diced
1 Tbsp balsamic vinegar
1 lb ground turkey
1 jalapeno, minced
1 tsp McCormick's Grill Seasoning
1/4 c low-fat Mexican cheese
Instructions
1. In a small pan, caramelize the onions. Add the balsamic vinegar and stir to combine.
2. Combine the turkey, onions, jalapeno, seasoning and cheese in a small bowl.
3. Form into 4-5 patties.
4. Cook on the grill or in a pan, top with cheese if desired and serve.
I cooked them in a pan and topped with some pepperjack cheese when they were almost done. Yes, I tear my cheese to fit the size of the burger. I hate when it drips down over the sides and gets in the pan!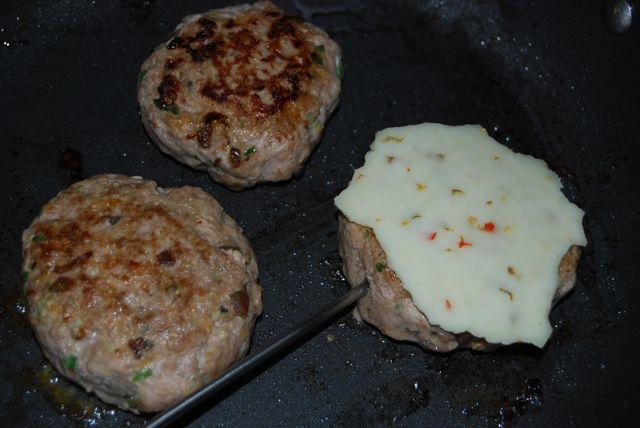 Now I've gotta tell you, my friends, I'm not one to get all that excited about burgers. I don't eat them if they're beef and usually when I cook burgers for the hubby I end up eating something else. In fact, the night I made these, I didn't even eat one. But I did eat one the second night and let me tell you…these are GOOD! I was only planning on eating half a burger along with a bowl of Nutrition Soup, but after I ate the first half, I put that soup right back in the fridge and ate the other half! I love the flavor the onions give them…and the jalapeno gives them a little kick, but not a ton of heat.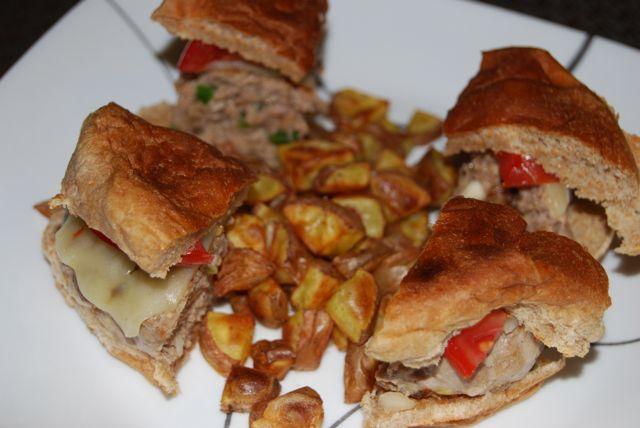 Oh, if you're wondering why it's cut up like that, it's because the hubby informed me -just as I was about to get up and make these burgers that I'd been planning in my head ALL DAY- that he wanted something light for dinner…like tapas. Well, that just wasn't happening. So cutting his burger into "burger bites" was my solution. Makes the burger seem less overwhelming!
Serve with some roasted fingerling potatoes and you're good to go!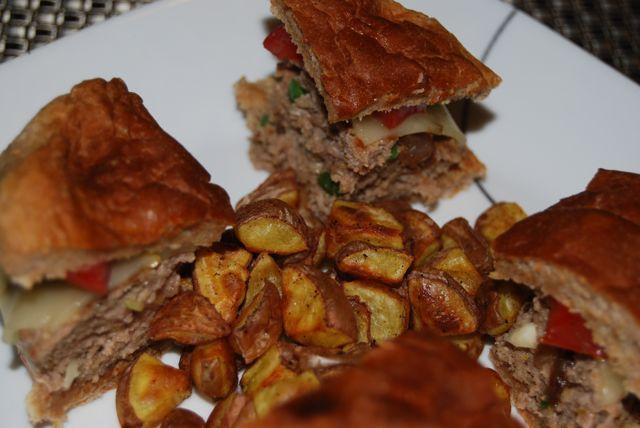 Enjoy!
–Lindsay–
LEARN HOW FOOD AFFECTS YOUR BODY.
Get my free Table Talk email series where I share bite-sized nutrition information about carbs, protein, and fat, plus bonus information about snacks and sugar!