These Tater Tot Waffles are kid-friendly and perfect any time of day! Enjoy them for breakfast, pack them in a lunch box or make them for a quick dinner on a busy night.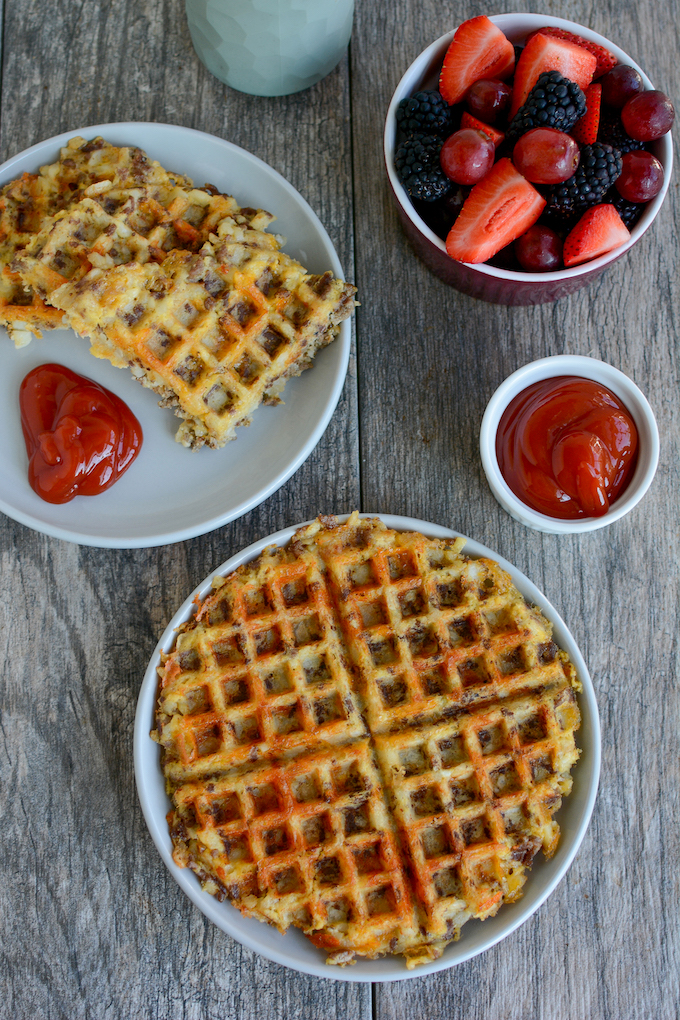 Thanks to the Ohio Beef Council for sponsoring this post.
Hi friends!
I'm so excited to share these Tater Tot Waffles with you guys today. I tested them a few weeks ago and when I shared a sneak peek on Instagram a lot of you were excited for the recipe.
My kids are headed back to school this week and I've already started my list of quick & easy dinners that I can make on busy nights this Fall. I'm also always on the hunt for new foods that pack well in lunc boxes. These tater tot waffles fit the bill on both counts!
Kid-friendly Beef Recipes
Let's talk a little about why beef can be a great addition to your kid's diet. As a Registered Dietitian, I'm constantly talking about the benefits of protein. It helps keep you full and focused between meals and beef in particular is packed with protein as well as nutrients like iron and zinc which aid in brain development and cognition. My kids are busy and active and I love that the protein in beef helps them build muscles and provides them with important B vitamins!
So I was super excited to partner with the Ohio Beef Council to develop a couple of kid-friendly, family-friendly recipes featuring beef. There are over 17,000 beef farms here in Ohio. If you're interested in how your beef gets from pasture to plate, including how the farmers care for their animals and protect the environment, you can find more info here: Beef. It's What's For Dinner.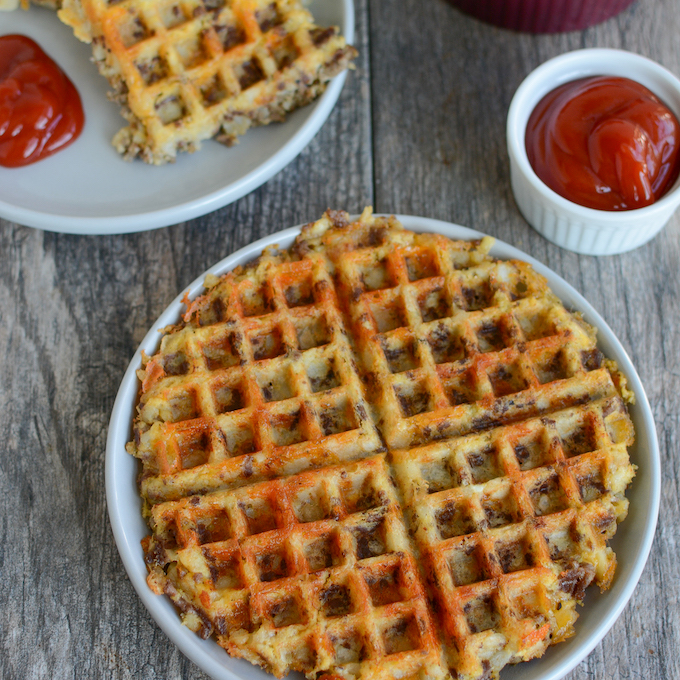 How to Cook Tater Tots In Waffle Iron
If you've followed along for a while, you may remember that Egg Waffles are a big hit in my house. We also make Waffle French Toast a lot! But these Tater Tot Waffles just might be the new favorite. All my kids, especially the younger two, liked them! And they're honestly so easy to make. Just mix a few ingredients together in a bowl, then scoop some of the mixture onto waffle iron and cook until they're crispy golden brown.
The key to how to cook tater tots in a waffle iron is to defrost them first. They won't cook well if they're still frozen! You can defrost them in the fridge or simply microwave them.
Ingredients for Tater Tot Waffles
So here are the ingredients you need:
Ground beef -Simply cook and season with a little paprika, garlic powder, salt and pepper. This can be done a day or two ahead of time.
Shredded cheese – I use Colby Jack but cheddar would also be good!
Eggs
Tater tots – just grab a bag from the freezer section at the grocery store
That's it!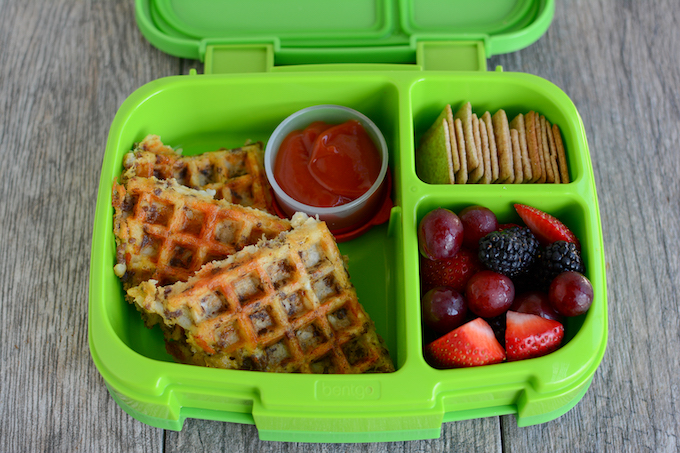 Ground Beef Cooking Tips
When I asked which type of beef you guys were most interested in recipes for, ground beef was overwhelmingly the winner! This is no surprise because ground beef is super versatile. It's easy to stock up on ground beef when it goes on sale and freeze it for later. You can freeze beef in its original packaging for up to two weeks. For longer storage, wrap in heavy-duty aluminum foil or place in plastic freezer bags, removing as much air as possible.
When purchasing, be sure to select ground beef with a bright, red color that is firm to the touch and doesn't have excess liquid in the package. Store ground beef in your refrigerator for 1-2 days, or in the freezer for up to 4 months.
Are hash browns and tater tots the same?
Since they're very similar, just slightly different shapes and cooking methods, I think either would work for this recipe, but I have not tried it with hash browns.
Tater Tot Waffles Recipe
Print
Tater Tot Waffles
These Tater Tot Waffles are kid-friendly and perfect any time of day! Enjoy them for breakfast, pack them in a lunch box or make them for a quick dinner on a busy night.
Author: Lindsay
Yield:

4

waffles

1

x
1 pound ground beef (I use 85/15. Approx 2 cups cooked)
1 tsp paprika
1/2 tsp garlic powder
1/4 tsp salt and pepper
2 cups shredded cheese (I use Colby Jack)
4 servings tater tots (approx 10 tater tots per serving)
4 eggs
Instructions
Thaw tater tots. The quickest way to do this is in the microwave but you can also thaw in the refrigerator. They need to be soft enough smash.
Cook ground beef, paprika, garlic powder, salt and pepper in a pan over medium heat. Drain cooked beef onto a plate lined with paper towels to soak up excess grease.
Place thawed tater tots in a bowl and smash well with a potato masher.
Add cooked ground beef, shredded cheese and eggs and stir until well combined.
On a greased waffle iron, add approximately 1 cup of the beef mixture. Use a fork to spread out the mixture to cover the bottom of the waffle iron and close the lid.
Cook 1-2 minutes or until golden brown.
Carefully remove with a spatula and serve with ketchup!
Notes
You should be able to substitute hash browns for tater tots but I haven't tried it myself.
Pretty easy right?! I can't wait to hear how you like them!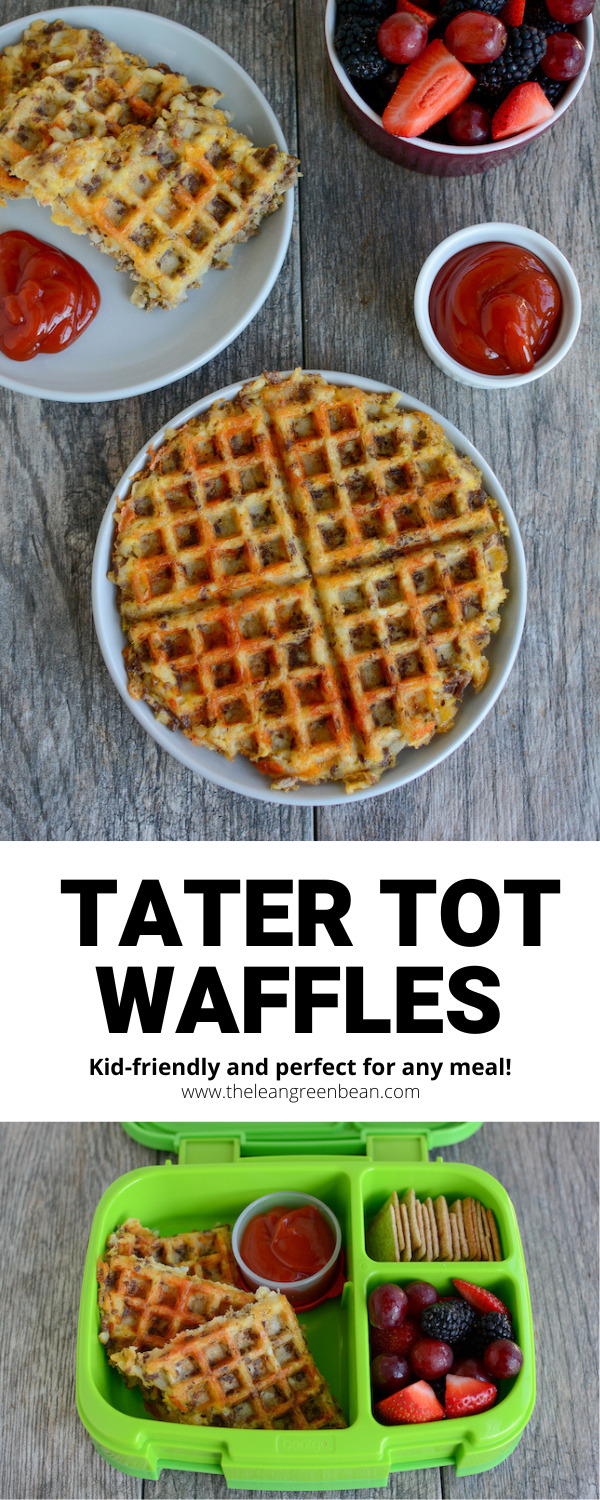 Let me know if you try them.
Visit www.OhioBeef.org, and follow the Ohio Beef Council on Facebook, Twitter and Instagram for beef nutrition facts, cooking tips, recipes and to meet Ohio's beef farming families. Use #OhioBeef to share photos of your healthy meals this school year!
Enjoy!
–Lindsay–
LEARN HOW FOOD AFFECTS YOUR BODY.
Get my free Table Talk email series where I share bite-sized nutrition information about carbs, protein, and fat, plus bonus information about snacks and sugar!