Hi Friends!
The #surviveon35 challenge has come to an end so it seem's like now would be a good time to do a recap of the entire challenge! I was selected to participate in a challenge sponsored by Anytime Fitness and given $70 to buy groceries for this challenge.
I introduced the challenge over a week ago. CLICK HERE to read the intro post where I explain the challenge. The challenge kicked off last Wednesday and finished up last night!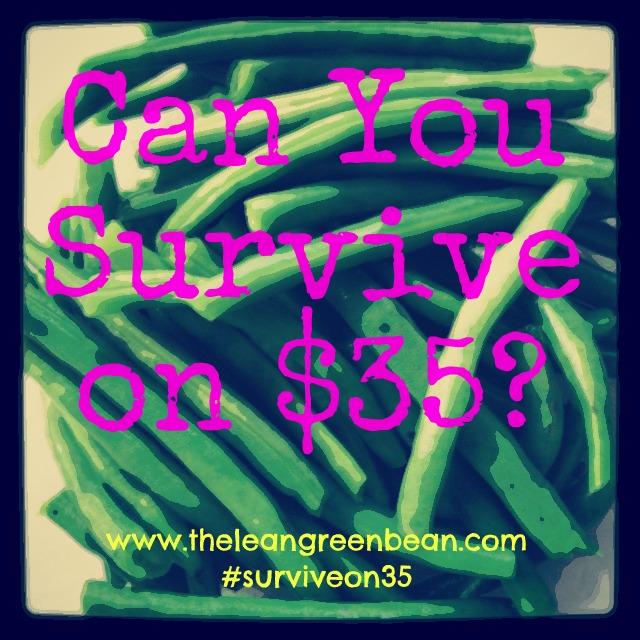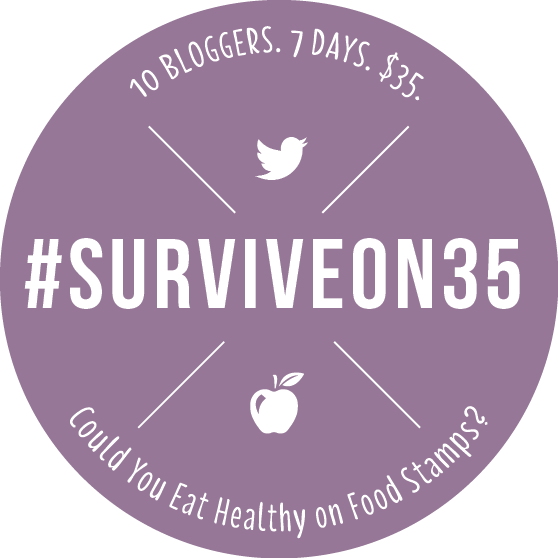 I started by giving you guys a breakdown of how I planned my meals for this challenge and recapped my trip to the grocery store. CLICK HERE to read that post.
In summary, I made a meal plan and used that to make a grocery list. Then I visited two grocery stores to compare prices and chose the store with the best prices overall to do my shopping for this challenge. Based on the prices I recorded, I made some adjustments to my grocery list and then headed to the store.
The trip to the store took me a while because I found myself having to weigh all the items in the produce section AND I was constantly checking and double checking what I put in my cart.
I spent $56.87 during my first trip to the store and here's what I came home with: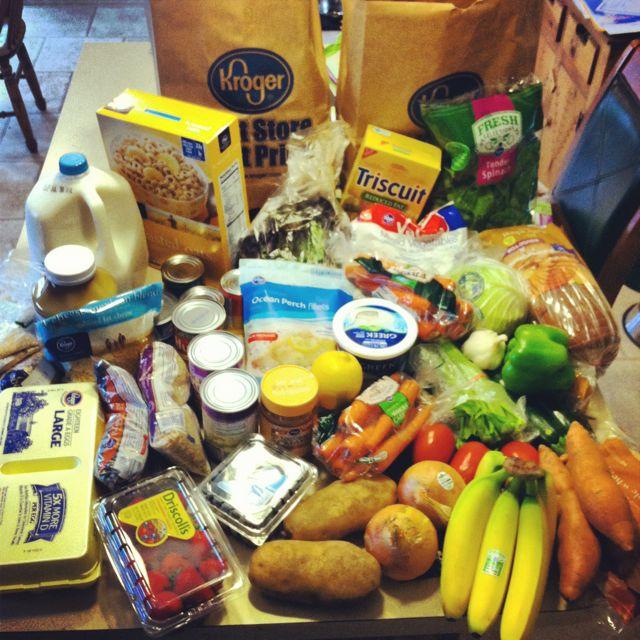 In my next post, I gave a detailed breakdown of everything I bought, including the prices. CLICK HERE to read that post.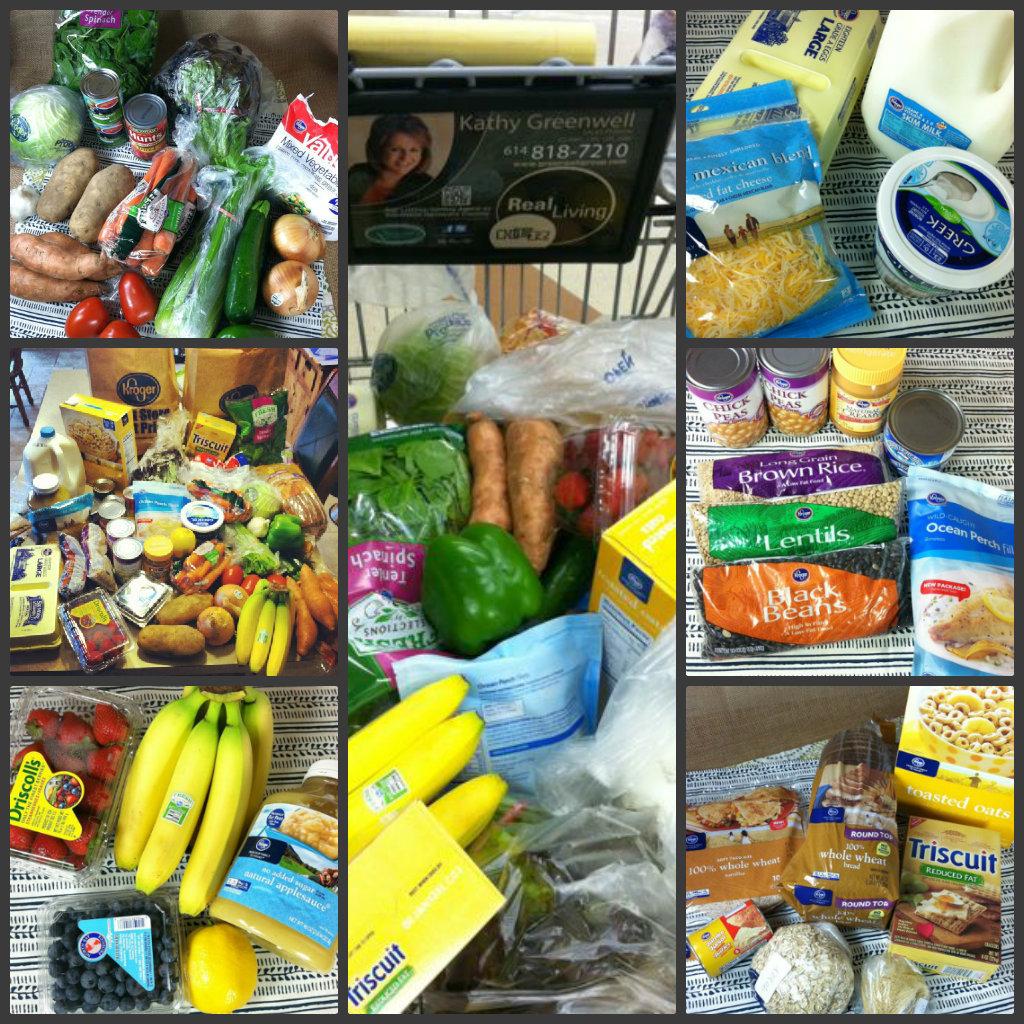 In that same post, I showed you guys some of the prep work I did to make cooking the meals easier during the week and I shared some of the things I thought about while I was at the grocery store.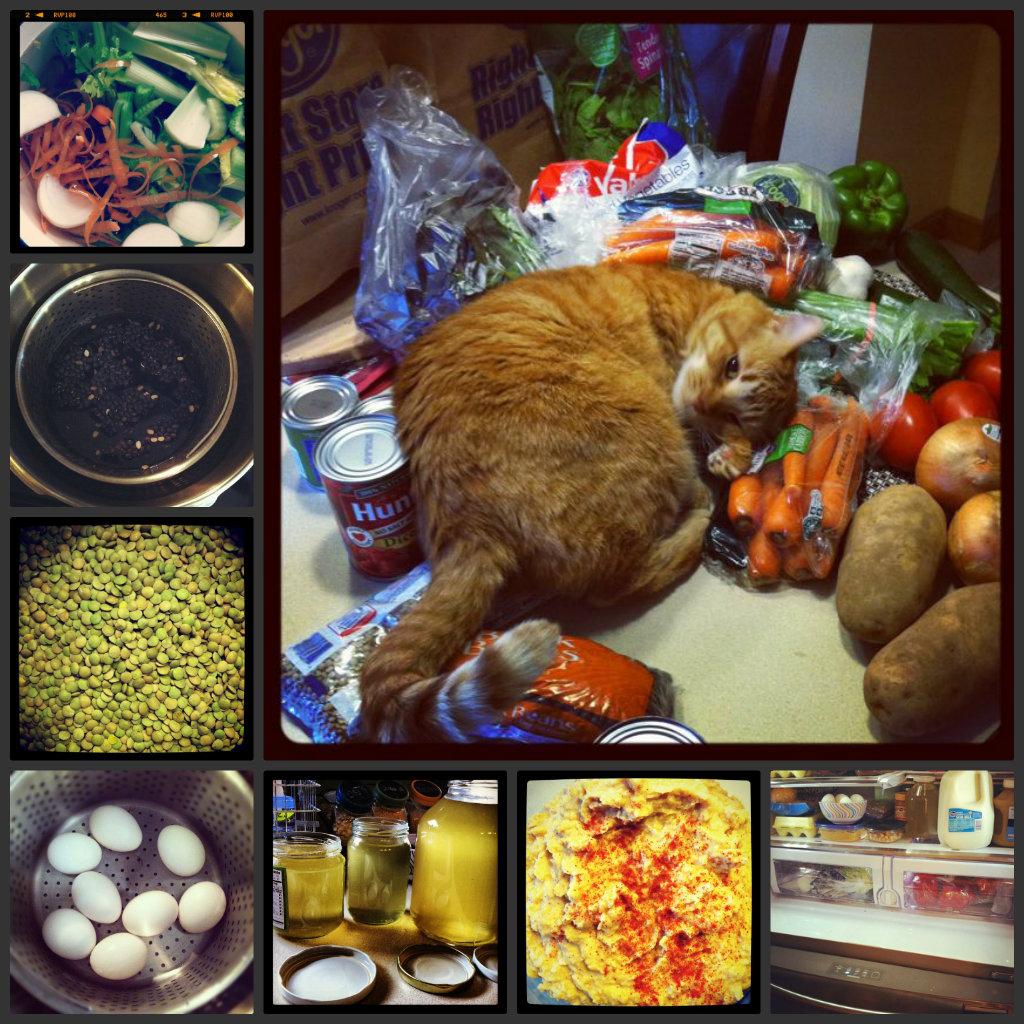 Then I recapped my daily eats for each day of the challenge. In each daily eats post, I included recipes for what I ate that day.
Day 1 Eats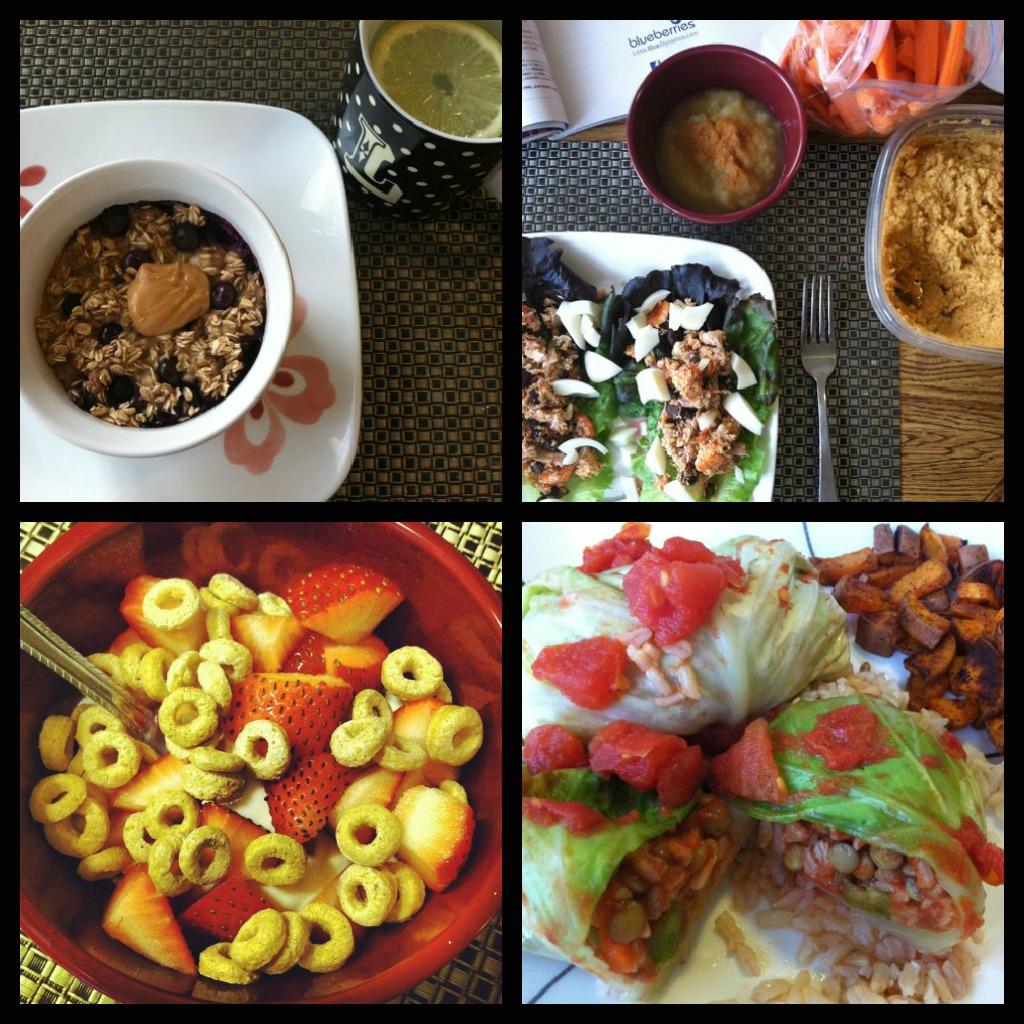 Banana Berry Baked Oatmeal
Tuna & Black Bean Lettuce Boats
Plain Greek Yogurt w/ Berries & Cereal
Vegetarian Cabbage Rolls
CLICK HERE for larger pictures and recipes from Day 1.
——————
Day 2 Eats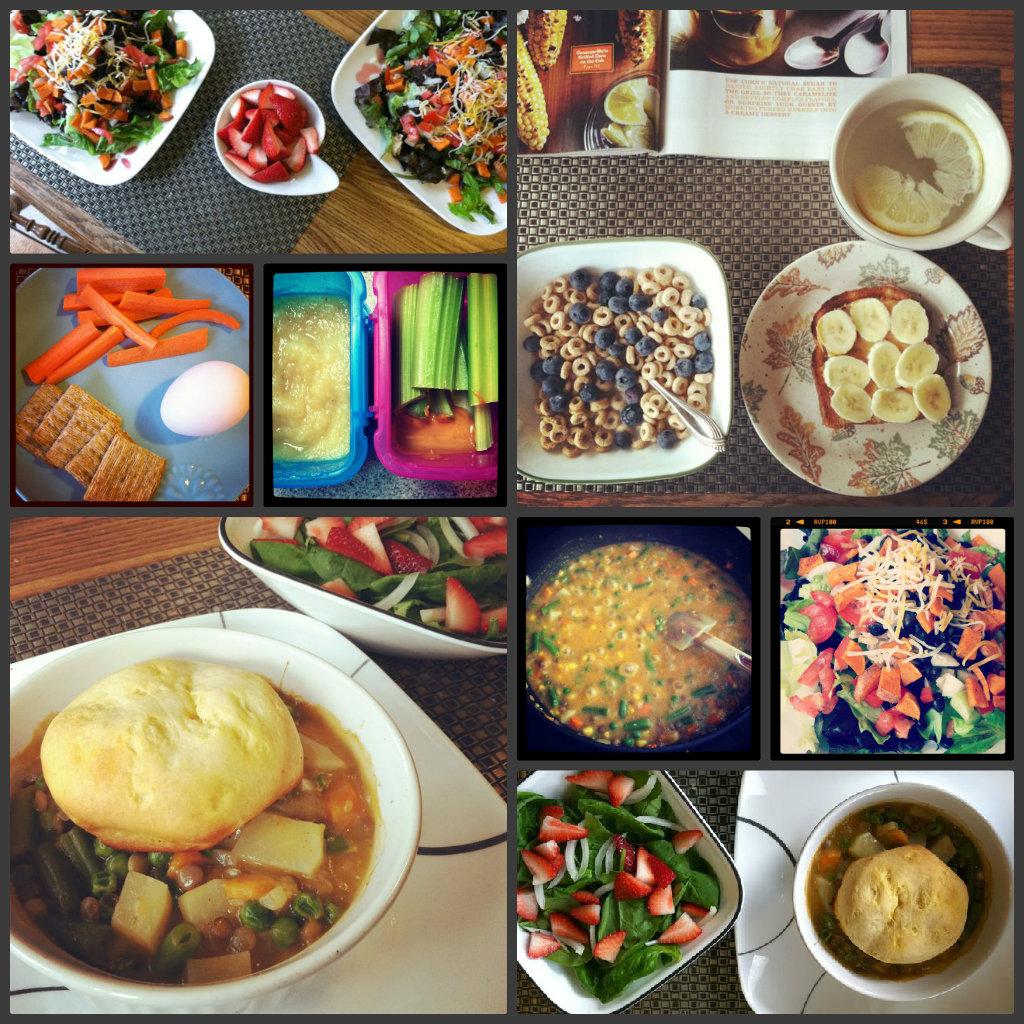 Toasted Oats Cereal w/ Blueberries & PB Toast w/ Bananas
Hard Boiled Egg, Triscuits & Carrot Sticks
Burrito Salads
Celery Sticks w/ PB & Applesuace
Lentil Pot Pies w/ Strawberry Spinach Salad
CLICK HERE for larger pictures and recipes from Day 2.
——————–
Day 3 Eats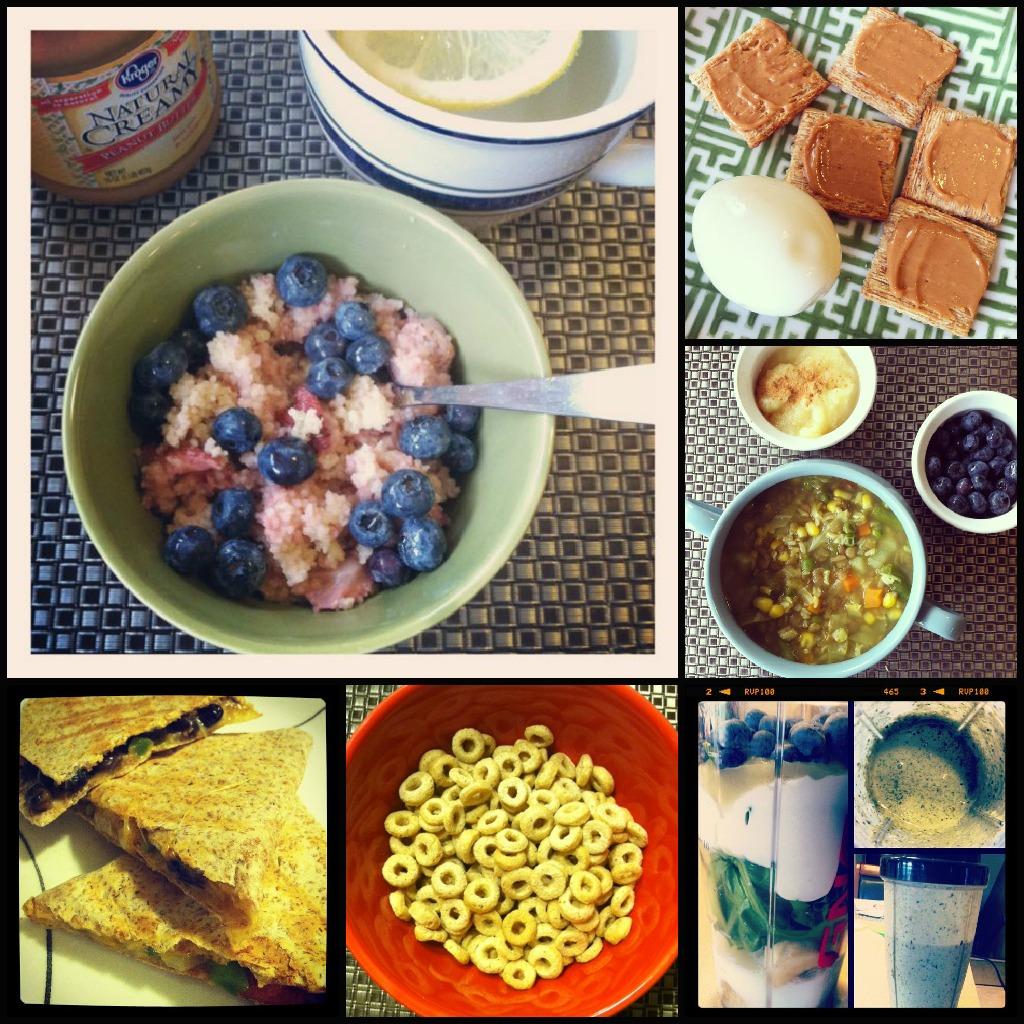 Berry Breakfast Couscous
Hard Boiled Egg & Triscuits w/ PB
Lentil, Veggie & Brown Rice Soup w/ Blueberries & Applesauce
Green Monster Smoothie
Black Bean & Sweet Potato Quesadillas
Toasted Oats Cereal & Skim Milk
CLICK HERE for larger pictures and recipes from Day 3.
————————
Day 4 Eats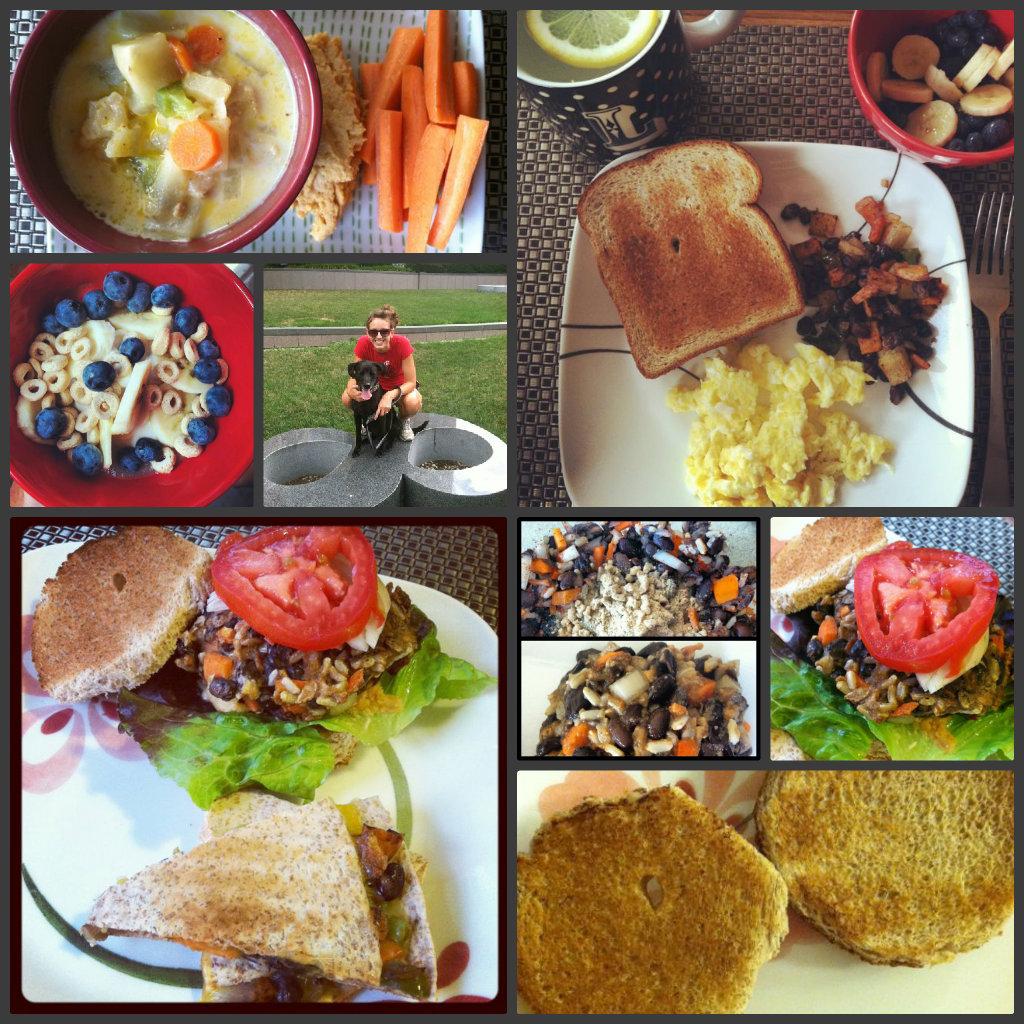 Scrambled Eggs, Whole Wheat Toast and Black Bean & Potato Hash
Side of Blueberries & Sliced Bananas
Fish Chowder w/ Hummus & Carrots
Plain Greek yogurt, Applesauce, Blueberries & Cereal
Black Bean & Brown Rice Burgers
Leftover Black Bean & Sweet Potato Quesadilla
CLICK HERE for larger pictures and recipes from Day 4.
———————
Day 5 Eats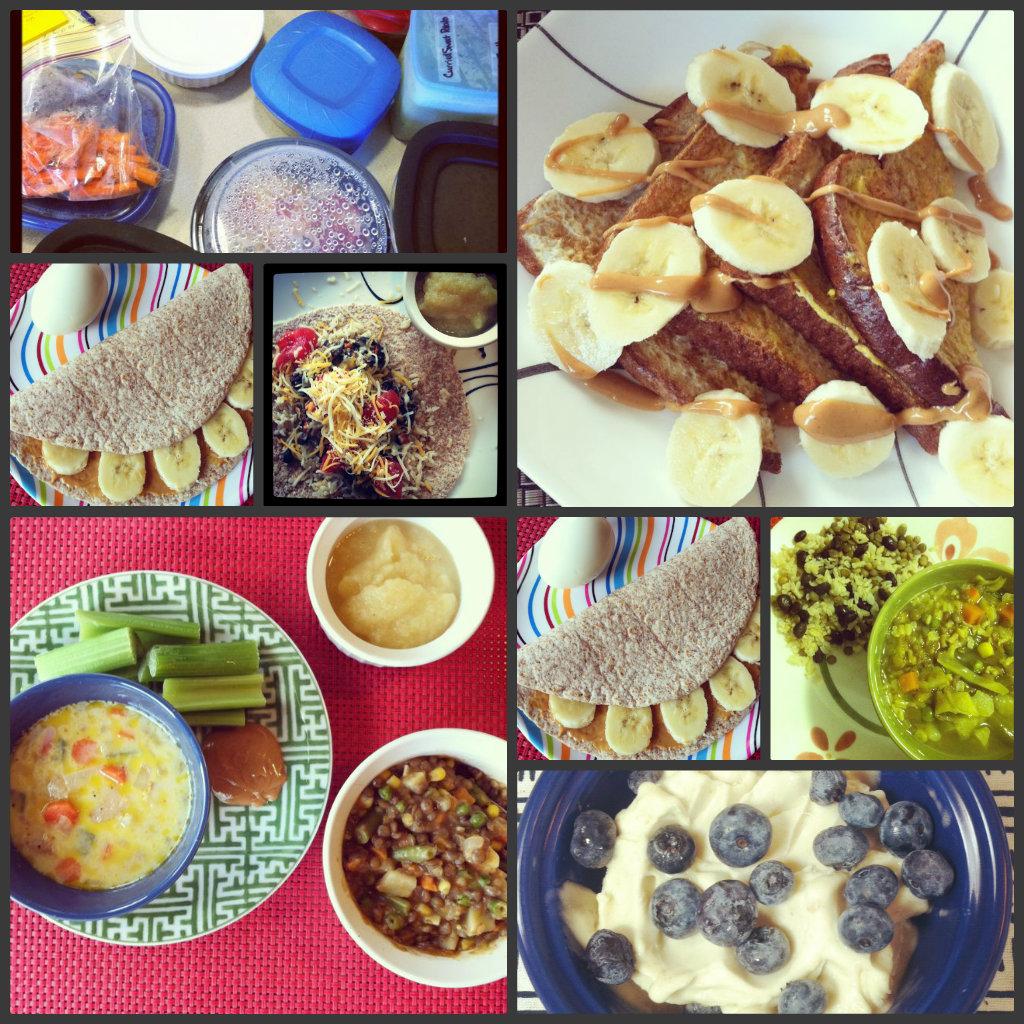 French Toast with Sliced Bananas & Melted PB
Leftovers Day!
Leftover Lentil Pot Pie & Fish Chowder
Leftover Black Bean Burger Wrap
PB & Banana Quesadilla and a Hard Boiled Egg
Leftover Lentil Veggie Soup w/ a side of Beans, Lentils & Rice
Leftover Black Bean Burger w/ Beans & Rice (not pictured)
Banana Fro-yo w/ Blueberries
CLICK HERE to see larger pictures and recipes from Day 5
——————-
Since I only spent $56.87 on my first trip, I returned to the store on Sunday to restock a few items. Going into this challenge my plan was to have about $10 leftover from my first trip so I would be able to restock a few things near the end of the week. Here's what I bought: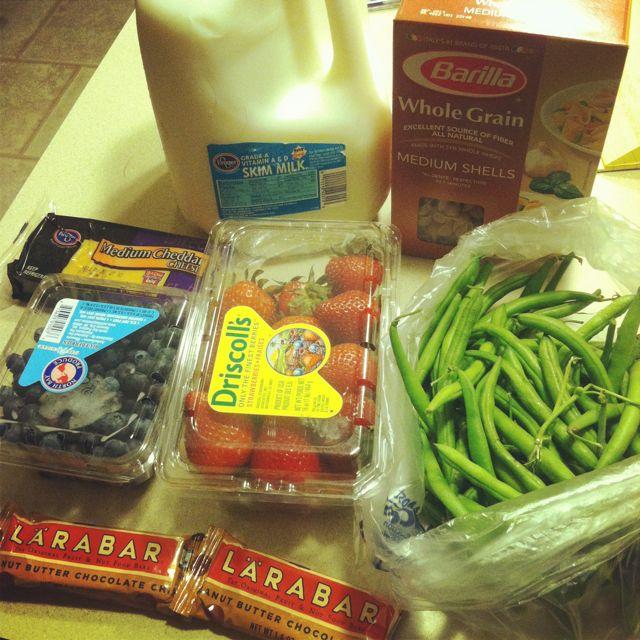 I restocked some basics like fruit and milk,
And picked up some stuff for our last two dinners.
—————————
Day 6 Eats
Oatmeal Smoothie Bowl
Tuna & Brown Rice Wrap
PB Chocolate Chip Larabar
Plain Greek yogurt, Applesauce, Blueberries & Cereal
Lentil Veggie Mac & Cheese w/ a side of Green Beans
CLICK HERE to see larger pictures and recipes from Day 6.
——————
Day 7 Eats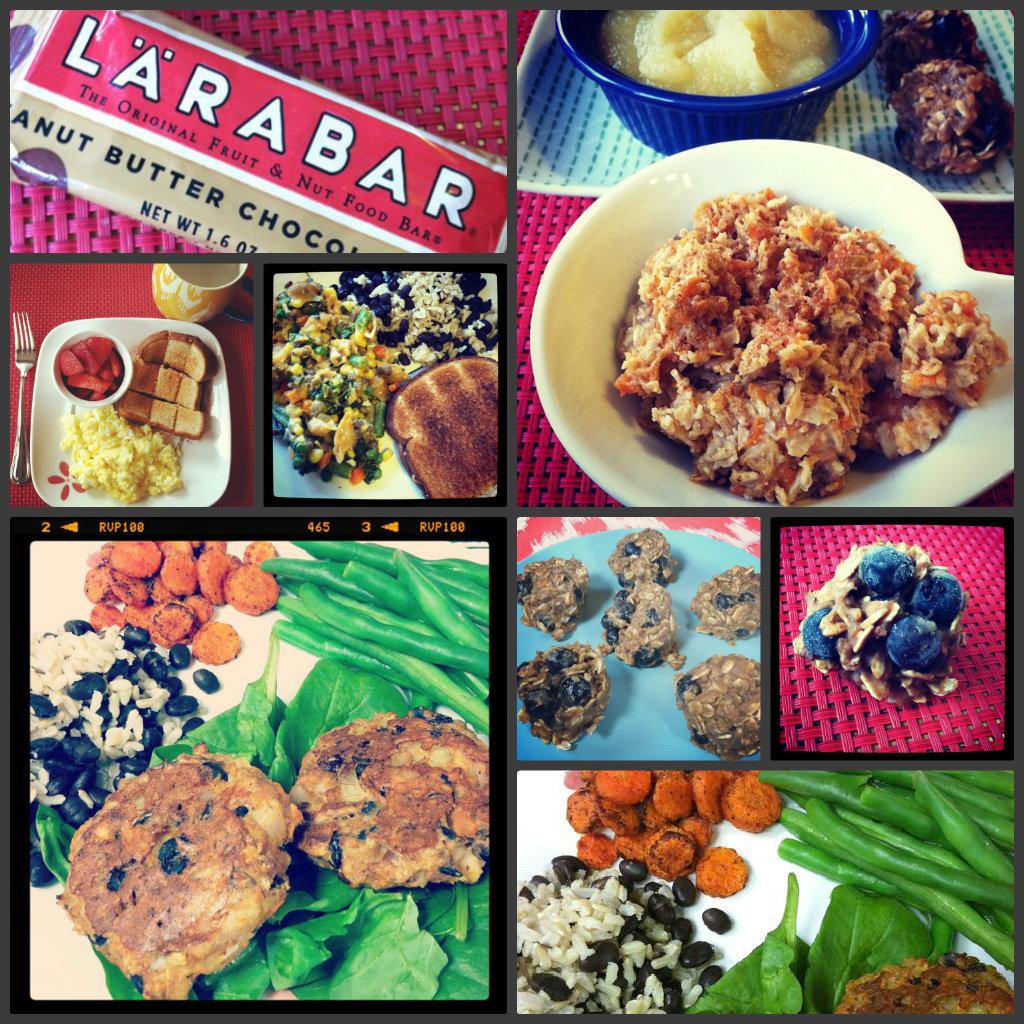 Eggs & Toast with a side of Strawberries
Leftover Lentil Mac & Cheese, Rice & Beans and PB Sandwich for hubby
Sweet Potato Oatmeal with PB & Cinnamon for me
Banana Berry Snack Balls
Fish Cakes with Rice & Beans, Green Beans & Roasted Carrots
——————–
Since I didn't do a separate post for Day 7 Eats,
I'll share a few recipes with you here:
—————————-
Sweet Potato Oatmeal
For the sweet potato oatmeal, I microwaved a sweet potato,
saved half for later and added half to my oatmeal.
You could also diced it up and cook it right in with the oatmeal.
Top with pb and cinnamon!
————————
Fish Cakes
1/2 c cooked sweet potato, mashed
3 Tbsp onion, diced
1/3 c cooked black beans
1 clove garlic
2/3 c cooked, flaked fish
1/2 c breadcrumbs
1 egg
Old Bay & Cayenne pepper to taste
Mash the sweet potato, onion, black beans and garlic in a small bowl.
Mix in the fish, breadcrumbs and egg.
Form into 4 cakes.
Bake at 425 for 14 minutes, flipping once.
——————————
Banana Berry Snack Balls
1/2 a banana, mashed
2 Tbsp peanut butter
1/4 c oats
1/3 c blueberries
Mix all ingredients in a small bowl.
Scoop into balls and refrigerate or freeze.
I tried them both ways and prefer them frozen,
and then slightly thawed! SO GOOD!
—————————
Between my two trips to the store, I spent a grand total of $69.66.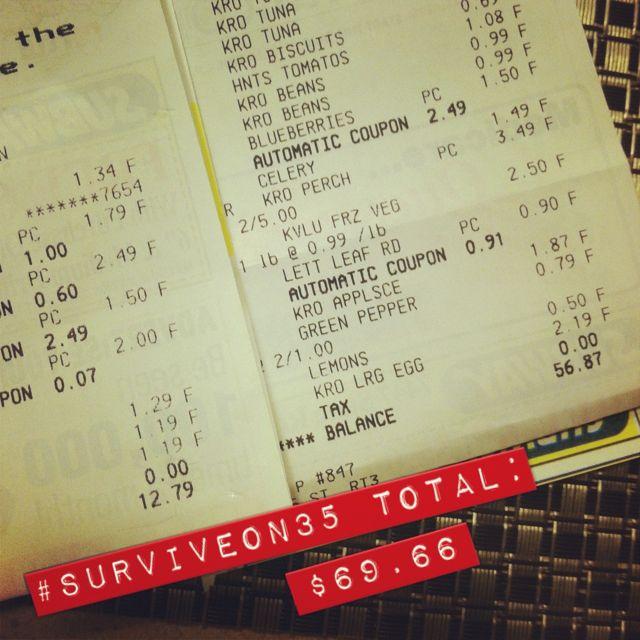 For your reference, here's a list of all of my #surviveon35 posts:
Menu Planning & Grocery Shopping
Grocery Breakdown and Food Prep
Day 1 Eats
Day 2 Eats
Day 3 Eats
Day 4 Eats
Day 5 Eats
Day 6 Eats
—————————-
 Now, let's recap some of my thoughts about the challenge!
Some things I noticed & learned:
I did less mindless snacking. Usually I'm always grabbing a handful of cereal here, some crackers there…I did less of that because I simply didn't purchase as many snack-type foods.
I did less overall snacking. Usually I tend to eat several small meals throughout the day. During this challenge I found myself eating 3 main meals and one or two snacks. This means my 3 main meals were larger than I'm used to eating.  I was eating more at meals and less between them.
I was constantly thinking about how much food we had, re-evaluating my menu plan, worrying about whether we would run out of stuff.
It's tiring to cook every single meal. Typically we go out to eat at least once a week, sometimes twice. We couldn't do that on this budget.
When I think about it, $70 per week isn't all that much less than we typically spend per week.  However, I have a well-stocked pantry and freezer so I have more money to spend on things like fresh fruits.
Planning is KEY. There's no way I would have made it through this challenge without doing the amount of planning I did.
There were things I missed, but they weren't necessarily things I NEED for a healthy diet, just things I'm used to having like red peppers, coffee, almonds, avocados…
I did go without some of my favorite items this week, but I do think they could be purchased on a similar budget..perhaps not every week, but you could definitely incorporate them into a multi-week rotation.
Having a limited supply of foods to work with helped me come up with some combinations I probably wouldn't have thought of on my own.
I never felt like I wasn't getting enough food or that I was missing out on any nutrients.
Frozen vegetables are awesome. I don't know why I never bought them before, but I'm definitely going to start- they're perfect for things that are going to be cooked anyways like soup and pot pies.
There's nothing wrong with store brand. The cereal and the tortillas I bought were both as good, if not better than the name brand kinds i've bought in the past!
What I hope YOU learned:
That it IS possible to eat healthy, nutritious meals on a limited budget.
That eating on a budget doesn't have to be boring. There are TONS of possibilites out there.
That planning is critical for successfully eating well on a budget.
That you shouldn't be afraid to try something new! You just might like it 🙂
So what was left at the end of the week? Not much: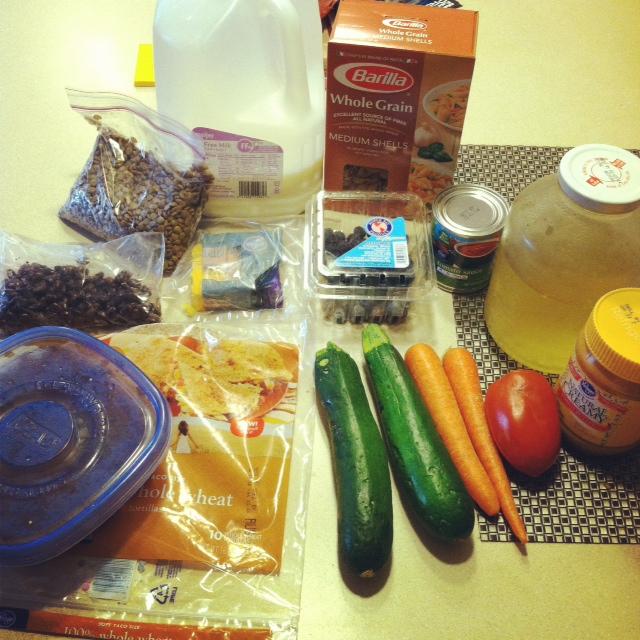 One whole wheat tortilla
Some hummus
About 1/2 cups of cooked black beans
About 2 cups of cooked lentils
A few cups of homemade veggie broth
About 1/4 gallon of milk (our second gallon)
1/2 a box of pasta
An 8 oz can of tomato sauce
1/4 pint of blueberries (our second pint)
About 1/4 jar of peanut butter
4 oz of cheese
2 zucchini
2 carrots
1 tomato
—————————–
Thanks so much for all of your support during the challenge! I had a great time sharing my eats with you! Big thanks to Fitfluential and Anytime Fitness for giving me the opportunity to participate. If you have a moment, I'd love for you to tweet and share this post and go through and like some of the photos I've posted on Instagram and Facebook over the past week if you haven't already! The winners of the challenge will be chosen tomorrow!
If you enjoyed the campaign, please join Anytime Fitness and all of the #surviveon35 challengers for a Twitter Chat tomorrow (Thursday July 26th) at 7pm EST/6pm CST! Winners will be announced, so come find out who gets to give $1,000 to their favorite food pantry!
Enjoy!
–Lindsay–
Fitfluential compensated me for this campaign. All opinions are my own.
LEARN HOW FOOD AFFECTS YOUR BODY.
Get my free Table Talk email series where I share bite-sized nutrition information about carbs, protein, and fat, plus bonus information about snacks and sugar!