Hi Friends!
We're skipping Fitness Friday this week so I can keep sharing more about the #surviveon35 challenge with you. I was selected to participate in a challenge sponsored by Anytime Fitness and given $70 to buy groceries for this challenge.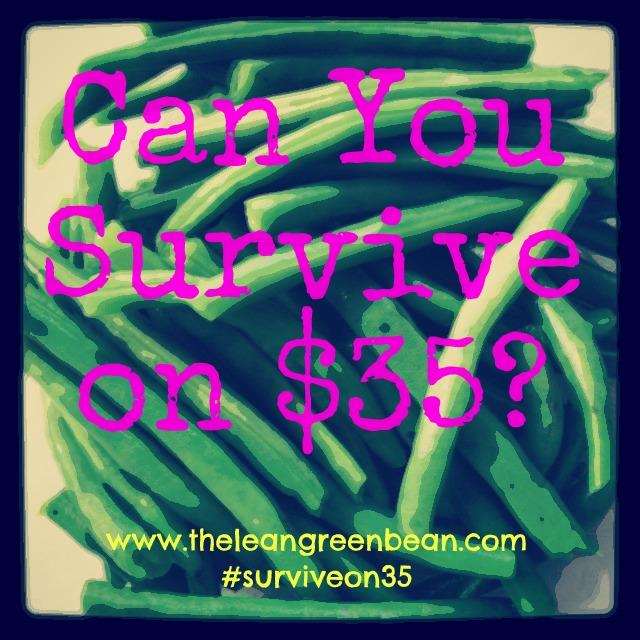 When we left off yesterday, I had just gotten home from the grocery store. Here's what I bought for $56.87: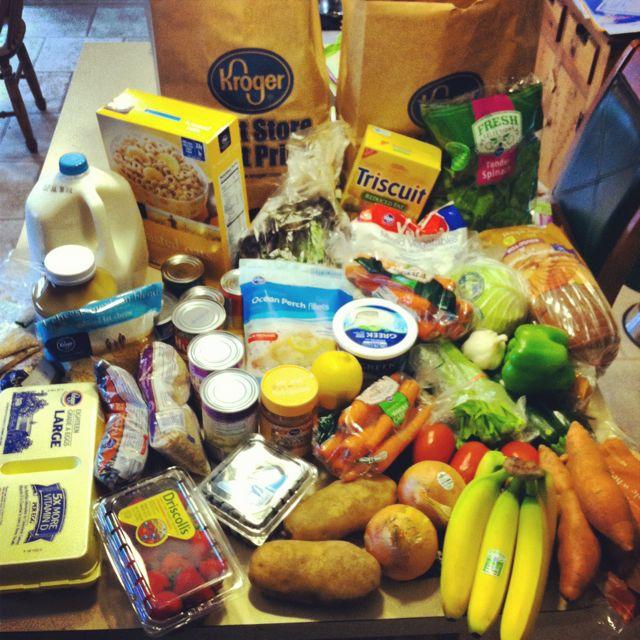 Today let's break it down into a little more detail to show you what I got (items that are bolded were on sale in the store):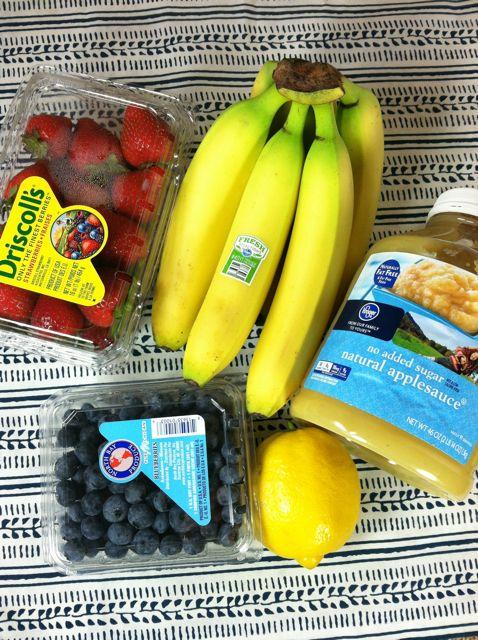 Fruit
1 Quart of Strawberries- $2.00
 1 Pint of Blueberries- $1.50
6 Bananas- $1.16
1 Lemon- $0.50
Applesauce- $1.87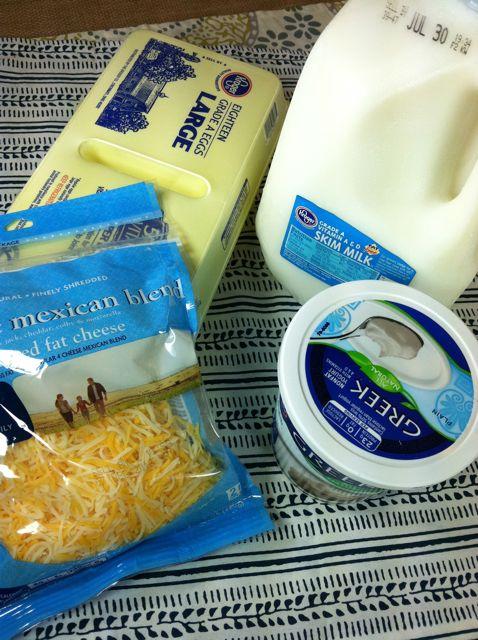 Dairy
18 eggs- $2.19
1 bag 2% Mexican cheese- $1.79
1 gallon Skim Milk- $2.49
Greek Yogurt- $3.29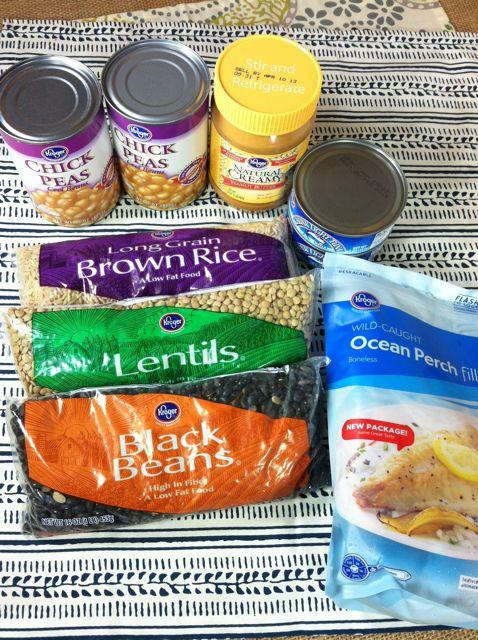 Protein
2 cans of chickpeas- $1.98
1 jar of natural peanut butter- $2.50
2 cans of tuna in water- $1.40
1 bag brown rice- $0.70
1 bag dried lentils- $1.29
1 bag dried black beans- $1.39
Wild Caught Perch- $3.49
*yes greek yogurt also could be in this picture
*yes rice could also be in the grain picture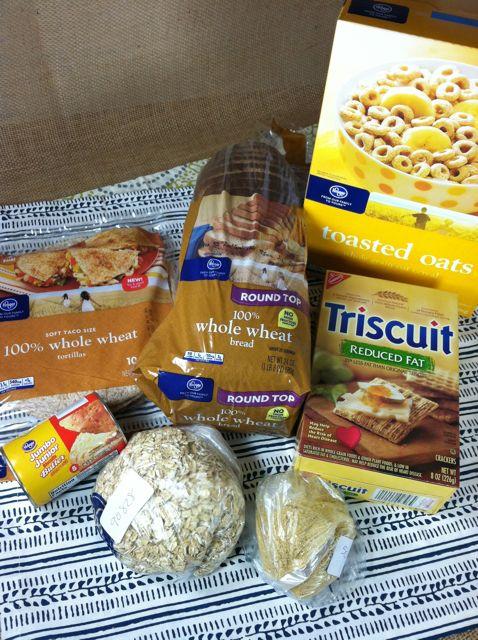 Grains
10 Whole Wheat Tortillas- $1.59
1 loaf Whole Wheat Bread- $1.79
1 box Toasted Oats cereal- $1.99
1 box Triscuits-$2.00
5 pre-made refrigerator biscuits- $0.69
1/2 pound rolled oats from bulk bins- $0.66
1/4 pound whole wheat couscous from bulk bins- $0.56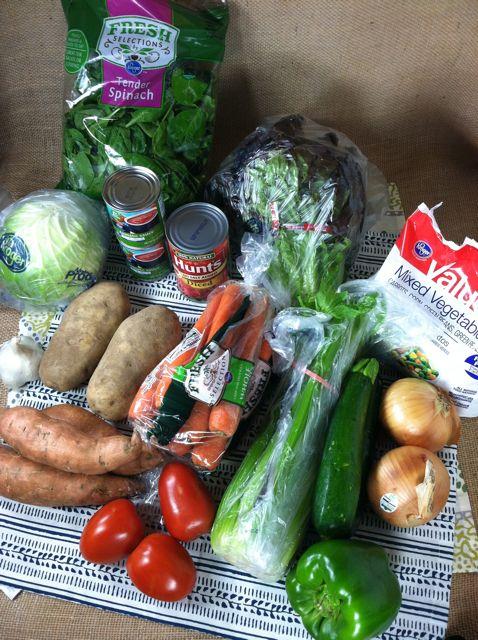 Vegetables
1 bag baby spinach- $1.99
1 head of green cabbage- $0.79
2- 8oz cans no-salt added tomato sauce- $0.74
1 can no-salt added diced tomatoes- $1.08
1 head red leaf lettuce- $0.90
1 bag frozen mixed vegetables- $2.50
1 bulb garlic- $0.50
2 russet potatoes- $0.98
2- 1# bags carrots- $1.58
1 bunch of celery- $1.50
2 zucchini- $1.15
2 onions- $1.00
3 sweet potatoes- $1.47
1 green pepper- $0.79
3 roma tomatoes- $1.00
*yes I know tomatoes are a fruit
————————————-
So now that you have the breakdown, here are some of my thoughts, in no particular order:
I eat a lot of Greek yogurt. I wanted to buy some. I was lucky to find some on sale. However, that's one thing I probably would have bought even if it wasn't on sale because I know it plays a large role in the amount of protein I personally get.
I chose to get a big bag of frozen vegetables (peas, carrots & green beans) because several of the items on my menu require cooked vegetables. There was no reason I needed to buy fresh vegetables for those dishes if they were more expensive.
I planned to buy fresh green beans to eat as a side dish because I prefer them to frozen. They were out of green beans. Sad.
Choose cheese made with 2% milk for the same price as full-fat cheese.
I used the bulk bins to only buy the amount of oats and couscous I needed for the week.
I chose Triscuits for my crackers because they have a simple ingredient list and provide fiber and protein, something a lot of cheaper crackers don't have.
I still looked at the sodium content in the tortillas and bread I got. I weighed price against nutritional value and was able to find tortillas and bread that were relatively low in sodium. I also got 100% whole wheat products for not much more than the cost of comparable non-wheat products.
I could have bought dried chickpeas but it's my personal preference that I prefer canned to make hummus. Since making hummus was all I planned to use them for, I didn't need a whole bag of dried ones.
I chose dried black beans and lentils because I will be using them in almost every dish. They're easy to cook ahead of time and freeze, and I like that you can control the sodium content. Plus they're cheap!
I was able to find a natural peanut butter on sale that contained just peanuts and salt. Although I prefer unsalted, this was the best choice for this week. However, had it not been on sale, this is another item I would have spent more $ on to get a natural version without all the added sugars and oils that are in some brands.
I chose Perch for my fish not only because it was on sale, but because it was wild-caught. I got slightly less fish than if I'd bought a larger pack of farm raised tilapia, but it was cheap and I am using it in soup which I can bulk up with vegetables.
The berries I bought were on sale. If they hadn't been, I would have looked at the fruit options that were on sale. I chose unsweetened applesauce because you can get a lot of applesauce for not much money and it will help me get my servings of fruit in each day.
Celery is not the most nutritious vegetable. There isn't much too it. I wouldn't have bought it, however, I decided after looking at the prices of veggie broth that I could make my own for much cheaper. I think celery is a key ingredient in making broth. I used the tops and bottoms of the stalks to make broth and will eat the celery with peanut butter for a snack!
I paid $0.20 extra for a can of no-salt added diced tomatoes. My can has 10mg sodium per serving with about 3 servings per can. Other cans, with salt added, have 300-400mg per serving or 900-1200mg per can. Since I plan to use the juice from the can as well, I believe it's worth the extra money to get no-salt added.
I was going to buy enchilada sauce. It's high in sodium as well so I bought a small can of no salt-added tomato sauce for 1/3 the price and will add a few spices to make my own sauce.
Like I said yesterday, coffee is expensive. I can live without it and hubby can get free coffee at work. However, I had money leftover so I may use it to treat us to coffee this weekend.
When I got home from the grocery store I spent a little over an hour in the kitchen doing some prep work for the week. Here's what I did to make it easier to put together meals during the week: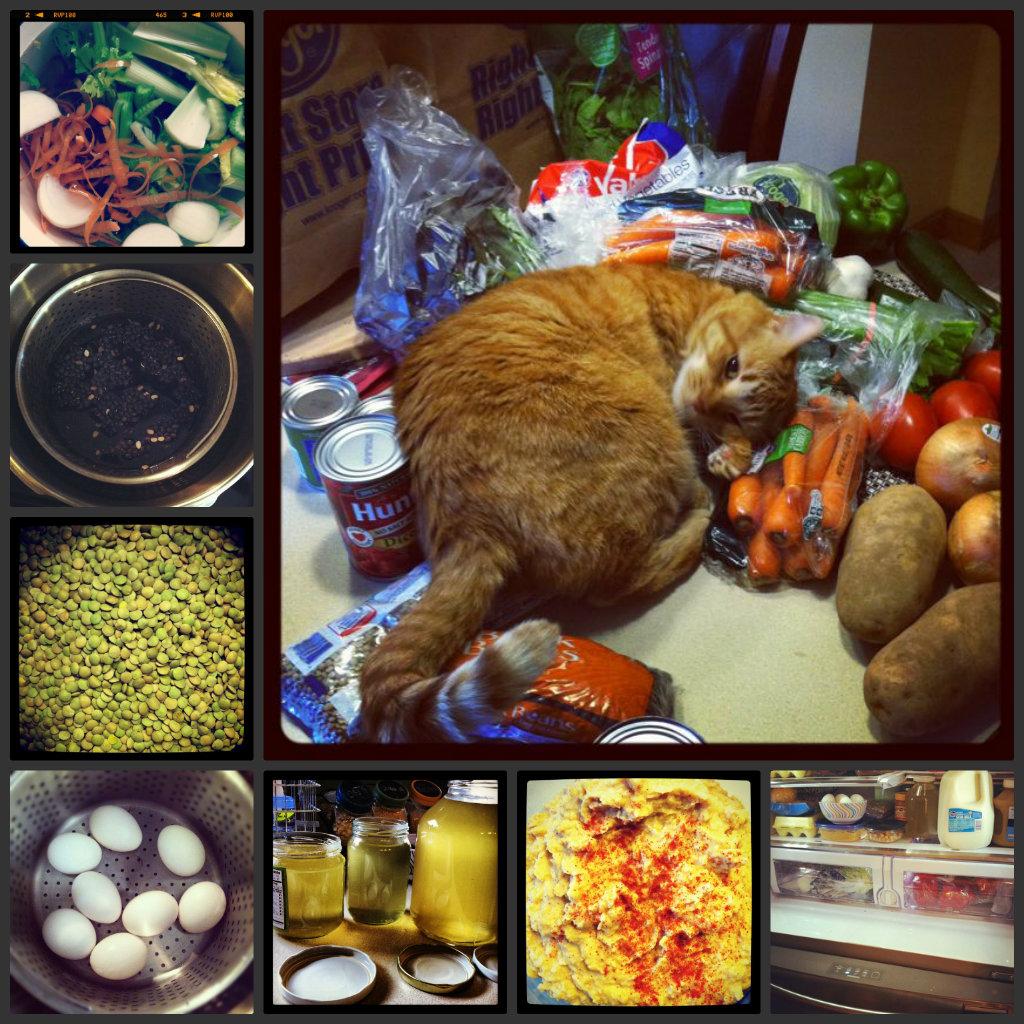 I made some homemade veggie broth with celery & carrot scraps and onion.
The rest of the celery & carrots are chopped up & ready for snacking.
I cooked the whole bag of dried black beans.
Portion them into ziploc bags and freeze until ready to use.
Same thing with lentils.
They cook fast and freeze well.
I hardboiled half my eggs to snack on during the week.
Store the veggie broth in the fridge if you're going to use it during the week.
If not, freeze it and thaw it out when you need it.
Make your own hummus.
I made a double batch for snacking this week.
I also cooked up some brown rice (not pictured).
Enjoy!
–Lindsay–
LEARN HOW FOOD AFFECTS YOUR BODY.
Get my free Table Talk email series where I share bite-sized nutrition information about carbs, protein, and fat, plus bonus information about snacks and sugar!