Hi Friends!
I have some exciting news to share with you guys to kick off the week! As you guys know, I'm a Fitfluential Ambassador and with that comes the opportunity to do some really cool things. One of those cool things is the challenge I'm going to share with you today!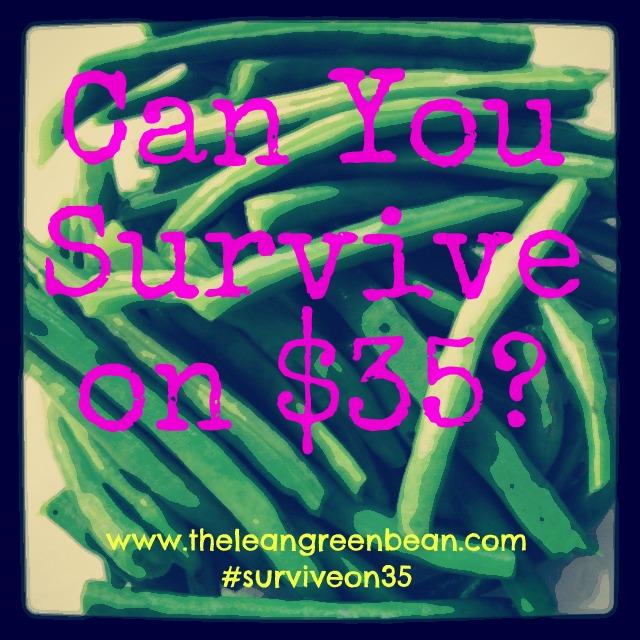 I was selected, along with 9 other Ambassadors to participate in a challenge sponsored by Anytime Fitness. Tomorrow there will be an interview with the CEO of Anytime Fitness published on the Fitfluential blog that talks more about the challenge, but the basic premise is this:
I'm being given $70 to shop for and purchase enough food to feed the hubby and me 3 meals a day for 7 days. That's $35 a week per person…or $5 a day.
This equates to the average amount you would receive if you were participating in the SNAP program (formerly called Food Stamps). The budget is adjusted for ambassadors based on family size.
We're being challenged to:
Stay within our budget
Share our meals with you via instagram/twitter/facebook
Show you guys that you can cook healthy, nutritious meals on a tight budget
You guys know I LOVE sharing healthy meals with you and I am SO PUMPED for this challenge! But guess what? There's a kicker! Anytime Fitness is going to select 2 of the 10 ambassadors as winners of the challenge at the end of the 7 days and they will donate $1,000 to the food pantry of our choice!
Amazing, right?!
Winners will be chosen based on the number of likes, shares, tweets etc they receive via social media, as well nutrition and creativity!
Some of you guys might remember the post I wrote earlier this year called 5 Reasons to Volunteer that included a section at the end about my favorite food pantry in Columbus. I've always held a special place in my heart for food pantries and have volunteered at several over the years. I would LOVE to win this challenge and be able to give that $1,000 to the food pantry at the Mid Ohio Food Bank!
But I need help from you guys! The challenge starts Wednesday so I would love your support in liking and sharing my pictures/tweets/etc!
I also want to extend this challenge to all of you!
Do you think you could survive on $35 a week and still eat some healthy, delicious meals? I'd love to have some of you join me in this challenge!!! If you decide to join in, I want to hear all about your journey! Tweet me your thoughts, tag me in your pictures, show me your grocery list…are you up for it?
Tomorrow I'll be shopping for our groceries for the week! I already have my menu plan mostly figured out… but there are still a few spots I'm working on. Wanna help?! Let me know what you think I should be eating. I'd love to hear your suggestions for cheap and healthy breakfasts, lunches and dinners! Do you regularly shop on a strict grocery budget? Do you have any tips for me?
Let's hear it!
–Lindsay–
LEARN HOW FOOD AFFECTS YOUR BODY.
Get my free Table Talk email series where I share bite-sized nutrition information about carbs, protein, and fat, plus bonus information about snacks and sugar!