Hi Friends!
I know I haven't shown you the detailed breakdown of what I bought yet- that post is scheduled for Friday- but I wanted to take a minute to show you guys what we ate on the first day of the challenge! I didn't really follow recipes but I did my best to write down what I used as closely as possible so I could share with you guys! So here we go! Note: I was selected to participate in a challenge sponsored by Anytime Fitness and given $70 to buy groceries for this challenge.
Daily Eats- Day 1 (Wednesday):
Breakfast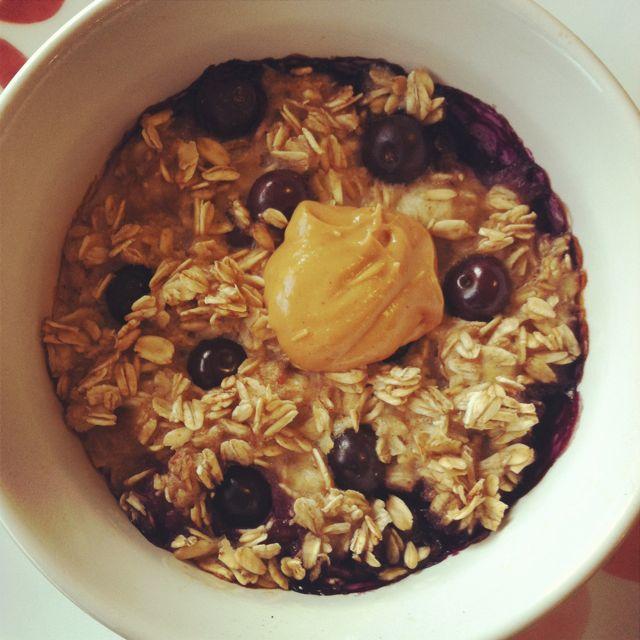 Blueberry Banana Baked Oatmeal
1/2 a banana, mashed
1/2 c oats
1/4 c skim milk
sprinkle of cinnamon
blueberries
peanut butter for topping
Combine all ingredients in a greased ramekin.
Bake at 375 for 20 minutes.
Top with peanut butter and eat!
Serves 1.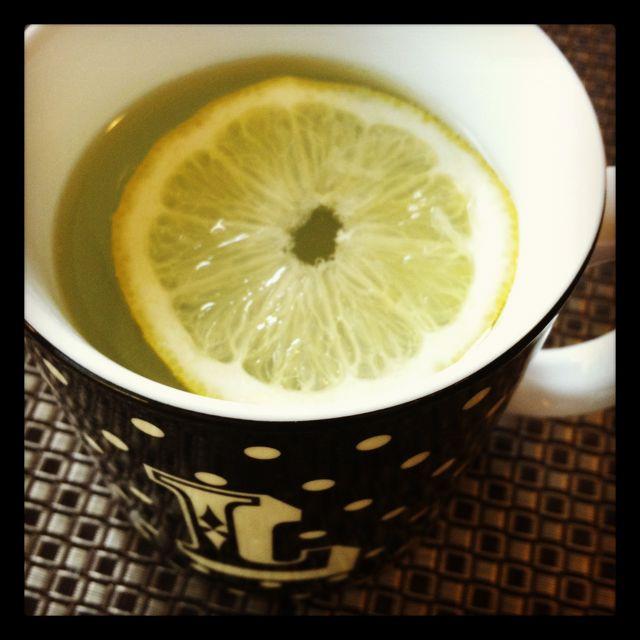 Since I decided not to buy coffee during my first trip to the grocery store,
I've been enjoying hot water with a slice of lemon.
Lunch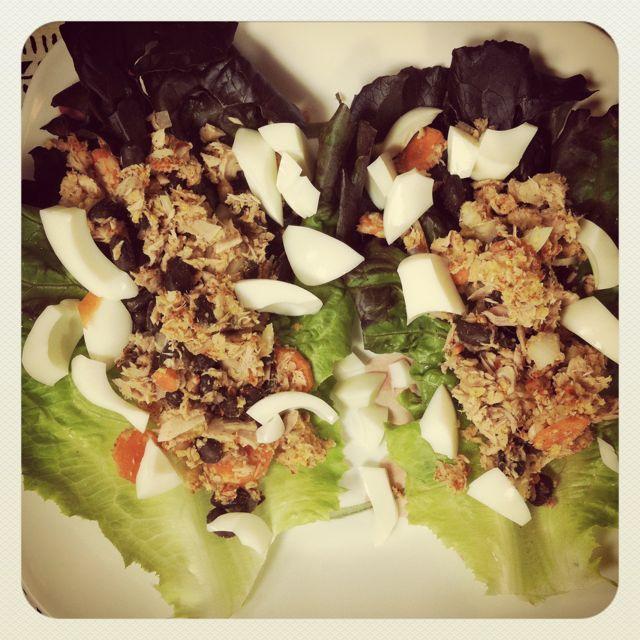 Tuna & Black Bean Lettuce Boats
1 can tuna, drained
4 lettuce leaves
3 Tbsp hummus
1/2 c black beans
1 carrot, diced
3 Tbsp onion, diced
cayenne pepper & paprika
2 hard boiled eggs, chopped
Combine the tuna and hummus in a small bowl.
Mix in the veggies and black beans.
Season as desired and mix well.
Spoon onto lettuce leaves.
Top with hard boiled egg.
————
This made enough for each of us to have 2 boats.
Eat by hand, like a wrap, or with a knife and fork.
——————
Served with a side of applesauce and some carrots & hummus.
Snack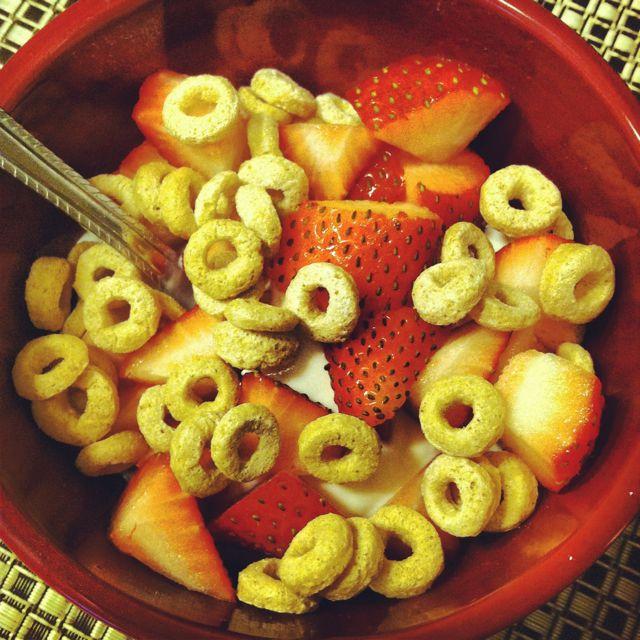 Yogurt Bowl
Plain Greek yogurt
3 strawberries, cut up
handful of Toasted Oats cereal
Dinner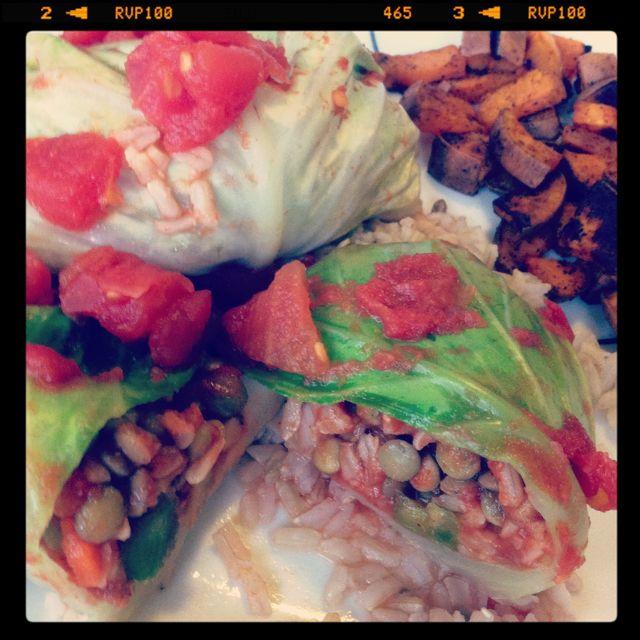 Vegetarian Cabbage Rolls
2 cloves garlic
1/3 c onion, diced
1/3 c carrot, diced
1/3 c green pepper, diced
1 c lentils, cooked
8 oz no-salt added tomato sauce
1 c brown rice, cooked
paprika, black pepepr & cayenne pepper to taste
1 can no-salt added diced tomatoes, with juice
1/2 c vegetable broth
7-8 green cabbage leaves
Place the cabbage in boiling water for about ten minutes.
Remove and carefully pull off 7-8 leaves.
In a small bowl, mix together everything but the diced tomatoes & broth.
Spoon mixture evenly into leaves.
Fold the bottom of each leaf in, the the sides, then roll shut.
Place seam-side down in a greased baking dish.
Mix together the tomatoes and broth and pour over the rolls.
Cover with foil and bake at 375 degrees for 30 minutes,
or until cabbage is cooked to desired tenderness.
——————–
———————
Served with a side of roasted sweet potatoes.
We each ate 2 rolls and had 3 leftover.
————————
I also ate a bowl of toasted oats cereal with skim milk before I went to bed.
Sorry I forgot to take a picture!
————————
All together now: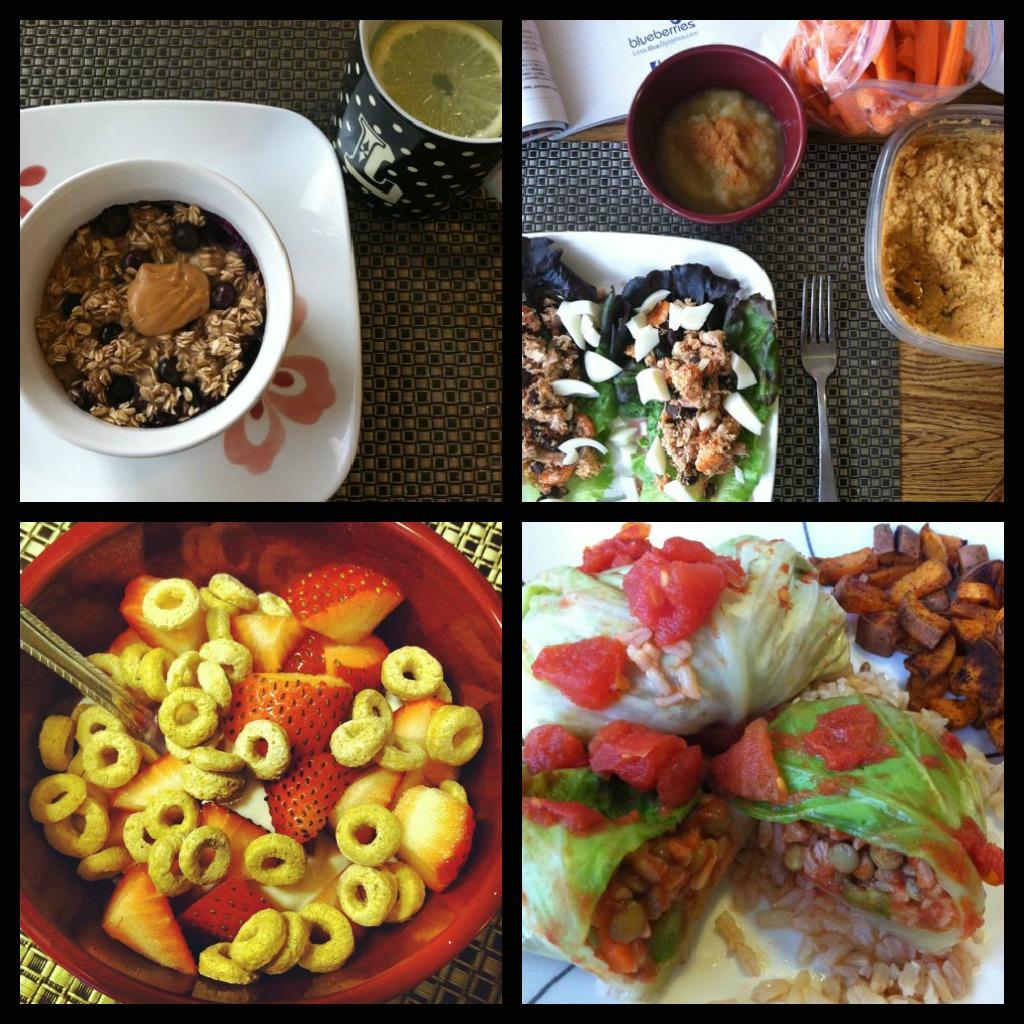 Enjoy!
–Lindsay–
LEARN HOW FOOD AFFECTS YOUR BODY.
Get my free Table Talk email series where I share bite-sized nutrition information about carbs, protein, and fat, plus bonus information about snacks and sugar!