Hi Friends!
We're in Day 2 of the #surviveon35 challenge. I was selected to participate in a challenge sponsored by Anytime Fitness and given $70 to buy groceries for this challenge.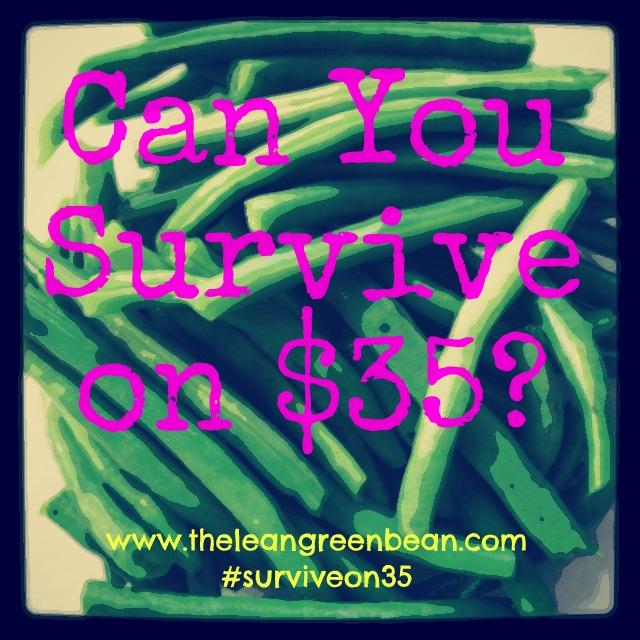 Today I thought I'd take some time to talk about all the preparation and planning that went into this challenge for me. But first I wanted to briefly address why I'm doing this challenge. I've seen lots of people do this challenge over the past couple of years. No matter who is doing it, or for what reason, there always seems to be someone that has a negative reaction to it. Someone who thinks that it trivializes the food stamp program, makes a mockery of people currently going hungry, etc. There are bloggers doing this challenge with me this week that are getting HAMMERED by people who view this challenge as a negative thing. I disagree. As a future Registered Dietitian, I obviously feel very strongly that everyone should strive to eat a healthy, well-balanced diet. I realize that on a limited budget it is challenging, but I also believe it can be done. That's why I'm doing this challenge. To show you guys that with a little planning, healthy meals can be created for very little money.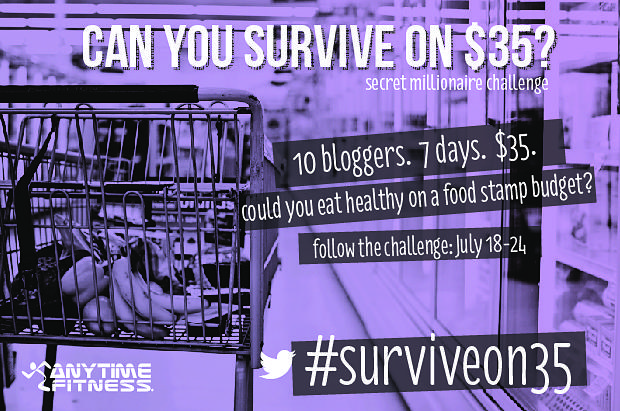 I fully understand that doing this for one week doesn't mean I know what people who live like this every day are going through.
I understand that there are a lot of factors that aren't being addressed by this challenge . There are a lot of people that can only get to the grocery store using public transportation. There are a lot of people who live in areas that don't have a grocery store nearby, so they do their shopping at smaller stores/drug stores/etc that may or may not have the amount of fresh produce, etc that I had access to. There are a lot of people that work two jobs and don't have a ton of free time to spend menu planning and clipping coupons. And many more…
However, I also believe that this challenge can be a learning experience for a lot of people. By doing this challenge, I hope to share some of my knowledge with all of you. If me sharing this experience on the blog leads to even one person being able to successfully purchase more healthy food than they usually do with the same amount of money, or gives even one person an idea for a new, healthy meal they want to cook, it will be worth it.
I hope some of these meals will inspire you.
I hope this challenge will motivate you to make healthy choices.
I hope  this challenge will help you realize that you CAN feed your body healthy food on a budget.
 ——————————
 CLICK HERE to read a post by one of my fellow challengers Bess. She does a great job explaining how she feels, which is exactly the same way I do, about all of the negativity. Finally, I respect the fact that everyone is entitled to their own opinion about this challenge. I've shared my reasons for doing this challenge. Others have shared their opinions. Not everyone agrees, and that's fine. Just because we feel differently doesn't mean anyone should behave in a manner that is anything less than civilized and respectful towards one another.
————————–
So, here's the approach I took for this challenge:
I started by making a list of things I might want to make, typing out whatever popped into my head: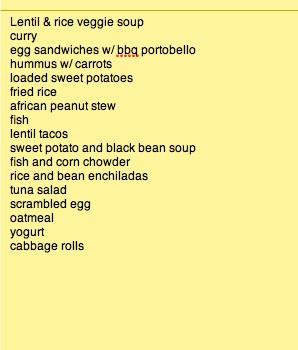 Once I got the ball rolling, it was easy to come up with 6-7 things I wanted to make for dinner. Next I wrote down a few lunch ideas. Finally, I tackled breakfast. I am the type of person that eats cereal for breakfast every day of the week. And I am 100% fine with that. However, since this is a challenge, I decided to challenge myself this week and show you guys some non-cereal breakfasts!
Once I had my menu, I made a grocery list. Then I spent some time deciding where to shop. My approach to this aspect of the challenge may be different than some of the other contestants. After much debate, I chose to shop at just one store. Although I know I could have gotten more food by going to two, possibly even three stores, I decided that in reality, a lot of people may not be able to do that. They may be taking public transportation, or have limited gas money. I initially thought I would go to both Kroger and Meijer because both are within 0.5 miles of my house and within 0.2 miles of each other, but in the end my solution was to compare prices at the two stores and then choose the best one overall.
On Monday, I headed to both stores with my grocery list. I located all of the items I was planning to buy and wrote down the price. I don't think this comparison is something you need to do every time you shop. But if you take a notepad with you and write down the prices of the thing you find yourself buying often, you'll be come familiar with the prices. This will help you recognize when there are sales and it will help you have a more accurate idea of what you're going to spend.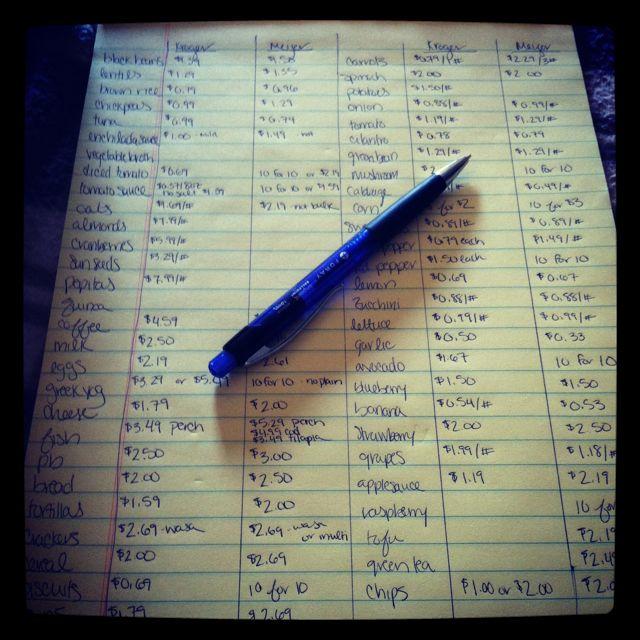 After noting all of the prices,  I headed home to do some math. I quickly realized two things:
1) There was no way I could buy everything on my list for $70, even though I thought it was a pretty reasonable list.
2) I pretty much have no idea what constitutes a pound of potatoes, tomatoes, bananas, etc.
So I got to work. I had all these produce prices that were by the pound, and I had no idea whether a pound of tomatoes was one tomato or four. So I pulled out my kitchen scale and a few things from my pantry to help give me a better idea of what I would need to buy.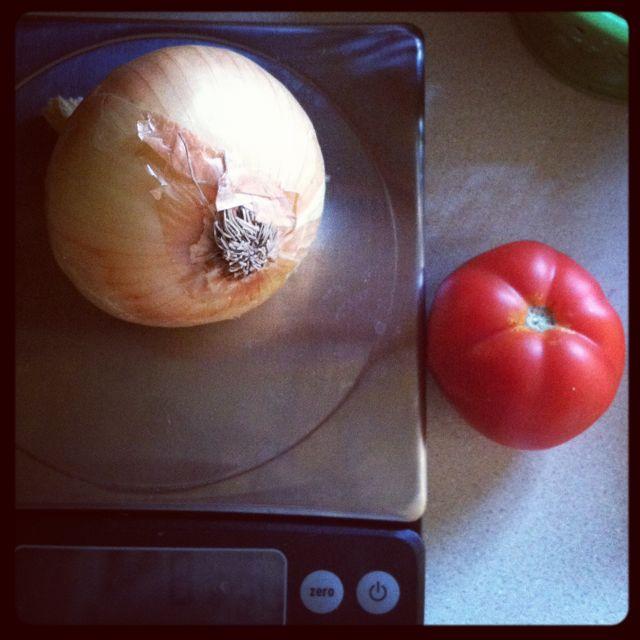 Then I started crossing things off my list. I had hopes of making some homemade granola using things from the bulk bins, but when I realized I would be over budget, those were the first items to get crossed off the list: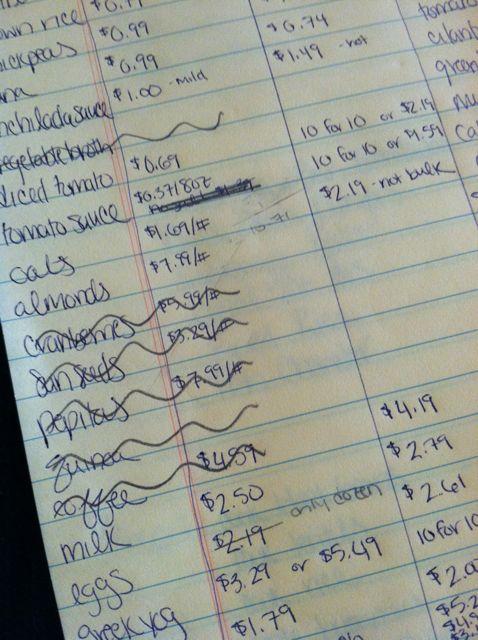 The Kroger I went to also didn't have quinoa in the bulk bins this week- they rotate through a lot of grains, so I knew it would be too expensive to buy a large package of it. Coffee was another expensive item. Even the cheapest can of ground coffee I saw was $4-$5. I spent a lot of time thinking about that one but eventually crossed it off.
I did some more calculating (please note that it drove the hubby crazy that I did this on paper and with a calculator instead of on the computer in an excel spreadsheet- what can i say, i'm old fashioned!) and got my list down to below $70.
We literally went grocery shopping 2 hours before I found out I got picked for this challenge last week so I'd been trying really hard to use up all the stuff we bought before the challenge started so it wouldn't go bad. I ended up having to freeze some stuff, but I made it work and cleared out the bottom shelf of the fridge and one veggie drawer for my challenge groceries.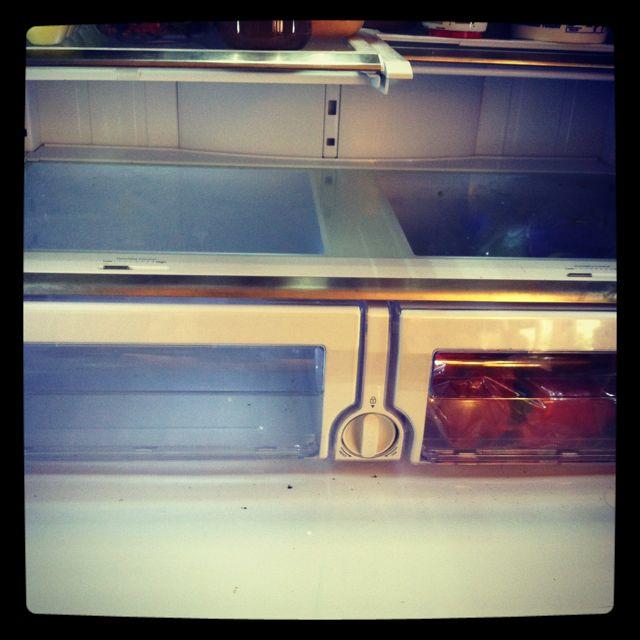 Then, on Tuesday, I headed to the store. It took me a little longer than normal because I was so nervous about going over budget that I kept checking and rechecking things. I had my list with the prices written next to it. As I added things to the cart, I checked them off on my list and made sure the price I had written down was correct.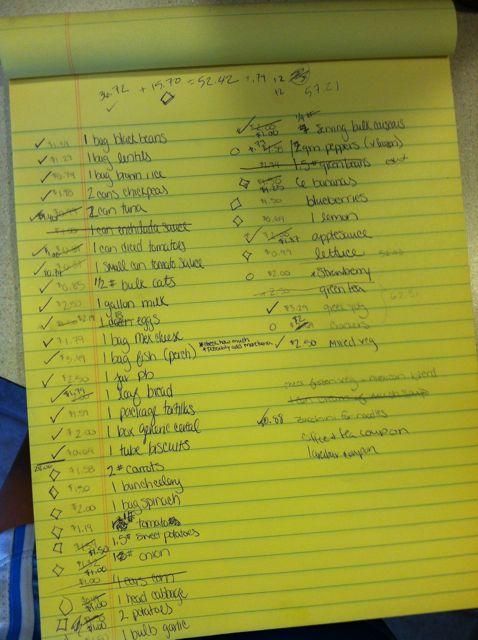 Note the weird symbol system I had for the different phases of my trip. I decided to save the produce for last so I got everything else on the list and added that up to see where I was at. Then I spent some time in the produce department and added those prices to my previous total. I had to use the scale for almost every item to figure out what the exact price was going to be. That's something I never do when I go grocery shopping. I usually just pick up 2 onions, 6 potatoes, or whatever I need, without worrying about exactly how much they weigh or exactly how much they're going to cost.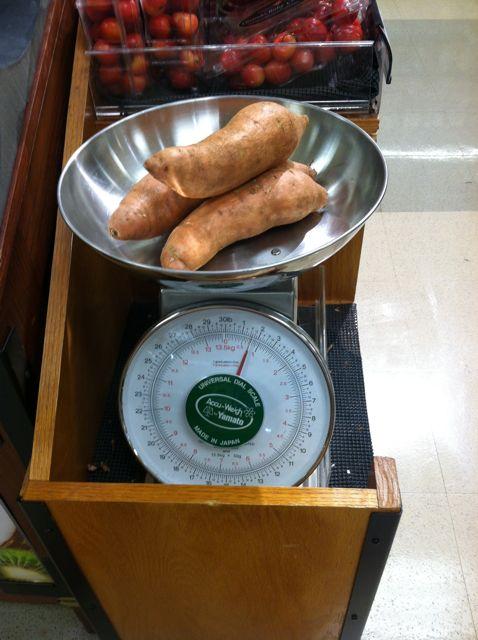 After I finished getting produce I was at about $52. I decided to add a couple more items to my cart, including an extra container of fruit and then I was ready to checkout.
According to my calculations, my total was supposed to be $57.21. As I rang the food up (I used the self-checkout so I could take my time), I watched the items carefully to make sure the prices were correct. I'm glad I did because I caught a major error. I bought some fish  that was on sale for $3.49. When I scanned it, it rang up as $7.99 on sale for $6.99- in other words, double the price it should have been. Had this been a normal shopping trip, quite honestly, I may not have noticed. I probably would have seen that it rang up on sale and moved on, not noticing the fact that it wasn't the correct sale price.
However, with this challenge, where every dollar counts, you better believe I was tracking down the attendant to get them to adjust the price for me. When all the groceries were scanned, I was pretty darn close to my estimated total!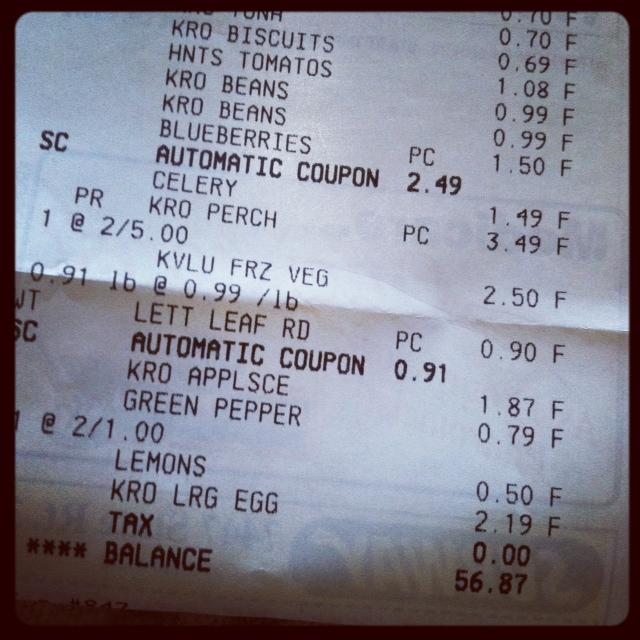 My strategy was to spend roughly $60 on this first trip. That would give me $10 leftover so that if I was out running errands over the weekend, I could stop and pick up a few more things to finish out the last few days of the challenge. Most likely it will be some more fresh fruit because we eat a lot of it during the summer and I didn't get very much. I thought I did pretty well coming in at $56.87.
I came home and unloaded the groceries and here's what it looked like all together: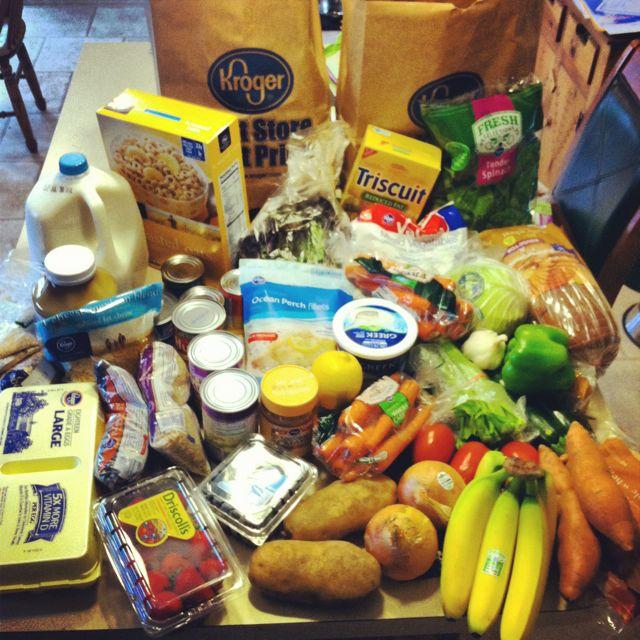 Pretty good, right?
Come back tomorrow for a detailed breakdown of everything I bought. I'll also talk about some of the things I thought about when choosing items at the grocery store and show you all the prep work I got accomplished when I spent an hour or so in the kitchen when I got home!
Let's chat:
Do you watch the register carefully when your groceries ring up? Have you ever caught a major error?
Do you use the scale in the produce department?
Enjoy!
–Lindsay–
LEARN HOW FOOD AFFECTS YOUR BODY.
Get my free Table Talk email series where I share bite-sized nutrition information about carbs, protein, and fat, plus bonus information about snacks and sugar!