Hi Friends!
Just popping in for a quick recap of what I ate during day #2 of the #surviveon35 challenge! In case you missed it, to see what I ate on Day 1, CLICK HERE! I was selected to participate in a challenge sponsored by Anytime Fitness and given $70 to buy groceries for this challenge.
Breakfast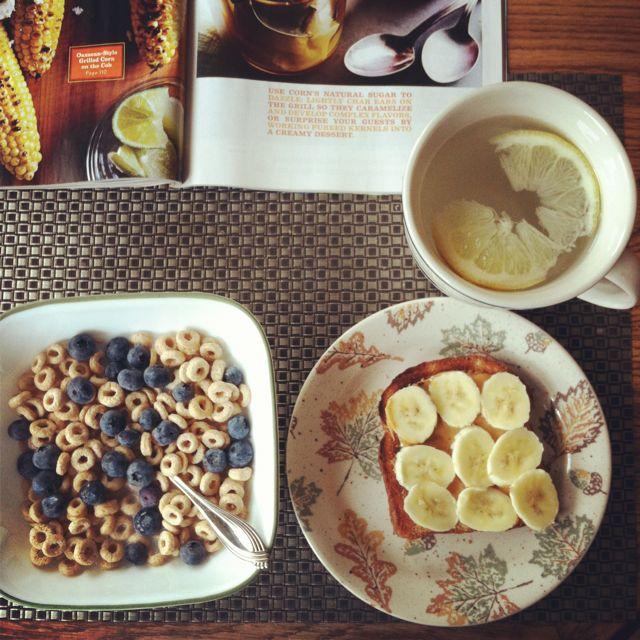 Like I said, I'm a cereal girl at heart.
So I'll definitely be eating it a few times this week.
Kroger brand Toasted Oats with skim milk & blueberries
Whole wheat toast w/ natural peanut butter and sliced bananas
Hot water with lemon
AM Snack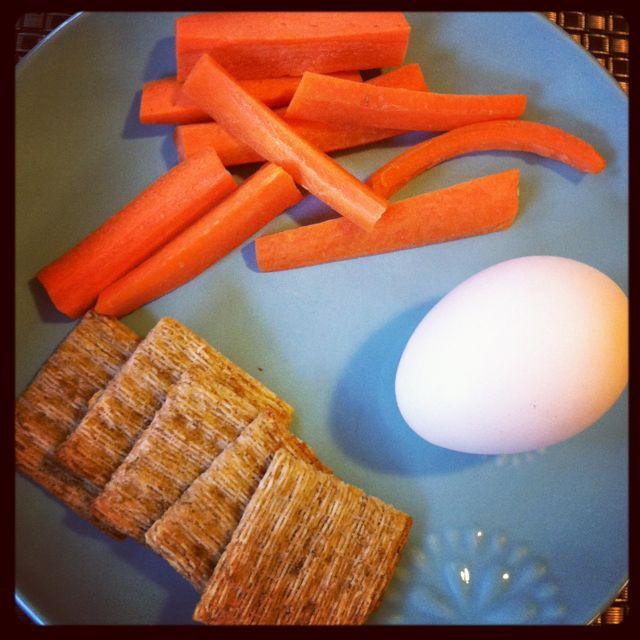 Carrot sticks
Hard boiled egg
Reduced Fat Triscuits
Side note- I'd never really looked at the label for Triscuits before,
but they only have 3 ingredients plus 3 g fiber & 3 g protein per serving!
That's better than a lot of the crackers I looked at!
Lunch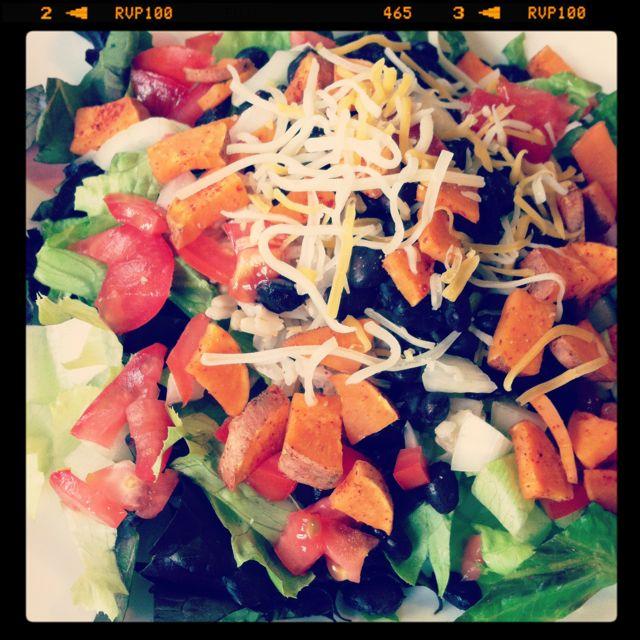 Burrito Salad
Lettuce
1/2 c brown rice
1/2 c black beans
1/4 c sweet potatoes
onion & tomato
topped w/ a little cheese
These are one of my favorite lunches! I blogged about them last month
CLICK HERE to read.
———————–
Served with a side of sliced strawberries!
———————–
PM Snack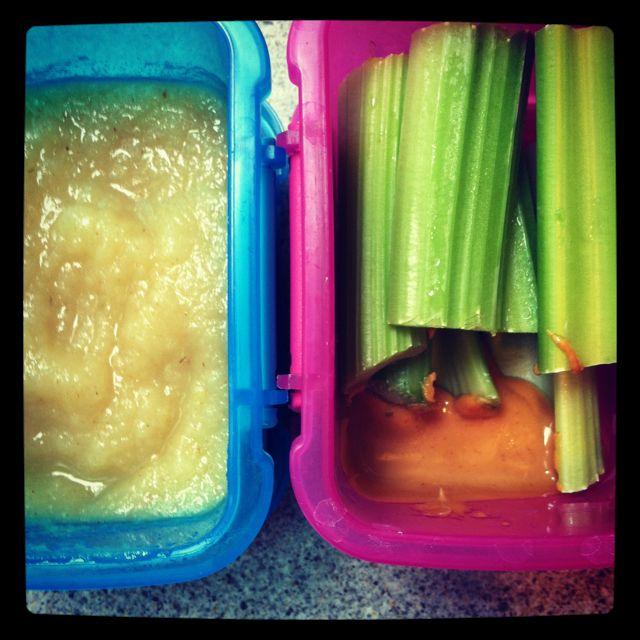 Applesauce
Celery sticks with peanut butter
Dinner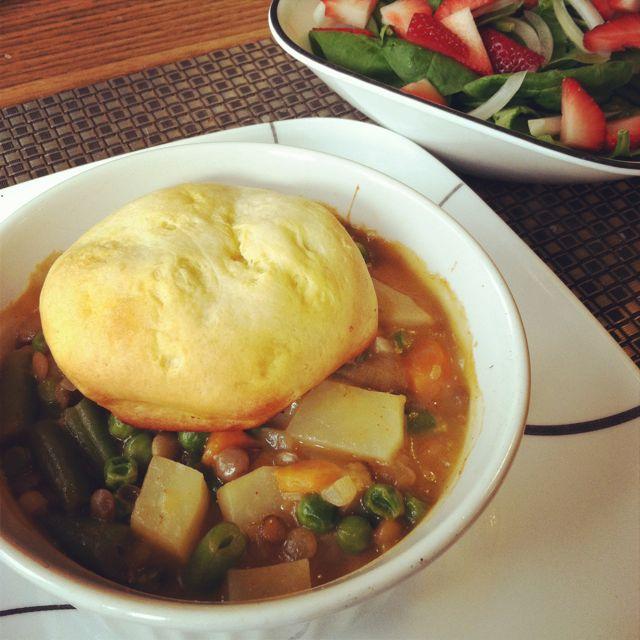 Lentil Pot Pie
Strawberry Spinach Salad
Lentil pot pies are one of my favorite meals! Major comfort food and so easy to make! I blogged about them waaaay back in October of last year, but I realized I never posted the actual recipe. SO, I went back and updated the post just for you guys! CLICK HERE for the recipe.
For the challenge, I didn't buy puff pastry. Instead I bought a can of refrigerator biscuits. Just bake them on a baking sheet along with the pot pies (you'll probably have to take them out before the pies are done) and then pop one on top of your pot pie. Tastes just as good 🙂 Also, I didn't buy butter for the challenge so I subbed oil and it worked just fine. I used the frozen veggies I bought, which were a mix of green beans, peas, corn and carrots. I added garlic, onion and half a russet potato!
All together now: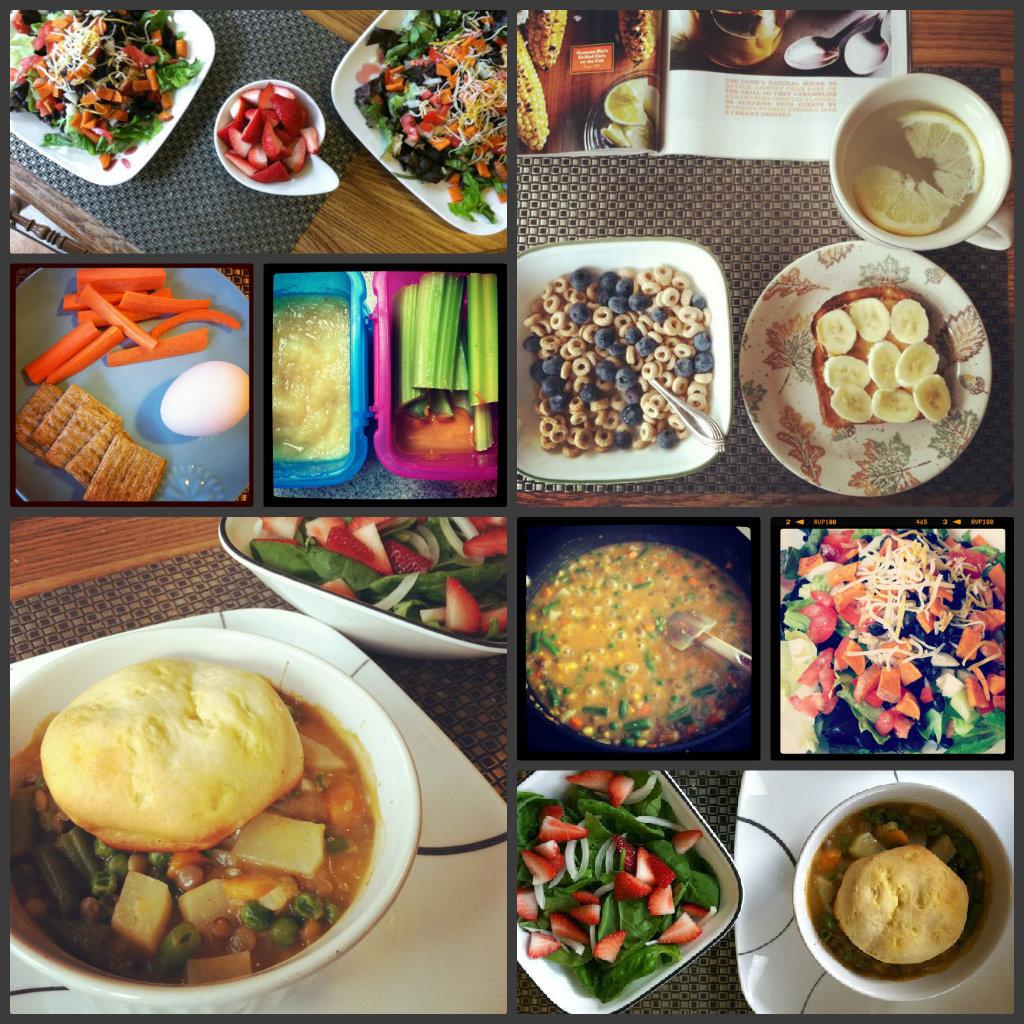 Not pictured: a couple handfuls of cereal and triscuits while making dinner and a bowl of cereal before bed 🙂
Enjoy!
–Lindsay–
LEARN HOW FOOD AFFECTS YOUR BODY.
Get my free Table Talk email series where I share bite-sized nutrition information about carbs, protein, and fat, plus bonus information about snacks and sugar!