A well-stocked freezer can make healthy eating easy during busy weeks. Here are 15 Freezer Meals and Snacks that can be made ahead of time for easy lunches, dinners, and snacks. 
Hi Friends!
You guys know I love my food prep, right? Well, today we're taking that a step further and talking about freezer prep. Over the past few weeks I've been making an effort to stock up on some freezer meals and snacks to have on hand for those first few weeks after Baby Bean decides to make an appearance.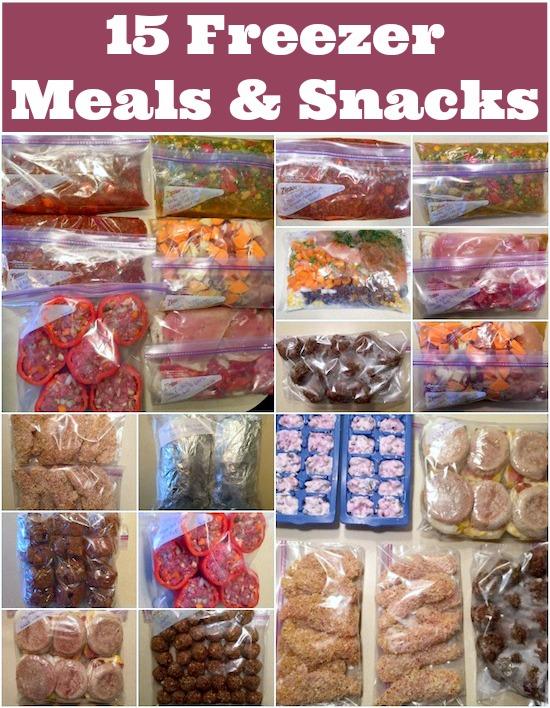 Here's the deal. I will share all the freezer meals and snacks I've prepped so far but there are a few things you need to keep in mind:
Some of these recipes are indeed in my freezer but I haven't taste-tested them yet. I was going to wait to share them but many of you have been asking so I thought I'd share them now and will update you on how they turn out as I make them. I didn't make anything that isn't similar to things that other people have made successfully before, so I'm sure they'll all turn out fine!
Most of these recipes don't require exact quantities, they're very forgiving, but I did my best to give you quantity estimates.
I chose to store things in ziploc bags so I could freeze them flat and save space. If you have a bigger freezer than me, feel free to store them in whatever containers you want.
Let's talk briefly about how I approached my freezer prep:
I split it up over a few weekends. If you're ambitious or in the mood you could power through it and really get a lot done in one day.
I started by making a Pinterest board for crockpot and freezer meals.
Next, I spent a few nights actually clicking through the pins and making a list of possible things I might make. I didn't copy exact recipes. Some were general enough that I had a good idea of the ingredients I would use. For some, I jotted down some ingredients that were used and decided I would figure out quantities on my own. Keep in mind this approach might not work for everyone. If you want to follow the recipes exactly, by all means go for it. I just prefer to freestyle it in the kitchen.
Once I had my list, I went through and decided what I was going to make and split them into 3-4 different groups so that I could tackle them on different days.
Then, I started cooking. I picked a few things I wanted to make, added some extra stuff to my grocery list and worked it into my Sunday food prep. Most of these ideas use ingredients I would buy anyway, so it was just a matter of buying a little extra of some things.
So what did I make?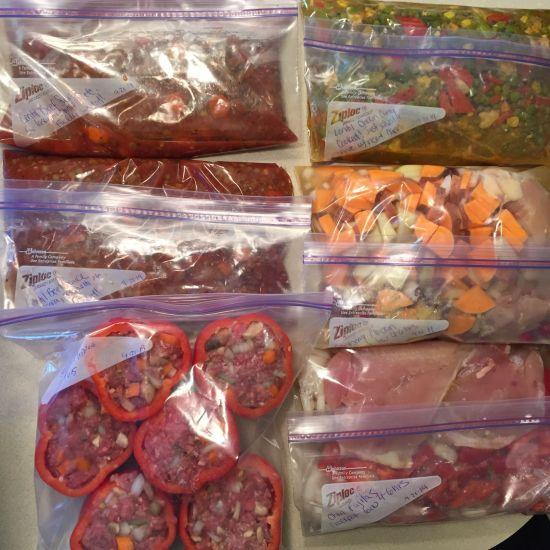 Round 1
Lentil Beef Bolognese Sauce (fully cooked, freezer meal)
3 cloves garlic, minced
3 cups vegetables, chopped
1 1/4 pound ground beef (or turkey)
2 cups cooked lentils
2- 17oz cartons of tomato sauce – no salt added
1 tsp basil
1 tsp oregano
Directions:
Cook the beef, vegetables and garlic until beef is cooked through. Add the sauce, spices and lentils and stir to combine. Let cool completely, split into two ziploc bags and freeze.
Notes:
– Adding lentils helps stretch the beef in this recipe and gives you enough for two batches. You can leave them out and use half the sauce and fewer veggies for a simple meat sauce.
– Thaw this sauce out and serve with spaghetti noodles or use it to make lasagna or stuffed shells!
—————-
Lentil Chicken Curry (fully cooked, freezer meal)
1 pound chicken, cubed
4 cups vegetables
2 cloves garlic, minced
1 cup cooked lentils
2 Tbsp red curry paste
1 cup coconut milk
Directions:
Cook the chicken, vegetables, and garlic until cooked through. Add the lentils, curry paste, and coconut milk. Stir to combine. Let cool completely, pour into ziploc bag, and freeze.
Thaw, reheat & serve over rice or with some naan!
Notes:
– This is similar to my Lentil Veggie Curry that I make all the time.
————-
Cranberry Chicken (uncooked, crockpot meal)
1 pound chicken breasts
1 medium onion, diced
1 medium apple, chopped
1 medium sweet potato, chopped
1 cup chicken broth
1 cup apple cider (or another cup of broth)
2 cloves garlic, minced
1 cup fresh cranberries
2 Tbsp mustard
black pepper & paprika to taste
Directions:
Combine all ingredients in a ziploc bag. Freeze.
When ready to serve, thaw overnight, pour into crockpot, and cook on low 4-6 hours until chicken is cooked through. Shred the chicken before serving.
Notes:
-I haven't tried this yet but have made something with similar ingredients and it had great flavor.
-This could be cooked from frozen in the crockpot for a longer amount of time.
————-
Chicken Fajitas (uncooked, crockpot meal)
1.5 pounds chicken breasts
1 large red pepper, sliced
1 medium onion, sliced
3/4 cup broth
1-2 tsp cumin
Directions:
Combine all ingredients in a Ziploc bag. Freeze.
When ready to serve, thaw overnight, add to crockpot, and cook on low 4-6 hours until chicken is cooked. Shred the chicken and serve with tortillas and other toppings such as tomatoes, lettuce, cheese, avocado, etc.
Notes:
-This could be cooked from frozen in the crockpot for a longer amount of time.
——————
Stuffed Peppers (uncooked, crockpot meal)
1.25 pounds raw ground beef
2 cups vegetables, diced (I used carrots, onion, and mushrooms)
2 cloves garlic, minced
1 tsp McCormick seasoning (or your favoring seasoning)
6 bell peppers, tops and seeds removed
Directions:
Mix everything but the peppers together. Divide evenly between the peppers. Freeze in a ziploc bag.
When ready to serve, thaw, place in crockpot, and cook on low 6-8 hours or until ground beef is cooked. Top with cheese if desired and serve with rice.
Notes:
– To help the peppers stay standing, cut thin slices off the bottom to create flat surfaces.
– I've made stuffed peppers before but have not tried them in the crockpot yet.
—————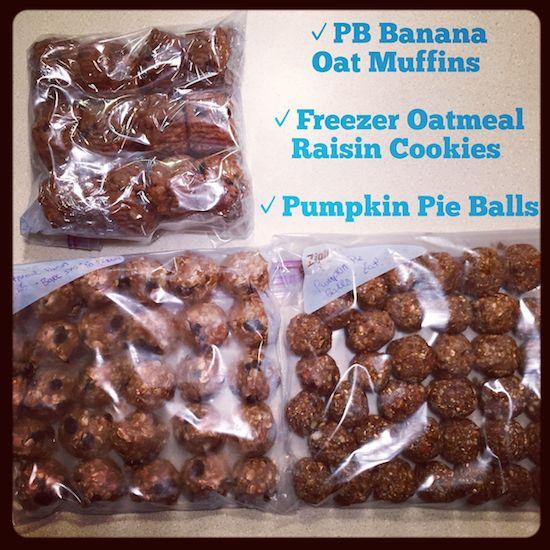 Round 2
I made the following (click the recipe names for the recipe!)
—————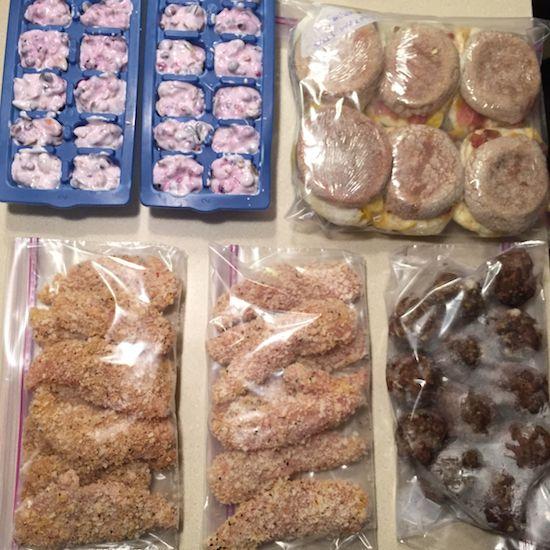 Round 3
Froyo Bites – Click to see the original recipe post. I made a double batch with whole milk yogurt, frozen wild blueberries, almonds, pumpkin seeds and chocolate chips. Freeze in ice cube trays and eat straight from the freezer!
Egg McMuffins – Per sandwich: 1 English muffin, 2 eggs, 1-2 strips bacon, cheese. Cook the eggs, top them with cheese and bacon, and let them cool completely. Then, put on an English muffin, wrap individually in plastic wrap and put in a ziploc bag. To eat, remove plastic wrap, wrap in paper towel and microwave 1-2 minutes until heated through. Tip: bake the bacon in the oven while you're cooking the eggs. If you prefer burrito style, add some beans and veggies, scramble the eggs, wrap in a tortilla, and freeze that way!
Meatballs – I used my Crockpot Meatballs recipe, but skipped the sauce and after I browned them, I baked them in the oven at 400 degrees for 20 min or until cooked. Let cool before freezing. Thaw and add sauce and noodles for spaghetti or make a meatball sub!
Chicken Fingers – Buy chicken tenderloin strips (or cut your own), dredge in flour, dip in egg, and coat with breadcrumbs (seasoned if desired). Flash freeze raw on a tray or plate, and then transfer to a ziploc bag. Cook from frozen at 350 degrees for 30-35 min or until cooked through. (Edited to add- Tried these and they were delicious. Here's the full recipe: Freezer Chicken Tenders. 
—————-
Other Ideas
And just in case you want more ideas. Here are some other things that were on my list that I haven't gotten around to making:
Crockpot Cilantro Lime Chicken – I did actually make one batch of this on a random day so I have one in the freezer.
Cajun Meatloaf – My mom made us two of these while she was in town, cooked them and then we sliced them and wrapped up still in loaf shape. Just have to thaw and eat!
Burgers – form into patties and freeze raw so all you have to do is cook them.
Pancakes – Make a couple batches of my Whole Wheat Oatmeal Pancakes and freeze them. Just heat them up in the microwave and enjoy!
Chicken Tortilla Soup – Freeze some raw diced chicken, tomatoes, beans, onions, garlic, corn, jalapeños, lime juice, cilantro, cumin and broth. Throw it in the crockpot and cook on low for 4-6 hours.
————–
So, there you have it: lots of easy freezer meal! Hope that helps!
And for those of you that asked: no, I don't have a giant freezer. We have the kind of fridge that's a fridge on top, then has a fridge drawer in the middle and then a freezer drawer at the bottom. The freezer drawer has a top drawer within it, which is where I fit all of the stuff I prepped (on the left in the pic below), along with a batch of Curried Sweet Potato Soup and some homemade veggie broth. In the two main freezer compartments (on the right in the pic) I have other things like bread, frozen fruits and veggies, etc.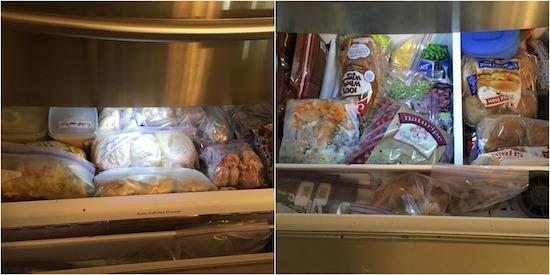 [clickToTweet tweet="Make these 15 Freezer Meals & Snacks from @leangrnbeanblog to always have healthy food on hand!" quote="Make these 15 Freezer Meals & Snacks from @leangrnbeanblog to always have healthy food on hand!"]
Let's chat:
Do you have freezer or crockpot meals you love? Feel free to leave links in the comments!
Enjoy!
–Lindsay–
LEARN HOW FOOD AFFECTS YOUR BODY.
Get my free Table Talk email series where I share bite-sized nutrition information about carbs, protein, and fat, plus bonus information about snacks and sugar!