Need a tortilla recipe? Skip the store bought! With just a few ingredients you can make your own homemade corn tortillas and tortilla chips!
Hi Friends!
Ask and you shall receive! I got several requests for a recipe for Homemade Corn Tortillas after I posted my recipe for Homemade Whole Wheat Tortillas. It took a few weeks, but I finally got my act together and headed to the kitchen to give it a shot. The good news is, it's pretty darn easy.
Homemade Tortilla Chips and Tortillas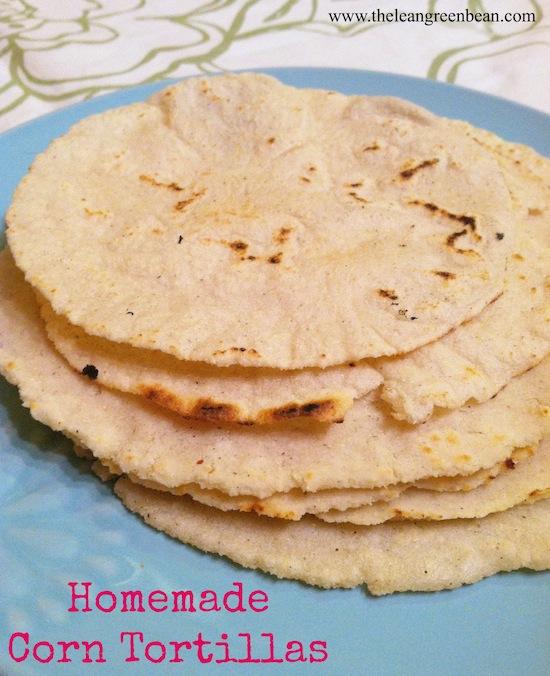 All you really need is some masa harina (corn flour), hot water and a bit of salt. I got my masa harina in the Mexican section of my grocery store and all they had was white corn flour, so that 's what I used…but this could easily be done with yellow as well. Similar to my whole wheat tortillas, it's a learning process to make these at home. At first, I didn't use quite enough water so they were a little dry, but the flavor was great… so I made another batch and added just a bit more water.
I won't lie, corn tortillas are a bit more delicate than flour. You have to be gentle and patient. The edges will not be perfect, they might rip a little bit, and that's all okay!
How To Make Tortilla Chips From Scratch
Here's the recipe:
Print
Homemade Corn Tortillas and Tortilla Chips
A simple way to make corn tortillas and tortilla chips at home with only 3 ingredients!
Author: Author: Lindsay
Prep Time:

1 hour

Cook Time:

15 minutes

Total Time:

1 hour 15 minutes

Yield:

8

1

x
1 cup

masa harina

1/2

–

3/4

c hot water

1/2 tsp

salt
Instructions
Mix the masa harina and salt in a bowl.
Slowly add hot water and mix until a dough forms and you can shape it into a ball. Start by stirring with a spatula, then knead a few times with your hands.
Form into a ball and let sit for 30-60 minutes.
Divide dough into 8 sections and roll into balls.
Cut a ziploc bag around the edges so that you have two pieces of plastic (or use parchment paper).
Place a dough ball in between two pieces of plastic. Use a plate to flatten the ball into a circle. It may help to place it on the floor and stand on the plate to flatten (or use a rolling pin).
Slowly peel back one of the pieces of plastic, being careful of the edges, then pull off the other side of the plastic.
Drop into a hot non-stick or cast iron pan.
Let cook for one minute, flip and cook a minute more. The tortilla should start to puff up while cooking. If it doesn't. flip it one more time.
Notes
If you want to make tortilla chips, cut your finished tortillas into triangles, spray with oil and sprinkle with salt. Bake at 400 degrees for 10-15 minutes. Watch them carefully so they don't burn!
I actually tried to buy a tortilla press this weekend, but after not being able to find one in stores, hubby got a little creative and found that standing on a plate works just as well 🙂
Like I said, it's a simple process. Just add the water to the masa harina and salt. Then form the mixture into a ball, let it sit, divide and roll into balls, flatten and cook!
The texture of the dough is kind of like playdough. When it first starts to form a ball, you may need to add a bit more water to get the desired playdough texture. If the ball shows cracks as you form it, add a bit more water.
This recipe makes 8 small tortillas (about 5 inches). It can easily be doubled, which I would recommend if you're going to go through the trouble of making the tortillas.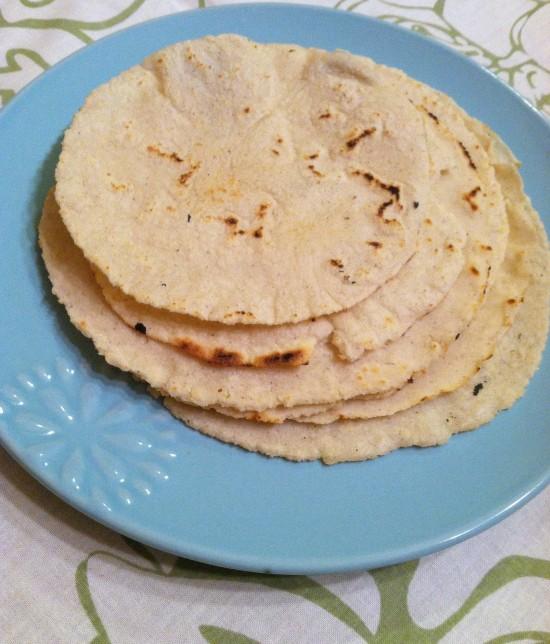 If you don't think you'll eat 16 tortillas, let me show you how to make homemade tortilla chips!
Just cut the tortillas into triangles, spray with a bit of olive olive and sprinkle with a little bit of salt.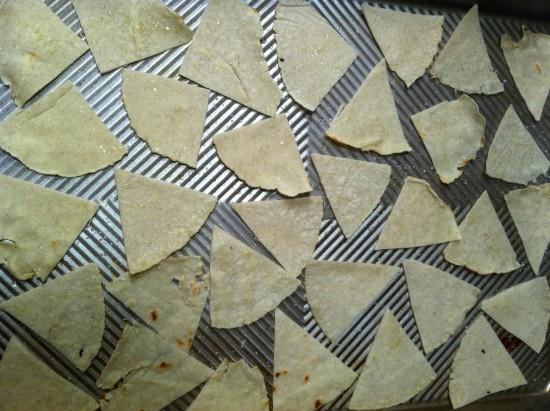 Bake at 400 degrees for about 10 minutes and voila!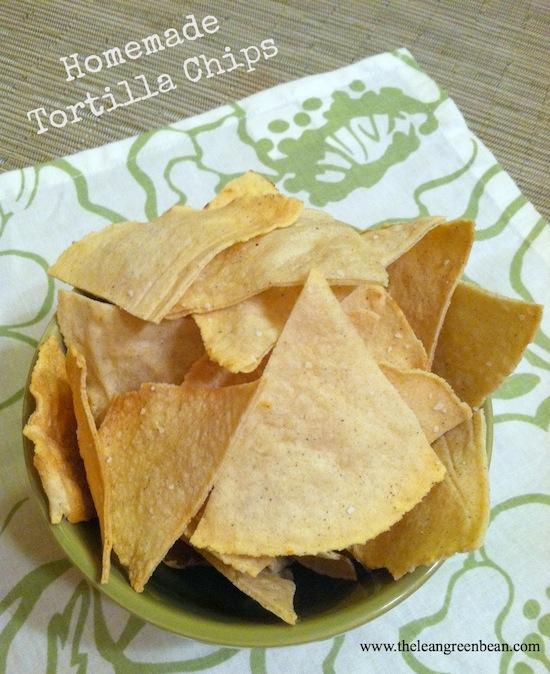 That's all there is to it!
[Tweet "You're just 3 ingredients away from these homemade corn tortillas (and chips) from @leangrnbeanblog!"]
Try adding a batch of these tortillas or chips to your weekly food prep session to make dinner easier. If you liked this post, you'll love my ebook – The Ultimate Guide To Food Prep. It dives into even more detail about how to food prep, troubleshoots common problems and provides tons of tips to make it easier! Click the image below for more details!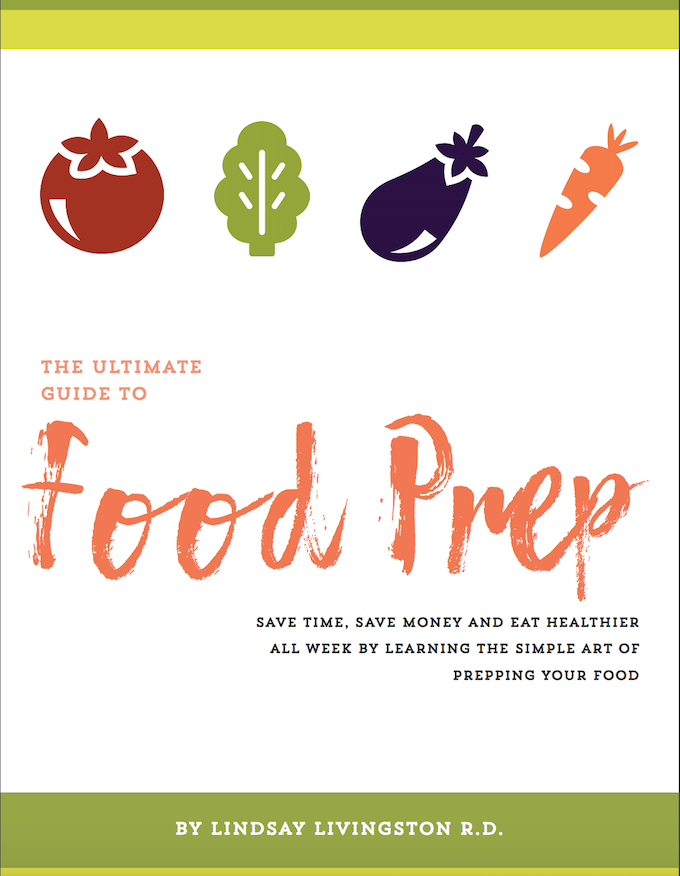 Enjoy!
–Lindsay–
LEARN HOW FOOD AFFECTS YOUR BODY.
Get my free Table Talk email series where I share bite-sized nutrition information about carbs, protein, and fat, plus bonus information about snacks and sugar!