These Sweet Cherry Oat Bars are the perfect addition to breakfast on a busy weekday morning or for serving as a kid-friendly after school snack! They're lightly sweetened and full of fiber and protein.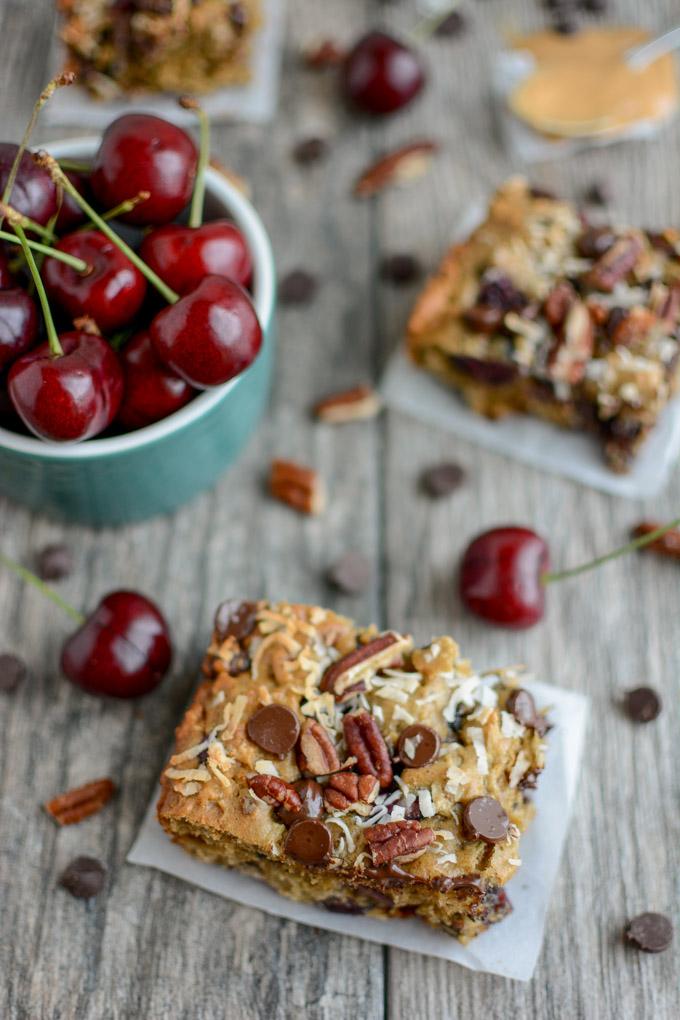 Thanks to NW Cherry Growers for sponsoring this post.
Hi friends!
I'm so excited to share these Sweet Cherry Oat Bars with you today because they feature a fruit we've been loving this month – sweet northwest cherries! Have you picked any up yet this summer? They're in season right now (August), but only for another week or so, and they're oh-so-delicious! I feel like sweet cherries don't always get the love they deserve, so I was immediately on board when my friends at NW Cherry Growers reached out about collaborating for a recipe. They're a cool organization that's working to research, as well as promote and educate people about stone fruits grown in Washington, Oregon, Idaho, Utah and Montana orchards. Check out their website here.
We're teaming up today to share a little bit about the benefits of fresh sweet cherries, as well as encourage you to stock up now so that you can enjoy these sweet gems all year long! My favorite way to preserve them is by freezing. Then I use them in the winter, spring, and fall to make chia jam, smoothies, popsicles, sauces, baked goods and more. If you're a fan of canning, you can also do that, or even dry them yourself in a dehydrator or oven!
Sweet Cherry Oat Bars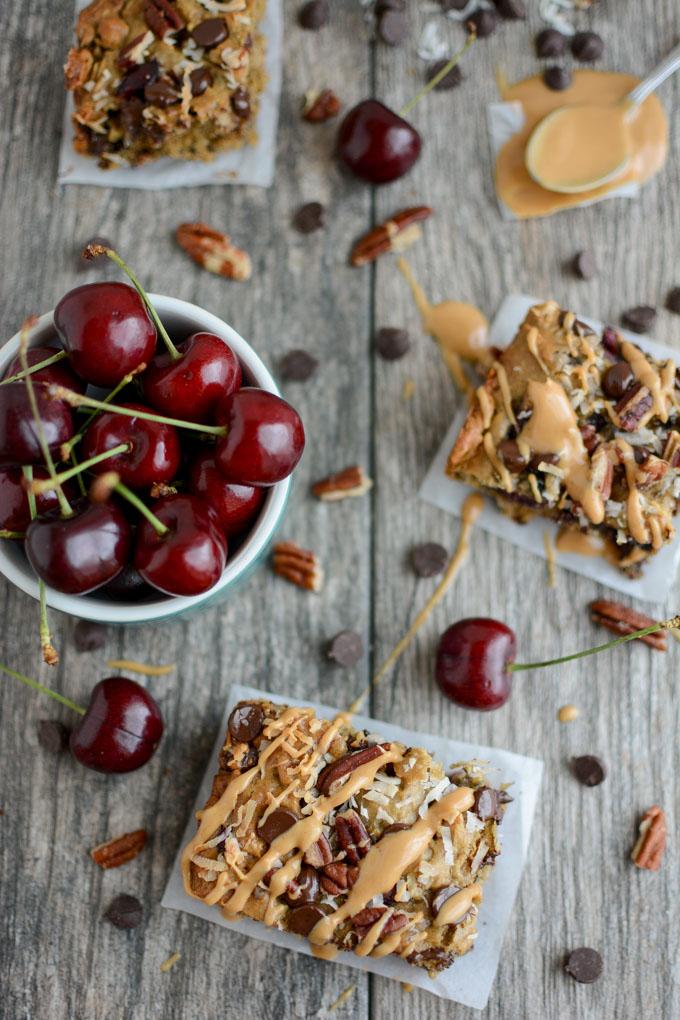 If you're a cherry fan, you definitely need a cherry pitter. My 3-year-old likes helping me pit them and I actually find the pitting process to be quite therapeutic. I just put on some tunes, zone out for a little bit and work my way through a bag…then chop them up and throw them in the freezer! Stay tuned in the upcoming months because I'll be sharing another recipe around the holidays to show you how to make use of those cherries you froze this month.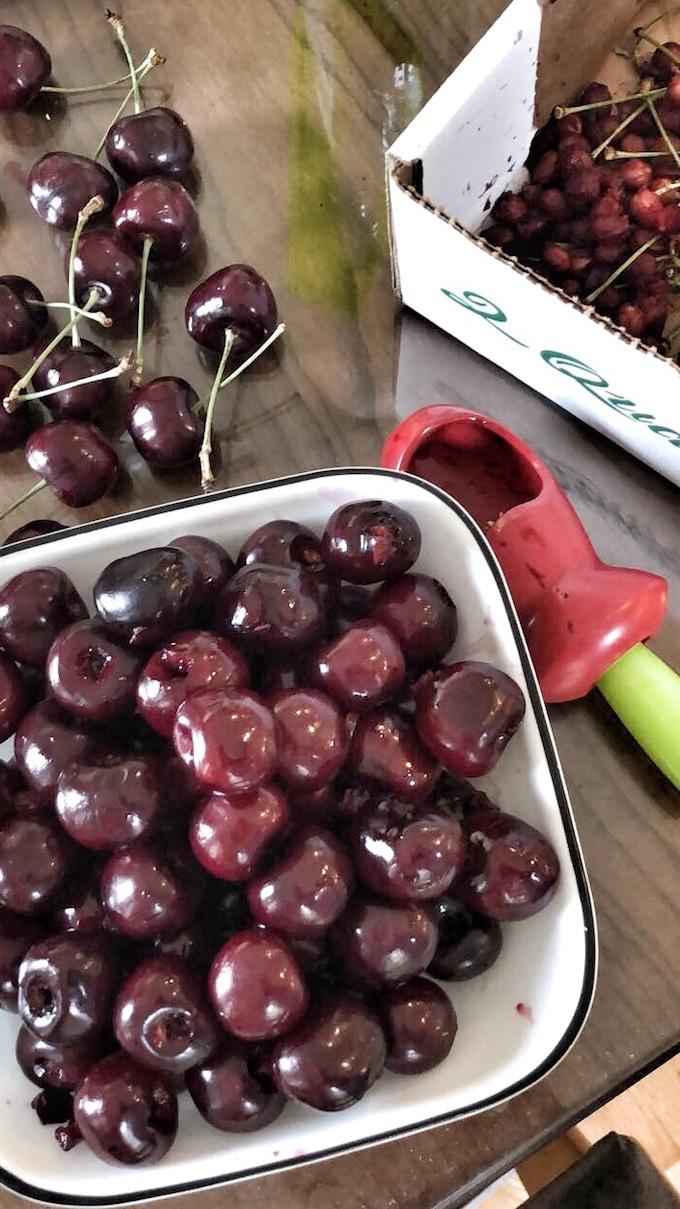 Did you know that dark sweet and Rainier cherries both offer a bunch of health benefits? Even though they're naturally sweet, cherries actually have one of the lowest glycemic indexes of any fruit. That means they release glucose slowly and help you maintain a steady blood sugar. Plus, research shows that cherries contain anthocyanins, which shut down enzymes that cause tissue inflammation, in the same way ibuprofen does! They're also a great source of fiber, which almost all Americans need more of.
Have I convinced you that you should be enjoying cherries more often yet? Let's start with these Sweet Cherry Oat Bars. They're full of fiber thanks to the cherries, oats and whole wheat fiber, plus some healthy fats from the peanut butter and pecans. I've been adding them to my breakfast plate this week and serving them to Squish when he comes home from school.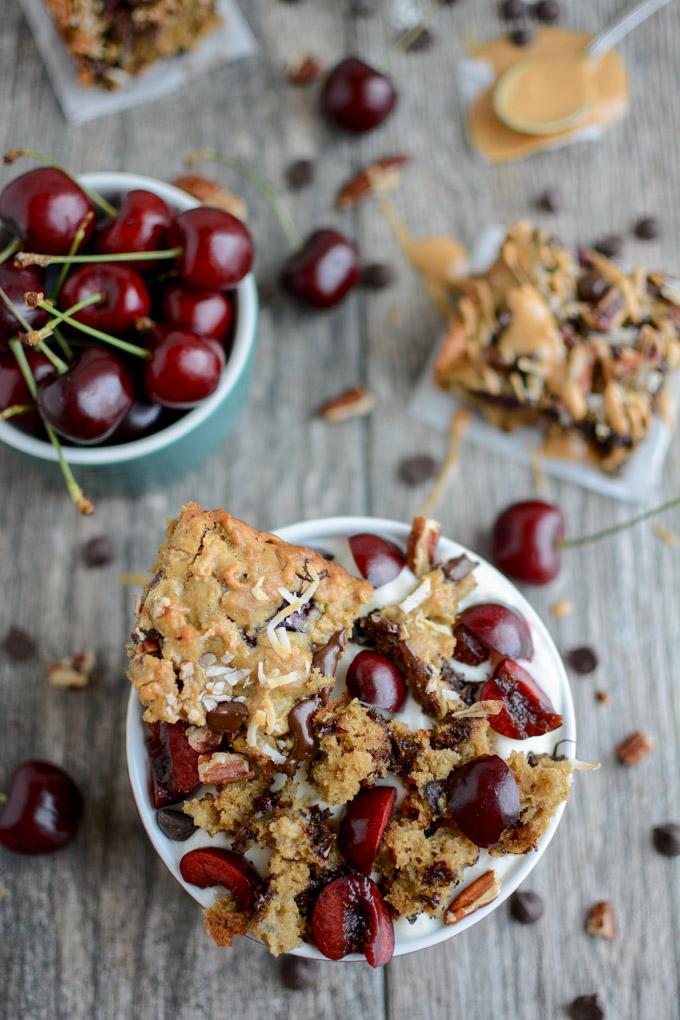 They are slightly crumbly if you try to slice them when they're still warm…but save those crumbles! They're perfect over yogurt with some extra cherries for a filling breakfast!
Here's how you make them:
Print
Cherry Oat Bars
These Cherry Oat Bars are the perfect addition to breakfast on a busy weekday morning or for serving as a kid-friendly after school snack! They're lightly sweetened and full of fiber and protein. 
Author: Lindsay
Yield: Makes

9

-

12

bars

1

x
1/3 cup avocado oil (olive or canola oil would also work!)
1/4 cup maple syrup
1/2 cup peanut butter
2 eggs
1/4 cup vanilla yogurt
1 tsp vanilla extract
1 cup chopped sweet cherries (be sure to remove stems and pit them first!)
1.5 cups rolled oats
3/4 cup white whole wheat flour
1 tsp baking soda
1/2 c dark choc chips, divided
2–3 Tbsp unsweetened coconut flakes, optional
2–3 Tbsp chopped pecans, optional
Instructions
In a large bowl, combine oil, maple syrup, peanut butter, eggs, yogurt and vanilla extract and stir until well combined.
Add chopped sweet cherries, oats, flour, baking soda and 1/4 cup chocolate chips and stir until just combined.
Press into a 9×9 pan lined with parchment paper.
Top with remaining chocolate chips, pecans and coconut if using.
Bake at 350 degrees F for 20-25 minutes.
Let cool completely before slicing.
Notes
Feel free to throw in some extra sweet cherries if you want!
You could also use 1/3 cup maple syrup if desired.
Although I haven't tried it, you could likely spread these into a 9×13 pan instead of 9×9 for a bit thinner bar.
Guys, these are my new fav for sure. Let me know if you try them. They're super flexible too. You could use almonds instead of pecans, skip the coconut if it's not your favorite or just mix all the chocolate chips in instead of sprinkling half on top. Do what works for you! I'd imagine you could also sub almond butter for peanut butter without any problems.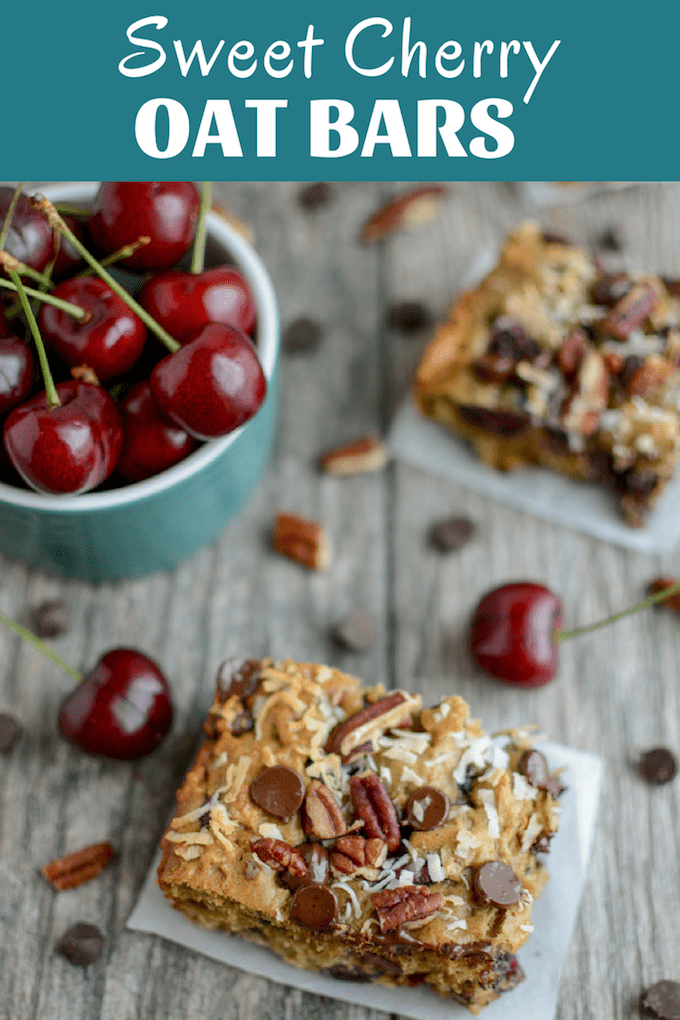 Be sure to follow NW Cherry Growers on Facebook,  Twitter, Instagram and Pinterest for more news and recipes.
Enjoy!
–Lindsay–
LEARN HOW FOOD AFFECTS YOUR BODY.
Get my free Table Talk email series where I share bite-sized nutrition information about carbs, protein, and fat, plus bonus information about snacks and sugar!