Want to learn how to food prep but feeling overwhelmed? Here are 5 simple how to food prep tips for beginners to help you get started.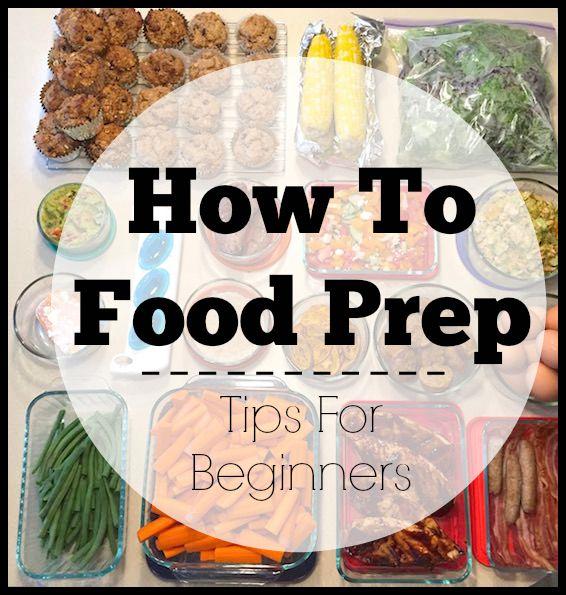 Hi Friends!
As a dietitian, I'm often asked for advice about how to live a healthier lifestyle. Many times the questions come from busy people who have good intentions, but just can't seem to find enough hours in the day to sleep enough, work hard, exercise AND eat well. My number one suggestion for people who are having trouble staying on track during the week is to learn how to food prep.
Food prep is probably the most under-rated, under-utilized healthy living tool. Making it a habit to spend even just one hour on the weekend to prep food can make a huge difference in your food choices during the upcoming week.
How To Food Prep

If the thought of learning how to food prep overwhelms you, start small. You can ease into food prep by simply washing and chopping a few fruits and vegetables and making some trail mix and hard boiled eggs to snack on. As it becomes more of a habit, try throwing some chicken or steak on the grill to eat throughout the week, cooking up a batch of brown rice or quinoa and making a big pot of soup or a casserole.
Remember that you don't always have to prep entire meals. Look at your meal plan and prep some of the common denominators in various meals. Do several of the recipes you're making this week include beans or chicken? Why not cook and freeze a bag of beans or make a rotisserie-style chicken in the crockpot?
I cook my beans and hard boiled eggs in this pressure cooker. So fast and easy! And if you don't have a slow cooker, I highly recommend investing in one. It makes dinner so fast and simple.
When you have cooked beans, quinoa and chicken in the fridge, along with some pre-washed lettuce and other veggies, it suddenly becomes very easy to throw together some burrito bowls or make a stirfry! You could have dinner on the table in under 10 minutes with very little effort. In addition, if you're making something like a casserole, you could assemble it ahead of time and pop it in the oven when you get home OR bake it on Sunday and simply reheat and eat later in the week!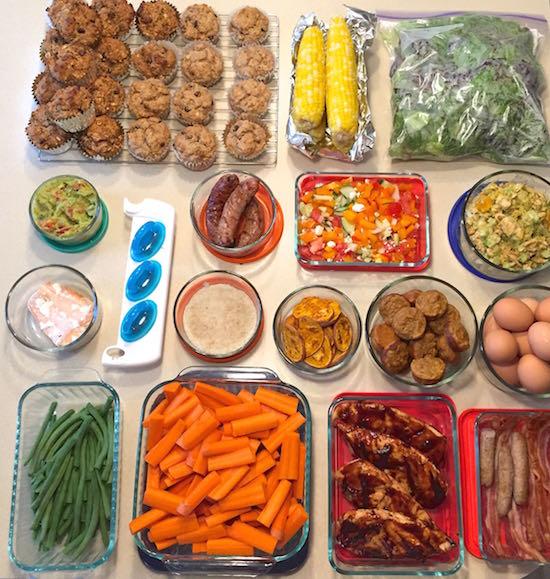 Store your food:
Pyrex Glass Storage Containers
---
So if you're ready to start food prepping but aren't sure how, here are my top 5 how to food prep tips to get you started:
Start with a plan.

Make a list of everything you want to prep for the week. Use your weekly menu if you have one or decide on basic staples that can be used in a variety of meals (like meat, beans, grains etc). Try dividing your list into sections like oven, stove, no-cook etc so you have a clear picture of what needs to be done in each area of the kitchen.

Multi-task.

The best way to ensure you get the most out of your allotted food prep time is to make sure you're doing multiple things at once. You could, theoretically, have something in the crockpot, something in the oven, a couple things on the stove and be chopping vegetables on the counter all at once. This is where your list comes in handy! Think long term and start crockpot and oven items first. Since baking typically takes the longest, I always make sure I have something on-deck, ready to go into the oven when the previous thing comes out. Then I fill in the remaining time by working on this on the stove, counter, etc.

Don't go overboard.

Most leftovers are only safe in the fridge for 3-4 days, so don't prep more food than you and your family can finish by Thursday if you're doing your prep on Sundays. Remember that if you reach Tuesday or Wednesday and realize you have too much food you can always freeze a few things.

Double the recipe.

If you're making something like soup, burgers or casserole, consider doubling the recipe and putting half in the freezer for later. It won't be much extra work for you and it's an easy way to make sure you have food on hand for busy weeks when you don't have time to food prep.

Target your trouble times.

Think about what time of the day you struggle most with healthy eating. Do you have a tough time eating breakfast but usually do fairly well with dinner? Focus your prep time on making a few breakfast options ahead of time – I make these Quinoa Breakfast Bars for my husband every week and store them in Ziploc bags in the fridge so he can just grab one on his way out the door. If you always make time for breakfast but find yourself hitting the vending machine a little too often, focus your prep on healthy snack options. Here's a list 25 Healthy Snack Ideas. Don't feel like you have to prep for every single meal of the day. Start with your trouble spots and then expand from there as you get more skilled and effective and food prep.
---
If you're still having trouble visualizing how to get everything done, here's a more detailed breakdown of one of my recent food prep sessions: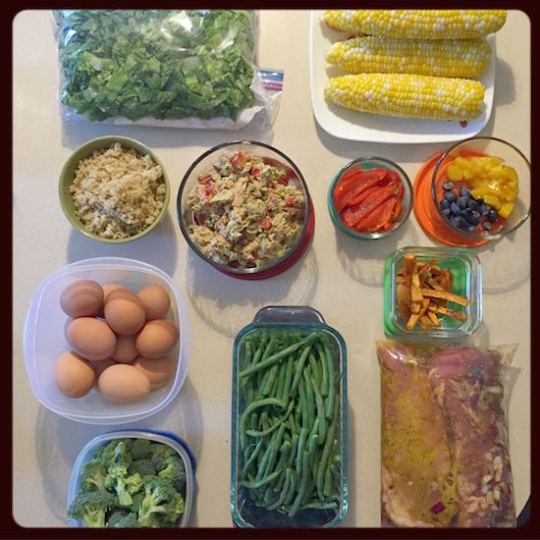 On this day, I prepped:
broccoli and beans for snacking
hard boiled eggs
quinoa to make breakfast bars
tuna salad
marinated pork tenderloin
corn
lettuce for salads
roasted sweet potatoes and red peppers + fruit for Squish
Unpictured: The night before I chopped carrots to snack on and during the prep above, I also made a big batch of guacamole.
I made everything in the picture above, plus the guac in about an hour. To start, I chopped some sweet potato fries and stuck them in the oven on the same pan as a red pepper that I wanted to roast. Then I started some quinoa in a pot and some eggs in the pressure cooker on the stove. While all that was cooking, I made the guacamole and tuna salad. Once the quinoa and eggs were done, I put the corn on the stove to cook. While that was cooking I chopped the ends off the beans and put them in the microwave to cook, chopped the broccoli and lettuce and mixed up a marinade for the pork.
Later in the day I baked quinoa breakfast bars, peanut butter banana oat muffins and sweet potato bites. I made the breakfast bars first using the quinoa. While they were cooking I prepped the muffins. I took one out of the oven and put the next one in. While the muffins were cooking, I prepped the sweet potato bites and stuck those in as soon as the muffins were done. This was an additional 20-30 minutes of actual prepping the items and then I was able to do other things around the house while they were baking.
---
Now it's your turn!
Do you food prep?
If yes- what are your favorite things to prep?
If not – do you want to learn how to food prep? What's holding you back?
[Tweet "Want to food prep but not sure where to start? Here are 5 how to food prep tips from @leangrnbeanblog!"]
If you liked this post, you'll love my ebook – The Ultimate Guide To Food Prep. It dives into even more detail about how to food prep, troubleshoots common problems and provides tons of tips to make it easier! Click the image below for more info!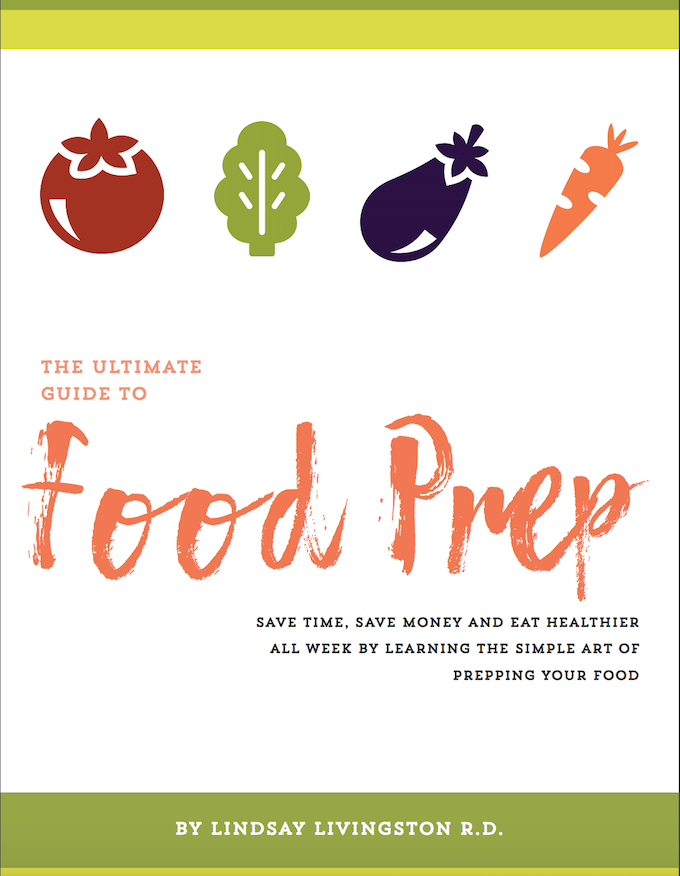 Enjoy!
–Lindsay–
LEARN HOW FOOD AFFECTS YOUR BODY.
Get my free Table Talk email series where I share bite-sized nutrition information about carbs, protein, and fat, plus bonus information about snacks and sugar!