This Carrot Pineapple Turkey Meatballs recipe is easy to make and packed with vegetables, plus a pineapple glaze for extra flavor. Prep them ahead of time and eat warm or cold for a quick lunch or dinner.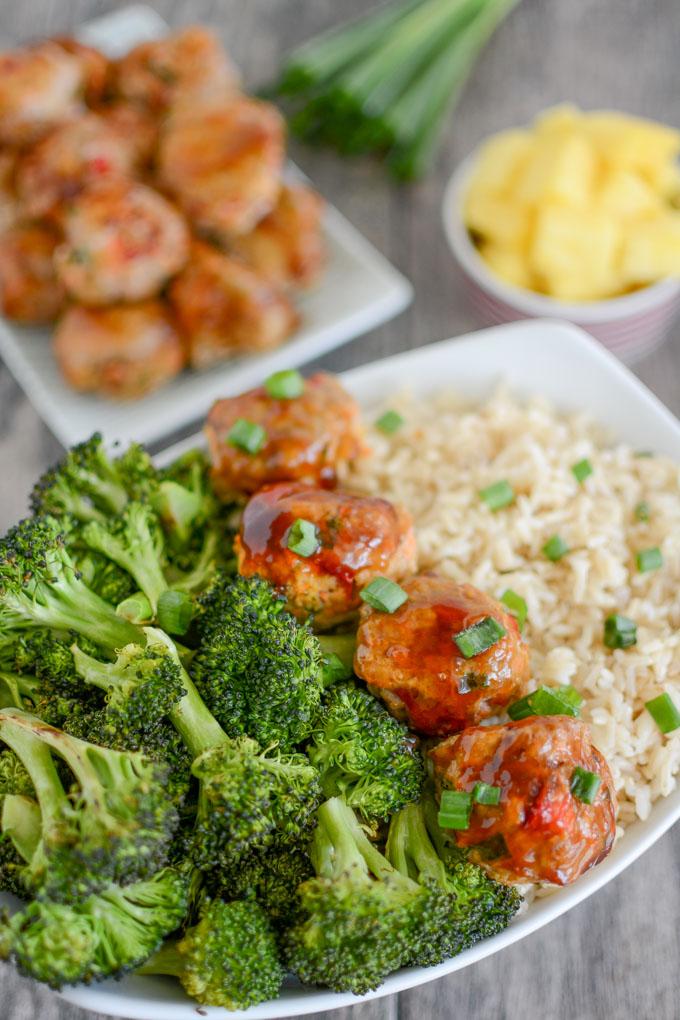 Hi friends!
I'm excited to share these Carrot Pineapple Turkey Meatballs with you today. Lots of you liked the Cook Once, Eat Twice: Chicken post for two easy recipes using similar ingredients so today we're doing the same thing with ground turkey. I'll teach you how to make these Carrot Pineapple Turkey Meatballs and then share another quick and easy ground turkey recipe- Turkey Enchilada Skillet- that uses some of the same ingredients!
These recipes can be made ahead of time so you'll have them ready to grab and eat during a busy week and both recipes use ground turkey, chopped carrots and red peppers and can be served with rice and a veggie of your choice like roasted broccoli or green beans, kale salad etc.
Let's talk about the meatballs first. Many of you requested easy ground turkey recipes and I immediately knew I wanted to make meatballs. They're one of my favorite easy protein sources because they can be eaten warm or cold and it's so easy to play around with the flavor combos.
Carrot Pineapple Turkey Meatballs
For today's version, I simply added some carrots to the food processor and processed them into tiny pieces (almost like carrot rice) so I could mix them into the turkey. Then I added some red pepper for extra veggies, green onions for flavor and some diced pineapple to help keep them moist.
By saving the juice from the canned pineapple, you can easily make a quick glaze that's slightly sweet like a teriyaki glaze but with much less added sugar. If you use fresh pineapple for the meatballs, you could sub orange juice for the glaze.
Here's how you make them:
Print
Carrot Pineapple Turkey Meatballs
This Carrot Pineapple Turkey Meatballs recipe is easy to make and packed with vegetables, plus a pineapple glaze for extra flavor. Prep them ahead of time and eat warm or cold for a quick lunch or dinner.
Author: Lindsay
Prep Time:

5 min

Cook Time:

20 min

Total Time:

25 min

Yield:

20

meatballs

1

x
1 pound ground turkey
1 cup finely chopped carrots (i used the food processor)
1/2 cup diced red pepper
8 oz diced pineapple (in 100% juice, drain and reserve juice)
1/4 cup green onion, thinly sliced
1/2 cup panko breadcrumbs
1 egg
2 cloves garlic
seasonings of choice, optional (I use either paprika or a little McCormick's Chicken seasoning)
1/4 cup pineapple juice
1/4 cup soy sauce
1–2 Tbsp maple syrup
2 Tbsp rice vinegar (or apple cider vinegar)
1–2 tsp fresh ginger (or ginger paste)
sriracha to taste, optional
1 Tbsp cornstarch + 1 Tbsp water
Instructions
In a large bowl, combine turkey, carrots, peppers, pineapple, green onion, panko, egg, garlic and seasonings. (I chop the diced pineapple a little bit further into smaller pieces before adding)
Mix well and form into 18-20 meatballs.
Place on a baking sheet lined with parchment paper and bake at 400 degrees for 18 minutes, flipping once, or until internal temperature reaches 165 degrees.
Meanwhile, in a small saucepan, combine pineapple juice, soy sauce, maple syrup, vinegar, ginger and sriracha and bring to a boil.
Reduce heat, mix cornstarch with water and add to sauce. Stir for 3-4 minutes until thickened. Taste and add more maple syrup, sriracha or ginger if needed.
Remove from heat. Once meatballs are done, brush with glaze and serve.
Notes
If you're using fresh pineapple, you can sub orange juice for pineapple juice in the glaze.
Keywords: turkey, meatball, turkey meatball, pineapple
These are so easy and flavorful. I added sriracha to half my glaze after glazing some without it for the kids. And I served with roasted broccoli and rice.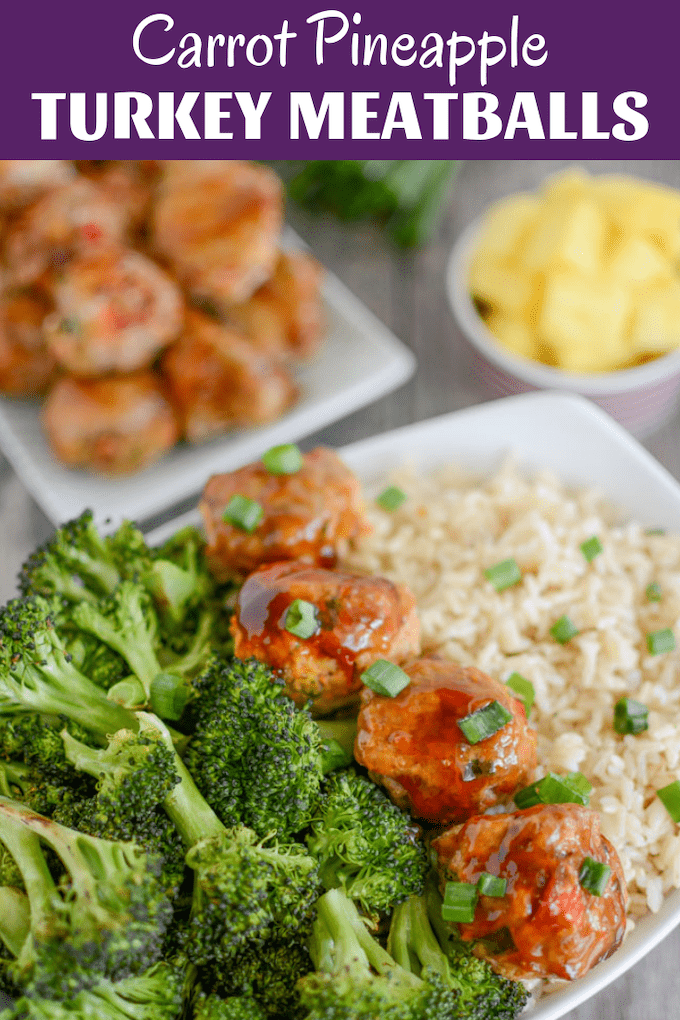 If you're into food prep and are looking for another easy ground turkey recipe that you can make in addition to these Carrot Pineapple Turkey Meatballs with similar ingredients, I've got you covered.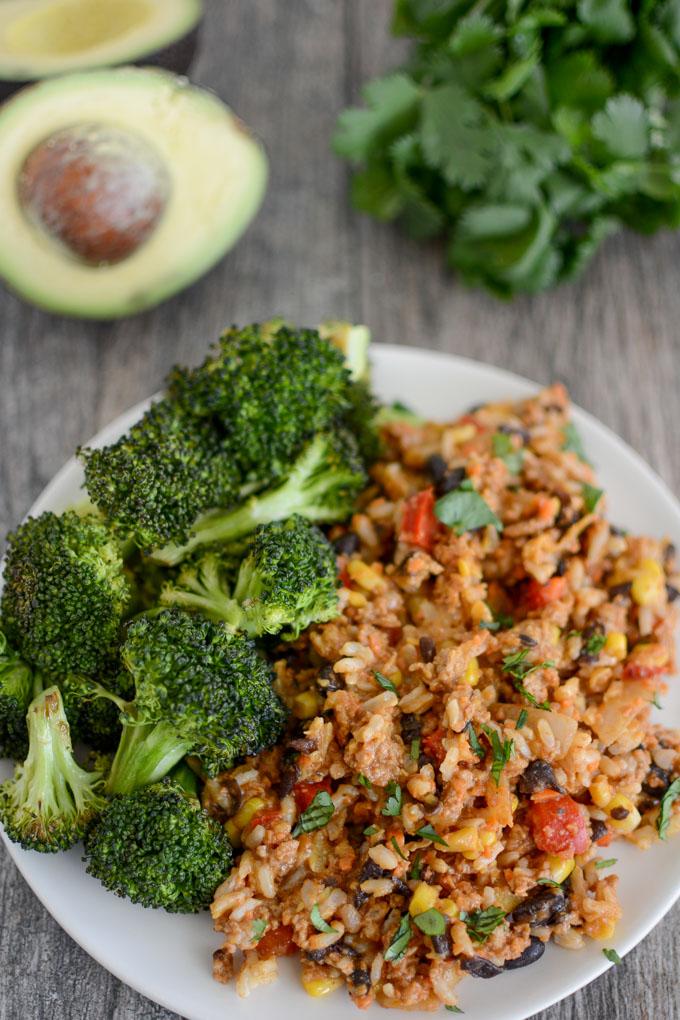 Grab some extra carrots, peppers and ground turkey at the store, cook up some extra rice and roast some extra veggies to make this bonus meal even easier. To make this Ground Turkey Enchilada Skillet, just add 1 chopped red pepper, 1/2 cup diced onions, 2 cloves garlic, 1 cup finely chopped carrots and 1 pound ground turkey to a large skillet. Cook until turkey is no longer pink, drain any liquid and add a can of black beans (drained and rinsed), a cup of fresh or frozen corn, 1-2 Tbsp taco seasoning and a can of enchilada sauce. Stir well and heat through. You can serve over rice or mix the rice right in. Similarly, you can serve topped with shredded cheese or mix some cheese in. Add some fresh cilantro, avocado and red or green salsa for extra flavor and serve with a side of roasted veggies.
Enjoy!
–Lindsay–
LEARN HOW FOOD AFFECTS YOUR BODY.
Get my free Table Talk email series where I share bite-sized nutrition information about carbs, protein, and fat, plus bonus information about snacks and sugar!