Cook Once, Eat Twice: Chicken. Prep just a few simple ingredients and learn how to turn them into two completely different meals that you can prep ahead of time and eat for lunch or dinner all week.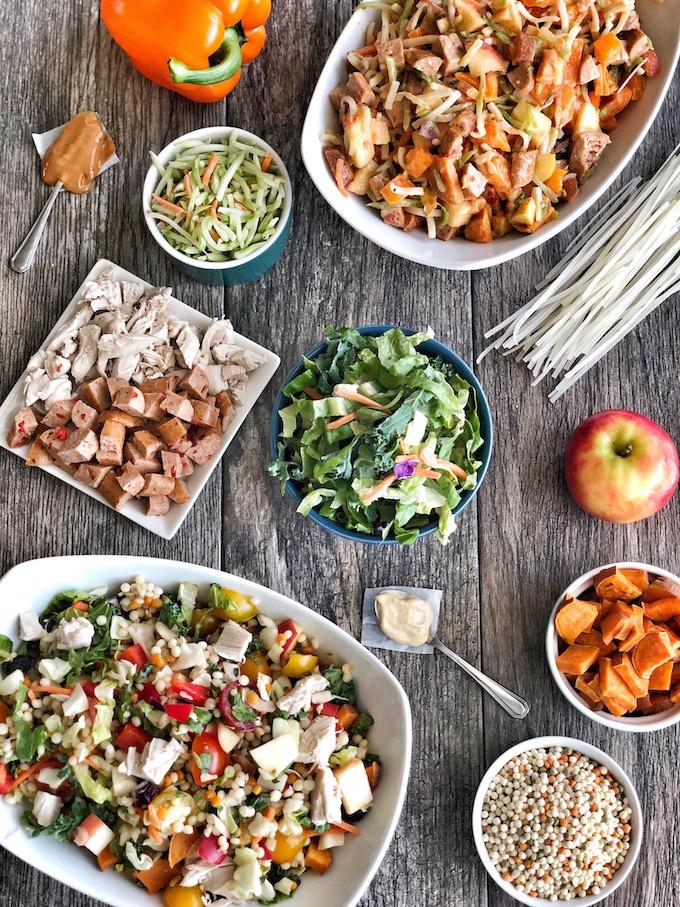 Hi friends!
Over the weekend, I shared on IG stories how I decided to cook once, eat twice this week. I honestly wasn't planning to share it on the blog but I got a great response from people saying they loved these type of easy meal ideas.
Here's the basic idea – I pick a handful of ingredients that I have on hand, and then come up with two ways to use them in meals that can be prepped ahead of time. My goal is to make two dishes that contain similar ingredients but are uniquely different so that I feel like I'm eating two different meals, but it's less work on my part because a lot of the ingredients are the same.
When you approach something like this, start by choosing your staple ingredients. For me this week that was:
chicken
broccoli slaw
roasted sweet potatoes
peppers
apples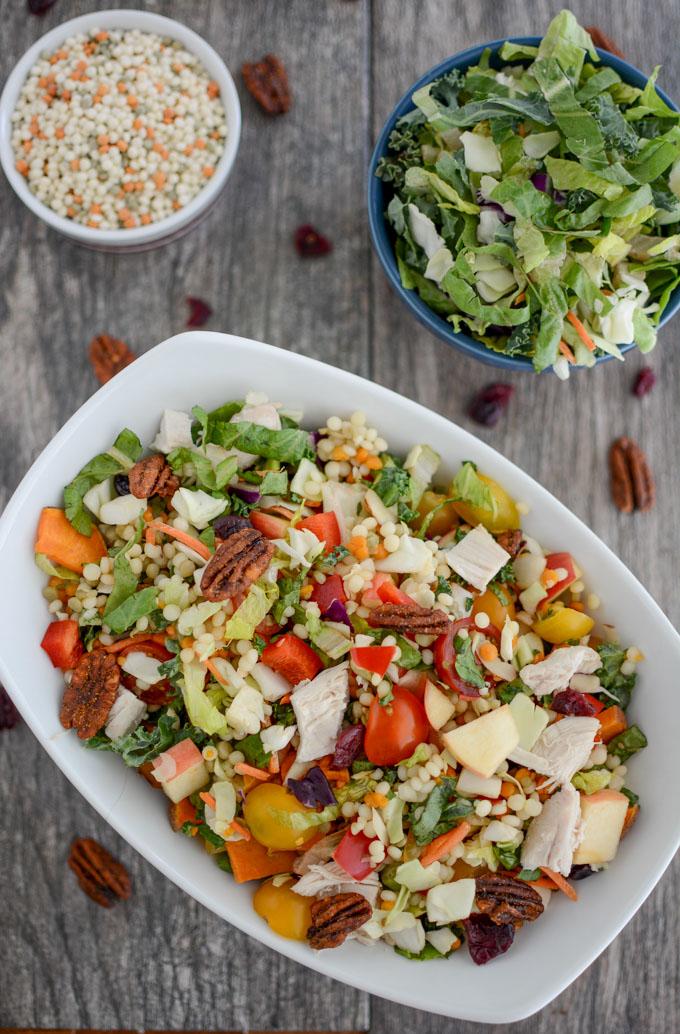 I started with the idea for one dish. I wanted to recreate a salad that I had while we were out to dinner over the weekend. Once I'd finalized that recipe, I came up with another way to use the ingredients to make a cold noodle dish.
A few things that can help set dishes apart:
Hot vs cold
Veggie-based vs grain-based
Salad vs soup or casserole
Filling vs stand-alone
Flavoring/Sauces (ie mild vs spicy, Asian vs Indian)
This week I went with one that's more salad-like with a base of kale and broccoli slaw and one that's more noodle-based with added veggies. The nice thing about these are that they're flexible. If you're looking for the simplest, easiest way, use the same greens, grains and proteins for both. If you have a little more time, look for things that are similar but different, perhaps things that have similar cooking times.
For example, I used couscous in one and rice noodles in the other. Both cook in about 10 minutes so I could cook them simultaneously on the stove. However, I could have used noodles in both or couscous in both to save time.
I used chicken in one and chicken sausage in the other. Since chicken sausage comes pre-cooked, all I had to do was cook the chicken. You could easily pick one and use it in both. You could also differentiate even more but still keep it simple by firing up the grill and grilling steak for one and chicken for the other. Or using canned beans or chickpeas in one and chicken in the other.
By choosing a few of the same fruits and veggies for both meals, you can do all your chopping at once and then just divide between the two meals (ie what i did for the peppers, apples and sweet potatoes).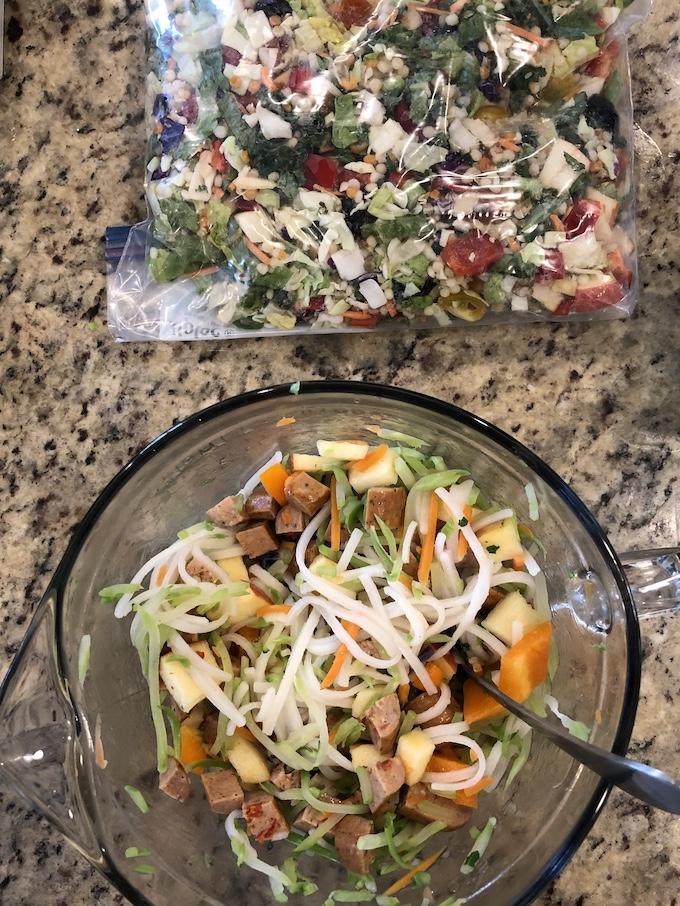 Also, remember that sauces can go a long way in setting two dishes apart. This week I made a Maple Mustard Vinaigrette for the salad and a sweet and spicy peanut sauce for the noodle salad.
You can grab the recipe for the Crunchy Kale Salad with Couscous here.
The recipe for the Asian Peanut Noodles is not exact. Feel free to adjust quantities based on how much you want to make.
Asian Peanut Noodles
Bring a pot of water to a boil. Add 4 ounces rice noodles (I use Thai Kitchen) and half to one bag broccoli slaw. Cover, remove from heat and let sit for 10 minutes. Drain the water and return to pot. Mix in 3-4 chopped chicken sausages (or any kind of cooked chicken), 1 large chopped apple and 1 large chopped bell pepper and stir to combine.
In a bowl combine 1/4 cup peanut butter, 2 Tbsp soy sauce, 1-2 tsp fresh ginger, 2 Tbsp sweet chili sauce and 1/4 cup chicken broth. Taste and adjust if needed. Add some sriracha if desired.
Pour peanut sauce over noodle mixture and stir to combine.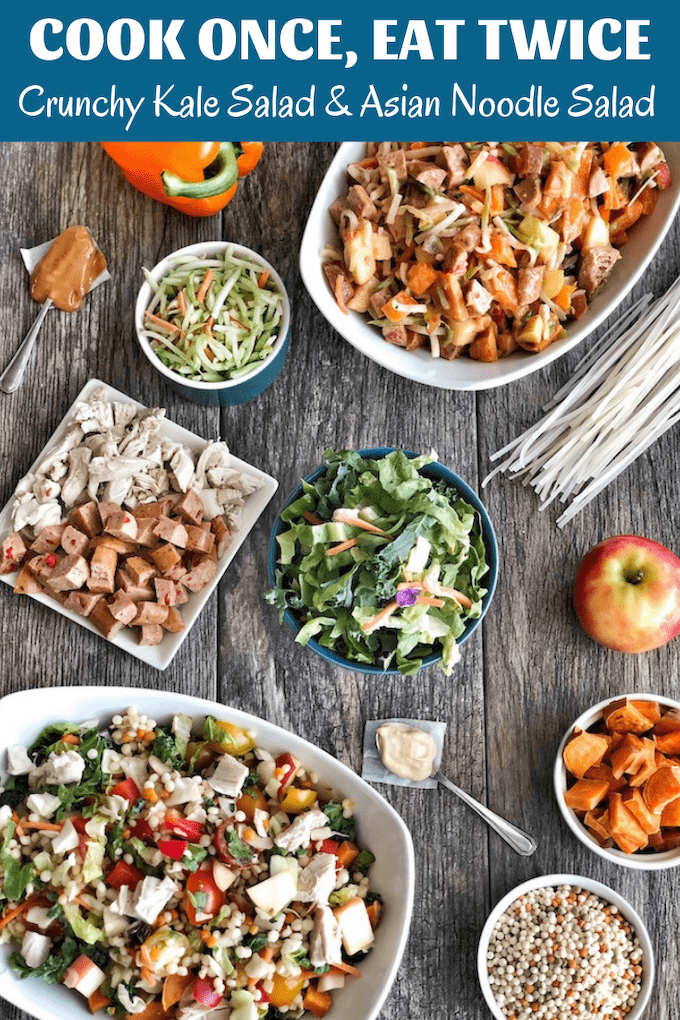 Hope this was helpful!
Enjoy!
–Lindsay–
LEARN HOW FOOD AFFECTS YOUR BODY.
Get my free Table Talk email series where I share bite-sized nutrition information about carbs, protein, and fat, plus bonus information about snacks and sugar!