A fun twist on traditional, these Banana Cream Pie Bars are made with homemade vanilla pudding and whipped cream, plus fresh bananas and lots of pecans, peanut butter and chocolate for a delicious dessert.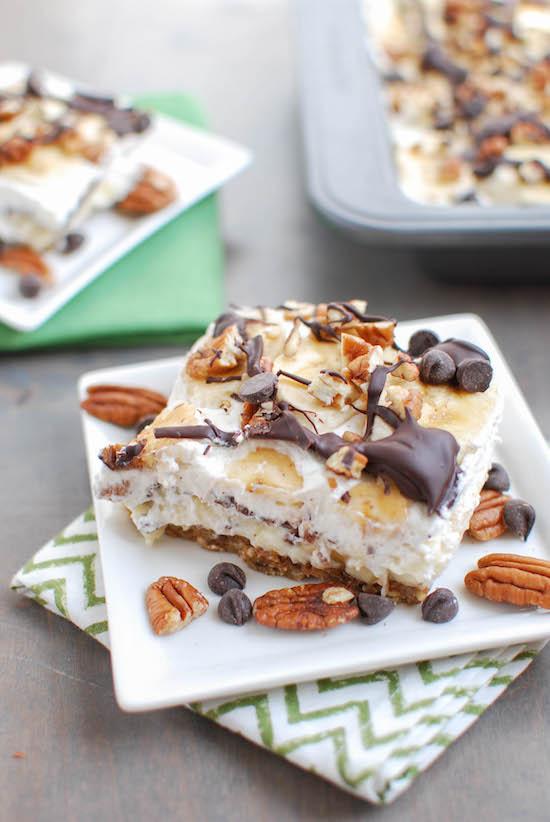 Hi Friends!
It's Recipe Redux day! This month's theme is as follows:
Favorite Chocolate Matches
Does your chocolate need a friend? This month's posting will be after Valentine's Day, so you may have a bit of extra chocolate around. What's your favorite chocolate match? Be it traditional peanut butter or something more exotic like cayenne + chocolate. Show us your favorite healthy chocolate combo recipe.
I'd have to say chocolate and peanut butter is my all-time favorite combo but chocolate and banana is a close second. How perfect, then, that my parents are here this weekend and I needed to make a dessert to celebrate my dad's birthday. One of his favorite desserts is Banana Cream Pie, so I decided to get a bit creative and make a homemade version with my own spin.

Inspired by this recipe, I decided to get a bit adventurous and make my own vanilla pudding and my own whipped cream! Instead of a traditional nilla wafer or graham cracker crust, I made a no-bake crust using some Natural Delights Medjool dates that I had in the pantry, along with some pecans and peanut butter. I love using dates as the base for my energy balls and knew I could make a crust similar to the "sandwich" part of my Healthy Ice Cream Sandwiches. Then, to really add my own spin, and because the flavors go so well together, I added some peanut butter and chocolate!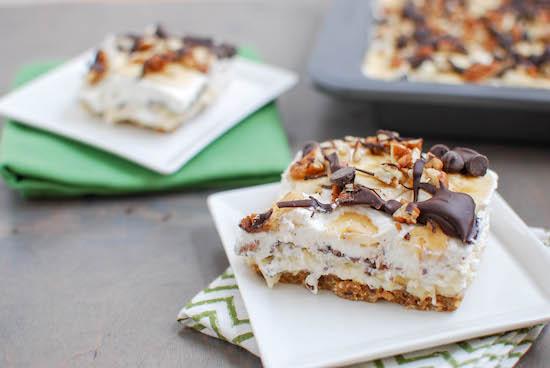 In true food blogger fashion, I had to send my dad a picture of the finished product and then cut it up and take my pictures in the good light before he got here. The recipe sounds complicated but really the hardest part is the pudding…and that's not hard, you just have to plan a little to give it time to cool down and thicken. Don't worry if it's lumpy, it doesn't affect the taste!
So, ready to make it for yourself?  Here's how you make it:
Print
Banana Cream Pie Bars
A fun twist on traditional, these Banana Cream Pie Bars are made with homemade vanilla pudding and whipped cream, plus fresh bananas and lots of pecans, peanut butter and chocolate for a delicious dessert.
¾ cup

half and half

1.5 cups

2% milk

⅓

c sugar

3 Tbsp

cornstarch

2

egg yolks

2 tsp

vanilla extract

1 Tbsp

butter

1 cup

chopped medjool dates

2 cups

pecans

½ cup

peanut butter

1 cup

whipping cream, cold

¼ cup

powdered sugar

½ tsp

vanilla extract

3

medium bananas

½ cup

chopped pecans

½ cup

chocolate chips, divided

1 Tbsp

peanut butter, optional
Instructions
In a saucepan, combine the half and half and milk and bring to a simmer.
In a separate bowl, combine the egg yolks, cornstarch and sugar and stir to combine. It will be lumpy.
Add ½ cup of the warm milk to the egg mixture and whisk to combine.
Add egg mixture to the milk, whisking constantly.
Bring mixture to a boil and whisk constantly for about 5 minutes.
Remove from heat and stir in vanilla and butter.
Transfer to a container and refrigerate for at least an hour to let thicken.
Combine dates, pecans and peanut butter in a food process and process until smooth.
Dump into a 9×9 pan and press to flatten and cover the bottom of the pan.
Combine the whipping cream, powdered sugar and vanilla in a bowl and beat with a mixer until desired consistency is reached and set aside.
Slice 1½ bananas and place a layer of banana slices on top of the crust.
Top with pudding.
Melt 3 Tbsp chocolate chips with 1 Tbsp peanut butter (if desired) and drizzle over pudding layer.
Top with whipped cream.
Slice remaining bananas and place on top of whipped cream layer.
Melt 3 Tbsp chocolate chips and drizzle over the bananas.
Top with remaining chocolate chips and chopped pecans.
Cut into bars and serve or store in the fridge.
Think you can handle it? Be sure to pin the recipe so you can try it soon!
Be sure to check out the links below to find out what everyone else's favorite chocolate pairings are! If you have Valentine's Day chocolate laying around, you could use in instead of chocolate chips
Enjoy!
–Lindsay–
LEARN HOW FOOD AFFECTS YOUR BODY.
Get my free Table Talk email series where I share bite-sized nutrition information about carbs, protein, and fat, plus bonus information about snacks and sugar!