Hi Friends!
Let's talk about groceries today, shall we? Over the weekend, while hubby and I were grocery shopping, I realized it had been a while since I did a post about groceries. Turns out, once I looked back through the blog, that it's been almost exactly a year since I posted Let's Go Grocery Shopping!
I took a quick social media poll and determined that you guys were pretty interested in seeing what's in my grocery cart! So here we go: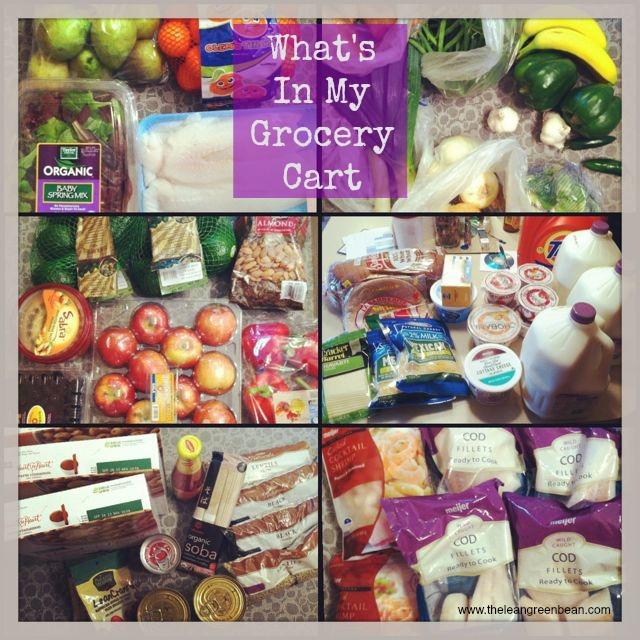 Hubby and I usually grocery shop every two weeks or so. Sometimes we pick up a few items one weekend without doing a full trip, but I usually averages out to about 2-3 trips a month. We also go to a couple different stores. We buy some things at Costco, and some things at the regular grocery store (usually Meijer or Kroger).
Costco
We go through a lot of fresh fruits and vegetables and for us the best place to buy them is usually Costco. Not always, but most of the time their prices are cheaper than the grocery store. We also go through a lot of nuts and hummus and Costco has great deals on those.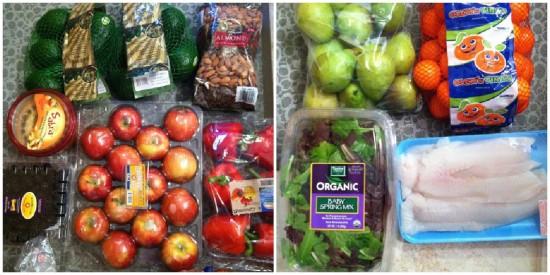 So what did we buy?
Avocados– $4.79 for a bag of 6 (we bought 2 bags) so $0.79 each
Red Peppers– $5.99 for a bag of 6 = $1 each
Gala Apples– lost my receipt but something like $1.25 a pound
Sabra Hummus– $5.99 for a 32oz container
Blackberries– $ 3.79 for an 18oz container
Almonds– $12.89 for a 3 pound bag
Pears– $6.29 for 12 pears
Clementines– $5.99 for a 5 pound bag
Spring Mix Lettuce– $4.49 for a 1 pound container
Wild Caught Cod– $18.69 for 2.65 pounds = $7.05 per pound
Costco food total: approximately $80
Other things we often buy at Costco:
(Sorry I don't have prices for everything)
10lb bag of carrots– $6.99
3 dozen eggs– $3.79
Starbucks Coffee Beans– only when it's on sale so it's about $16 for a 2.5 pound bag
Quinoa– $7.99 for a 4 pound bag
Oats– 10 pounds for something ridiculous like $6
Frozen Bean and Cheese Burritos– $9.89 for 8 burritos
Cheese- Feta or Goat cheese
Fage Plain Greek Yogurt– $4.99 for a 32 oz container
Nature Valley Protein Bars– $11.69 for 24 bars
Peanut Butter (for the dogs)– $11.99 for two 48oz jars
Raisins– $7.99 for 4.5 pounds
Olive Oil 
Toilet Paper– only with a coupon
Paper Towels– only with a coupon
Ziploc bags– $8.99 for 500 sandwich bags
Laundry Detergent– only with a coupon
Cat Litter– 11.79 when it's on sale for a 40 pound bag
Since they come in bigger quantities, we buy them less often.
Meijer
Like I said, I alternate between there and Kroger depending on what I need. There are some things I like better at each store…Even so, I usually just pick one of them to go to per weekend, not both. Here's what we got this time: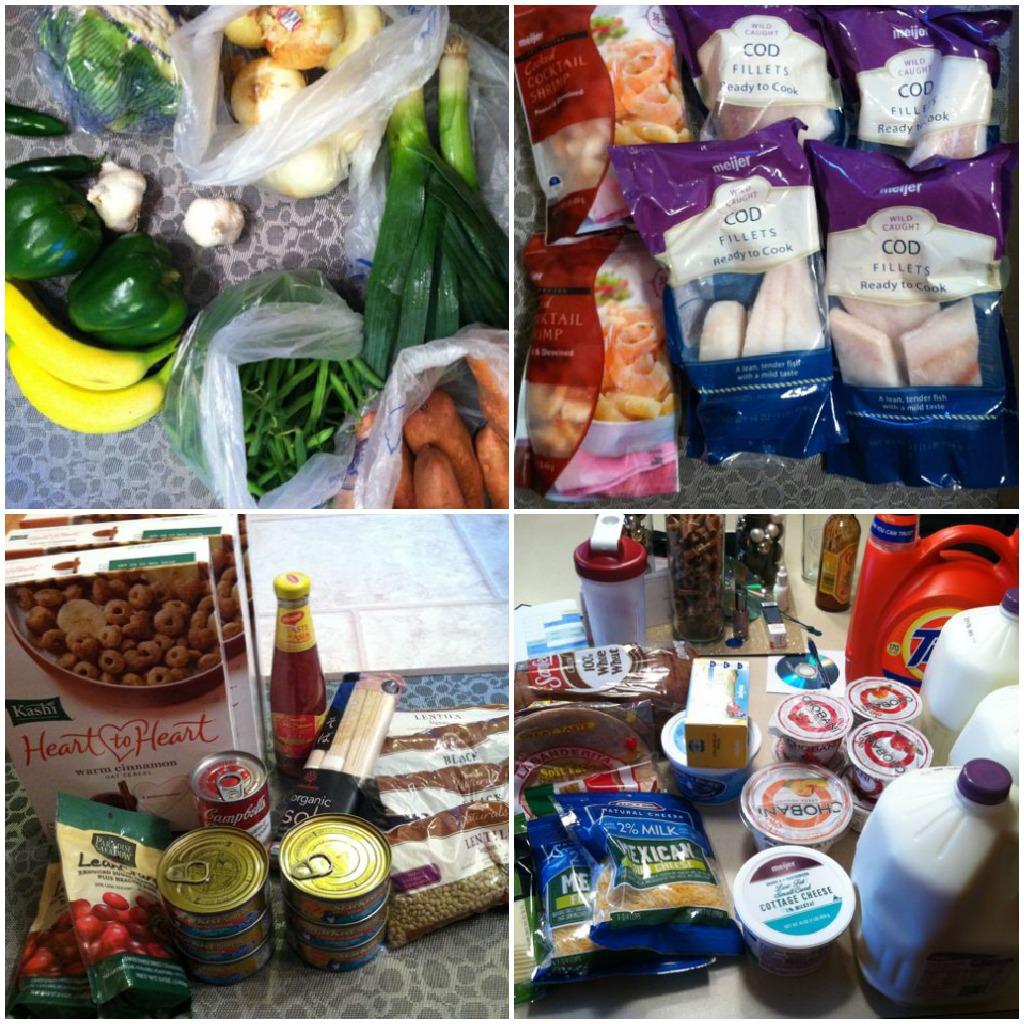 The Breakdown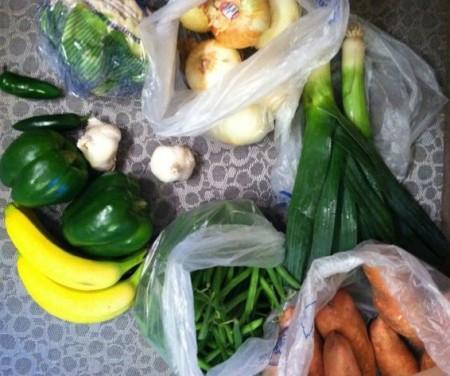 Onions- ($0.99/lb) $2.11
Leeks- ($1.69/lb) $1.28
Cauliflower- $2.99
Green peppers- ($1.99/lb) $2.33
Garlic- (2/$1) $1
Bananas- (1.22/lb) $0.65
Green Beans- (1.69/lb) $2.62
Sweet Potatoes- (0.99/lb) $5.1
Shrimp- ON SALE for $4.99 (usually $8.99)
Cod- ON SALE buy one, get one free- $5.99 for a 1 lb bag
Usually I wouldn't have bought this much in one trip but those were huge sales so I stocked the freezer!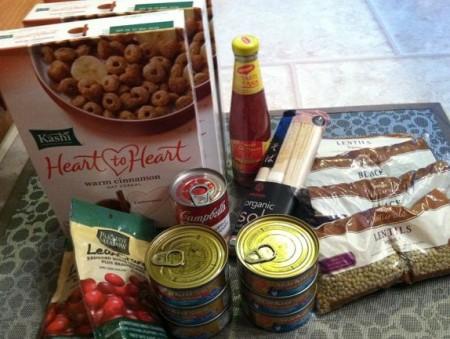 Kashi Heart 2 Heart Cinnamon- ON SALE- $3.00/box instead of $3.79
Sweet Thai Chili Sauce- $2.29
Soba Noodles (no salt added)- $3.29
Black Beans- $1.65/bag x 2
Lentils- $1.25/bag x 2
Low-Sodium Tuna- $1.75 x 6
Cream of Mushroom Soup- $1.49
50% less sugar dried cranberries- ON SALE $2.00/bag x 2
I buy dried beans/legumes instead of canned to eliminate the sodium. They super easy to make on the stove and freezer to use during the week. I always keep one can of cream of mushroom in the pantry for when I want enchiladas but don't buy it often because it's high in sodium. I'm so excited they've started making reduced sugar dried cranberries! I use them in hubby's Quinoa Breakfast Bars.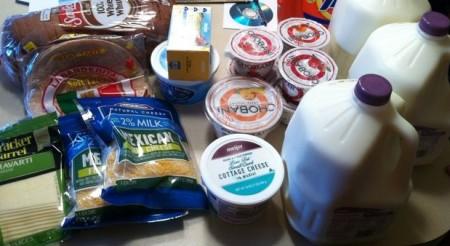 100% Whole Wheat Bread- $2.99
100% Whole Wheat Tortillas- $2.50
Low-fat shredded Mexican cheese- ON SALE $2.50/bag x2
Havarti sliced cheese- $2.99
Brummel & Brown Yogurt spread- ON SALE $2.00
Butter- ON SALE $2.00
Low-fat cottage cheese- ON SALE $1.79
Chobani- $1.25 x 6
Chobani tub- ON SALE $2.79
Skim milk0 ON SALE $2.50/carton x 3
Meijer Food Total: approx $110
For the bread and tortillas, I look for 100% whole wheat and the lowest amount of sodium I can find. The tortillas I buy have about 250mg per tortilla…some brands have up to 600mg for the same 8 inch size! We like cheese. I stock up when it's on sale and never buy it regular price. The yogurt spread is what I use on my toast. That's about all I use it for. I probably buy about 1 tub a year and wait til it's on sale. Butter is always good to have on hand- I only buy it when it's on sale. That also lasts quite a while in our house. Hubby likes cottage cheese and I also use it in my Sweet Potato Cranberry Cottage Cheese muffins. I already have a couple tubs of plain Chobani in the fridge and I like to mix in a few spoonfuls of flavored when I eat it. When I make Frozen Yogurt Trailmix Bars, I usually do half flavored, half plain.
A few things I usually buy but didn't buy this weekend:
Fresh salsa
Garden of Eatin' Blue Corn Tortilla Chips
Frozen veggies
Canned no-salt added chickpeas
Triscuits
————————
So…we don't have an exact grocery budget but the way it averages out, we probably spend about $100/week on food. Sometimes more, sometimes less. We used to eat out 1-2 times per weekend but lately we've been eating all our meals at home. I pack my lunch for my internship and hubby comes home from work for lunch every day…so that's 21 meals a week x 2 people = 42 meals for about $2.40/meal on average.
We don't throw away a lot of food. We eat pretty much all our produce and stuff in our fridge before we shop again. We keep our pantry and freezer well stocked by keeping track of things we run out of and buying them when they go on sale. We also don't buy a lot of processed food, which helps keep our costs down.
 ————————–
If you're interested in reading more specifically about Grocery Shopping and Eating on a Budget, I'd highly recommend checking out the posts I did for the Survive on 35 Challenge I did this summer. I blogged for one week while we ate for $5/day. Here's the link to my Final Recap and Thoughts about the challenge. It has links to ALL the post I did during the challenge, including how I planned my menus and grocery shopped and a breakdown of the groceries i bought and the prep work i did.  Plus there are links to a recap of each day of the challenge that include everything we ate, plus recipes! I ended up winning this challenge and I'm super proud of all the posts because I think they really show that you CAN eat healthy on a budget with it being boring or gross!
Here are some other posts I've written about healthy eating include:
How to Eat Healthy In College
How to Eat Healthy During the Week
Stock Your Pantry with Staples
Healthy Eating on a Budget
Please check them out! I hope you find them helpful!
So there you have it. Stocking your fridge, freezer and pantry with healthy foods is the first step to healthy eating. Up next- Weekend Prep! I address this in my How To Eat Healthy During the Week post (link above) but am thinking about writing another post. I made it a goal this year to get back into the habit of weekend prep- I fell off the wagon for a while- and so far i'm doing really well. If you follow me on Instagram, Twitter or Facebook you may have seen a few photos of my weekend prep work over the past few weeks.
Are you guys interested in a Weekend prep post? 
What other questions do you have for me about grocery shopping/menu planning/weekend food prep?
Leave them in the comments and I'll answer them in an upcoming post!
Enjoy!
–Lindsay–
Did you like this post?! Please PIN IT, TWEET IT or SHARE IT ON FACEBOOK using the buttons below so others can see it as well! Thank you!
LEARN HOW FOOD AFFECTS YOUR BODY.
Get my free Table Talk email series where I share bite-sized nutrition information about carbs, protein, and fat, plus bonus information about snacks and sugar!