Hi Friends!
I've you follow me on instagram (The Lean Green Bean), you may have seen me go on a little bit of a kitchen rampage for an hour or so on Saturday afternoon.
People always ask me how I have time to eat healthy during the week. My answer is simple: Preparation is key! An hour on the weekend can save you oodles of time during the week and it makes it MUCH easier to throw together healthy meals when you're busy or tired after a long day of work or school.
I thought I'd take a minute to recap some of the stuff I prepped this weekend to show you guys what I'm talking about!
Like I said, I spent a little over an hour in the kitchen, and here's what I got accomplished: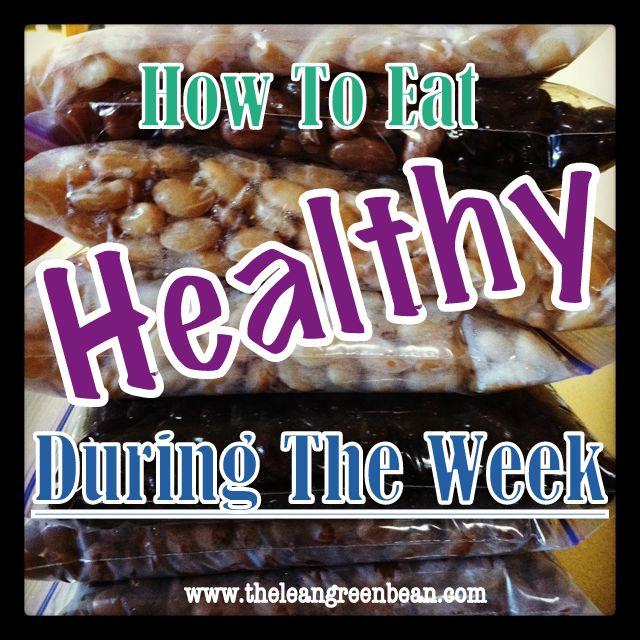 First off, I put my pressure cooker to work to prep some eggs and beans. If you don't have a pressure cooker, this can all be done on the stovetop, it will just take a little longer. The good news is, pretty much all you have to do is set the timer and walk away. These activities don't require much supervision. So you can get a lot done in the meantime.
I started with eggs. I put some eggs in the pressure cooker and hard boiled them. When they were done, I cooled them in cold water, placed them in a tupperware and stuck them in the fridge.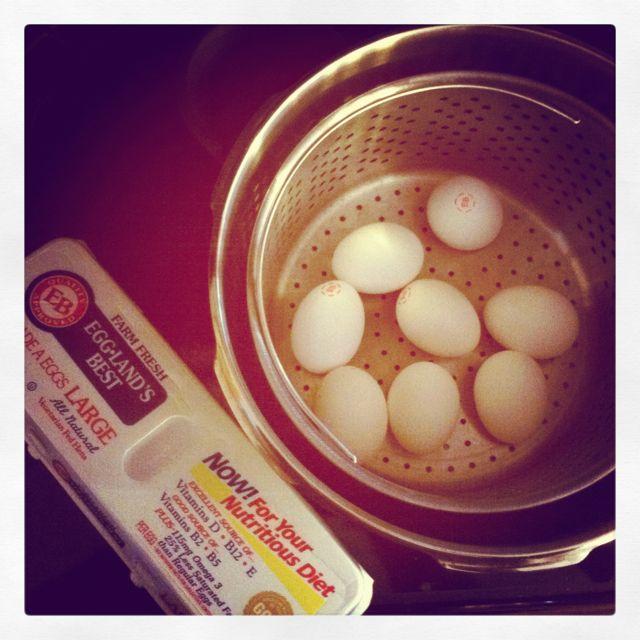 These are great to eat as a quick snack after a workout or when you're running out the door. You can also slice them up an add them to salads for some extra protein or turn them into egg salad for a sandwich or wrap. Try some of the avocado egg salad sliders I posted about here.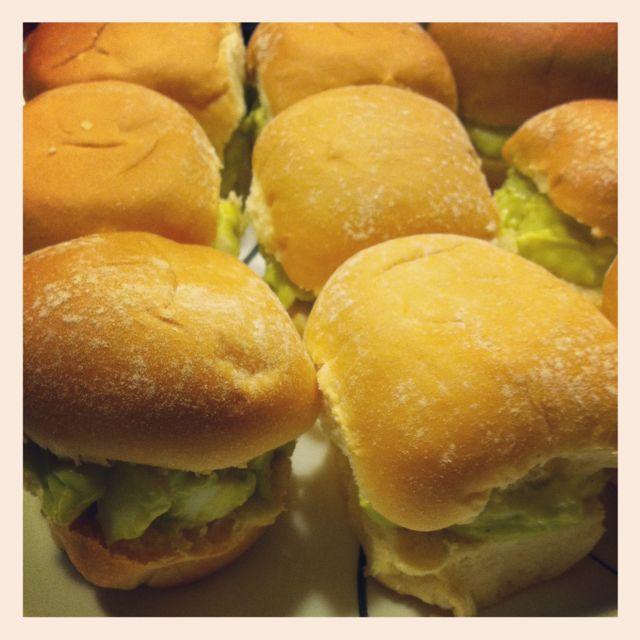 When the eggs were done I moved onto beans. One of the #1 reasons to get a pressure cooker? You can throw a bag of dried beans in, cover with water and in 20 minutes have perfectly cooked beans! No soaking required. Beans are a STAPLE in my freezer. I realized this weekend that a lot of people didn't know you could cook them before freezing!
Here's what I do: If you have a pressure cooker, consult a time chart to see how long to cook the kind you're making. Before I got mine, I used the quick-soak method on the back of the bag and then cooked them on the stove. They can still be done in about an hour and a half that way, making it an easy weekend project while you're doing laundry or other things around the house.
This weekend I cooked three different kinds of beans to replenish my freezer supply: black beans, great northern white beans and pinto beans. So, cook them and then let them cool completely. I usually undercook mine by just a few minutes.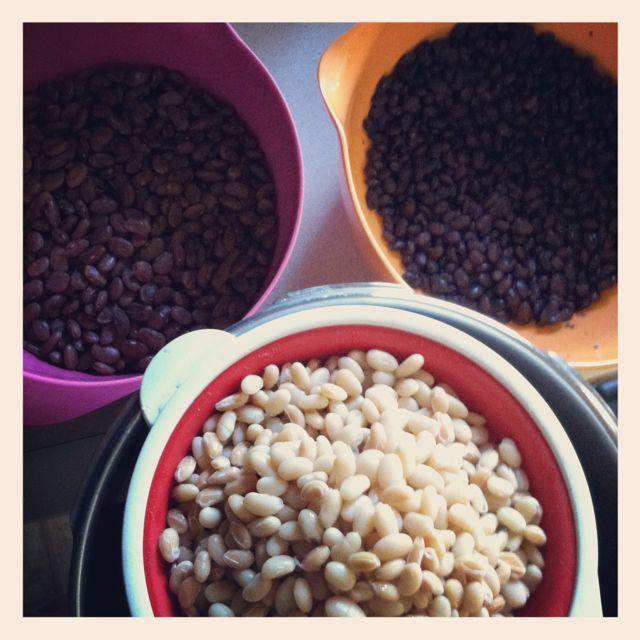 Once they're cool, scoop them into ziploc bags and flatten to remove an excess air. Store in the freezer. When you're ready to use them, pull out a bag, whack it against the counter a few times, and then dump directly into whatever you're making. That's why I under-cook them slightly. Then if I'm making a stir-fry or fritatta I can just dump them into the pan frozen and they will thaw out and cook just a little bit more, but won't end up overly mushy. If you're using them for something like a taco bar or on a salad and don't want to heat them in a pan, dump some in a bowl and just defrost them in the microwave! Voila! A super easy source of protein to add to anything you're making. And with less sodium than the canned versions. You can also pre-cook and freeze lentils and chickpeas the same way!!
Don't be fooled though, I definitely always have a can or two of beans in the pantry for backup. Sometimes I run out of frozen and need some before I get around to prepping more. I just look for the no-salt-added kind and give them a good rinse before using them!
While the beans were cooking, I got to work on my next project: burritos for the freezer. Even with the amount of prep work I do, there are still nights when I get home and just don't feel like cooking. There are also still afternoons when the hubby comes home for lunch and we have no leftovers, or we haven't been to the grocery store in two weeks. On those days, he usually turns to burritos. We recently found some frozen vegetarian burritos at Costco and have been buying those. They've got fairly good nutrition stats and I felt ok about him eating them a few times a week. But I knew I could make better ones myself. So this past weekend I quit thinking about it and just did it!
I made two versions- breakfast burritos with scrambled eggs and black beans and regular rice and bean burritos.
Here's what you need:
-scrambled eggs (I used one per burrito)
-beans of your choice (about 1/4 c per burrito)
-sauteed peppers and onions
-cooked brown rice (perfect way to use up leftover rice)
-shredded mexican cheese
-salsa
-jalapenos or green chilis (if desired)
-whole wheat tortillas
Here's what you do:
-Cook the eggs and set aside to let cool.
-Saute the veggies and set aside to let cool.
-Cook the rice, if necessary, and set aside to let cool
Once everything has cooled, begin assembling!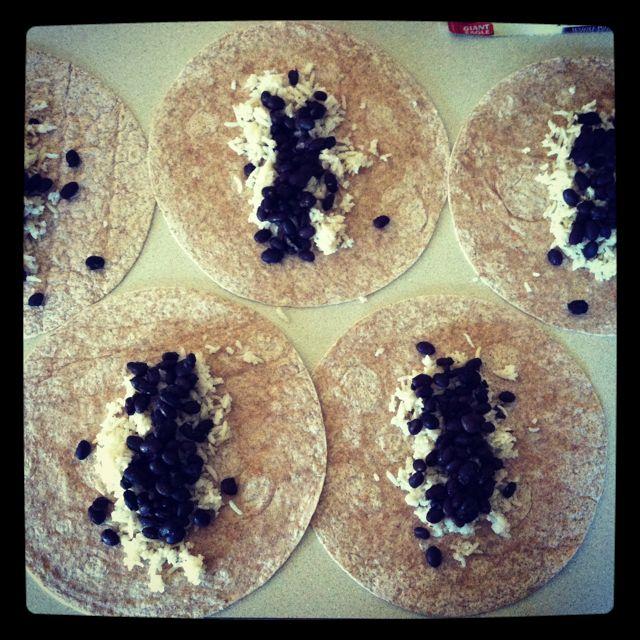 Lay out several tortillas and add the rice (or eggs) and beans.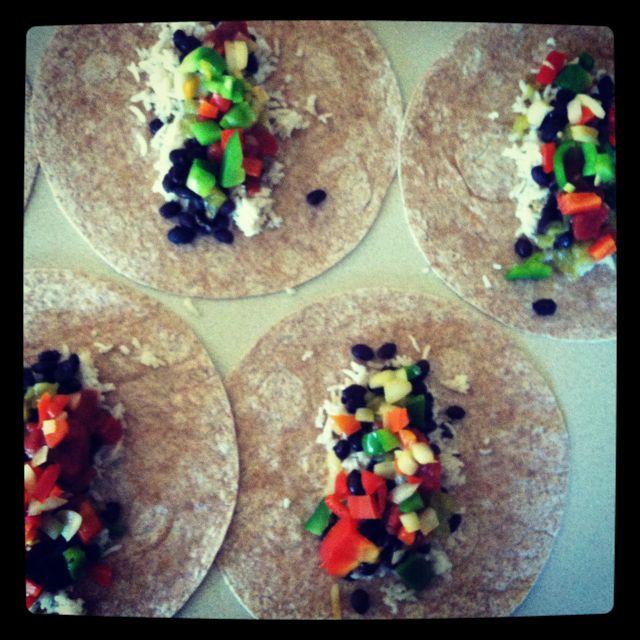 Add the sauteed veggies.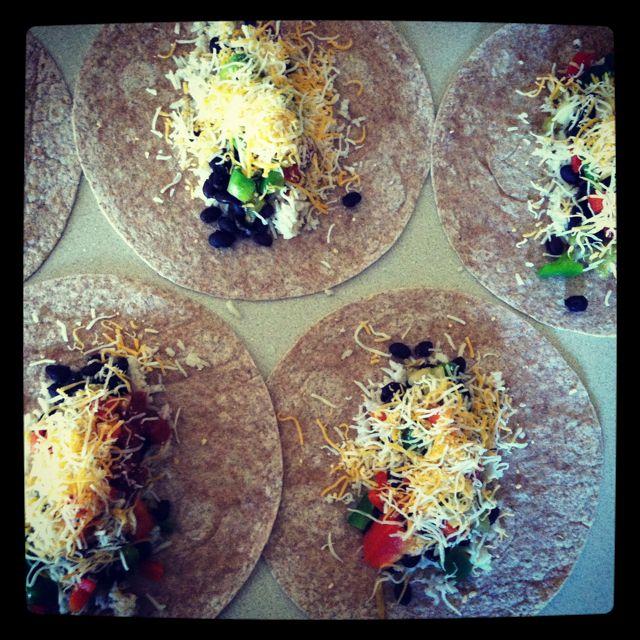 Top with a little salsa, some jalapenos or chilis and cheese.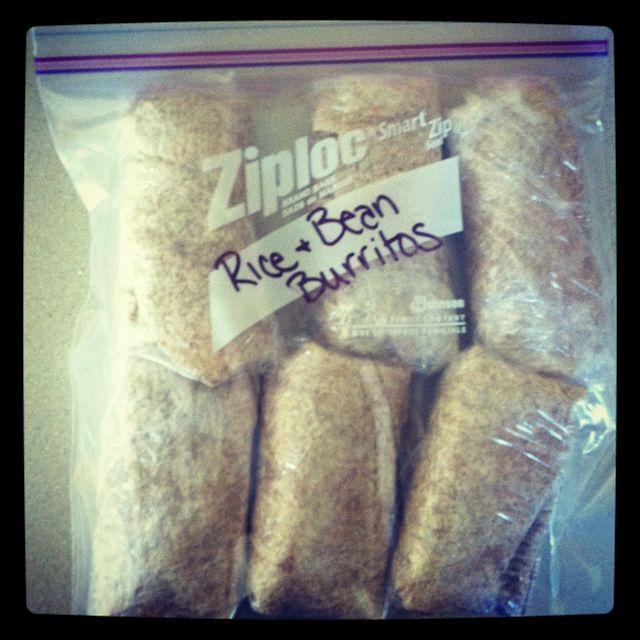 Tear off a piece of saran wrap and lay in on the counter.
Place the loaded tortilla on top.
To roll: fold the top over, then fold the sides in, then roll closed.
Pull the saran wrap over top to help hold it closed.
Wrap completely in saran wrap.
Place the burritos in a ziploc bag and freeze.
When you're ready to eat, unwrap, wrap in a damp paper towel.
Microwave for 2-3 minutes until warm.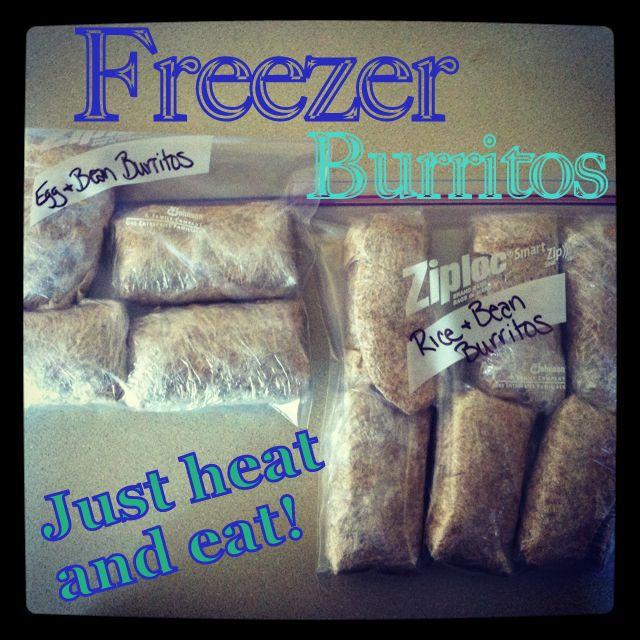 I made 4 egg and bean and 6 rice and bean burritos. After they're warmed you can top with tomatos, avocado and hot sauce! Another tip- microwave them half way and then cut them in half before heating the rest of the way. This will help them warm more evenly.
While I was prepping the burritos, I had a batch of pearl couscous cooking away on the stove as well. I used that to make a big batch of Mexican couscous.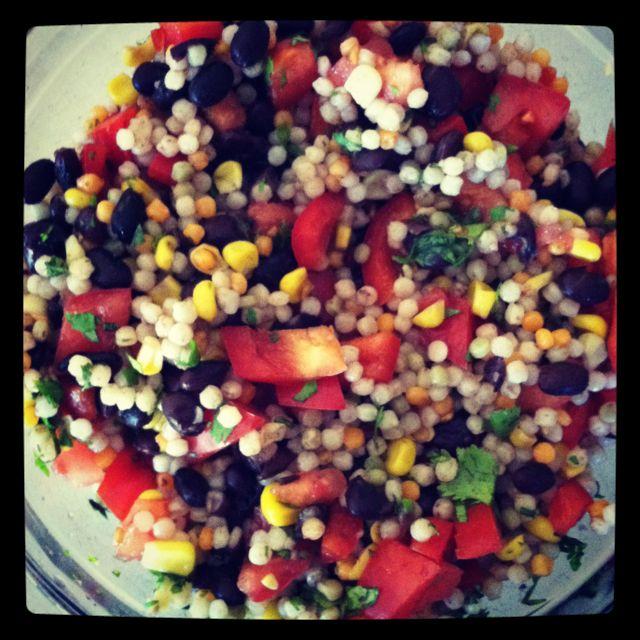 Come back tomorrow to see how I used this base to make three different meals during the week!
Finally I did some other basic prep work like peeling and chopping veggies to snack on during the week. If they're pre-cut and ready to go, you're more likely to eat them.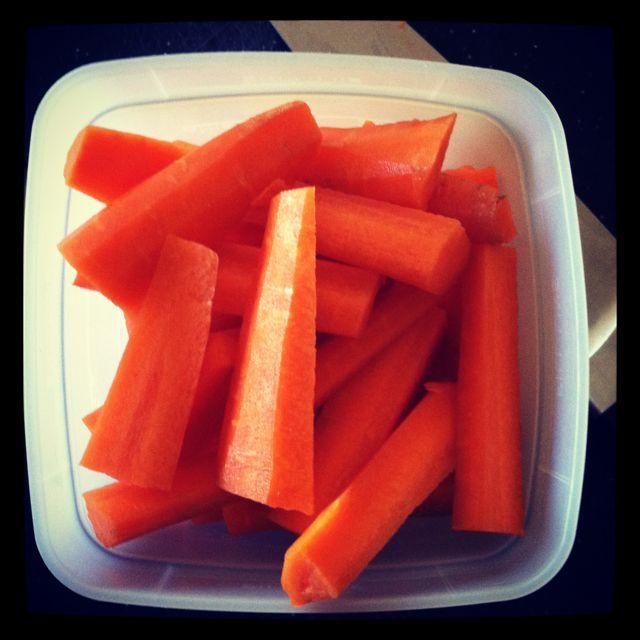 Other suggestions:
-Pre-cut some fruit to use as a topping on your cereal, oatmeal and yogurt.
-Roast a batch of chickpeas to snack on during the day.
-Put together a batch of your own trailmix with some nuts, seeds and dried fruit to throw in your bag and eat before you workout.
-Make a batch of no-bake granola bars and take one to work each day.
-Make a batch of hummus to eat with your veggies. I posted a video on how to make my favorite kind here.
-Make a batch of tuna salad to eat throughout the week for lunch.
-Similar to the burritos, make some homemade lean pockets like I posted about here.
-Make a giant salad and then you can just scoop out a portion for your meals during the week.
-If you eat meat, cook several chicken breasts in the crockpot. Cut or shred & freeze for easy use later.
-Roast a tray of veggies to eat alongside your dinners throughout the week. Add balsamic vinegar for extra flavor!
-Click here for another post I did over the summer about prepping food for the week.
–> EDITED TO ADD: Some other make-ahead tips from the comments of this post:
-Freeze cooked rice. Pack it in your lunch so it can thaw throughout the morning, then nuke for 30 secs and eat at lunch
-Make a big batch of soup packed with veggies and protein to eat throughout the week
-Make a few frozen casseroles like veggie lasagna or cook an extra meatloaf or meatballs. Freeze with instructions so your family can eat them when you're not around.
-Make a batch of egg muffins or mini fritattas to eat for breakfast
-Pre-chop veggies to make a quick stir-fry.
So there you go, friends! Trust me when I say that an hour or two on the weekend makes life SO much easier during the week. Set yourself up for success by taking a little time to prep some healthy meals, sides and snacks for you and your family to enjoy!
So tell me, do you prep food on the weekend?
Enjoy!
–Lindsay–
If you liked this post, you'll love my ebook – The Ultimate Guide To Food Prep. It dives into even more detail about how to food prep, troubleshoots common problems and provides tons of tips to make it easier! Click the image below for more details.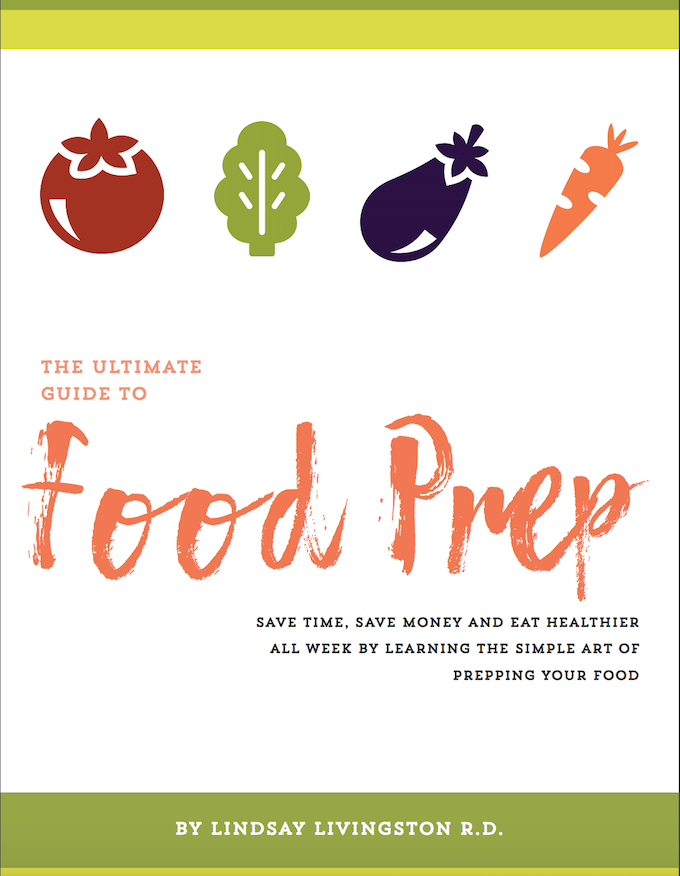 LEARN HOW FOOD AFFECTS YOUR BODY.
Get my free Table Talk email series where I share bite-sized nutrition information about carbs, protein, and fat, plus bonus information about snacks and sugar!