Love ice cream? Try this Peanut Butter and Jelly Ice Cream Pie! It's like a grown up version of your favorite childhood sandwich, for dessert!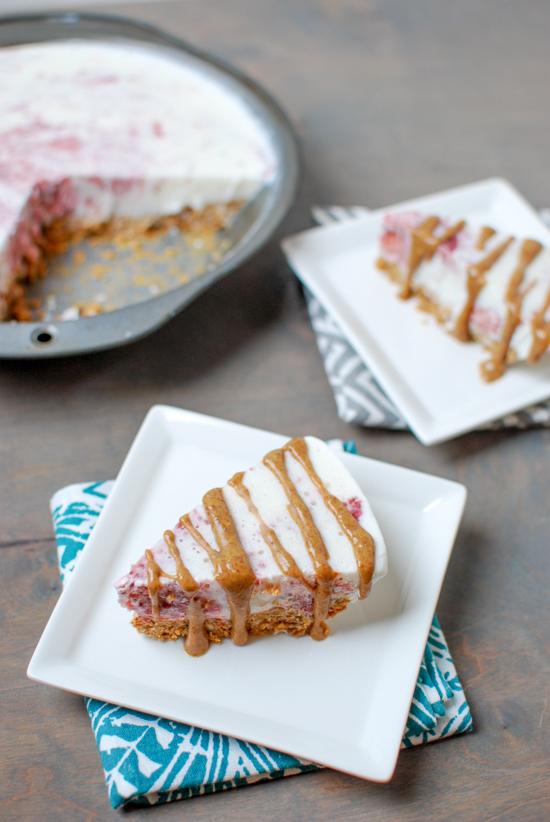 Hi Friends!
Today we're taking a break from Sunday Food Prep because it's Recipe Redux day. The theme for this month was pie:
Pie Love
Tucked in a crust, nothing says love from the oven like pie. Whether it's a twist on the all-American apple pie or a traditional recipe from your home country, give a healthy makeover to your favorite savory or sweet pie recipe.
So here's the deal. I'm not usually a huge pie person. I should say, I'm not a huge pie filling person. I love pie crust. I rarely love the inside of a pie. It's almost always too sweet and I dunno….I just don't dig it.
I am, however, a huge ice cream person. As I was thinking about this month's challenge, my train of thought went something like this:
Pie crust = win.
Pie filling = lose.
Ice cream = win.
Pie crust + ice cream = double win.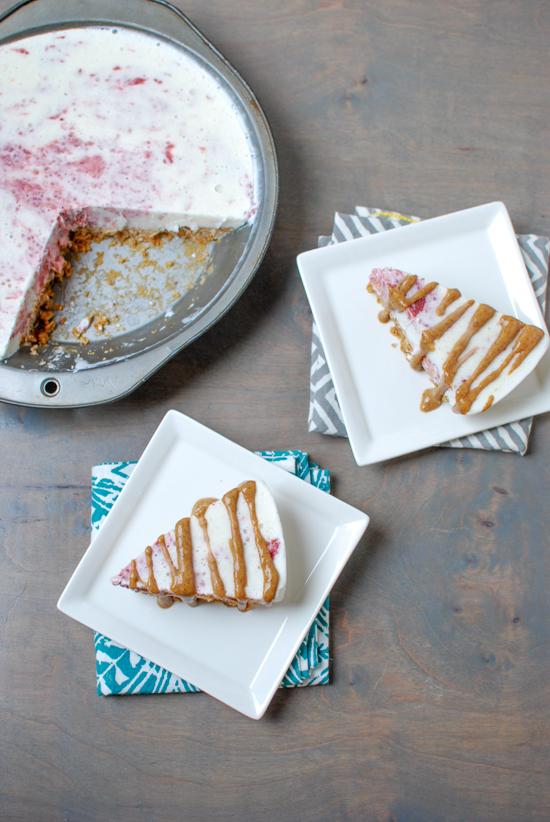 And that's how the idea for this pie was born. When I was deciding on a flavor for the pie, I looked in the fridge and saw a batch of this chia jam along with approximately 5 different jars of nut butter and voila!
I wanted something simple for the crust so I veered away from traditional pie crust. I also didn't want the filling to be overly sweet – so went with 1/2 ice cream, 1/2 plain yogurt and then added some sweetness back in with the chia jam. You're welcome to use all ice cream if you want to!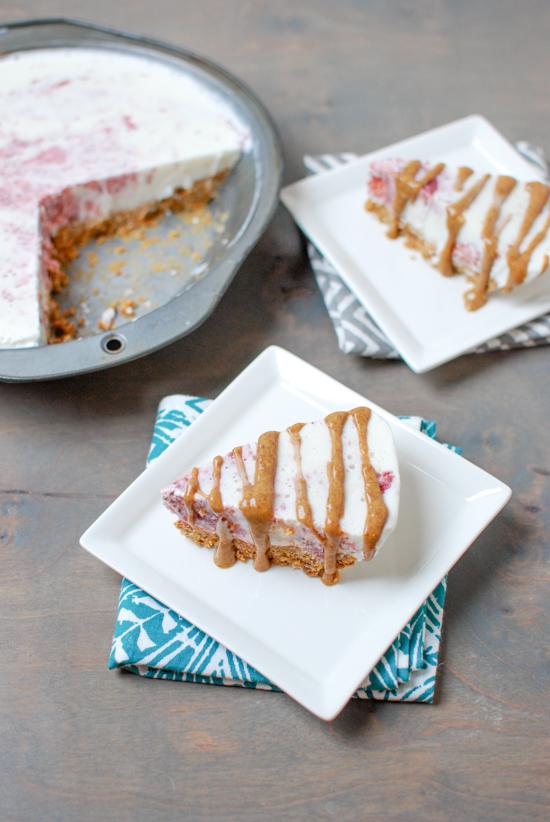 Sound like this pie is up your alley? Here's how you make it:
Print
Peanut Butter and Jelly Ice Cream Pie
Love ice cream? Try this Peanut Butter and Jelly Ice Cream Pie! It's like a grown up version of your favorite childhood sandwich, for dessert!
2 cups

granola

3/4 cup

peanut butter + extra to drizzle

2 cups

vanilla ice cream

1.5 cups

plain full fat yogurt (Greek or regular)

1

batch chia jam
Instructions
Make chia jam according to directions.
Mix granola and peanut butter and press into a pie tin.
Bake at 350 degrees for 7 minutes.
Let the jam and pie crust cool and take ice cream out of freezer to soften.
Combine ice cream and yogurt in a bowl and mix until well combined.
Pour half ice cream mixture into pie tin.
Swirl in half chia jam.
Top with remaining ice cream mixture.
Swirl in remaining jam.
Freeze until solid, cut and drizzle with peanut butter before serving
Isn't it pretty?!  If you're using a chunkier granola or one with more clusters and nuts you might want to place it in a ziploc bag and smash it up before mixing with the peanut butter, or throw it in the food processor and pulse it a few times to grind it up. Here's the recipe for the chia jam. It makes about 1 cup and only takes about 10 minutes. Use your favorite fruit or fruit combo to make it!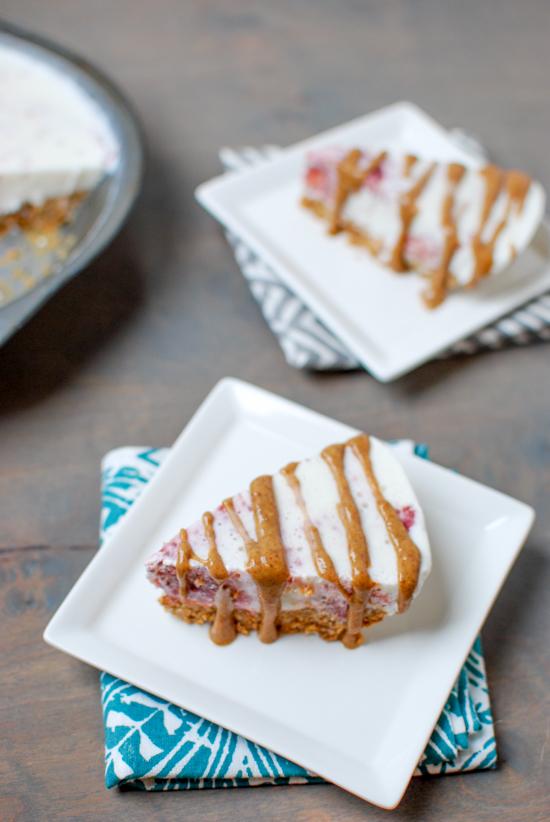 To cool the jam and pie crust faster, stick them in the freezer for 20 minutes. Feel free to use your fav nut butter! (Or this Maple Cinnamon Sunflower Seed Butter)
[Tweet "Your fav childhood sandwich in dessert form! PB and J Ice Cream Pie via @leangrnbeanblog!"]
Enjoy!
–Lindsay–
Check out all the other delicious pie recipes in this month's link up below:
LEARN HOW FOOD AFFECTS YOUR BODY.
Get my free Table Talk email series where I share bite-sized nutrition information about carbs, protein, and fat, plus bonus information about snacks and sugar!