A Beginner's Guide To Food Prep. Follow these 5 simple steps to learn how to food prep. They will help you get organized and prepared so that your time prepping food is more productive and less stressful. Plus a step-by-step example!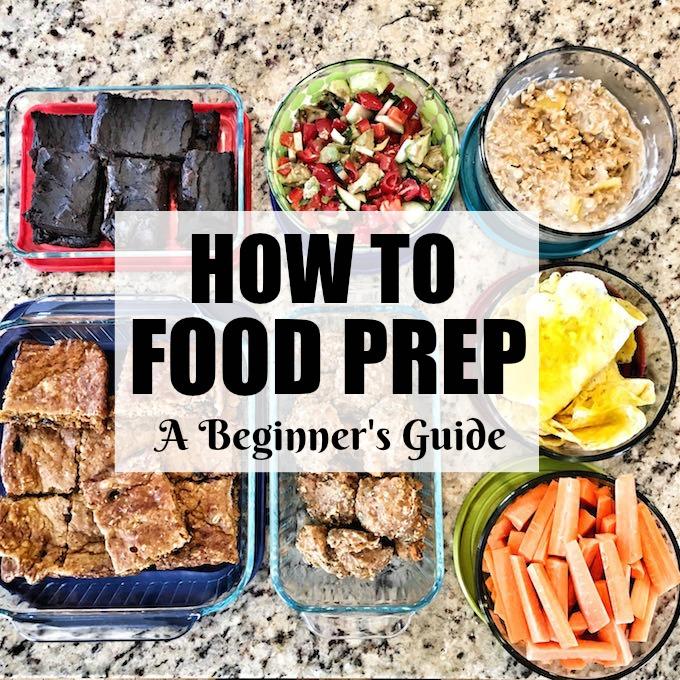 Hi friends!
Just popping in today to share a few quick tips for planning a food prep session, especially for all you beginners out there. A couple weeks ago I taught you guys how to really zone in and figure out what time of day you struggle with the most with eating healthy and I'm hoping some of you did that and are now ready to try food prep! If you're still feeling a bit overwhelmed, follow these five steps to plan a food prep session that will run smoothly and be productive and organized!
A Beginner's Guide To Food Prep
Are you ready? Here we go:
Narrow your focus. If you missed it, start by reading my post on how to find your food prep focus area). This is especially important for your first few food prep sessions. The number one reason people give up on food prep is that they try it once, get overwhelmed, spend way too long and get frustrated. And then they never do it again.

Plan it out.

 Do your research and pick a few recipes you want to make. Be sure to choose recipes that fit your focus area, whether it's dinner, breakfast, snack time etc. Don't forget to think about foods that aren't really recipes but fit into your focus area like chopped veggies, hard boiled eggs etc.

Stock up.

Make a list and grocery shop to get everything you need
Get organized. Divide your list into different sections: a) oven b)slow cooker/instant pot etc c) stovetop d) counter. Put everything on your recipe list into a section. Then make a plan about the order you want to do things in (see additional tips below). Be sure to prioritize in order of importance to you.

Get to work.

Set a timer to see how long it takes you. If you've prioritized your list in order of importance, you can get the most important things done and then stop if it starts taking too long.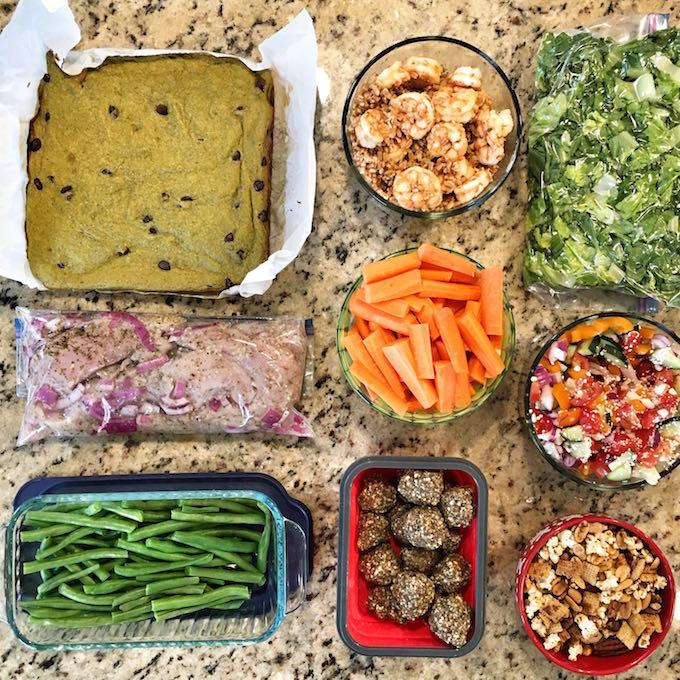 A few tips:
Don't go overboard. Most things will probably take you a little longer than you plan for, so don't be too overzealous.
Always focus on the oven first. Start by prepping something so it's ready to go in as soon as the oven is preheated. As soon as you put something in, prep the next thing while it cooks so it's ready to go in when the first thing is done. After you're done prepping things for the oven, move on to things you can start working on the stovetop or in the crockpot or Instant Pot. And finally, fill in any extra time with things you can do on the counter like chopping veggies.
Once you start to get the hang of it, you can expand your food prep. Either prep more stuff, or expand from your focus area and try making things for both breakfast AND dinner or lunch AND snack time.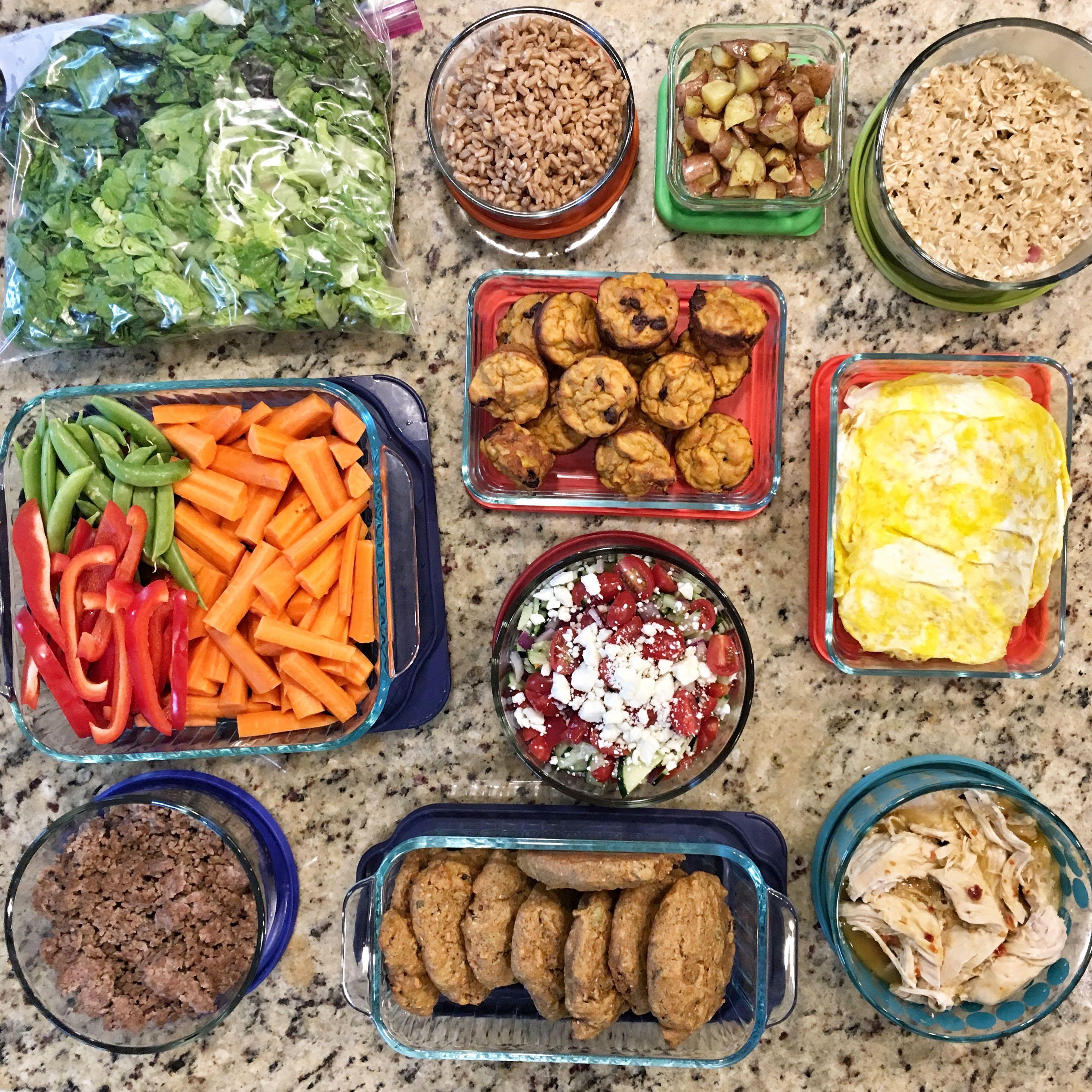 Want an example? Here's a hypothetical food prep session using these steps!
Step 1: You've done your homework and figured out that snack time is your problem area. You decide to do a food prep session to help you prepare some healthy snacks to have on hand for a busy week.
Step 2: After doing some online searching, you decide to prep the following:
Step 3: You make a grocery list which might look something like:
Dates
Lemon
Almonds
Pumpkin Seeds
Chia Seeds
Eggs
Peanut Butter
Banana
Sweet Potatoes
Spinach
Plain Yogurt
Rolled Oats
Maple Syrup
Cereal
Chocolate Covered Sunflower Seeds
Red peppers
Tomato
Cucumber
Onion
Feta Cheese
Hummus
Step 4: You divide your list into areas of the kitchen:
Oven – Sweet Potato Bites, Green Smoothie Snack Bars
Stove – Egg Wraps
Counter – Lemon Energy Balls, Trail Mix, Hummus Topping
And then you plan things out, deciding that the sweet potato bites, snack bars, hummus topping and egg wraps are most important:
Preheat oven, prepare the batter for sweet potato bites. Chop some vegetables for the hummus topping if you have time before the oven is preheated.
Bake Sweet Potato Bites and prep Green Smoothie Bars. Finish chopping vegetables with the remaining time.
Remove Sweet Potato Bites and bake Green Smoothie Bars.
Make Egg Wraps.
Make Lemon Energy Balls
Make Trail Mix if time.
Step 5: Follow your plan! You should have time to make the sweet potato bites, hummus topping, green smoothie bars and egg wraps in an hour. If you have more time, keep going and make the energy balls and then you may or may not decide to skip the trail mix depending on how long you've been at it.

Make sense? Good! Now hop on the food prep train and go give it a try!
[clickToTweet tweet="Follow these 5 simple steps to learn how to plan a successful food prep session!" quote="Follow these 5 simple steps to learn how to plan a successful food prep session!"]
For more tips check out my How To Food Prep – 5 Tips For Beginners post or buy my Ultimate Guide To Food Prep ebook!
Enjoy!
–Lindsay–
LEARN HOW FOOD AFFECTS YOUR BODY.
Get my free Table Talk email series where I share bite-sized nutrition information about carbs, protein, and fat, plus bonus information about snacks and sugar!