Bursting with fall flavor, these Apple Cinnamon Breakfast Bars are kid-friendly and full of protein and fiber for a healthy breakfast or snack.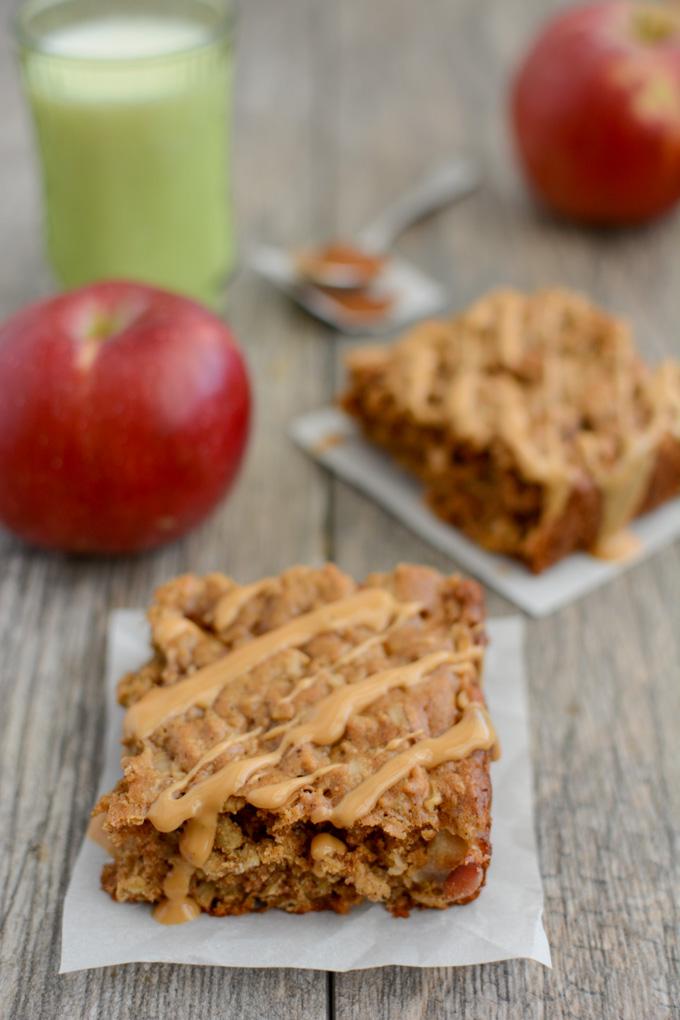 Thanks to ADA Mideast for sponsoring this post
*Note, this post was originally published in September 2013. The recipe and photos were updated in September 2016*
Hi Friends!
I've got a delicious recipe to share with you guys today. As school starts up again, I'm teaming up with the American Dairy Association Mideast and some other bloggers for a little recipe exchange! The goal is to share some delicious breakfast ideas with you guys and to promote dairy products as a healthy part of a nutritious breakfast for kids!
As a registered dietitian, I'm a HUGE proponent of everyone eating a healthy breakfast each morning. Kids are no exception. Research has shown that breakfast eaters have better attention and memory than breakfast skippers, and kids who eat breakfast have better math and reading scores, better attendance and better attention in the classroom than those who don't eat breakfast.
When I started thinking about what recipe I was going to create, I decided to focus on a couple of ways ADA Mideast shares to build a better breakfast:
Build a better breakfast
Be a role model. Your kids are more likely to eat breakfast if you do, too.
Go beyond boxed cereal. Get creative with breakfast options that kids will be sure to wake up for.
Rushed morning rescue. Keep portable items on hand such as yogurts in a tube, granola bars, fruit, and single-serve, milk.
Eat for energy. Plan breakfast around at least three of the five food groups.
Late out of the gate? Eat breakfast at school. School breakfast is a convenient and nutritious option for busy families or kids who don't feel hungry as soon as they wake up. It's available to all students, regardless of socio-economic background and has great nutritional value!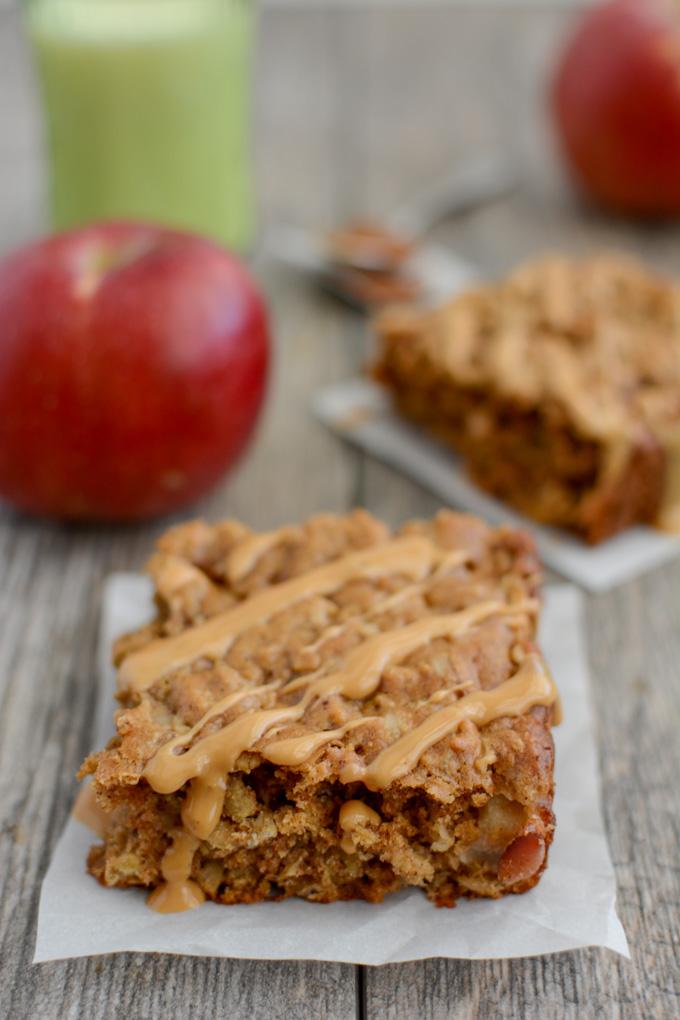 I wanted to create something that was grab-and-go. As a kid, I never had trouble getting up to eat breakfast, but my sister was constantly oversleeping/running late/skipping breakfast on her way to school. When kids have trouble getting up in the morning, it's important to have quick, easy options ready for them so they don't miss out on the most important meal of the day. I also wanted to create an energy dense breakfast that included at least three of the five food groups. These Apple Cinnamon Breakfast Bars contain whole grains, dairy, and fruit all in one easy to eat bar!
These bars are full of flavor and super moist! It's almost like eating cake for breakfast 🙂 Plus, fall is fast approaching. This is a great way to incorporate one of my favorite fall fruits into your diet.
Apple Cinnamon Breakfast Bars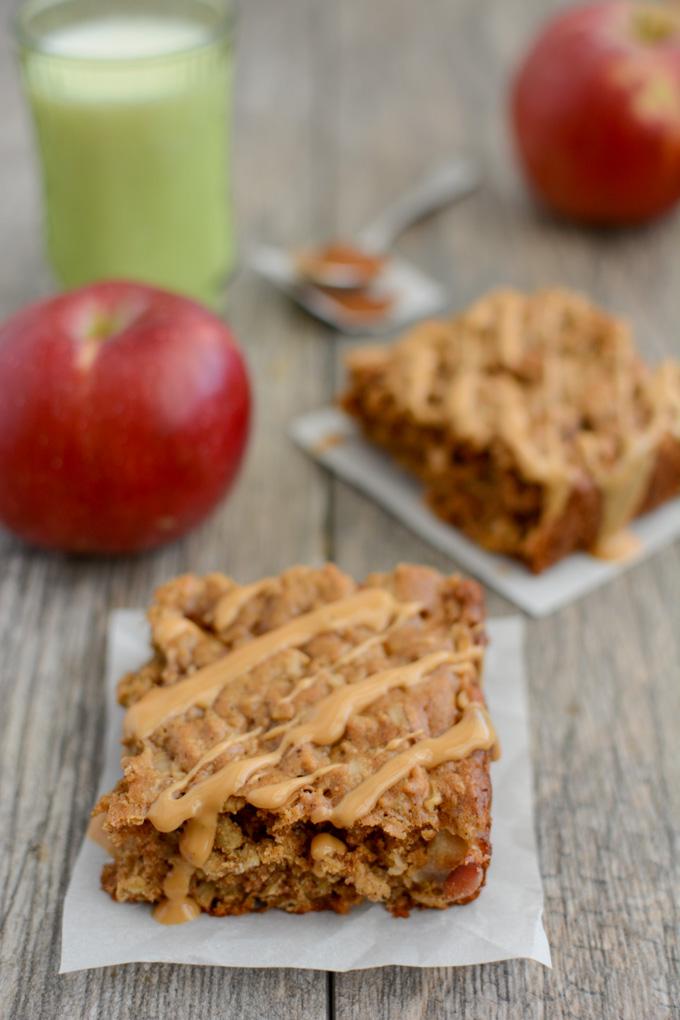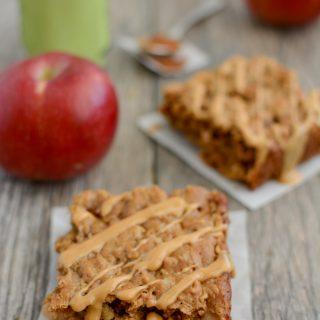 A quick, healthy grab and go breakfast option. Make a pan on Sunday and enjoy them all week long!
Ingredients
4

T butter, melted

1/2

cup peanut butter

1

tsp vanilla extract

3/4

cup milk

1/2

cup brown sugar

1

egg

2

tsp cinnamon

1.5

cups oats

1

cup flour

1

tsp baking soda

1.5

cup chopped apples
Instructions
In a bowl, combine the first 6 ingredients and mix well.
Add remaining ingredients and stir until just combined.
Spoon into a greased 9x9 pan and bake at 375 degrees for about 20 minutes.
Note – I updated this recipe 3 years after making it. Here's the original recipe that's more like baked oatmeal.
Combine 3/4 c skim milk + 1/2 c peanut butter + 1 tsp vanilla + 1/4 c applesauce + 1/4 c honey + 1 cup grated apple (squeezed to remove excess moisture) + 1 egg and mix well. Add 1.5 cups rolled oats + 1/4 cup flour + 1 tsp baking soda + 1 tsp cinnamon. Mix and bake in a 9×9 pan at 350 for 30 min.

If you're making these to eat on the run, let them cool completely, cut into bars, and place in individual ziploc bags. Store them in the fridge and your kids can grab one on their way out the door. If you have a little more time in the morning, stick one on a plate, microwave to warm it up, and top with a little peanut butter. Alternatively, crumble one into a bowl of low-fat yogurt for more dairy power!
Try these Easy Apple Cinnamon Breakfast Bars on a busy weekday morning!
Click To Tweet
Enjoy!
–Lindsay–
*ADA Mideast compensated me for this post. All thoughts, opinions and the recipe are my own*