These Kitchen Tools For Kids are perfect for introducing children to the kitchen. Let them get creative, have fun and develop healthy eating habits from a young age!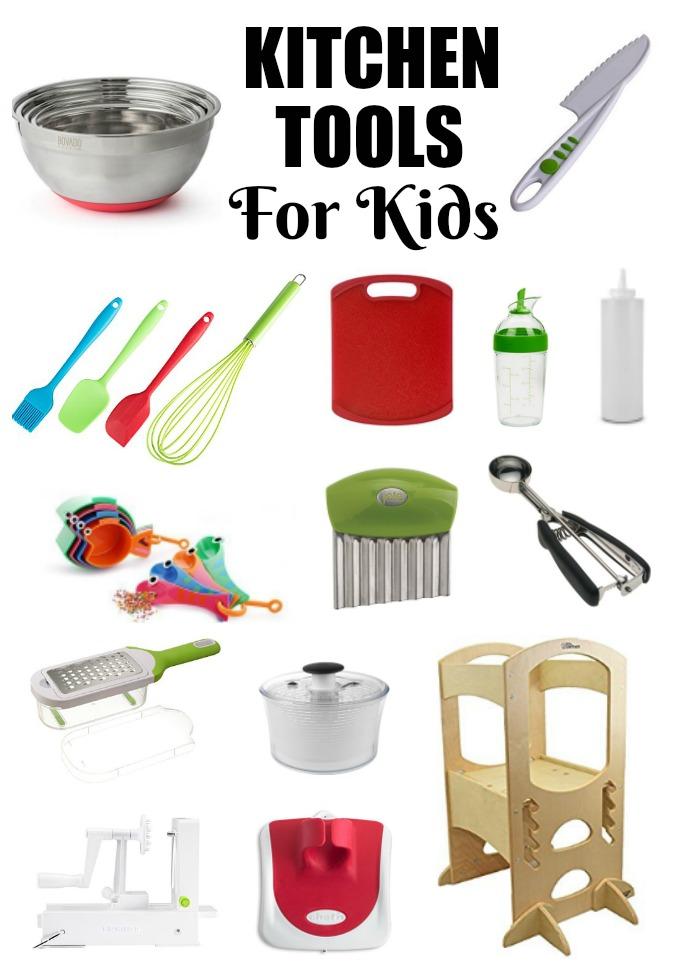 Hi friends!
As most of you know, spending time in the kitchen with my kids is one of my favorite things to do. I started bringing both my kids into the kitchen with me at a very young age. They were both up on their learning tower helping me from about 14 months on.
Lots of you ask me what tools I use in the kitchen with my kids so I thought I'd put together a guide with some kitchen tools that are nice to have on hand for your little helpers! Some of these are brands I love while others are just general ideas and many brands make similar products.
All of the links in this post are Amazon affiliate links. That means if you choose to purchase something by clicking my link, I get to keep a small portion of the sale at no additional cost to you. Thanks for supporting The Lean Green Bean!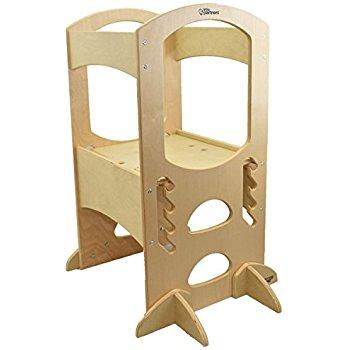 Once kids can stand comfortably for a while, these are great to have! They can stand right at the counter to help but are a bit more secure than being on just a chair or barstool. Just watch the younger ones closely though because if they sit or fall down they can definitely fall out through the sides or back. You can buy add-ons as well. We bought the easel to add to the back of ours. It not only makes the back solid, it also adds a magnetic dry erase board and a felt board. Little Partners also makes activity boards for the back!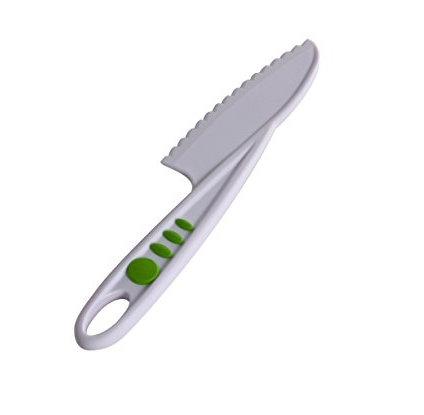 I get asked about this one almost every single time someone see my kids using it. It's sharp enough to cut through veggies but safer than a real knife and better than trying to cut with a butter knife! You could also check out this knife and peeler set.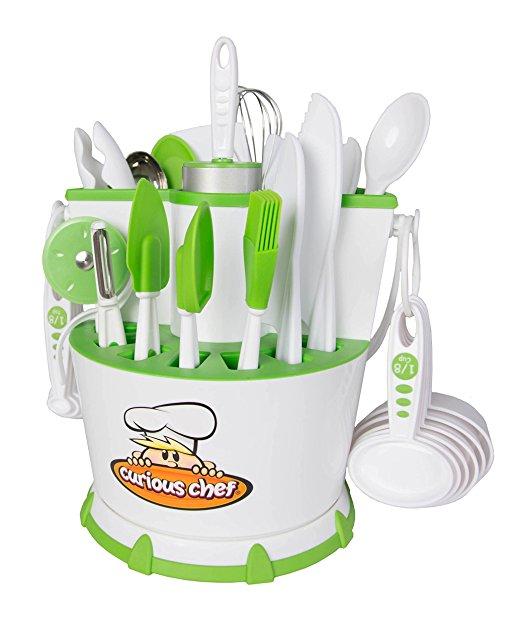 If they're really interested in helping, this might be just the thing! It has pretty much everything they could need so they can have stuff of their very own. For a smaller version, check out the Fruit & Veggie Prep Kit.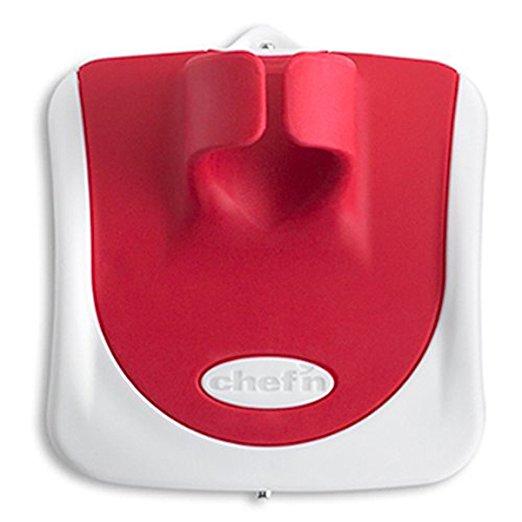 Squish has used a regular Y peeler since he was pretty young and we've never had any issues with him cutting himself, but some people think this is a better option because it fits into their hand better.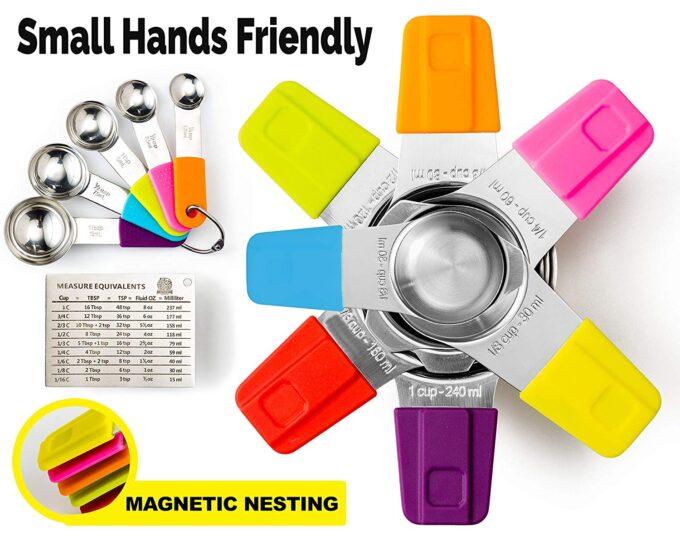 There are lots of fun sets out there that you could get so kids can have their very own.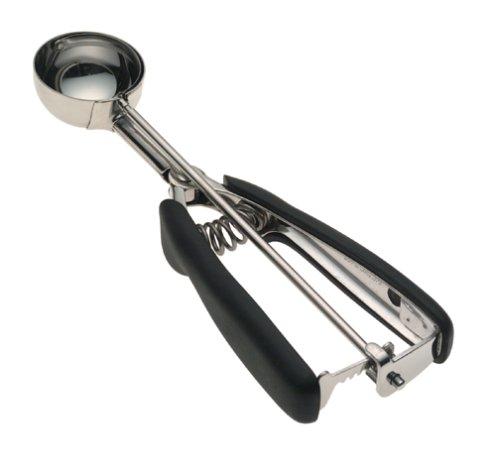 Definitely one of our most used tools. Cookie baking is a great way to introduce kids to the kitchen. This tool also helps them work on their coordination and grip strength. You can also use it to scoop batter into muffin tins.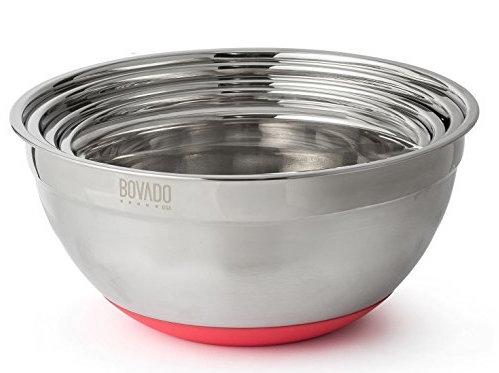 Mixing Bowls with Non-Slip Base (or these plastic ones)
Having bowls with a non-slip bottom is crucial! This set actually has accompanying lids which is nice because some kitchen projects may need to get put on hold for tantrums, naps, etc.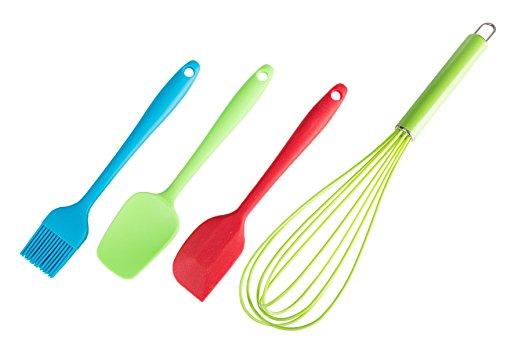 Things like stirring, whisking and brushing are perfect beginner kitchen tasks.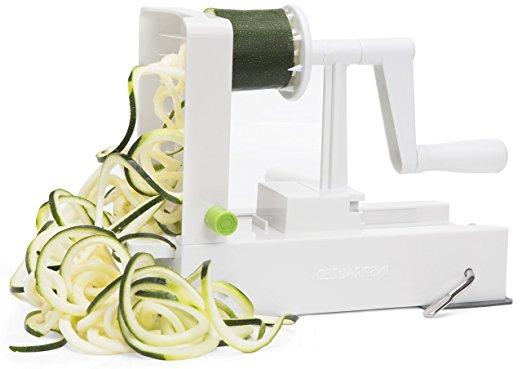 A fun way to get kids exciting about veggies! Let them pick the veggie and choose what thickness to cut them. The Inspiralzer brand, in particular, suctions really well to the counter so the kiddos can focus on spinning the handle.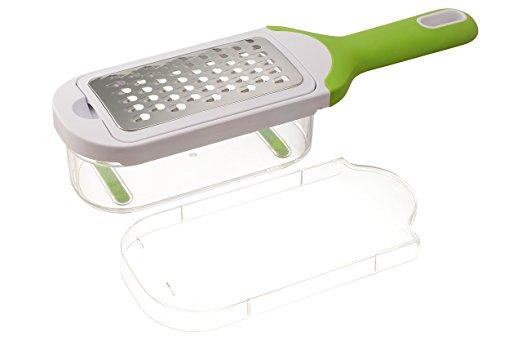 These are fairly sharp so watch kids closely when using them. Ones like this with a built-in box can help minimize the mess. It also has non-slip feet which is nice!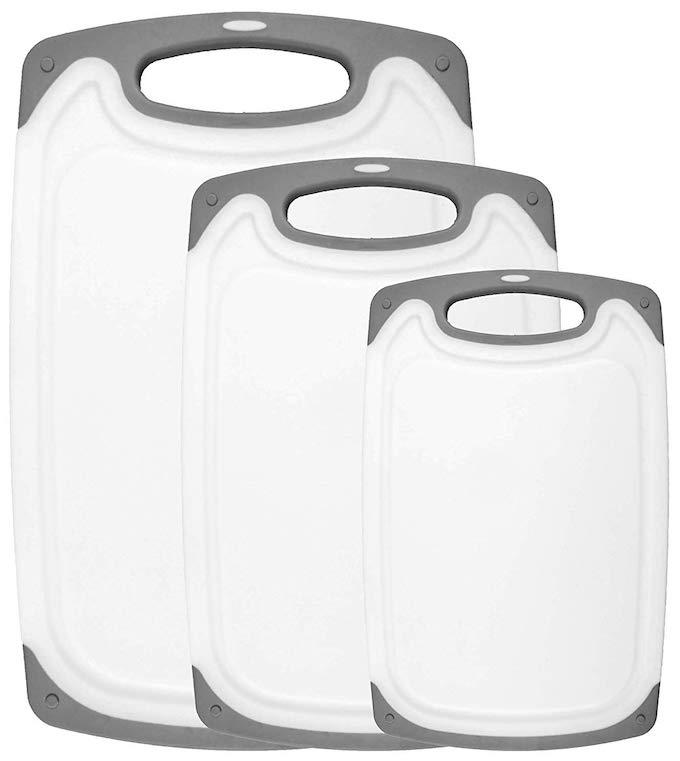 Are you sensing a theme here with the non-slip idea? Get them their own small cutting board so they can chop right alongside you!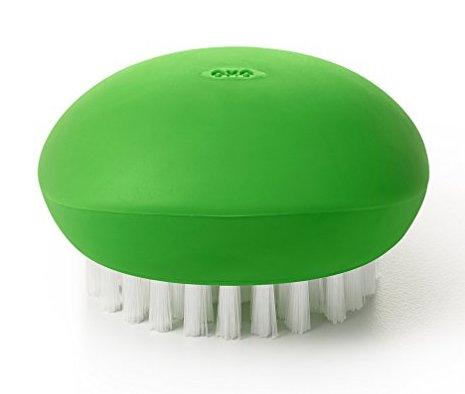 Another great tool for simple kitchen task that even young toddlers can handle!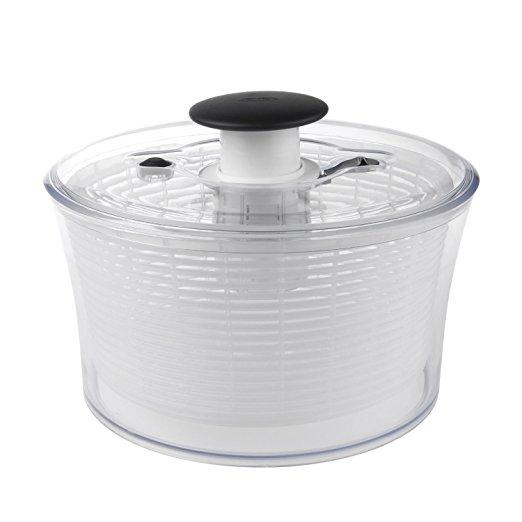 Making salads is a great task for kids. They can tear the lettuce, spin it dry, and peel and chop some veggies all by themselves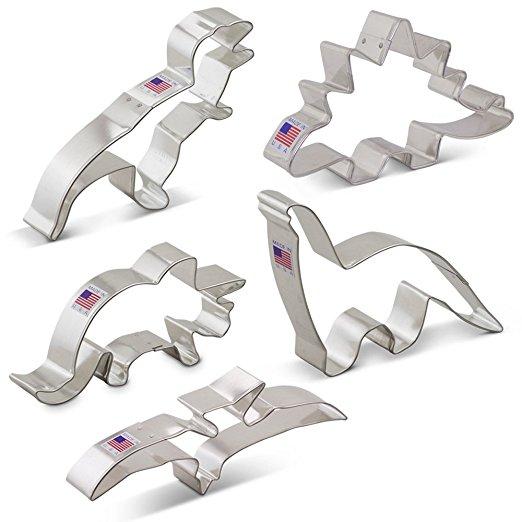 Cookie cutters make baking more fun and are good to have on hand for rainy days, holiday baking, etc!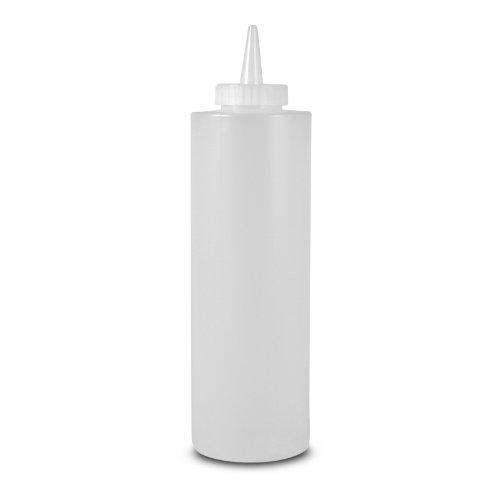 These are great for letting kids help squeeze their own condiments or add their own salad dressing. You can also put pancake batter in and let them squeeze onto a griddle.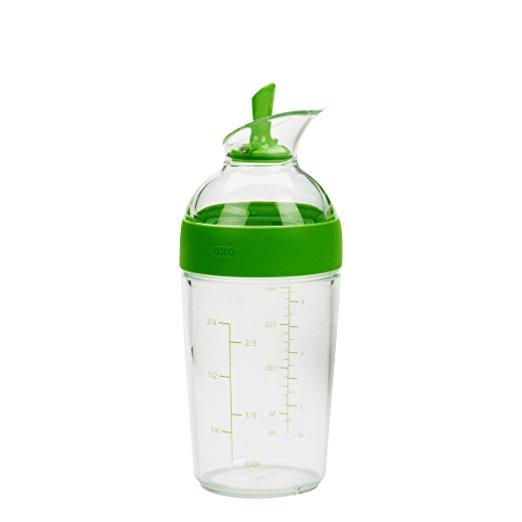 If you like to make your own sauces or dressings, these are handy to have! Let the kids help add all the ingredients and then have fun shaking them up!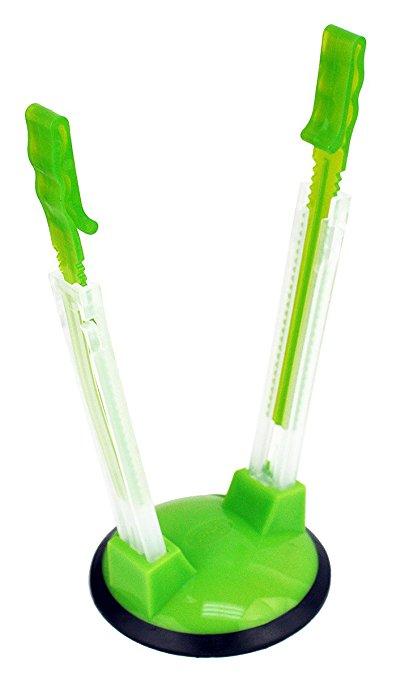 If you make freezer meals, especially chop and dump style meals to stock your freezer for the slow cooker, these are handy. They hold a ziploc bag upright and open so kids can help add stuff to the bag.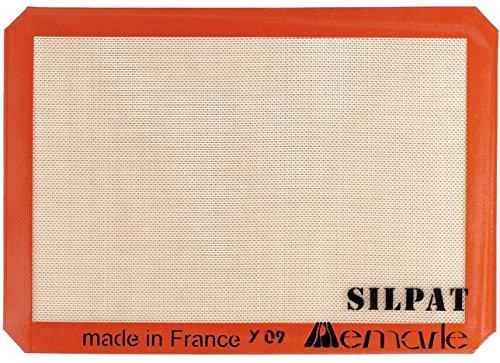 These are great for baking but can also be great to use on the counter when rolling out various doughs, kneading bread dough etc.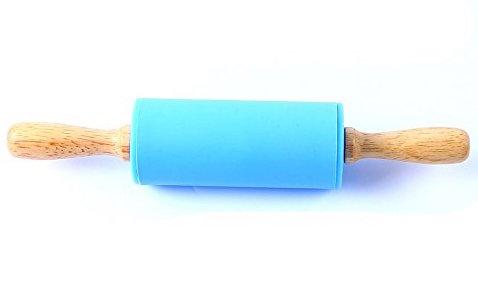 Full-size rolling pins can be tough for kids to manage. Get them a mini one and give them their own section of dough to work with.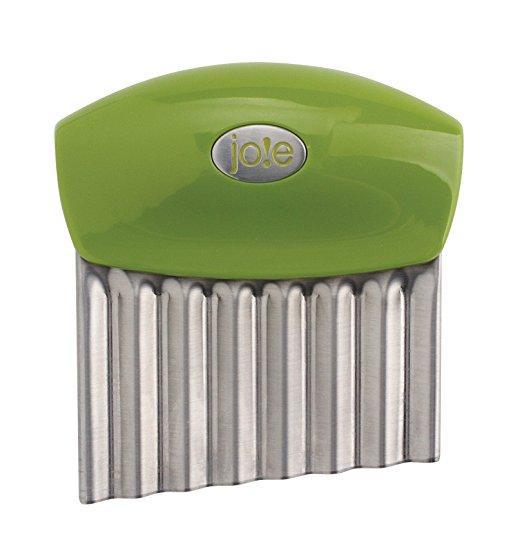 Anything to make veggies more fun! Let kids cut veggies like potatoes, zucchini, cucumbers and carrots into fun crinkle strips.
That's all for now! I'm sure there are some things I forgot.
Any of these would make a great gift! Want more gift ideas? Check out my 2017 Gift Ideas For Busy Moms, my 2016 Gift Guide For New Moms, my 2015 Baby's First Year Gift Guide (gifts for baby & mom) or my Gift Guide for Toddlers (Ages 1-3).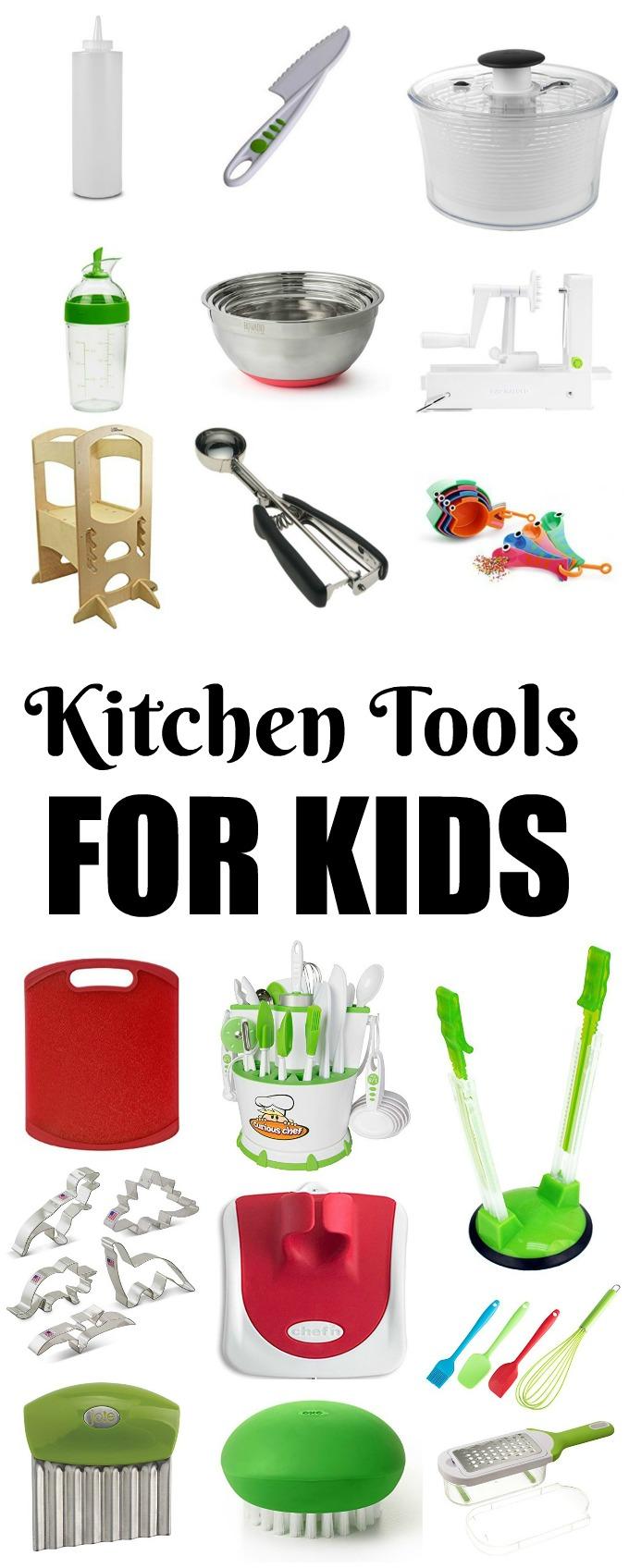 Let's chat!
Do you cook with your kids? What are your favorite tools?
Enjoy!
–Lindsay–