Salads don't always have to be just a bowl full of lettuce! Check out this roundup of 15 non-traditional salads for some fun ways to up your veggie intake!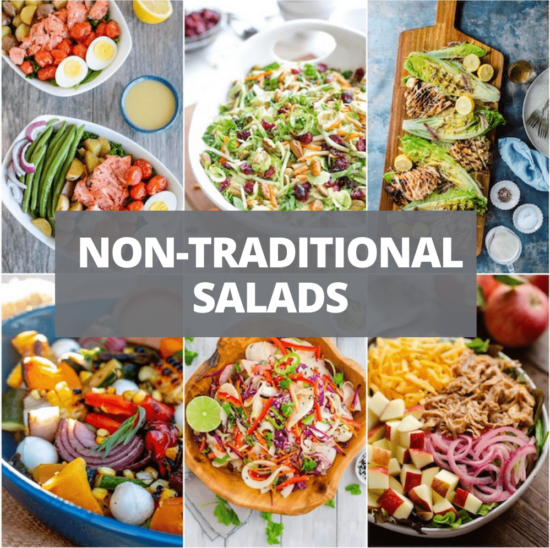 Hi Friends!
Time for another delicious roundup! Let's talk non-traditional salads. When most people hear the word salad, they typically think of regular old lettuce, topped with a few veggies and some dressing. My husband eats a bowl of green leaf lettuce topped with broccoli and cucumbers for lunch pretty much every single day. That's all well and good…but for me personally, I'm not really crazy about regular lettuce. GASP! I know. Luckily though, the word "salad" has evolved and expanded its meaning and there are all sorts of interesting combinations that can now be considered salad!
If a bowl of leafy greens doesn't necessarily get you excited either, have no fear! I've rounded up some non-traditional salad ideas for you. They're still healthy, quick and easy and they're all great options for adding more veggies to your meals!
Non-Traditional Salads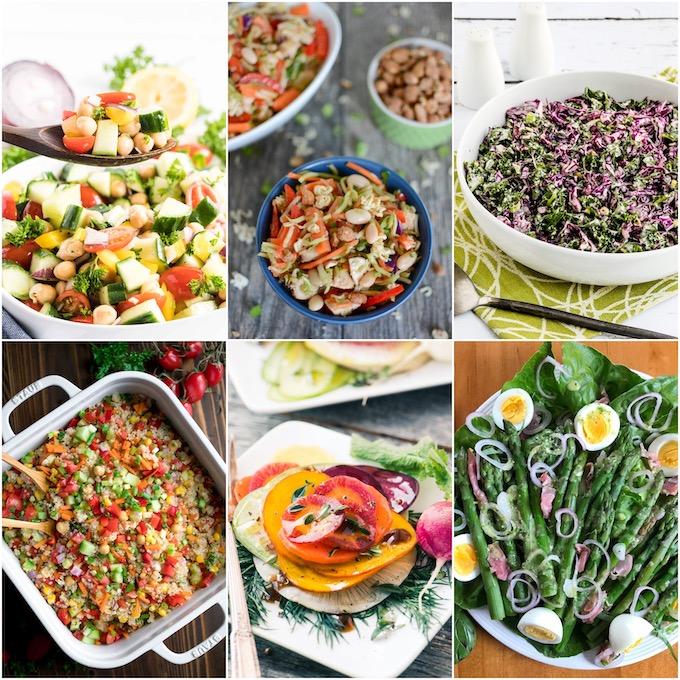 Chickpea Salad with Tomato and Cucumber via Wholesome Made Easy. No lettuce needed, just chopped veggies and chickpeas in a simple dressing.
Broccoli Slaw with Ramen via The Lean Green Bean. Broccoli slaw adds crunch and ramen noodles add a fun twist.
Kale and Red Cabbage Slaw via Kalyn's Kitchen. Eat this slaw by itself, top with a lean protein or add to tacos!
Rainbow Quinoa Salad via Peas and Crayons. Grain-based salads are a great option for side dishes and meals.
Shaved Winter Vegetable Salad via The View From Great Island. Sometimes presentation makes all the difference!
Asparagus Salad with Eggs and Prosciutto via Liz's Healthy Table. Simple yet elegant, this salad can impress a crowd.
Bok Choy Salad with Sesame Soy Dressing via Running To The Kitchen. A great way to gain exposure to veggies you may not eat frequently.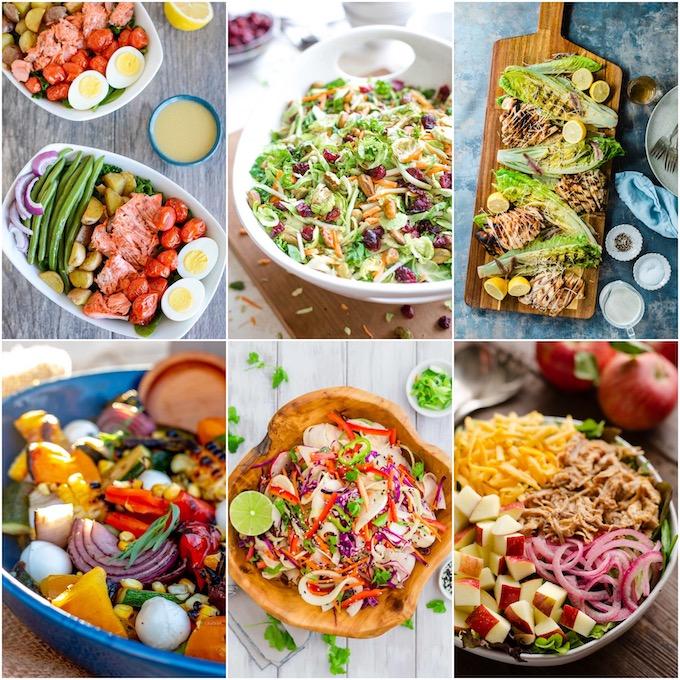 Salmon Nicoise Salad via The Lean Green Bean. A fun twist on a classic nicoise salad.
Superfoods Brussels Sprout Salad via Two Healthy Kitchens. If you haven't found a way you love eating brussels sprouts yet, try this!
Romaine Hearts Grilled Chicken Caesar via Eating Richly. An easy way to feed a crowd with tons of flavor and visual appeal.
Grilled Vegetable Salad via Kylee Cooks. Salads aren't just for raw veggies. Try grilling them first!
Thai Kohlrabi Noodle Salad via Running To The Kitchen. Spiralized vegetables make a great addition to salads.
Pulled Pork Apple Salad via The Creative Bite. A salad can never have too many toppings 🙂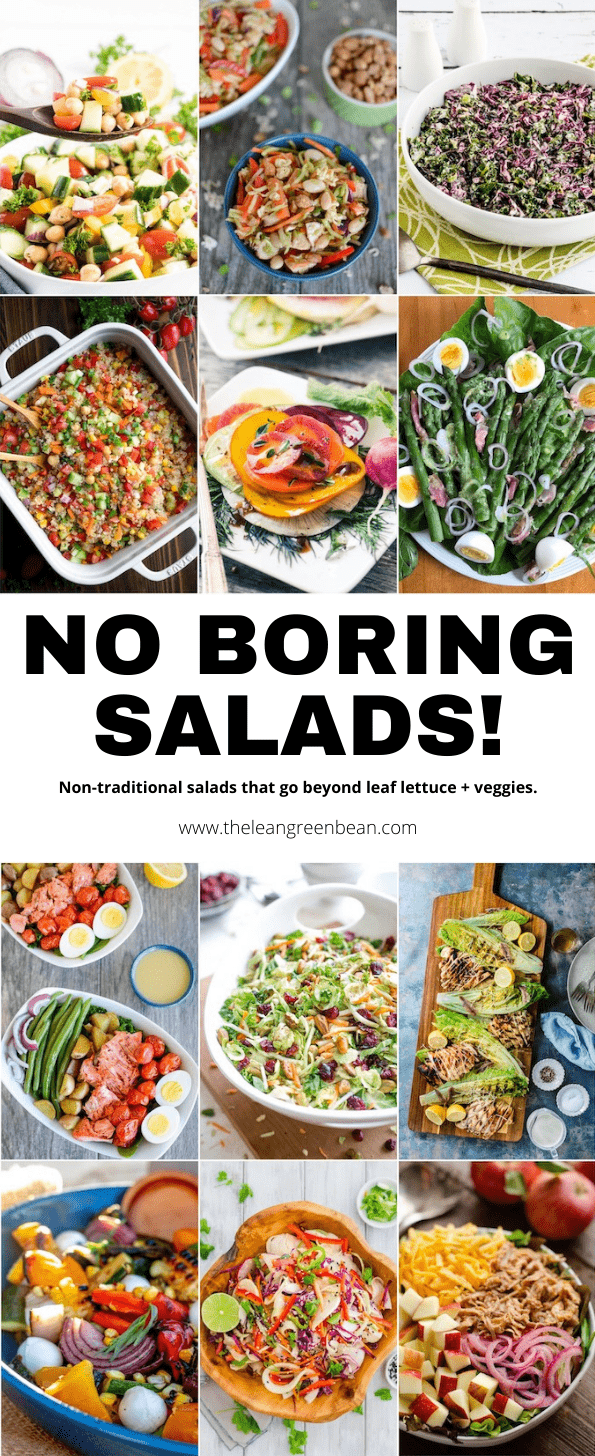 See any you like?

Let's chat:

Are you a fan of non-traditional salads? What's your favorite?

Enjoy!
–Lindsay–
LEARN HOW FOOD AFFECTS YOUR BODY.
Get my free Table Talk email series where I share bite-sized nutrition information about carbs, protein, and fat, plus bonus information about snacks and sugar!