These Frozen Yogurt Bites are easy to customize and make a healthy snack or breakfast for both kids and adults!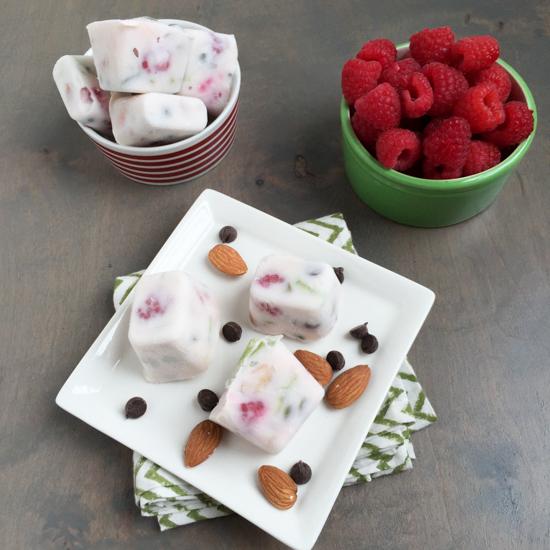 Hi Friends!
First of all, sorry about the other day when I posted a Fitness Friday post on a Wednesday. #mombrain. I think I originally had the post titled Crossfit After Baby so it wouldn't matter when I posted it, but then I changed the title and didn't really think things through! Whoops.
Anyways, we're back to recipes today. This recipe is actually just a slight spin on one of my all-time favorites. About 2.5 years ago I posted these Frozen Yogurt Trail Mix Bars. They were wildly popular (for good reason) and I still make them all the time. However, I usually make them bite-sized instead cutting them into bars. I just find they're less messy, easier to eat, more fun, etc!

So, I thought since I changed things up a little, I'd make a brand new post! First of all, it's summer and I wanted to remind all of you of these delicious treats. Secondly, I make these all the time during Sunday food prep and always get questions about them so I wanted to have a post I could direct you to so you can make them yourself! Third, they needed some new photos!
So anyways, you don't really need specific quantities for these, which is another reason I like them. They're totally customizable and so easy to make. If you end up mixing too much to fit in your ice cube trays, just eat the rest for a snack!
Print
Frozen Yogurt Bites
This recipe for Frozen Yogurt Bites is easy to customize and makes a perfect healthy snack or breakfast for both kids and adults!
Yogurt (all plain, or half plain, half flavored)
Mix-ins: nuts, seeds, fruit, chocolate chips, granola, etc
Instructions
Mix everything together in a bowl.
Spoon into ice cube trays.
Freeze.
Use a knife to gently pop frozen cubes out of mold and store in an airtight container in the freezer.
Let sit for a couple minutes before eating if they're too hard to bite into!
My favorite mix-ins are chopped almonds, chocolate chips and chopped fruit. Use any yogurt you like – greek, regular, full-fat, fat-free, non-dairy, whatever!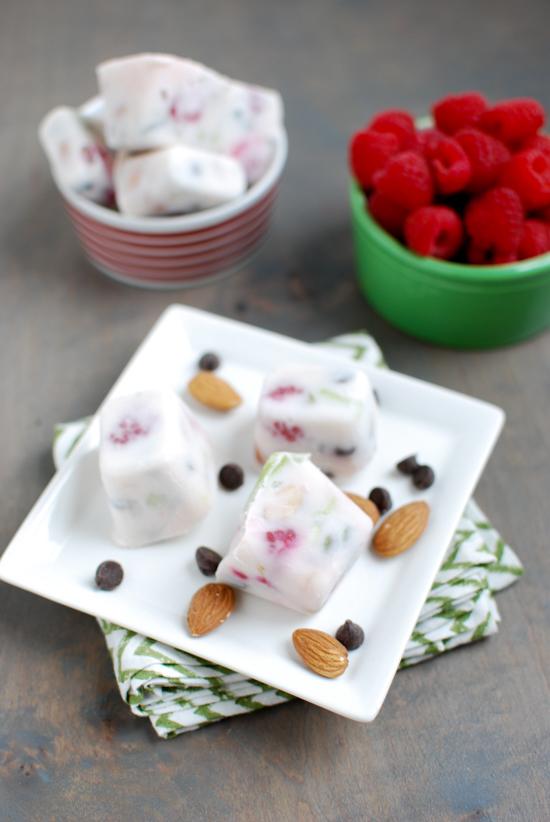 [Tweet "These Frozen Yogurt Bites from @leangrnblog are perfect for breakfast or snack time!"]Enjoy!
–Lindsay–
LEARN HOW FOOD AFFECTS YOUR BODY.
Get my free Table Talk email series where I share bite-sized nutrition information about carbs, protein, and fat, plus bonus information about snacks and sugar!