This Easy Fish Chowder tastes better than longer it sits! Make a big pot over the weekend and enjoy for lunch or dinner all week!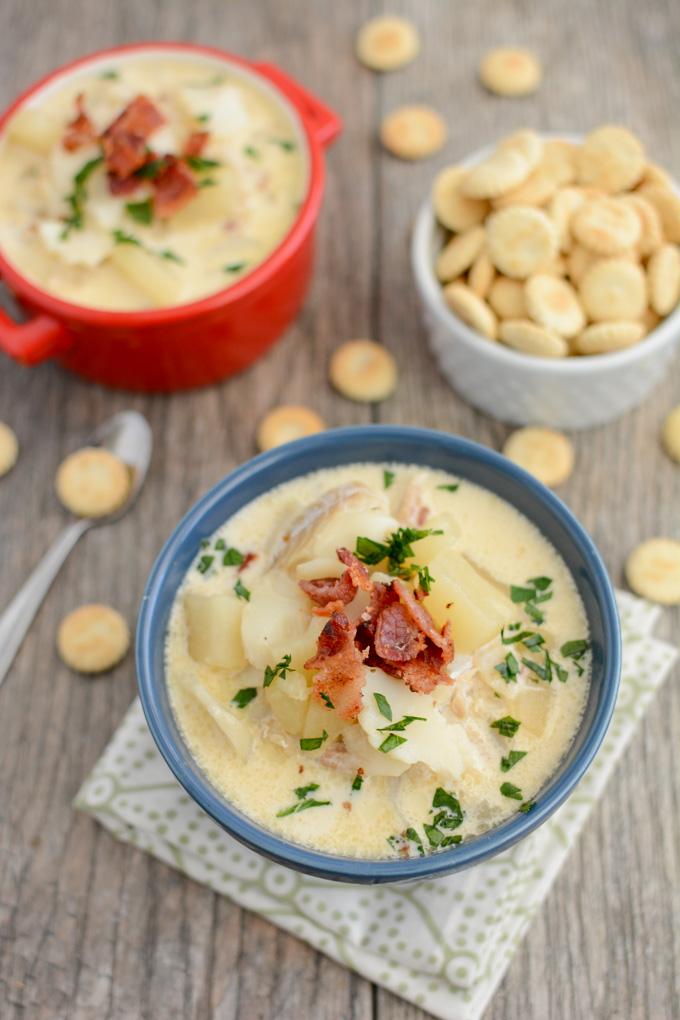 Hi Friends!
It's time for another month of Recipe Redux. This month the theme is first cooking recollections.  I have several cooking memories from my childhood thanks to my mom, who was great about getting me involved in the kitchen from an early age. This chowder, however, was actually a childhood vacation staple.
Every summer while I was growing up, my mom, sister and I would head out to Maine to spend a couple of weeks with my aunt. Aside from fresh Maine lobster and hot dogs, both of which don't involve a whole lot of cooking, the one thing we ate every year on this trip was this fish chowder.
Some years my aunt would have it made before we got there but other years I remember helping make it once we arrived. It's made with simple ingredients, easy to make in large batches and tastes even better after a day or two in the fridge.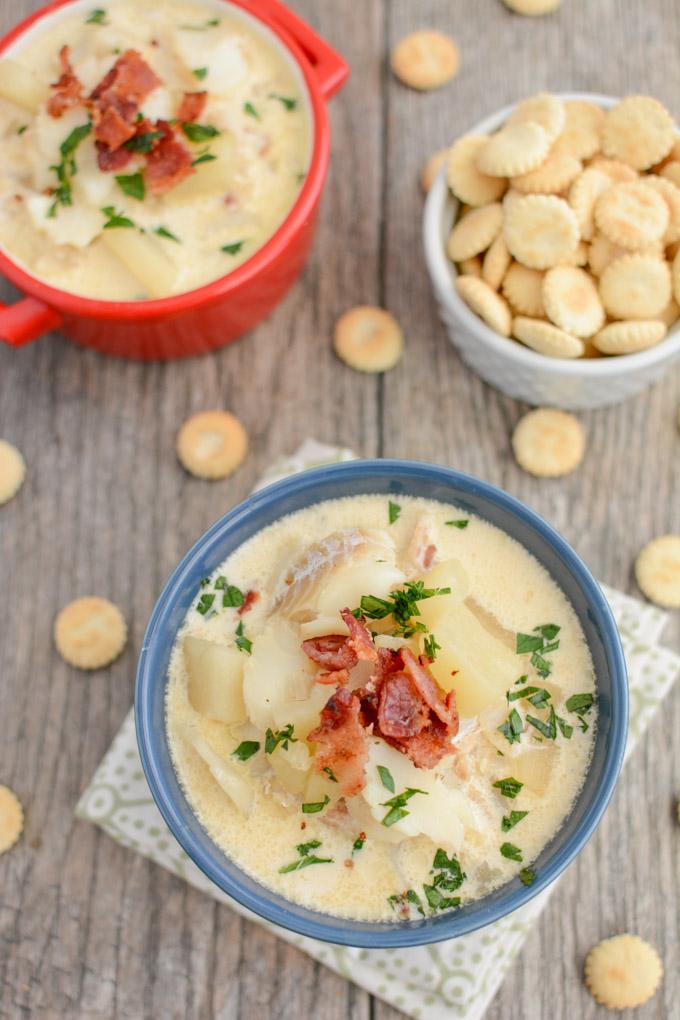 One of my biggest contributions as a kid was always standing over the sink peeling the potatoes…but aside from that and chopping up potatoes, onion and bacon, that's really all there is to it!
This Easy Fish Chowder gets better as it sits! Make a batch and enjoy all week long.
Click To Tweet
Here's how you make it:
Print
Easy Fish Chowder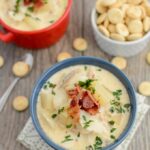 This Easy Fish Chowder tastes better than longer it sits! Make a big pot over the weekend and enjoy for lunch or dinner all week!
Prep Time:

5 minutes

Cook Time:

20 minutes

Total Time:

25 minutes

Yield:

Serves 4-6
Ingredients
1 Tbsp oil
3 slices bacon, diced
2/3 cup diced onion
2 medium white potatoes, peeled and diced
2 c chicken or vegetable broth
1.5 – 2 pounds Haddock (or cod) fillets, skin removed
1-2 tsp Old Bay
salt and pepper, to taste
3 cups 2% milk, whole milk or half & half
Instructions
Heat oil in a large pot or dutch oven over medium heat. Saute bacon, onion and potatoes for 10 minutes, stirring frequently.
Add broth and lay fish on top of potatoes in pot. (Don't worry about cutting it up. It will flake apart when cooked)
Add the Old Bay, salt and pepper. Bring the mixture to a boil, reduce heat to medium, cover and cook until fish and potatoes are cooked through, about 10 minutes. Use a spatula to break the fish into chunks.
Reduce the heat and add the milk or half and half. Heat through but don't boil.
We always used haddock when we made it but turns out that's hard to find here in Ohio so I used cod and it turned out great. Really any thick, meaty white fish should work! And don't forget about the oyster crackers! They're the best part!

Also, note I garnished mine with extra bacon and some parsley for photos but that's definitely not required. Turns out soup made with white fish, white potatoes and milk/cream really isn't that visually appealing…but luckily it doesn't impact the taste! Just for fun, check out the collage below which includes a pic I used when I first mentioned this soup back in 2011 🙂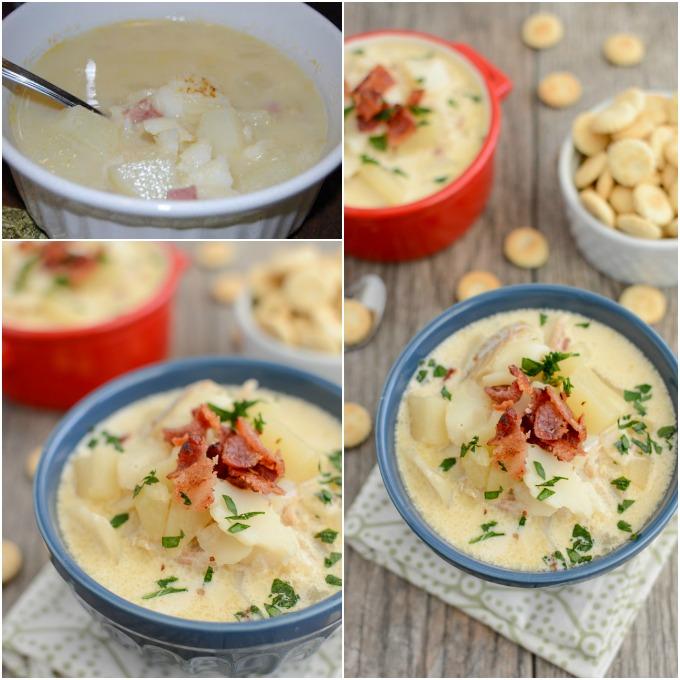 What's one of the first things you learned how to make in the kitchen?
Enjoy!
–Lindsay–
Check out the linkup below for more childhood kitchen memory recipes.