Hi Friends!
It's been several months since I did a Fitness Friday post so I'm pretty excited to be back in workout mode! Today we're talking about Crossfit after baby.

If you've been reading for a while, you know that I'm a Crossfit lover and that I continued to do Crossfit throughout my entire pregnancy. You can read about how I modified some of my workouts here:
32-38 Weeks Pregnant
23-31 Weeks Pregnant
18 – 22 Weeks Pregnant
13-17 Weeks Pregnant
I was excited to get back into Crossfit after baby. Then I got sick – which you can read about here. I honestly think if I hadn't gotten sick, I would have been ready to start easing back into Crossfit about 4 weeks after he was born. I recovered well from my delivery and at my 5 week post-partum appointment my OB gave me the ok. However, I ended up being quite sick for several weeks and was even hospitalized for several days. I was sent home from the hospital with a PICC line, which meant no lifting weights until it was removed, even when I started feeling better.
Since I couldn't lift, I tried to just start being active again by getting back into walking the dogs, etc. It was tiring even just taking them around the block.
I got my PICC line removed on New Year's Eve. I had planned to wait and do my first workout on New Year's Day but I was so excited to have it out that I went in for my first official comeback workout on NYE.
Let me just say….if you want a humbling experience, start crossfitting again after having a baby. HOLY HARD! I decided to chronicle my journey with you guys so you can see how I got back into things and I'll share my honest feelings about how hard it was,
Here we go:
Week 1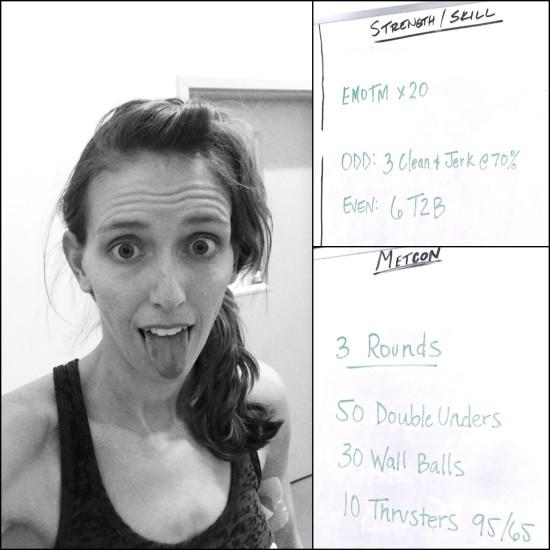 Wednesday: This was my first WOD back. And let me tell you, it was miserable. Everything hurt. Even jumping rope. You don't really think about how much you use your abs but lemme tell you, when you have none, you notice how you use them for EVERYTHING!
I did 55# clean and jerks and for the T2B, I hung from the bar and lifted my feet about 2 feet off the floor for 2 sets of 3.
Before the wod, I tried a few double unders. I couldn't get more than 2-3 in a row before messing up. I was frustrated but decided to try the wod. Once the clock started, something clicked and I was able to string  together 20 or so double unders, but it still took me a while. When I moved to the wall balls, I picked up the 14# ball and it felt like it weighed about 45 pounds. The first time I threw it, I didn't even hit the wall…it went about 4 feet in the air before coming crashing down on me. It took all my strength to get through 30 wall balls, something I could previously do unbroken in about 90 seconds. Then I moved on to the thrusters. I had 55# on the bar. I picked it up and immediately set it back down and stripped the weight. Way too heavy. I did my 10 thrusters with the 35# bar. When I moved back to the double unders for round 2, I literally jumped once and fell to the floor. My quad muscles locked up and I could barely move. I knew there was no way I could finish the wod…so I stopped. It was my first time not finishing a wod.
I left feeling super defeated, yet elated at the same time. I was so happy to be back working out, but frustrated because I knew I had a long ways to go. My quads were so sore I could barely walk for 4 days.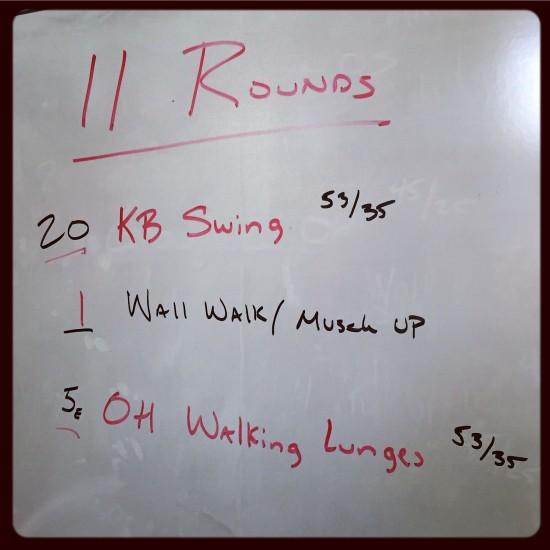 Thursday: Despite my legs being so sore, I decided I should go back the next day to keep my muscles loose. This was the first wod of 2015. I used a 26# kettlebell, after the 4th round I did inch worms instead of wall walks, I had to stop 4 times to keep from throwing up but I finished all 11 rounds in 33:25. So miserable.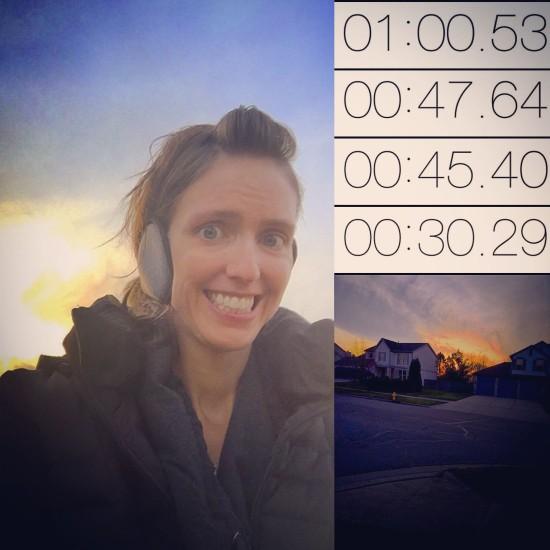 Friday: I knew I needed to ease back into things so I took an active rest day and took the boys on a 1.5 mile sunset walk and did a few planks.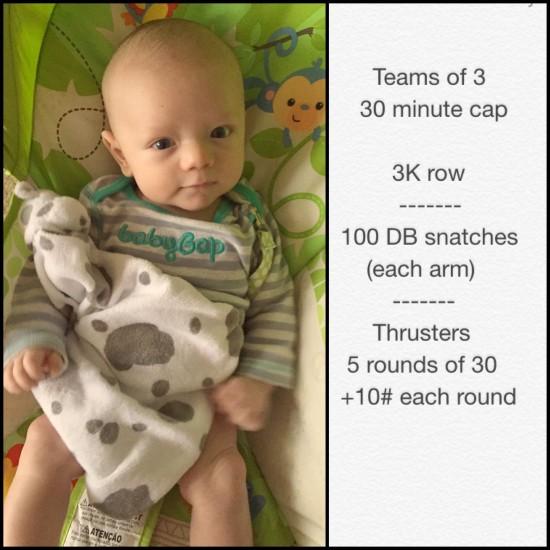 Saturday: I headed back to the gym for a workout after I spent some quality time with Squish. I used a 20# db for my snatches and did 35,45,55,35,35# for my thrusters. We finished right at the time cap! Thrusters are SO HARD for me right now. It took everything I had to get through 10 at 55# and then I struggled through the next two sets at 35#. 
Sunday: I headed to the basement to start building my strength back up. Need to get that butt back! I went all flat on me 🙂 95# squats used to be my warmup. This time it was challenging to get through these 5 sets, but I did it!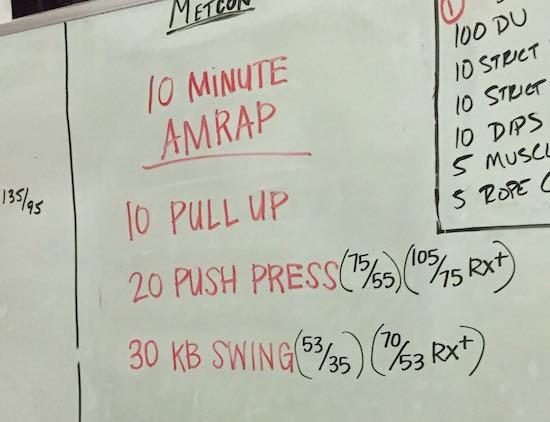 Monday: We did a lot of squats and hand stand pushups for our skill/strength. I worked on handstand holds which were super hard. Then for the wod I did 2 rounds + 10 Rx. It was my first time trying kipping pullups since I was 34 weeks pregnant and they were HARD! But I did 30 of them! I can only string 2 together right now and did a lot of singles. I was able to do 55# push press and 35# kb swings but this workout left me sore for a good 4 days.
Tuesday: Rest
Week 2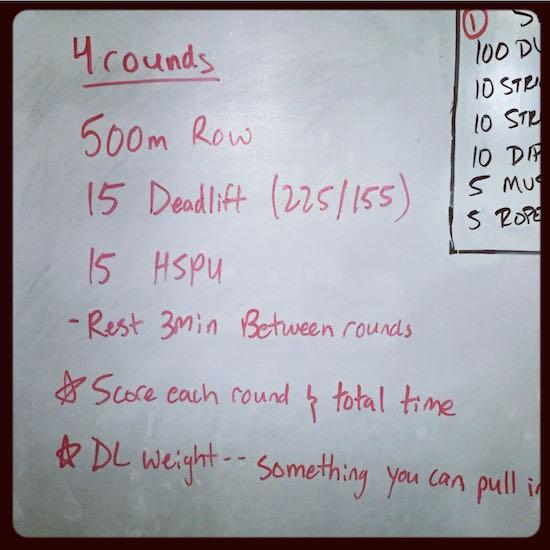 Wednesday: This one was hard. Rowing is usually one of my strength but our strength session was front squats. I did 5×5 at 85# and my legs were gassed. I rowed slowly and did descending weight deadlights (105#, 95#, 85#, 85#). They felt super heavy. I also did hand release pushups instead of handstand pushups. By the end of the week I was feeling sore but pretty good. Things were starting to get a bit easier. I was able to do some good knees to elbow on Tuesday which was a big improvement from barely lifting my legs on my first day back! 
Deadlifts are one of my least favorite lifts. This year I'm making it a goal to focus on my weaknesses so I'm forcing myself to work on them instead of slacking off on them like I usually do.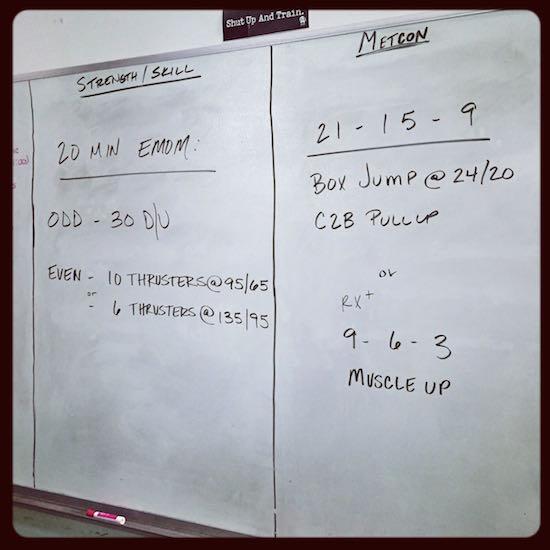 Thursday: If you're looking for something challenging, do this 20 min EMOM. Double unders and thrusters is one of the worst pairings. For the later rouds, if we weren't able to get all 10 thrusters in a minute, we were encouraged to keep our starting weight and just do fewer thrusters instead of dropping our weight to get all 10. So I did 55# thrusters the whole time, but I did 3 rounds of 10, 2 rounds of 8, 2 rounds of 6 and 3 rounds of 5 thrusters. It. was. brutal. For the wod I did 21-15-9 box jumps but cut the chest to bar to regular pullups and only did 12-9-6 since I was still sore from the pullups on monday. I finished in 8:05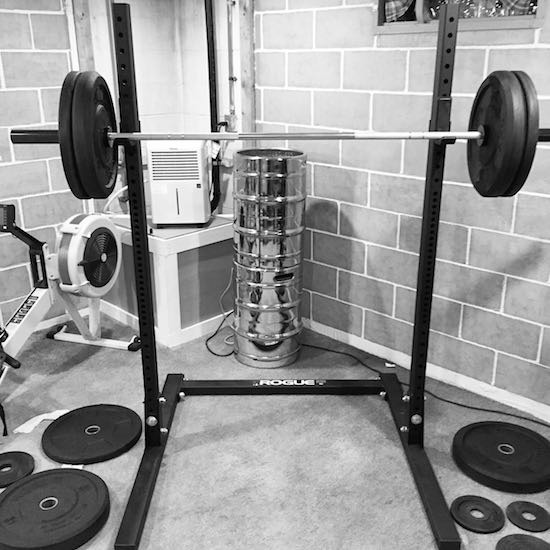 Friday: Late night squat session. It's been forever since I squatted over 100# but I managed to do 5×5 at 105#! Felt good!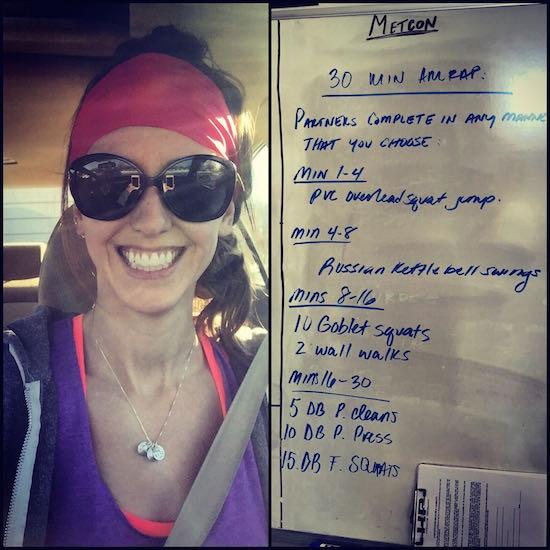 Saturday: Kicked off the day with a partner WOD. This was deceptively hard. The pvc squat jumps made your legs burn like crazy! We used a 35# kb and 20# dumbbells for the last half. Wall walks were never my strength and now they are extremely hard! Again, the lack of core strength makes everything 100 times harder.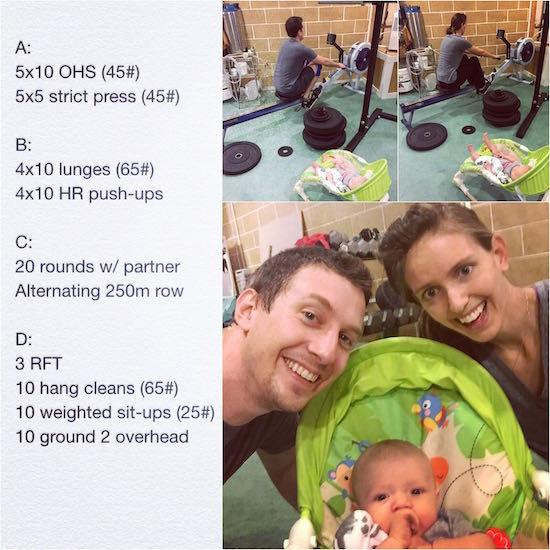 Sunday: I did some strength in the morning, then hubby & I did a little afternoon cardio after he lifted. My rowing splits were right at 1 min, hubby's were 10 sec faster. Finished part D in 5 minutes. Squish cheered us on! Rowing sucks…that's about all I have to say about this one.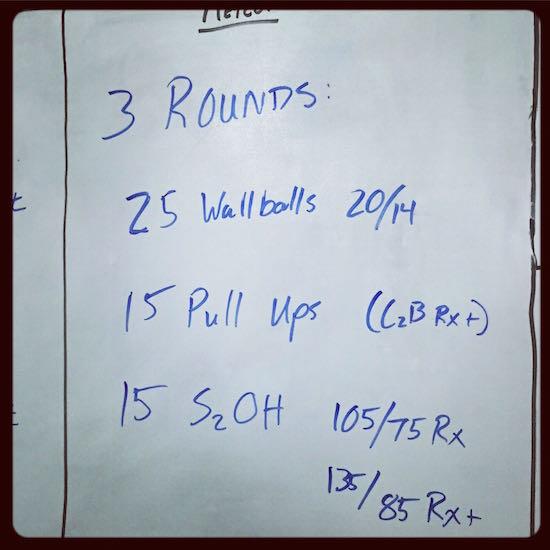 Monday: We started with deadlifts- I worked my way up to 3 sets of 8 at 135#. Then we did benchpress- I did 4 sets of 10 at 55#. Then 13:30 for the wod with 55#. Felt hard but good!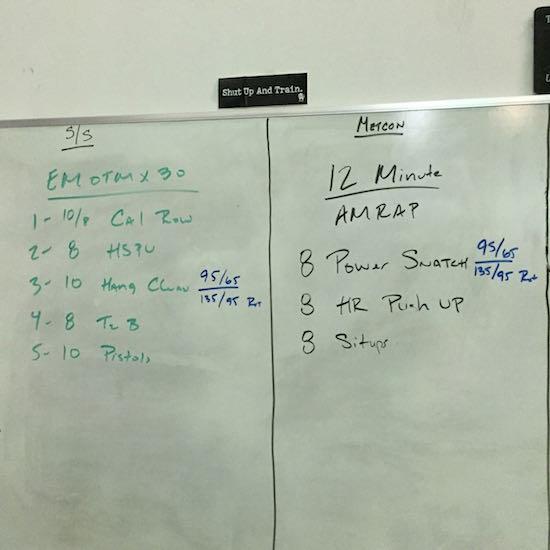 Tuesday: This EMOTM was tough…but the good news is that I can still do pistols! Bad news is I still don't have my TTB back..but I'm getting better at knees to elbow. Toes to bar are something I worked really hard on when I first started Crossfit. I remember how excited I was when I finally figured out how to string them together. It's super frustrating to not even be able to get my toes to the bar anymore but I know they'll be back as my core strength returns. This was my first time doing snatches since I've been back, and they felt surprisingly good. Made it through the snatches of round 7 for the wod with 55#.
Week 3
Wednesday: REST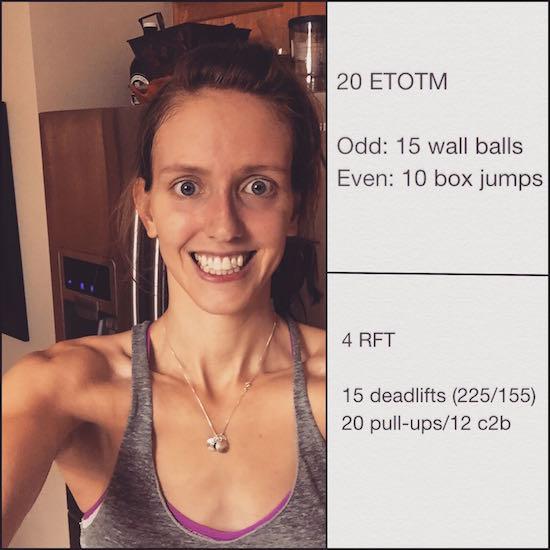 Thursday: If you want to smoke your legs, do this EMOTM of wall balls and box jumps. I made it through 16 minutes of unbroken wall balls and rebounding box jumps before I had to start breaking things up. Today was the first day where I didn't feel like I was dying doing wall balls. It's like I got my legs back under me and the ball didn't feel like it weighed 80 pounds like it had for the past two weeks. So that was exciting. Class ran long so I only had time for 3 rounds of the wod but I did 115# deadlifts and pullups and finished in 13:32.

 Friday: Squats with a side of Squish.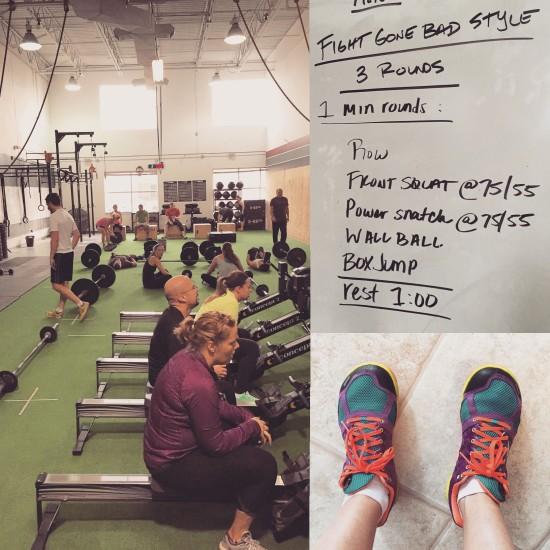 Saturday: Full house at the gym to kick off the weekend. This one was a leg burner!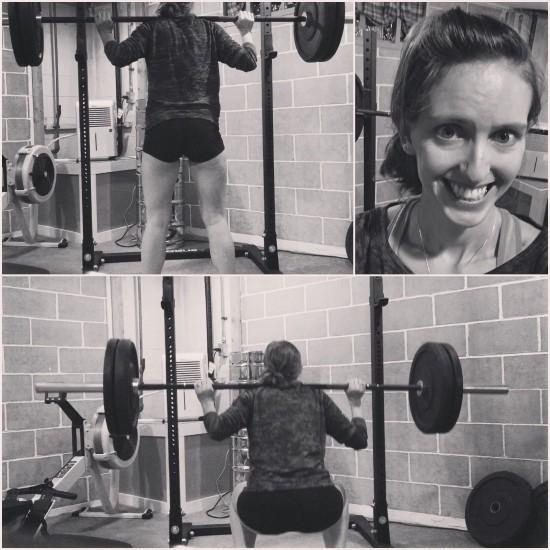 Sunday: Squats. I was feeling proud after this workout. 3 weeks ago I was finally cleared to workout again. I started squatting and struggled through 5×5 at 85#. Tonight I did 5×5 at 115#!
Monday: Worked on handstand holds, then squats and ring push-ups. Ring pushups are SO hard for me. Regular pull-ups are hard but adding in the stabilizing factor and they're even worse! Did 65# thruster and knees to elbow for the wod and finished in 8:55. Then finished the burpees in 2:38. Rough.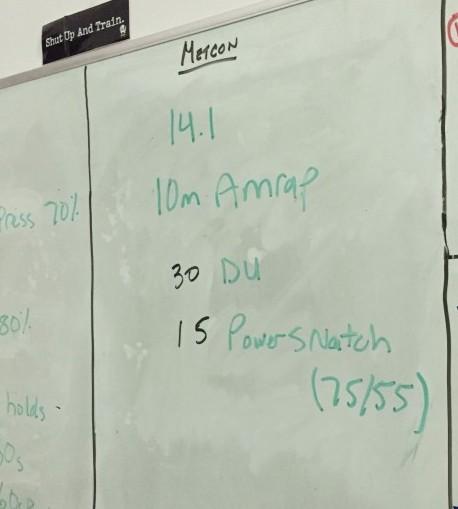 Tuesday: We redid 14.1 tonight. Last year at the open I got 252 reps. At 25 weeks pregnant I got 225 reps which is 5 rounds. Tonight I got 180 which is 4 rounds. If it had been the open tonight I prob could have gotten thru the doubles of the next round but I'm happy with my score since I'm still getting back into the swing of things!
Week 4
Wednesday: REST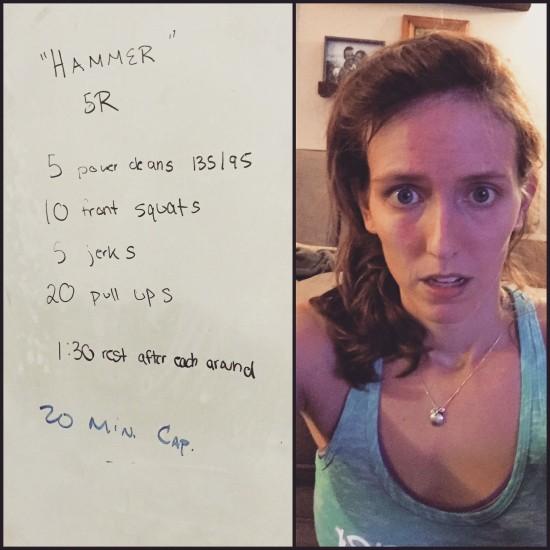 Thursday: Everyone has bad workouts. This was my first one since I've been back. Crossfit has a way of knocking you back down just when you feel like you're getting the hang of things. I'm struggling to get back into the mindset of "committing to the lift" when the weights get heavier overhead. Did one round with 75# and then dropped to 65# bc my form was suffering on the jerks. Finished 4 rounds in 19:15.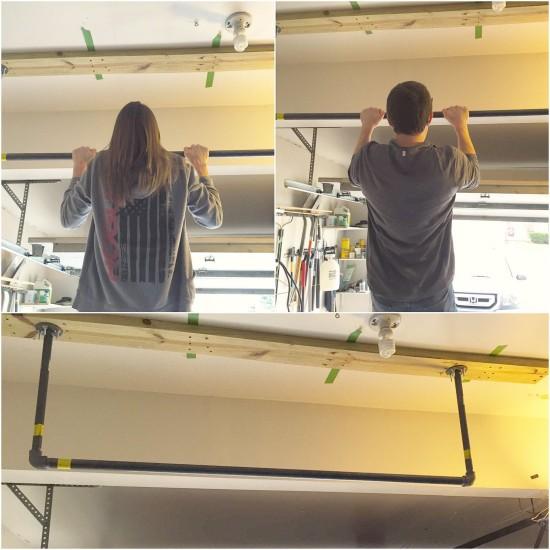 Friday & Saturday: REST – but hubby did install a pullup bar in our garage which I'm super pumped about!!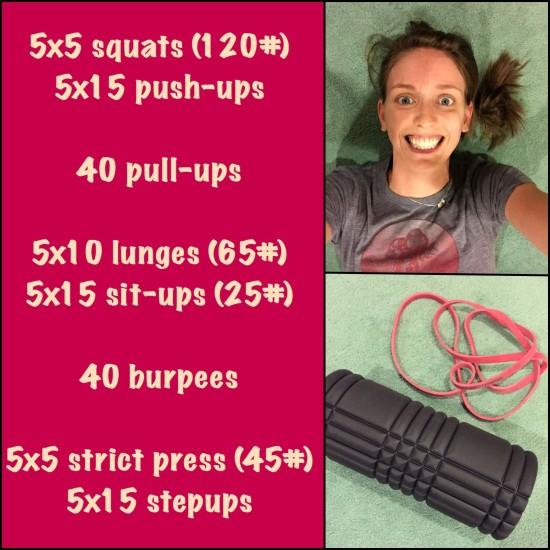 Sunday: Took a couple rest days but back at it today! I was finally able to string together some sets of 5 pull-ups in a row and my squats felt great!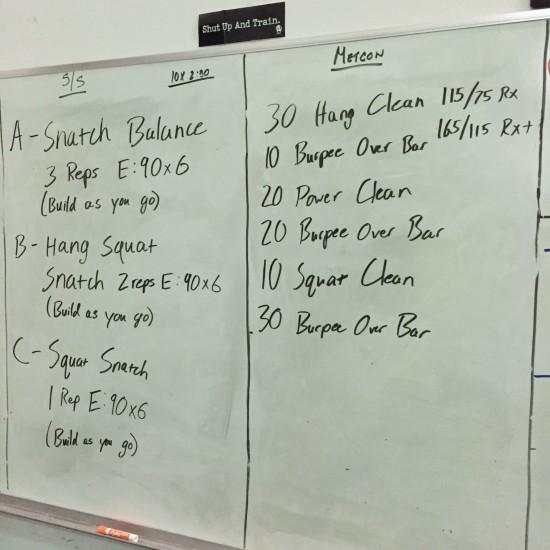 Monday: Snatches. Hit several at 70#! Then I hit a mental block. Finished the wod in 10:25 Rx! I also tried a couple toes to bar and was at least able to get my toes to touch the bar again. Now to start stringing them together again!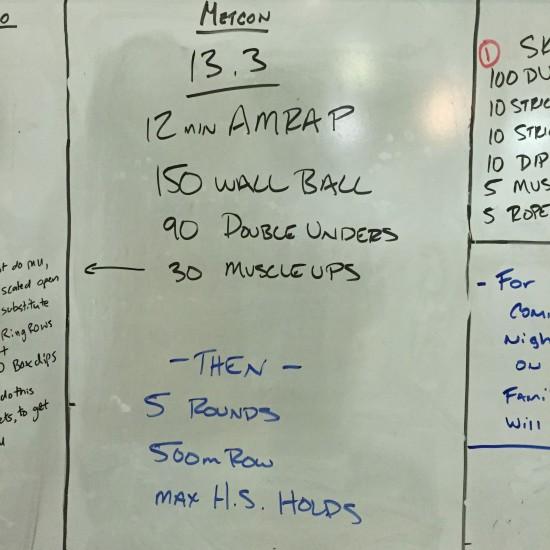 Tuesday: Dead. Holy legs. When I did 13.3 in the open 2 years ago, I didn't finished the doubles. I did it again last winter and finished the doubles in 9:30 and then stopped since I can't do muscle ups. This time I did it  after one month back post-baby and finished the doubles in 11:00! Talk about hard. My lungs were on fire and I collapsed as soon as I was done. The 5x500m rows with one min rest at the end just added to the misery!
—————
So there you have it! A recap of my first month back at Crossfit. There hasn't been a single day that was easy…but then again, there never really is with Crossfit. It's been a mental struggle for me to take things slowly and an exercise in patience as well. But I'm amazed at how far I've come I just the past month and am excited to continue my comeback! My goal is to be prepared as I can be for The Open, which starts at the end of February!
My advice for you if you're returning to working out after pregnancy or an injury:
Be realistic. As hard as it is to stomach, you're not going to just head back to the gym and pick up where you left of, no matter how badly you want to. Set a few realistic goals to motivate you, but be honest with yourself about where you're starting from and how long it will take you to get where you want to be.
Take it slow. It's going to be a long road and it may take longer than you want it to…but going too hard at the beginning and getting injured is only going to make it longer.
Don't be too hard on yourself. Your journey back is going to be tough. Give yourself credit for having the willpower, desire and motivation to get back into working out. There will be bad days and there will be good days. Embrace them both and learn from them.
Be grateful. Your physical health and the ability to workout is a privilege. Never take it for granted.
Let's chat:
Have you ever made an exercise comeback? What was the proudest moment of your return?
Enjoy!
–Lindsay–
LEARN HOW FOOD AFFECTS YOUR BODY.
Get my free Table Talk email series where I share bite-sized nutrition information about carbs, protein, and fat, plus bonus information about snacks and sugar!