A recap of the crossfit workouts I've been doing during Weeks 23-31 of pregnancy.
Hi Friends!
It's been two months since I shared my workouts with you. Uh….whoops! Good news is I've still been fitting them in! Let's recap what I've been doing lately during weeks 23-31 of pregnancy: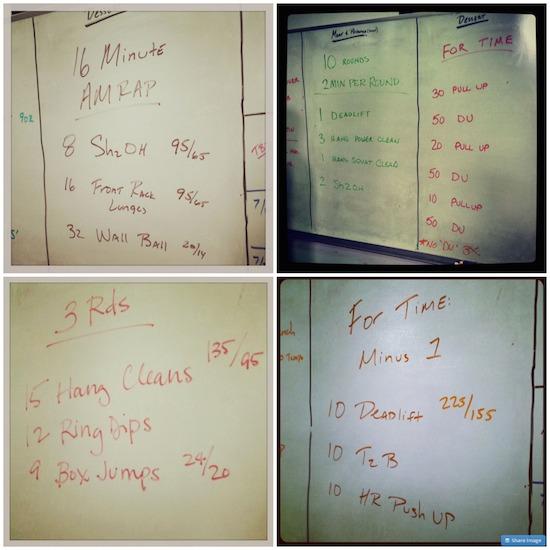 23 Weeks:
1. Rough one all around. Used 55# and finished 4 rounds + 24 reps
2. Finished the wod in 6:22 Rx
3. 5:37 with 75#, ring dips with a red band and 24″ step ups
4. 85# sumo deads, knees to elbow/chest, push-ups 8:31 
24 Weeks:
1. Brutally hard. 9 rounds with 55#.
2. Skipped class today so I could mow the lawn, so I went in during open gym & did back squats and this #wod! Finished in 10:25.
3. Wasn't feelin' it, but did a quick garage #wod! 9:33 with a 25# plate
4. Morning #wod! Back squats, then 15:30 for the wod with 24″ stepups, 25# snatches, regular push-ups and 20 pull-ups + 20 ring dips for the muscle ups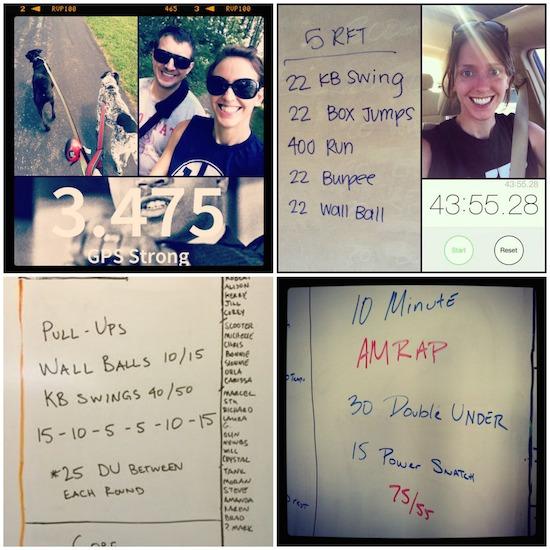 25 Weeks:
1. Long family walk on the 4th of July
2. 4th of July Hero WOD – "Whitten" – used a 35# kb and did 24″ stepups. Feeling pretty darn proud of myself for finishing this one!
3. Did this wod @yourinnerstrong posted last week during open gym. Used a 14# wb and 35# kb and finished in 13:50
4. We redid open workout 14.1. In march I was 7 weeks pregnant and got 252 reps. Today I'm 25 weeks pregnant and got 225 reps- only 27 double unders short of my last score! Feeling pretty proud of myself!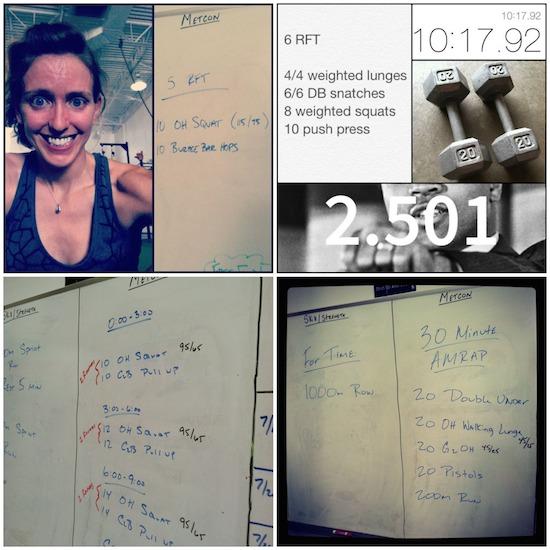 26 Weeks:
1. Lots of squat cleans, then 9:05 for the wod with 65#. Rough on the wrists!
2. 2.5 mile walk with the dogs, then a quick, light-weight garage wod to work up a sweat! Used 20# dbs and finished in 10:17.
3. Redid 14.2 – fact: things get harder when you're pregnant…like trying to do chest to bar pull-ups quickly! During the open I got 77 reps, today I got 37 reps…but still proud of myself!
4. Holy effing legs. 3:58 for my 1k row, then 5 + 66 for the #wod with assisted pistols. #babybean14 has gotten too big for me to do legit pistols anymore!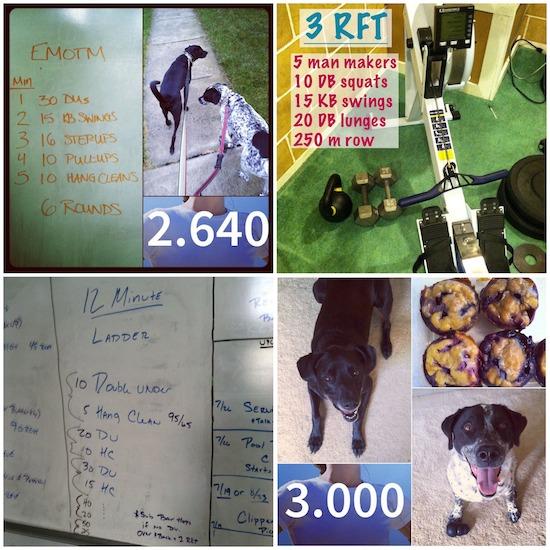 27 Weeks:
1. Saturday morning #wod with @yakattack7, then a 2.6 mile walk with the boys
2. Basement #wod while hubby did his shoulder PT. I used 20# dbs and a 35# kb. Finished in 15:30!
3. Not many wods lately that I can still Rx but I crushed this one! Got to the round of 80/40 and finished my 80 DUs + 2 hang cleans Rx!
4. Brain says crossfit. Body says rest. Body wins. Took these two on a 3 mile walk, now time for a snack.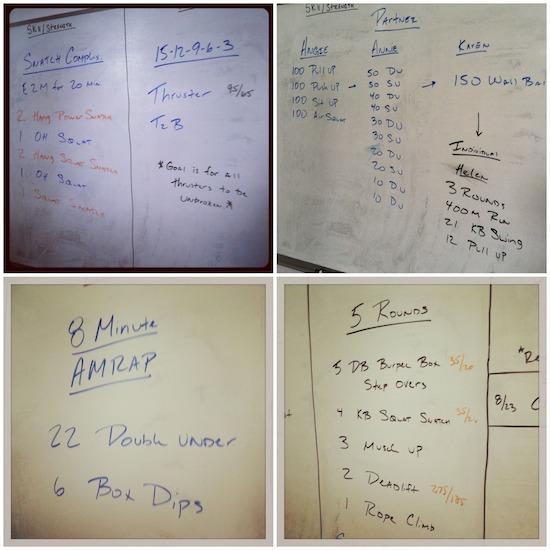 28 Weeks:
1. Snatch complexes, then a wod. I did 55# thrusters and subbed push-ups for TTB. Finished in 5:45
2. Three partner wods + an individual. Did pull-ups for Angie but subbed ring rows in Helen and subbed knees to chest for sit-ups. Finished in 39:35
3. Shoulder burner! Finished 7 + 22 with modified box dips.
4. Had to change things up tonight. Here's what I did: 5 RFT – 5 DB burpee box step overs (20#), 4 DB snatches (20#), 9 pull-ups, 5 deadlifts (85#), 5 push-ups. Finished in 12:26.
29 Weeks:
1. Squats and sprints, then a quick wod. I subbed 55# push press for hspu, regular pull-ups for c2b and ring rows for the 20 pull-ups in the middle. Finished in 4:54.
2. Double wod. 4:07 Rx for the first one, then 6+6 with 55# for the second.
3. Burpees made this one rough! I did 25# DB snatches, knees to chest, 55# thrusters and 55# push press for hspu. Finished in 8:33
4. Grace. Not as fun when you can't PR, but still one of my favs. 2:10 with 65#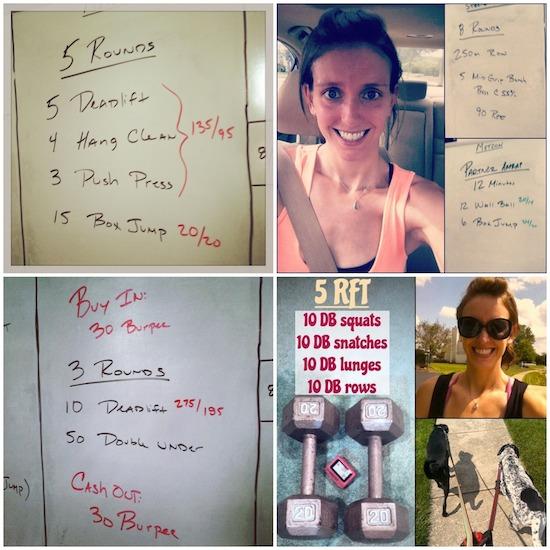 30 Weeks:
1. Finished in 5:35 with 75# and stepups.
2. Holy sweatfest! Best leg workout I've done in a while! I pulled a 1:50 & hit 55-56 seconds for all 8 rows and did strict press instead of bench press. Then we had an odd number in class so I did the partner wod with just my built in partner baby bean. Finished 11 rounds with stepups!
3. I did 85# sumo deadlifts. Finished in 9:49.
4. Busy night so I opted for an at-home workout today: 2.5 mile walk with the dogs & a basement wod that I finished in 9:11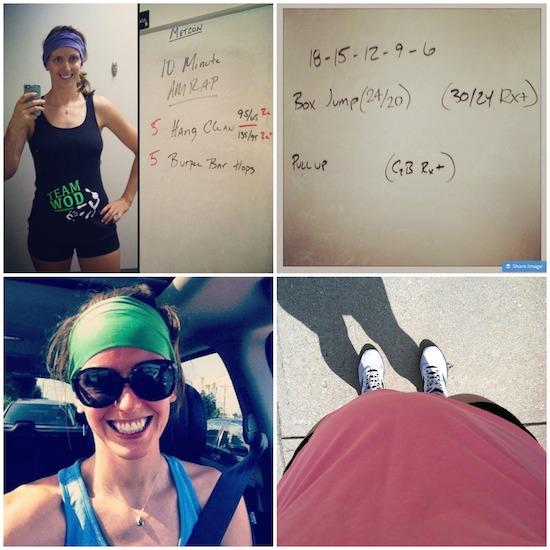 31 Weeks:
1. Did 65# and modified burpees and finished 12 rounds + 5 reps
2. So many pull-ups! 6:38 with step-ups and a 15 pound built-in #babyvest for those pull-ups 🙂
3. All smiles!
4. Bump be walkin…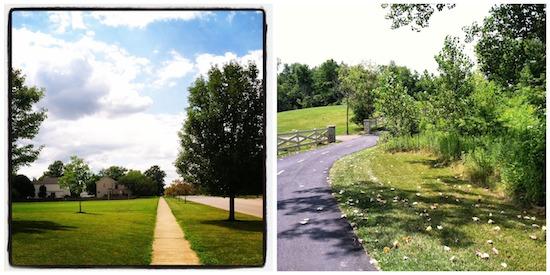 Other than that, the boys and I have been taking lots of walks. We usually walk about 3 miles per day. If it's cooler we go longer in the afternoon. If it's super hot, I'll usually take them a mile or so before crossfit and then for another walk once it gets dark after dinner.
Overall I feel pretty good about my workouts. There are some weeks where I find myself doing a few more at-home or on my own workouts vs. class and that's usually because the programmed workouts aren't the most pregnancy-friendly. Other times I just go and modify what I need to modify.
This was the first week where I had to modify burpees by eliminating the pushup part and pullups are getting harder, but I'm still doing them. I usually sub strict press for handstand pushups, I've been doing my pushups on parallettes and I try to make sure I'm not squatting down past parallel for anything sqaut-related. I do sumo deadlifts instead of regular to give my belly more room and try to avoid running more than 800 m at a time because it's uncomfortable. I can still do double unders without much trouble.
Sometimes I struggle mentally with the light weights, like having to do Grace with 65# instead of 95#, but I know it's only temporary. Other days I feel super proud of myself for doing the workouts that I'm doing and staying so active. Mostly I'm just happy that both baby and I are healthy and that I'm able to workout! I would guess that within the next few weeks I may start using dumbbells more often than the barbell but I'm just taking it one day at a time.
Let's chat:
How have your workouts been lately? Any new favorites?
Enjoy!
–Lindsay–
LEARN HOW FOOD AFFECTS YOUR BODY.
Get my free Table Talk email series where I share bite-sized nutrition information about carbs, protein, and fat, plus bonus information about snacks and sugar!