Hi Friends!
It's been another couple of months, so I thought I'd update you on my workouts! This post will cover workouts from weeks 32-38. To see my workouts during weeks 23-31 of pregnancy, click here.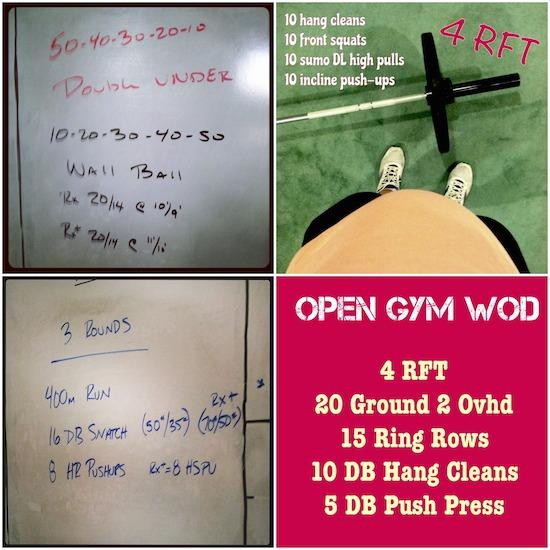 32 Weeks
1. Sweatfest! The ascending wall balls make it all mental. Finished in 10:55 Rx.
2. The bump and I did a quick wod in the basement. Finished in 8:12 with 55#.
3. Rough. Did 25# DB snatches & decline push-ups. Finished in 10:12.
4. Open gym wod. Used a 25# plate & 25# dbs and finished in 12:02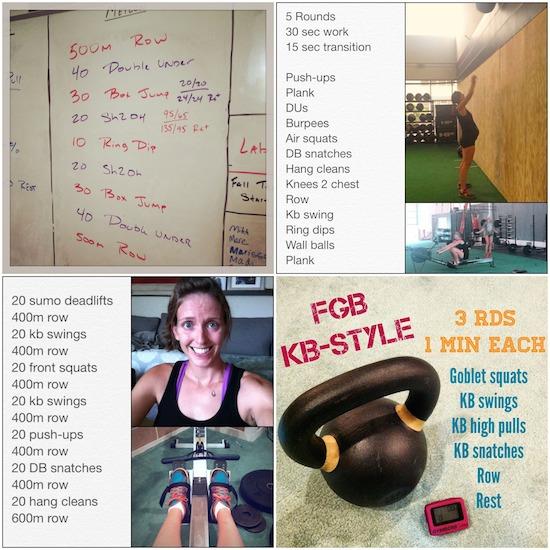 33 Weeks
1. 1.5 mi walk with the dogs to warmup, then a wod. I subbed kb swings for box jumps, used 55# for sh2o and did banded ring dips. Finished in 12:12.
2. Sunday morning endurance wod
3. I did a pregnant, at-home version of Lumberjack 20 today (google it to see the original workout) Used 55# on the bar, 35# kb and 25# DB. Finished in 22:50!
4. Made up a fight gone bad style wod using kettlebells. I used a 35# kb and a 25# DB for the snatches. Count your reps (cal for row) if you want! I didn't count but definitely worked up a sweat!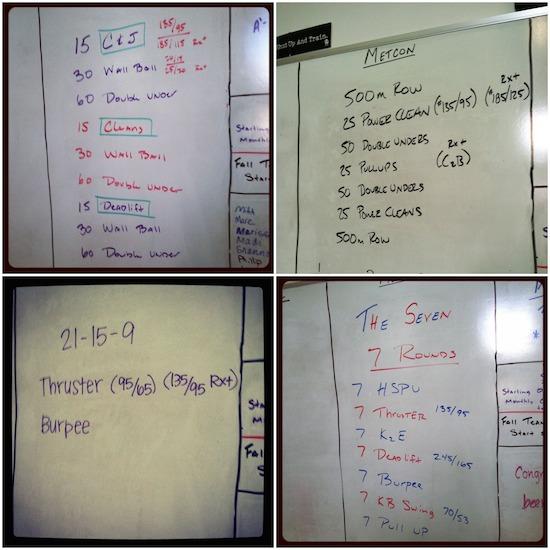 34 Weeks
1. I used 65# and did hang clean & jerks, hang cleans & sumo deads. Finished in 11:54.
2. Holy terrible. 8 x 300m row, then 11:14 for the wod with 25# DB hang cleans & ring rows. I made it to 34 weeks but I finally can't do pull-ups anymore.
3. Overhead squats & strict press, then a wod. I did 21-15-9 thrusters (55#) and 75-50-25 double unders instead of burpees. Finished in 6:10.
4. Hero wod for 9/11 – "The 7" – I did push press (60#), thrusters (60#), knees to chest, 7 cal row, wall balls (14#), kb swings (35#), ring rows. Finished in 26:50.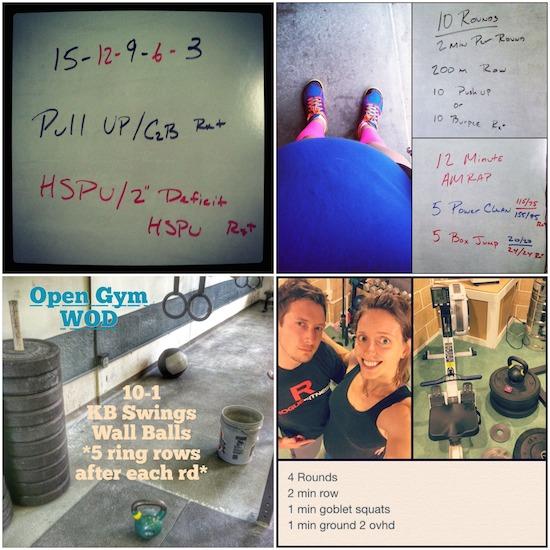 35 Weeks
1.Today's wod. I did ring rows and 65# push press and finished in 4:39.
2. Alllll the cardio & allll the colors today. 10 rounds of 200m row + 10 push-ups (I did incline), then a wod – I did 12 minutes of 5 hang cleans (65#) + 20 double unders and finished 17 rounds!
3. No time for class today but still fit in this little open gym wod to get moving! Finished in 8:55.
4. Did a basement #wod with hubby! Used a 35# kb for squats and 25# plate for g2o. If you want to count reps- count calories for rowing! I got 270 reps total, hubby got 263. Finished with a 1 mile cool down walk with the dogs.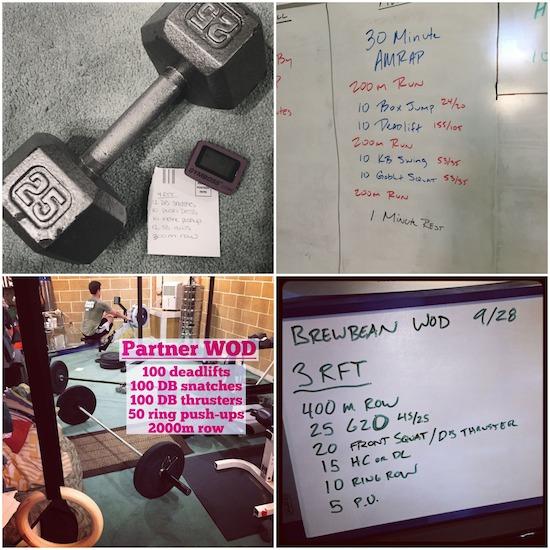 36 Weeks
1.Tonight's #wod – I used 25# dbs and finished in 15:34.
2. Terrible. I subbed rowing for running, 20 DUs for box jumps and did 65# sumo deadlifts. Finished 5 rounds plus thru the DLs of round 6.
3. Partner wod with @bgliving. One partner works while the other rests. Together you complete the total reps for each movement. Took us 24:30. I used 65# for DL, a 25# DB for snatches and 20# dbs for thrusters.
4. Couldn't make it to the endurance wod today so@bgliving and i did a modified version at home. I did 55# front squats and hang cleans, he did db thrusters and DL. I finished in 20:37.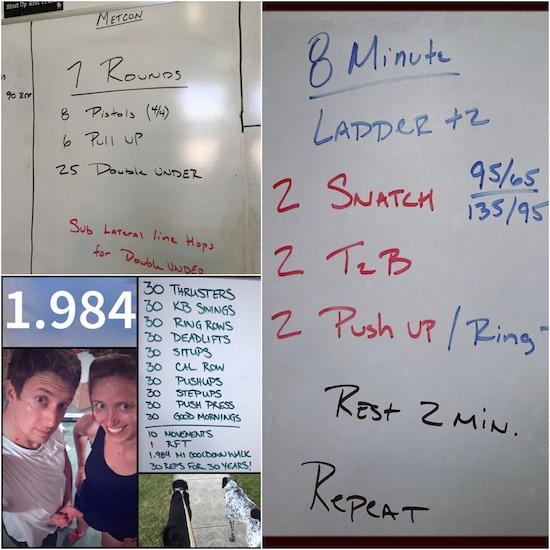 37 Weeks
1. Today's wod- I did 35# goblet squats, ring rows & DUs and finished in 7:56.
2. Happy birthday wod with hubby! I did a 30 sec plank for the sit-ups and hang cleans instead of stepups. Finished in 16:23! Then we walked exactly 1.984 miles with the boys 🙂
3. Rough one. I did 25# DB snatches (2/2, 4/4 etc) wall balls and box dips. First time I finished the round of 10 + 12/12 snatches, second time I finished the round of 10.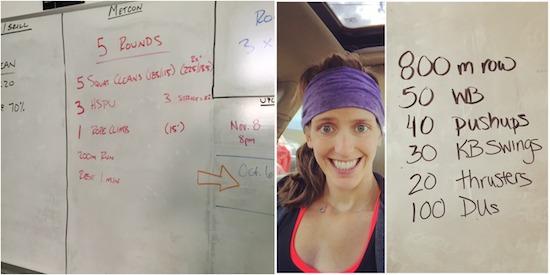 38 Weeks
1. 65# EMOTM hang cleans, then did 5 RFT- 5 hang squat cleans, 3 push press, 5 ring rows, 200m row, 1 min rest for the wod with 55#. Felt easy. Finished in 11:30.
2. Finished in 14:37. 14# wb, incline push-ups, 35# kb, 45# thrusters.
Below is last night's workout. It was a good one! Plus overhead squats are my favorite!
Overhead squats and a wod. I subbed kb swings for box jumps and finished one time through (330 reps) with 6 seconds to spare!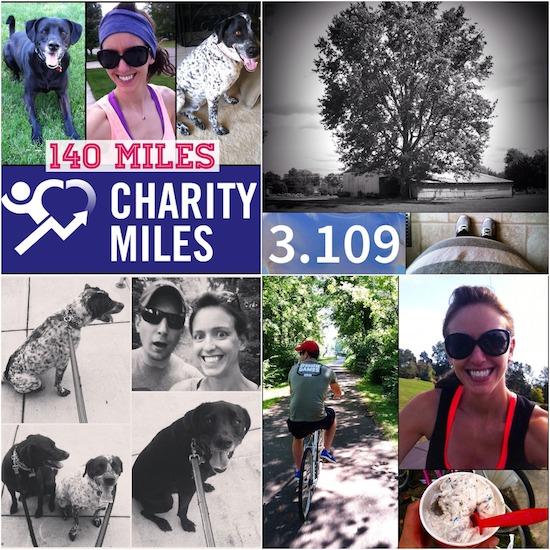 In addition to Crossfit, I've still been doing lots of walking!
1. On July 4th I started tracking my daily walks. From July 4th- Sept 4th, the pups, baby bean & I (and sometimes hubby!) have walked 140 miles for various charities using the Charity Miles app! I need to tally our miles from Sept 4th – Oct 4th and add those!
2. At 35 weeks pregnant, I like to live dangerously by seeing if I can walk a 5k without peeing my pants
3. Weekend walking! Got up early and walked to the coffee shop. The boys and I waited patiently while hubby got his latte. 2.5 miles to kick off the day!
4. Went on a 5 mile bike ride with a pit stop for a blizzard.
Still squatting! #crossfit #fitpregnancy #36weeks #frontsquats
And I'm still squatting!
That's about all I've got. Hoping baby comes soon. Can't wait to start lifting heavy again 🙂
Enjoy!
–Lindsay–
LEARN HOW FOOD AFFECTS YOUR BODY.
Get my free Table Talk email series where I share bite-sized nutrition information about carbs, protein, and fat, plus bonus information about snacks and sugar!