This Asian Farro White Bean Bowls recipe is perfect for a quick and easy vegan dinner. Ready in 15 minutes and full of flavor.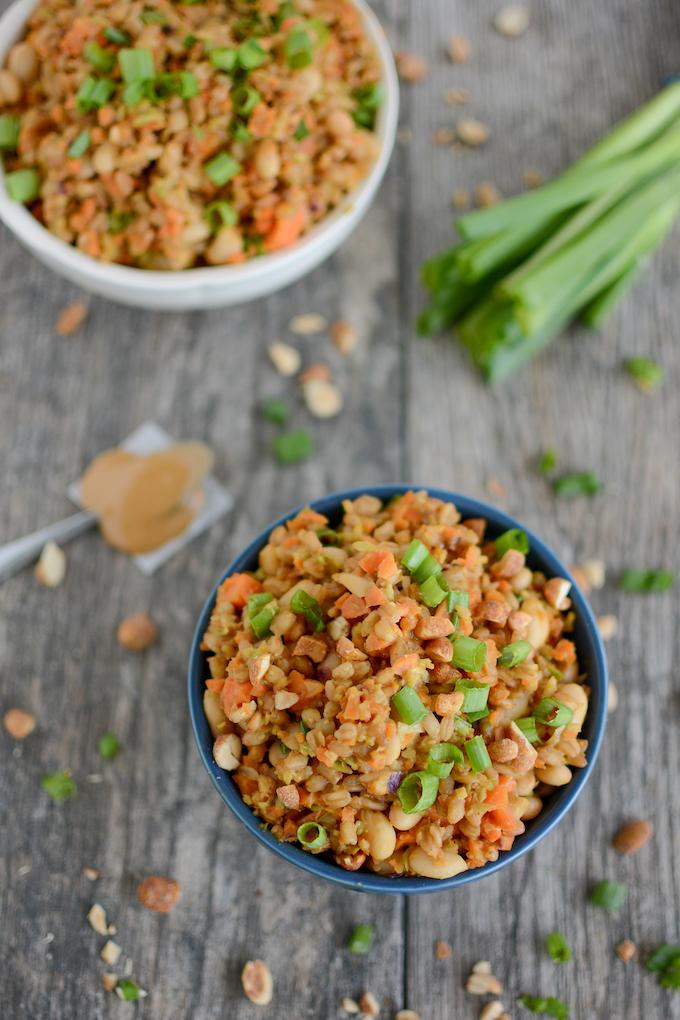 Hi friends!
I've got a quick and easy recipe to share today. It's vegetarian (vegan actually) but still packs a protein punch thanks to the farro and great northern beans and it comes together super quickly.
I love that these Asian Farro White Bean Bowls can be eaten hot or cold, depending on your preference. And the easy peanut sauce adds lots of flavor without being overly complicated. I've been enjoying it for both lunch and dinner for the past couple of weeks.
After eating my Instant Pot Asian Peanut Noodles on repeat for several months, I wanted to change things up a little bit but keep the same flavor profile because I just love it so much.
First I swapped noodles for farro, went with white beans instead of chicken, and packed it with riced veggies. Don't let riced veggies intimidate you. Basically all it means is finely chopped and really all you have to do is pull out the food processor. My veggies of choice were carrots and broccoli slaw. Just dump half a bag of broccoli slaw into the food processor and process for about 10 seconds. For the carrots, I just toss in some big chunks of carrots and let it process until they're finely chopped.
Asian Farro White Bean Bowls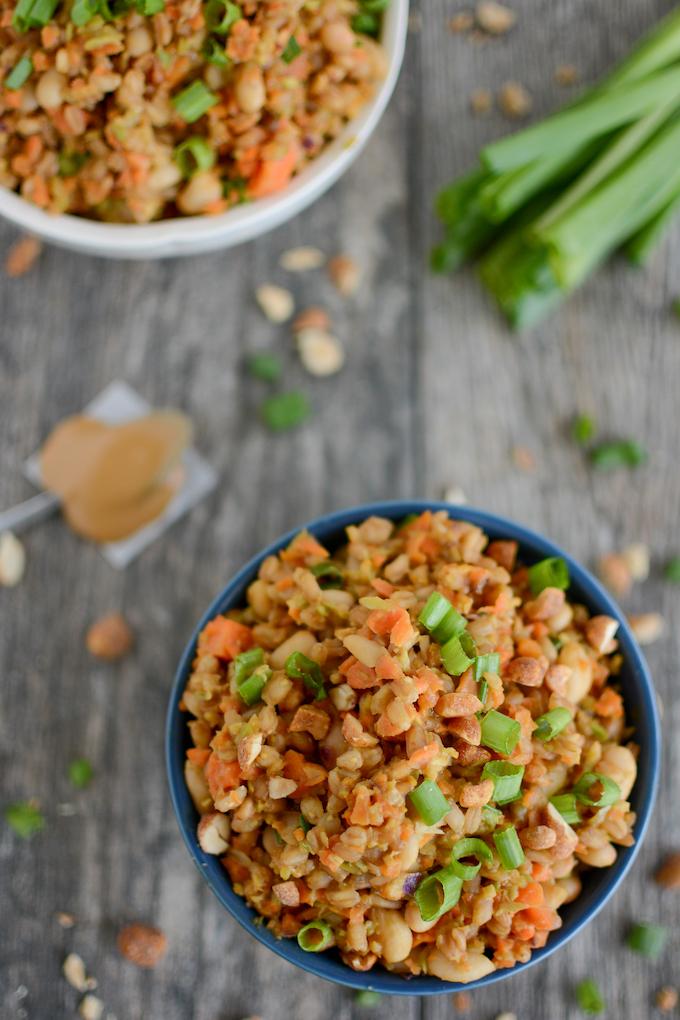 This comes together super quickly because you really don't have to cook the riced veggies very long. I saute for about 5 minutes so they're cooked a little bit but still have a bit of crunch. If you don't have beans, you could use chickpeas. You could even add meat if you wanted to.
Here's the recipe:
Print
Asian Farro White Bean Bowls
This Asian Farro White Bean Bowls recipe is perfect for a quick and easy vegan dinner. Ready in 15 minutes and full of flavor.
Author: Lindsay
Prep Time:

10 min

Cook Time:

10 min

Total Time:

20 minutes

Yield:

serves 4
3/4 cup uncooked farro
1 Tbsp oil
2 cloves garlic, minced
1 cup riced broccoli slaw (about half a 10oz bag)
1 cup riced carrots (approx 6 oz)
1 (15oz) can great northern beans, drained and rinsed
1/3 cup peanut butter
2 Tbps soy sauce
2 Tbsp rice vinegar
2 Tbsp maple syrup
2 tsp fresh grated ginger (I use refrigerated ginger paste)
sriracha to taste (optional)
1/4 cup sliced green onions
1/4 cup chopped peanuts
Instructions
Cook farro according to package directions.
Heat oil and garlic in a large saute pan over medium heat. Add riced veggies and cook for 5 minutes.
Add cooked farro and white beans and heat an additional 2-3 minutes.
In a bowl, combine peanut butter, soy sauce, rice vinegar, maple syrup, ginger and sriracha if using. Mix well with a whisk or fork.
Pour peanut sauce into the pan and mix well to combine.
Serve and top with green onions and chopped peanuts.
Notes
You could use cannellini beans or chickpeas instead of great northern beans. Or sub chicken.
To rice veggies, place in a food processor and process until finely chopped. If you don't have a food processor you can finely chop by hand, the texture just might be a little different.
If your sauce is too thick, thin with broth or water.
Add additional green onions and peanuts if desired.
For a saucier version- use 1/2 cup peanut butter, 3 Tbsp soy sauce, rice vinegar and maple syrup
What do you think? I promise you it's worth a try!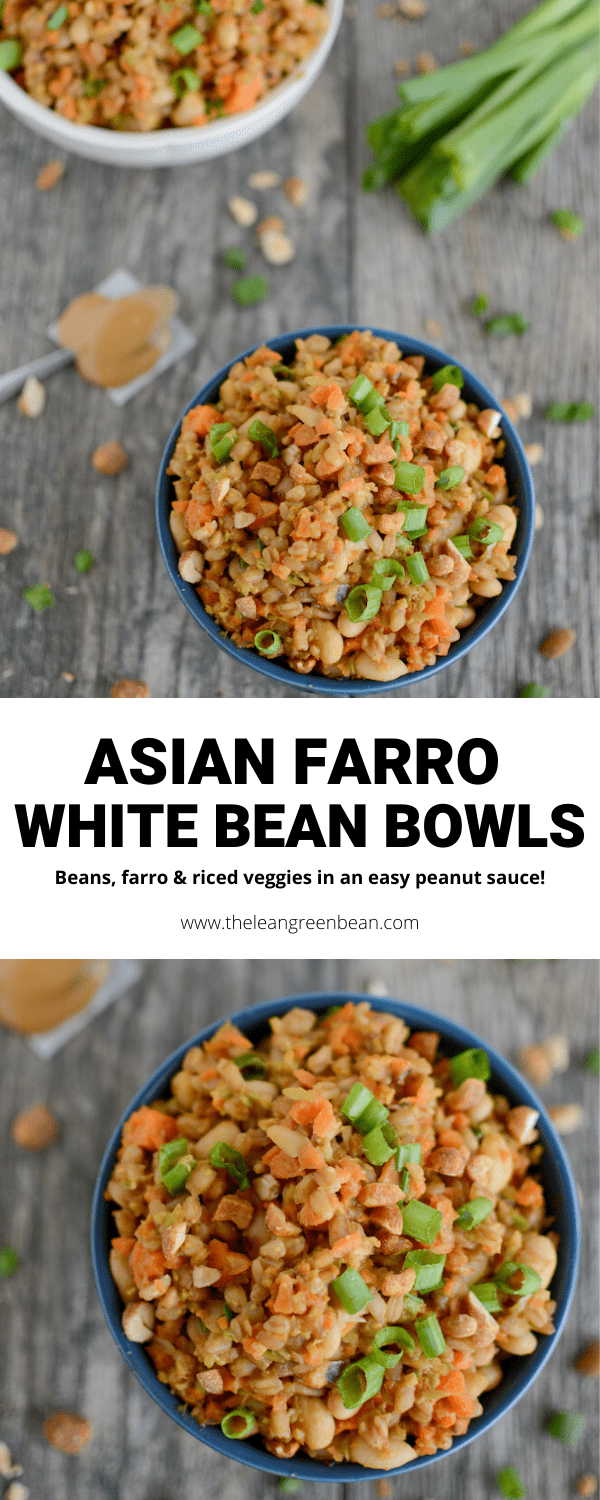 Enjoy!
–Lindsay–
LEARN HOW FOOD AFFECTS YOUR BODY.
Get my free Table Talk email series where I share bite-sized nutrition information about carbs, protein, and fat, plus bonus information about snacks and sugar!