Made with just a 4 ingredients, these Vegan Ice Cream Sandwiches are gluten-free, dairy-free and make the perfect summer treat!

Hi Friends!
Time to highlight another recipe from the archives! I first shared these ice cream sandwiches about 2 years ago, but the pictures didn't really do them justice. Since I find them to be the perfect summer treat and make them all the time myself, I figured it was worth re-sharing them!
Here's the deal. These are super simple. The "ice cream" is the ever-popular banana soft serve (ie just blended up frozen bananas) and the "sandwich" part is made with dates and nuts! You just know i love that banana & nut butter combo! You don't have to spend a lot of time making these look pretty. As you can tell by the photos, I didn't. The edges aren't perfect, there are a few cracks, the ice cream is lopsided in some. Trust me when I tell you it won't affect the taste!

Here's how you make them:
Print
Vegan Ice Cream Sandwiches
1 cup

dates, chopped

1/2

c almonds

1/2

c nut butter

2

–

3

medium bananas, cut into chunks & frozen
unsweetened cocoa powder, optional
Instructions
In a food processor, combine the ingredients and pulse until well combined.
Transfer mixture to a piece of saran wrap, squeeze dough into a ball and freeze for 20 minutes.
Unwrap, divide in half and place 1/2 the dough on a piece of parchment paper. Place another piece of parchment paper on top and press to flatten. Cut equal sized squares for your sandwiches, gather the scrap edges and repeat.
Repeat with other half of dough then place all sandwich parts in the freezer.
Place banana chunks in the food processor and process until a smooth ice cream/fro-yo consistency is reached.
Put ice cream in freezer for 20 minutes to harden slightly.
Remove everything from the freezer, spoon some ice cream onto one square, top with another and gently press top and bottom together to make an ice cream sandwich.
Wrap each sandwich individually in saran wrap and place in the freezer until desired firmness is reached.
Notes
You have to work quickly or the ice cream will get too melty. [br]I'd recommend wrapping each one as soon as you make the sandwich and putting it in the freezer. If you try to set them on a plate or pan as you work, the ice cream will melt and the tops will slide off.
Please make sure to read the notes section in the recipe above or you'll end up with a melty mess! I don't use cocoa powder in mine but if you want a more chocolatey flavor for the ice cream part you could add some. I used a small glass to make my sandwich sides circle and help ensure they were all the same size! You can just eyeball it if you want.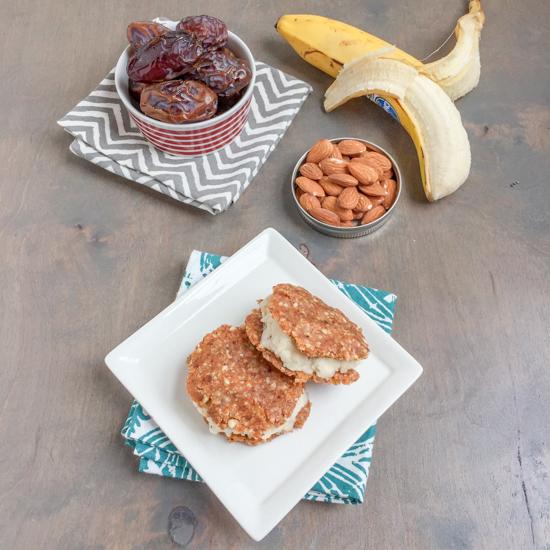 [Tweet "These Vegan Ice Cream Sandwiches from @leangrnbeanblog are the perfect summer treat!"]
Enjoy!
–Lindsay–
LEARN HOW FOOD AFFECTS YOUR BODY.
Get my free Table Talk email series where I share bite-sized nutrition information about carbs, protein, and fat, plus bonus information about snacks and sugar!