Make your own salad dressing to avoid added sugar and other crazy ingredients! This Strawberry Balsamic Dressing pairs well with almost any salad toppings! This post is sponsored by Pompeian. I was compensated for my time. All thoughts and opinions are my own.
Hi Friends!
So, as promised. I'm back to share a salad dressing recipe today! First, a few things to discuss. As noted above, this is a sponsored post. This year I'm excited to be teaming up with Pompeian to bring you some delicious new recipes. I'm a member of their Pompeian Pantry Insider program, so over the next few months you'll see a few posts showcasing some of their products.
Did you know that May is actually National Vinegar Month? It's true. In honor of that, Pompeian asked us to create a spring or summer salad dressing using one of their vinegars. Right up my alley since I'm always looking or new dressings to put on my salads (both traditional and non-traditional).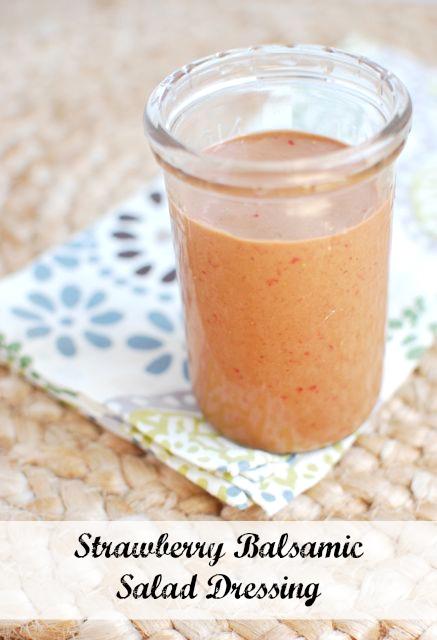 Pompeian has a huge selection of vinegars, from balsamic to wine. I used several of their wine vinegars before I started working with them- especially the white wine vinegar, which is perfect in my Fresh Cranberry Sauce.  Here's the full list of their vinegars:
Red Wine Vinegar
Roasted Garlic Infused Red Wine Vinegar 
Pomegranate Infused Red Wine Vinegar 
Blueberry Pomegranate Infused Red Wine Vinegar 
Açai Pomegranate Infused Red Wine Vinegar
White Wine Vinegar 
Sherry Aged Wine Vinegar 
Balsamic Vinegar
White Balsamic Vinegar 
Pomegranate Infused Balsamic Vinegar 
Ok, so for this dressing….I immediately knew I wanted to incorporate some fresh fruit into the dressing. Lately I've been on this kick of making avocado salad dressings, but I wanted to change things up. After considering all of the ingredients in my Salmon Chop Salad, I knew that fresh strawberries would be perfect. I almost included them in the salad itself, but decided it might be fun to put them in the dressing instead.
I opted to use Pompeian's traditional balsamic vinegar in this dressing, but the pomegranate infused balsamic would have been awesome as well.
Print
Strawberry Balsamic Dressing
A fresh, light salad dressing that's perfect for the warmer months!
1/2 cup

Pompeian olive oil

3

–

4

Tablespoons Pompeian balsamic vinegar

1

–

2

tsp dijon mustard

1/2 cup

fresh strawberries, chopped
Instructions
Combine all ingredients in a blender and process until smooth.
Taste and adjust flavors as needed.
Some of the ingredient amounts are a bit variable because they will depend on your tastebuds. I'd start with 3 Tbsp vinegar and 1 tsp mustard and then add more after tasting if you want to.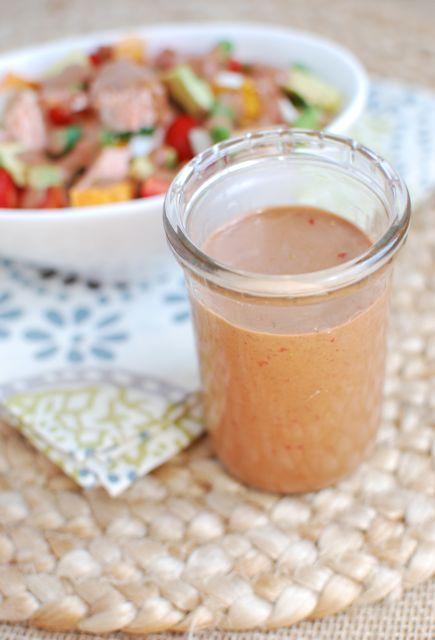 This dressing is light and refreshing. It would be great over a leafy green salad (especially one with spinach I think) or a non-traditional, lettuce-free salad.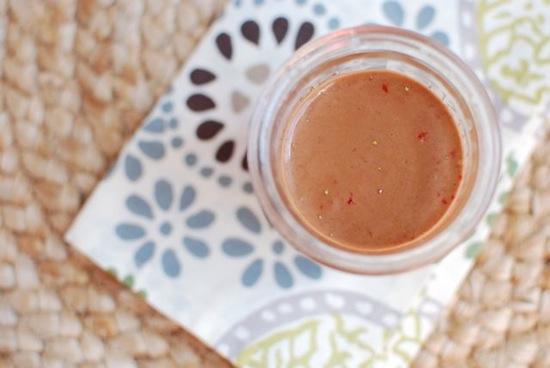 I love how you can see the little strawberry seeds floating around. So good! Heck, I might even pour some of this over grilled chicken and see how it tastes!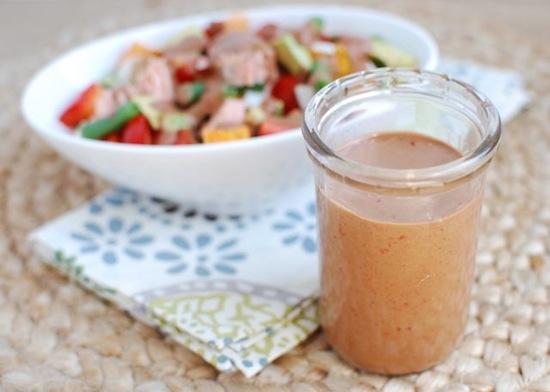 Let's chat:
Do you ever put fresh fruit in your dressings?
Enjoy!
–Lindsay–
LEARN HOW FOOD AFFECTS YOUR BODY.
Get my free Table Talk email series where I share bite-sized nutrition information about carbs, protein, and fat, plus bonus information about snacks and sugar!