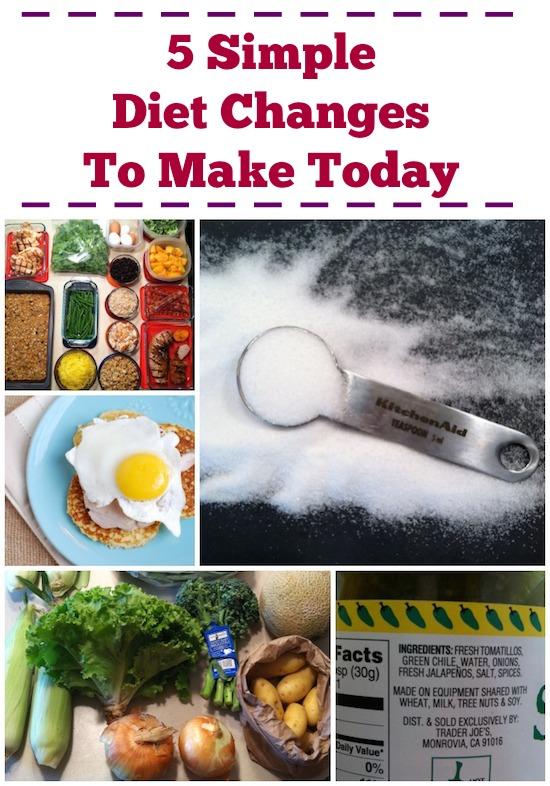 Setting goals or making resolutions to live healthier can be overwhelming. Try these 5 Simple Diet Changes to start getting healthy today!
Hi Friends!
As a Registered Dietitian, people often ask me for advice about changes they should make to their diet. I'm a firm believer that nutrition is very individualized and that everyone has different needs, but I do believe there are a few simple diet changes that most people could benefit from. Here they are: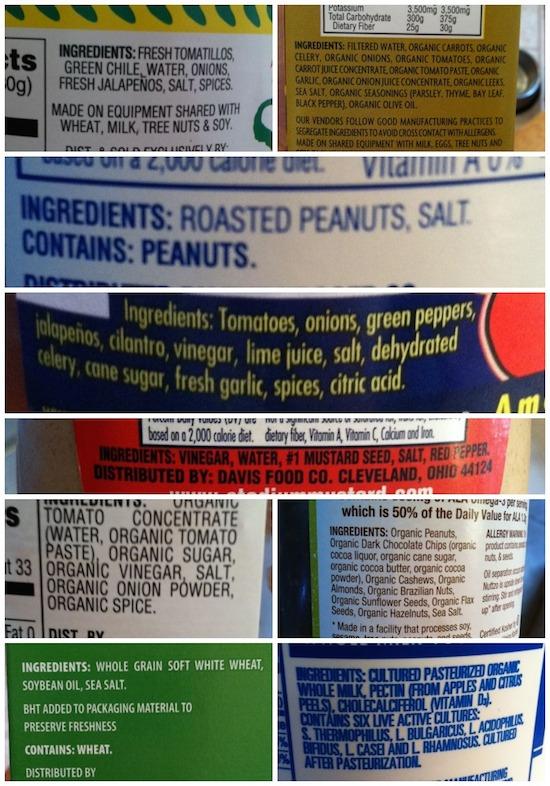 1)

Start reading the ingredient list
I try to limit the amount of processed foods I buy and try to make some of my favorite snacks and basic items like Whole Wheat Tortillas, bread, etc from scratch…but let's be honest, I do still buy them. That's not wrong, it's realistic.  When I do buy packaged food, I do my best to make the best choices possible. Before I even look at the numbers on the nutrition label, I look at the ingredient list.
Basically, the golden rule is: Simple is best. The fewer and/or more recognizable the ingredients the better!
Look for ingredient lists that are short and made up of ingredients you recognize and can pronounce. Remember that ingredients are listed in descending order by amount used, so if sugar is listed first, there's probably a lot of sugar in the product.
If you don't typically pay attention to ingredient lists, you might be in for a bit of a shock. However, once you take the time to start going through the labels on the foods you typically buy, you'll be able to make healthier choices in the future.

2)

Eat more healthy fats
If I could wave my magic wand and make one diet trend go away, it would be the low-fat craze. Every since the 1980's when people were encouraged to start reducing their saturated fat intake, low-fat products have been all the rage. Here's the thing: low-fat isn't always all it's cracked up to be. Most do not taste as good as their full-fat counterparts on their own. This means that other things, namely sugar & salt, have to be added to the low-fat versions to make consumers want to eat them. And since obesity rates have continued to climb over the past 30 years, it's becoming more and more clear that fat may not be totally to blame for our nutrition problems.
In fact, I'm a huge advocate of making sure your diet includes healthy fats! They're super filling, full of nutrients and in many cases, increasing your healthy fat intake can help you decrease your intake of refined carbs and added sugars, which many believe cause more healthy problems than fat.  In addition, full-fat products are often made with minimal ingredients and not a lot of added junk. (See #1- check the ingredient list!)
For most of my clients, some of the first changes we make involve cutting back on processed foods- I'm a huge fan of replacing store-bought favorites with homemade versions made with real ingredients- and adding healthy fats. Just a reminder that fats are higher in calories, even healthy fats, so portion size is important.
Here are five of my favorite healthy fats with some suggestions how you can add them to your day, no matter what meal you're eating:
Avocado:
Breakfast: Smash and spread on toast, top with fried eggs.
Lunch: Add a smear or a few slices to your sandwich.
Dinner: Chop and add to your salad.
Snack: Smash some into your tuna salad and eat with whole wheat crackers
Eggs:
Breakfast: Make an omelet stuffed with veggies.
Lunch: Enjoy a giant chop salad with veggies, lean meat and hardboiled eggs.
Diner: Whip up a stir fry, add a couple of scrambled eggs and serve over rice.
Snack: Grab a few hardboiled eggs to eat on the run!
Nuts and Seeds:
Breakfast: Use as a topping for your oatmeal or blend into a smoothie.
Lunch: Add to baked goods like bars or muffins for an extra dose of nutrients.
Dinner: Make a nut butter sauce to add flavor or crush and use as a breading for chicken or fish.
Snack: Make a big batch of trail mix and portion into snack packs for the week.
Full-fat yogurt:
Breakfast: Add to your smoothie for a breakfast on the run!
Lunch: Make tzatziki sauce to add to your pita or try a homemade ranch dip for your veggies.
Dinner: Add to your favorite recipe for burgers or meatloaf to add moisture or use it in a marinade.
Snack: Mix with fruit, nuts etc and freeze for a frozen treat.
Salmon:
Breakfast: Combine some leftover salmon, a couple scrambled eggs and cheese to make a breakfast quesadilla.
Lunch: Use as a topping for your nachos to change things up from traditional chicken or beef.
Dinner: Try topping with lemon slices and grilling on a cedar plank.
Snack: Make a batch of sliders to have ready for a high-protein post workout snack
If you're interested in more of the science behind eating more fat, check out this great blog post my friend and fellow RD Anne wrote. 

3) 

Choose your produce wisely
If you want to take things a bit farther than just getting the recommended servings of fruits and veggies each day, be smart about the produce you're buying. When it comes to fruits and veggies, it's often said that fresh is best. My opinion is that you should consider the options in your area and make the best choice based on what's available to you. Local produce is about as fresh as it gets. Available at farmer's markets, in CSA's or sometimes in the grocery stores, it travels short distances and is often picked very shortly before being sold. If you're lucky enough to live in an area where local produce is available year-round, definitely take advantage of it if you can. If not, there are other options for those months when most produce is not in season.
When you see produce on the grocery store shelves, it's often not as fresh as you think. You have to factor in the time between picking and shipping, plus travel time- often across the country, the time it sits on the shelves in the store and the time it sits in your fridge at home. During all of that time, it's losing valuable nutrients. For this reason, considering frozen or canned veggies can be a great option. These veggies are picked at the peak of freshness and then frozen or canned to lock in the nutrients! If you choose canned fruits, look for those canned in their own juices, not syrup. For veggies, look for no-salt-added or low sodium options and give them a good rinse before using! Since cans can be a source of BPA, I tend to favor frozen. They're especially great in the winter months for throwing into soups, casseroles, stirfries and more!
As far as buying organic, everyone has to make a decision about what works for their family. Organic has its benefits, but it also usually comes with a higher price tag. If you're looking for a starting point about what to consider buying organic, check out the Dirty Dozen.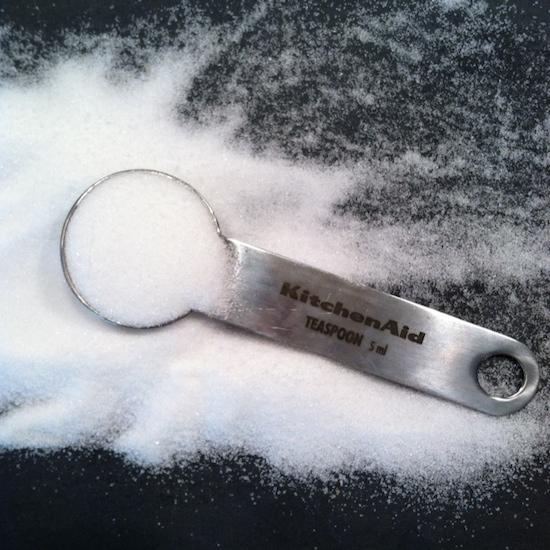 4) Cut back on added sugars
Like I mentioned above, there is more and more research coming out that indicates sugar is a huge part of the obesity problem we're facing today. So many foods are filled with added sugars.
When I graduated from college and needed to lose some weight after a party-filled semester studying abroad, one of the first things I did was cut back on added sugars. I started experimenting with using less sugar when baking and I studied nutrition labels (and ingredient lists!) to see just how much sugar was in the foods I was eating.  To give you a visual, remember that 4 grams of sugar = 1 teaspoon of sugar….so if you're eating a product that has 12 grams of sugar per serving, you're consuming 3 teaspoons of sugar per serving.
Once you start looking, you'll notice added sugars in things like peanut butter, flavored yogurt, sauces, bread, cereals, processed foods and much more. Learn some of the alternate names for sugar such as words ending in -ose, syrups, etc. Nutrition labels are currently in the process of being revamped and one of the proposed changes is to add a line for added sugars so consumers can easily tell how much of the sugar occurs naturally in a product and how much is added sugar. Until those changes occur, use the ingredient list to check for added sugars and remember the closer it is to the beginning of the list, the more sugar there is in the product!
I always recommend making things yourself when possible so you can control the ingredients. If you like to bake, slowly start cutting back on the sugar you add to your cookies, make the switch from sugary peanut butters to those just make with peanuts, etc. It may take some time, but your body will adjust and the extra sweetness will no longer be necessary. You can also experiment with replacing refined sugars with more natural sources like fruit (bananas, applesauce, dates). Just remember that these are still sources of sugar, even if they're natural.
As far as artificial sweeteners go, do your research and make the choices that's best for you. I personally choose to avoid them as much as possible.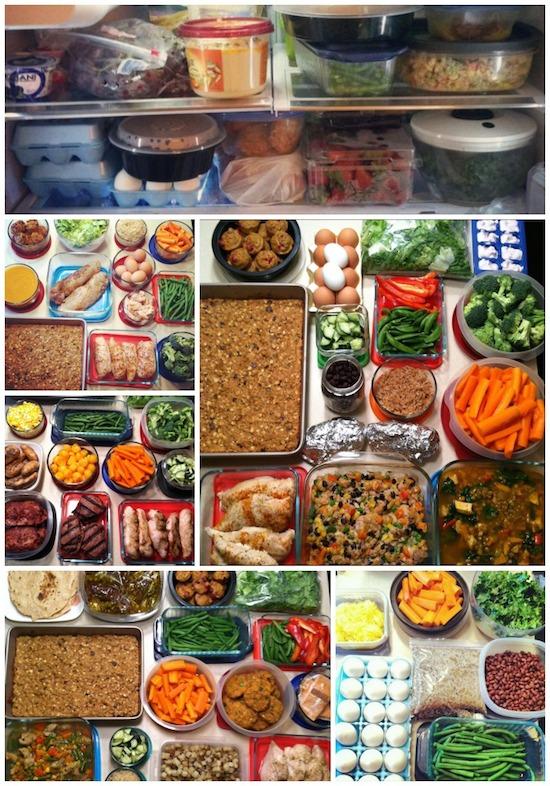 5) Start Doing Sunday Food Prep
If you've been reading my blog for any length of time, you know how I feel about food prep. Just a little bit of time in the kitchen on the weekend (or your day off) can play a huge role in keeping you on track during a busy week. I do my best to prep food every Sunday. I've written previously about my Top 10 Foods For Sunday Food Prep and  10 Foods That Freeze Well, Plus every Sunday I post a food prep inspiration post sharing my food prep as well as food prep photos submitted by readers. CLICK HERE to check out some of these posts for ideas!
[Tweet "5 simple ways to make your diet a little healthier via @leangrnbeanblog!"]
Whew…ok so this got a little long, sorry about that…but hopefully it gives you some ideas and inspiration for a few healthy diet changes that anyone can make!
Enjoy!
–Lindsay–
LEARN HOW FOOD AFFECTS YOUR BODY.
Get my free Table Talk email series where I share bite-sized nutrition information about carbs, protein, and fat, plus bonus information about snacks and sugar!