Learn how to roast chickpeas. Crunchy and flavorful, they make a great, healthy snack. This post will teach you how to roast chickpeas perfectly using my foolproof recipe!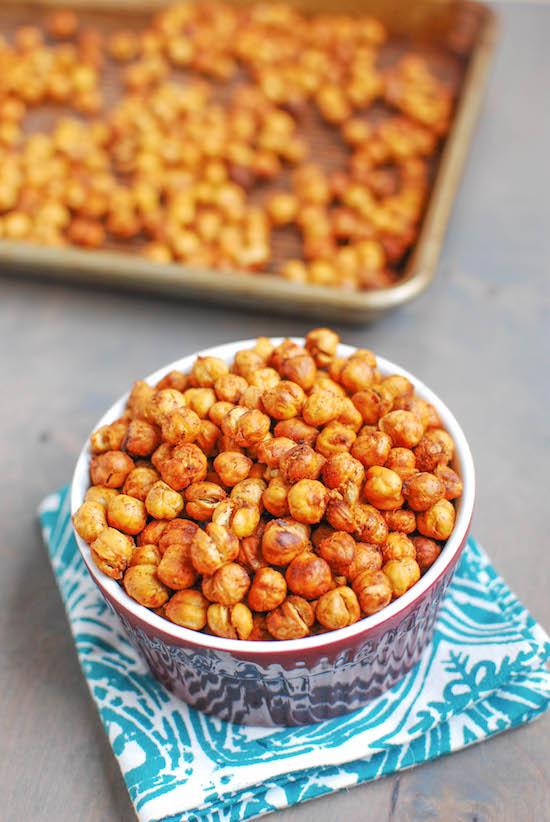 Hi Friends!
Today we have another second-look post. I first shared this recipe back in 2012 but it needed a facelift! If I'm being totally honest, I'm not crazy about chickpeas just plain. I don't particularly like them on salads or in a casserole. But grind them up into hummus and you've got my attention. Roast them into crunchy little puffs to snack on and it's fairly likely I could eat a whole can in one sitting.
Roasting chickpeas can be a tricky beast. I've had many failed batches. Through trial and error, and a little luck, I've figured out a few secrets and I thought I'd share them with you!
How To Roast Chickpeas

Ready? Three secrets to perfectly roasted chickpeas:
Don't use too much oil. It will make them soggy and they will never get crispy. I often use this Misto to spray mine (aff link). If you don't have one, use about 1/2 tsp per can of chickpeas. Just enough to coat so spices can stick!
Don't crowd the pan. Use a large baking sheet, especially if you're roasted two cans at once so there's enough room for air to circulate around them. These are my favorite pans (aff link)
Start them in a cold oven, roast them and then leave them in the oven as it cools back down.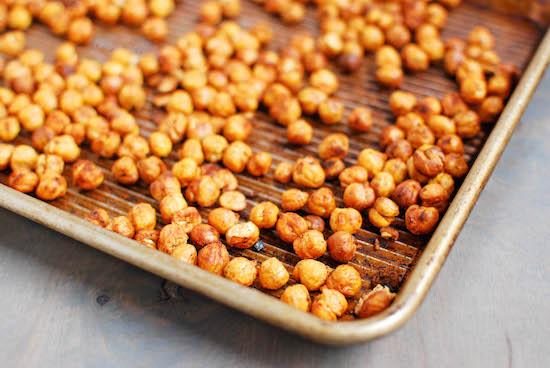 That third one is the one that came about by accident. A few years ago I REALLY wanted roasted chickpeas…but I was running late for a workout. I didn't have time to let the oven preheat so I threw them in there right when I turned the oven on, let them roast as long as I could and then shut off the oven, left them in there and hoped for the best.
The best roasted chickpeas ever is what I got!
Here's how you make them:
Print
How To Roast Chickpeas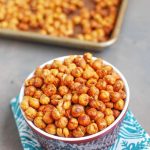 Perfectly roasted chickpeas using a super easy, foolproof method.
Scale
Ingredients
1

–

2

cans chickpeas (low-sodium or no-salt-added)
oil for misting
spices (i use paprika and cayenne pepper)
Instructions
Drain and rinse the chickpeas.
Line a baking sheet with paper towels. Pour the chickpeas on top and use more paper towels to dry them off as well as possible.
Remove the paper towels.
Mist the chickpeas with oil, sprinkle with spices and shake pan gently until all the chickpeas are well coated.
Place pan in a cold oven.
Set oven to 425 degrees F and let roast for 40 minutes, stirring every 10 minutes.
Turn the oven off and leave pan in the oven for at least an hour.
Remove and let cool completely before transferring to a storage container.
So easy and delicious.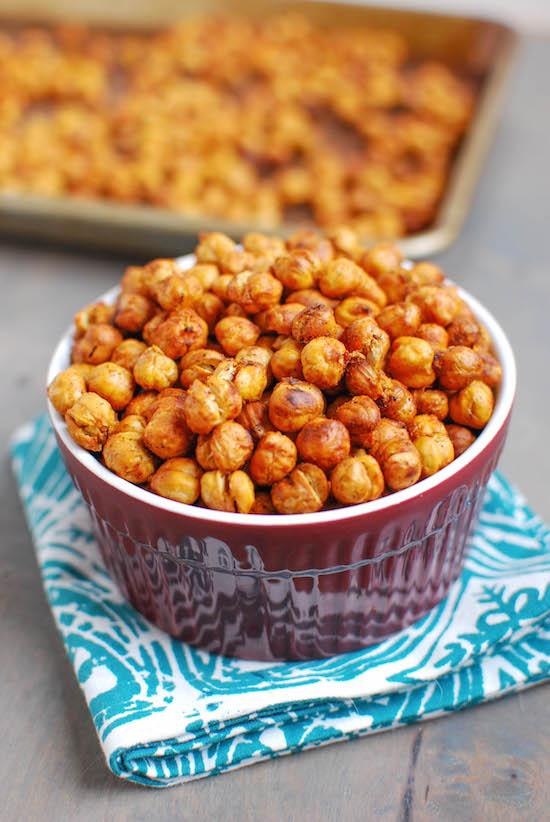 Play around to find your favorite spice mix. I usually choose cayenne and paprika but they're also good with curry powder!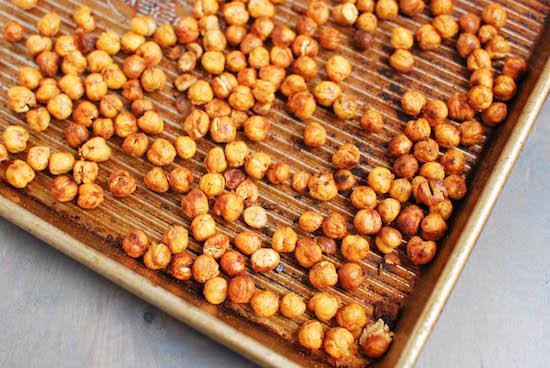 You will inevitably end up with a few burned ones, but I just tested this method out again last week, once with only one can and once with two cans at once and both times I only ended up with a handful burned ones in the whole batch. It might be a little trial and error with your oven as well depending on how hot it tends to run.
Don't forget to use a big pan if you do two cans at once! Leave them in the oven for at least an hour after you turn it up, but really, you can leave them in there until it gets totally cold if you want to.
I like to make a batch right before I go to bed then just shut off the oven and take them out in the morning.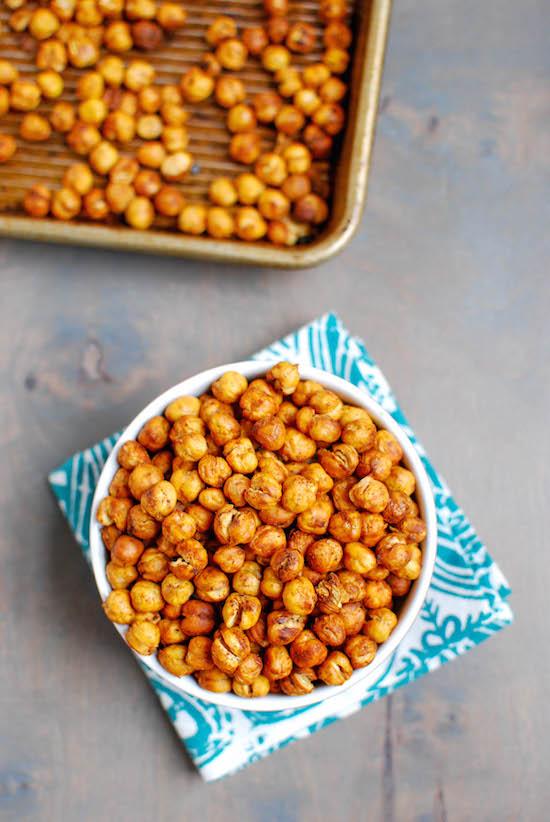 Look good?! Don't forget to share with friends on Pinterest and Facebook!
Healthy snacks like these chickpeas are great to add to your weekly food prep routine so you have them on hand during busy weeks. If you liked this post, you'll love my ebook – The Ultimate Guide To Food Prep. It dives into even more detail about how to food prep, troubleshoots common problems and provides tons of tips to make it easier! Click the image below for more details!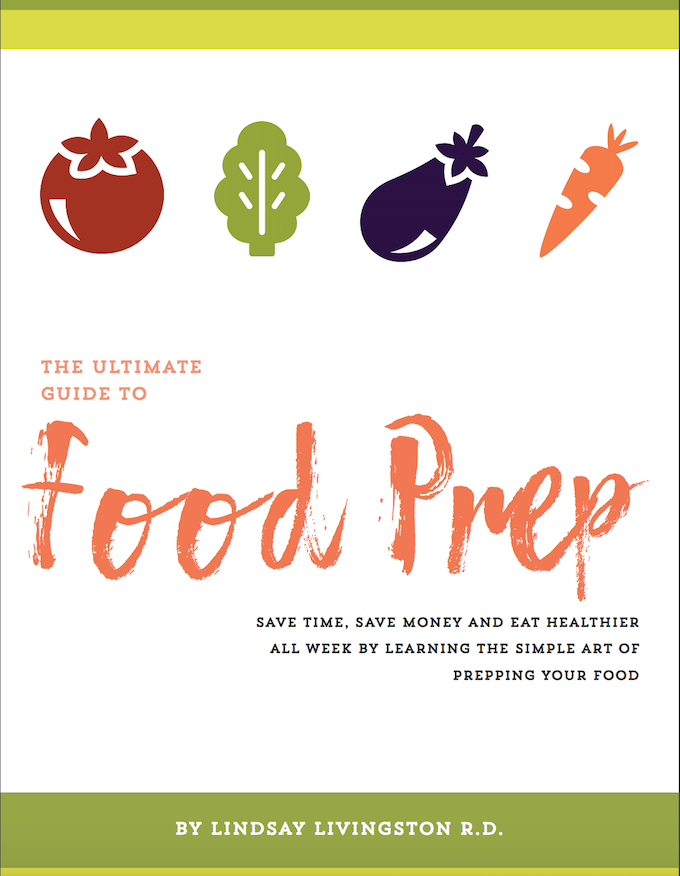 Looking for more healthy snack ideas? Try these:

25 Quick and Easy After-Work Snacks
or these 10 Healthy Toddler Snacks!
Enjoy!
–Lindsay–
This post contains affiliate links. If you make a purchase from Amazon after clicking on one of them, I will earn a small commission at no additional cost to you.