Hi Friends-
I have my first test of the quarter today so I'm just popping in with a quick video I shot last week for you guys.
As you know, I'm a huge fan of making my own hummus. It's SO easy and I love how totally customizable it is. I finally got my act together and made a video of me making my favorite kind of hummus.
The video is only three and a half minutes long so that just shows you how quickly it can be done (less than 5 min!).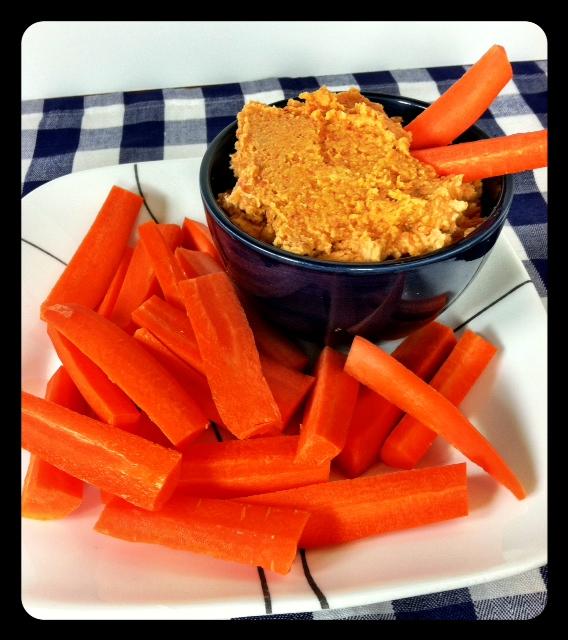 So here's the deal:
This is my all-time favorite hummus. It includes a roasted red pepper, roasted garlic and half a roasted sweet potato. I realize that those things cannot be roasted in under 5 minutes…but it's so easy to just throw them in the oven one night when you're already using the oven to cook dinner. Then you can either make the hummus when they're done or pop them in the fridge and make it in the next day or two!
So…watching the video is not really a necessity since I'm giving you the recipe….but watch away if you wish 🙂
So here's the recipe:
Roasted Red Pepper & Garlic Hummus With Sweet Potato
Prep Time: 1 hour
Cook Time: 5 min
Keywords: roast food processor appetizer snack side healthy low-sodium vegetarian chickpeas sweet potato red pepper
Ingredients (2 cups)
2 cans chickpeas, drained & rinsed w/ 1/2 c liquid reserved
juice of one lemon
1 red pepper, roasted w/ skin & seeds removed
1/2 a sweet potato, roasted w/ skin removed
1 head garlic, roasted w/ skin removed
3 Tbsp tahini
1/2 tsp cayenne pepper
1/2 tsp paprika
Instructions
Place the chickpeas, red pepper, sweet potato & garlic in the food processor. Pulse a few times.
Add the lemon juice, reserved chickpea liquid, tahini and spices and process until desired consistency is reached.
Add water a little bit at time if it's too thick.
Store in an airtight container in the fridge.
And here's the video:
So tell me, do you make your own hummus?
Also, a lot of you guys seemed to enjoy the About Me post I did this weekend. That, coupled with a post I saw Kelly do a few days ago- where she basically reintroduced herself because she's noticed she has a lot of new readers lately, got me thinking.
I'd love to do a Q & A post for you guys! So here's your chance to ask me anything you've been wondering, funny or serious…about me, about the blog, about what I'm doing with my life, about fitness and exercise…whatever you want! Leave your questions in the comments, send me an email ([email protected]) or tweet me! I'll put them all together into a fun Q & A post 🙂
Yesterday's workout:
I had a test to study for but wanted to squeeze in a quick workout after I got off work. I put together a list of 10 bodyweight exercises and headed to the basement with my gymboss.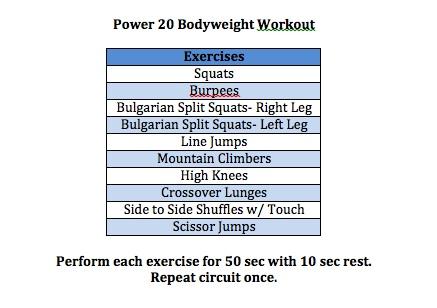 Pin It

Finished off the workout with a 2 min plank and two 1 min planks.
Ready, go!
–Lindsay–
LEARN HOW FOOD AFFECTS YOUR BODY.
Get my free Table Talk email series where I share bite-sized nutrition information about carbs, protein, and fat, plus bonus information about snacks and sugar!