Hi Friends!
Happy Monday 🙂 Over the weekend we had some friends over for a dinner party. But not just any dinner party! Thanks to the lovely folks over at Eggland's Best, we were able to host an EB Mine Brinner party to help promote February as National Heart Health month! (*I received a free package of Eggland's Best goodies as well a gift card to help me with the groceries for the Brinner party but I hosted this party because I believe strongly in the importance in raising awareness in the importance of heart health.)
According to the Center for Disease Control and Prevention (CDC), heart disease is the leading cause of death among men and women in the United States. However, there are simple steps you can take to help reduce your risk, including proper nutrition and daily exercise. These lifestyle changes, along with not smoking can help cut your odds of having a heart attack by 92% (Source: Woman's Day, February 2012).
Eggs can be incorporated into a heart-healthy diet, and are one of the most nutrient-dense foods you can eat. Eggland's Best eggs contain less cholesterol than ordinary eggs, as well as more than 2X the heart healthy Omega-3 fatty acids, 2X more Vitamin D, and 10X more Vitamin E, a vitamin associated with reducing the risk of heart disease.
So here's the deal. We all know I LOVE breakfast. And I LOVE eggs. Egg sandwiches are pretty much a staple in my lunch-time rotation, scrambled eggs make an appearance pretty much every weekend and the hubby and I actually eat brinner fairly often.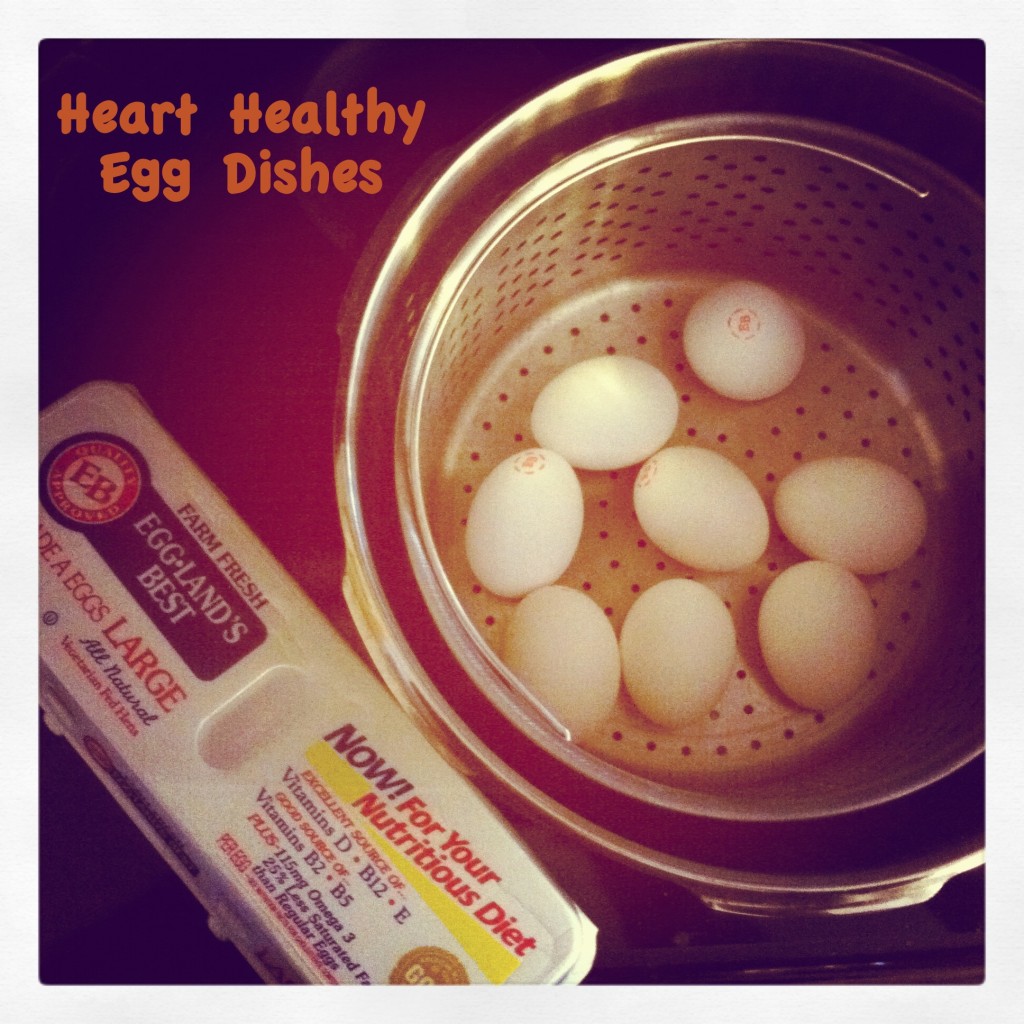 Due to the fact that last week was one of the craziest off my life, I didn't actually start planning this party until Friday afternoon. The thing about me and planning parties is that I tend to get a little over zealous. And I make A LOT of lists. Since I was in a bit of a time crunch, I turned to my fellow bloggers for some inspiration when I was making my list of healthy egg dishes.
First, let's start with what I didn't have a chance to make. These are dishes that sounded fantastic, but I either didn't have enough people coming, enough ovens, or enough arms to make them all. In case you've never tried, it's difficult to plan a party that involves several egg dished that all need to be cooked and done at the same time!
So, here's some great egg recipes for you to check out that are still on my to try:
Poached Eggs in Spicy Tomato Sauce from Cat @ Breakfast to Bed
Fried Eggs in Bell Pepper Rings
Baked Eggs in Bread Bowls from Sarah @ Baking Serendipity
Peach Dutch Baby Pancake from Brandi @ Bran Appetit
Spinach & Feta Wonton Quiche Cups from Jenn @ Peas and Crayons
Those look pretty good right? I bet you're wondering what exactly I did make? Well, let's take a look at the menu:
The Lean Green Bean Brinner Party
Deviled Eggs
Avocado & Egg Salad Sliders
Mixed Berry Baked French Toast
Sausage, Egg & Vegetable Breakfast Casserole
Veggie Egg Muffins
Bean & Veggie Breakfast Burritos w/ Ranchero Sauce
Fruit Salad
Orange Juice & Cocktails
Let's take a closer look shall we? Like I said, it started with a lot of lists…and LOTS of eggs.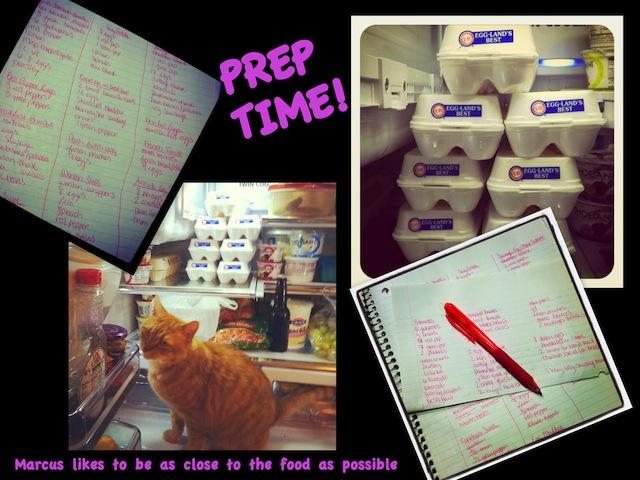 I got up Saturday morning and got to work. I started with the French Toast because it typically sits overnight. I used this recipe from Taste of Home. I prepped the bread and let it sit all day. I decided to cook this first because I knew it would reheat a little better, if necessary, than the dishes that were more egg heavy like the casserole. Our guests came at 7:00pm, so I popped this in the oven at 5:30 and cooked it for 1/2 an hour. Then I took it out, added the berry topping and baked it for another 15 minutes. I stored it in an insulated bag and it was still nice and warm by the time we ate, about an hour later.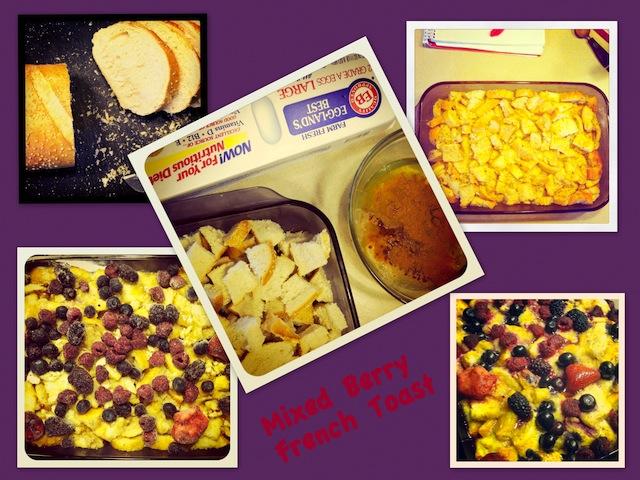 Next I tackled the cold dishes. I wanted to chose a few dishes that didn't need to be baked/require the oven. I had coupons for pre-cooked and peeled eggs but couldn't find them at my grocery store, so I pulled out my pressure cooker and got to work.
I made my first ever deviled eggs using this recipe from Anne @ Fannetastic Food. This recipe swaps greek yogurt for the mayo, an easy swap to make these more heart healthy. I was a little nervous about making these because I don't eat them and really had no idea what they were supposed to taste like. Plus I only had spicy brown mustard instead of dijon. But they were all gone at the end of the night so I guess they were good 🙂 I made them in the morning and then just sprinkled on the paprika right before everyone came!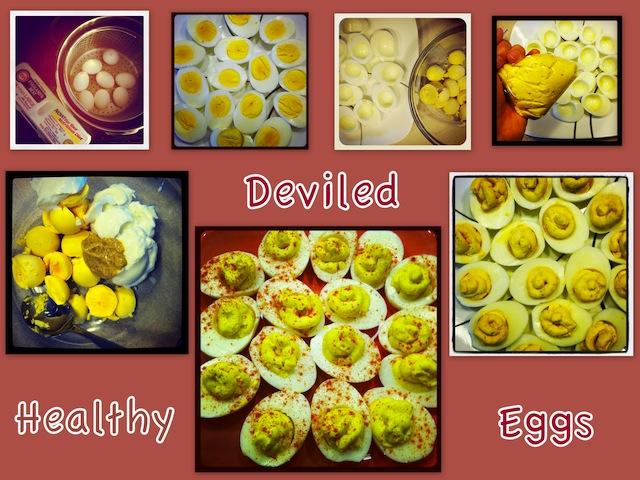 I used the rest of the hard-boiled eggs to make egg salad, another thing I don't eat. I knew I wanted to add some avocado to make these even more heart-healthy so I was excited when I found this recipe from The Pioneer Woman. I halved the recipe, left out the chives and swapped greek yogurt for the mayo…then I served it on slider buns. I made the eg salad ahead of time. I was nervous about the avocado browning but since there was vinegar in the recipe I figured it would be ok. And it was! Then I just spooned them onto buns right before serving.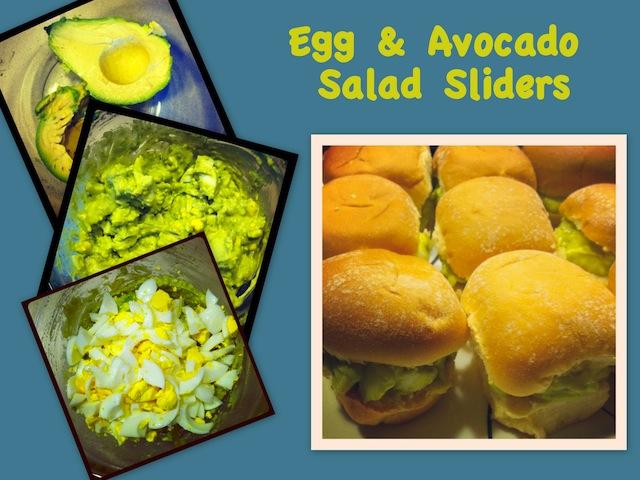 While I was cooking, the boys had a little playtime with this fun little egg toy…It's their new fav.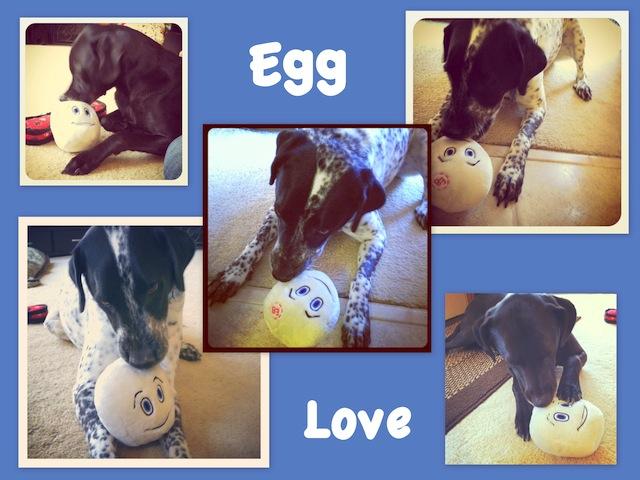 Next up, I prepped the breakfast casserole. I used this recipe from Taste of Home and used Morningstar Breakfast Sausage. It was my first time buying the pre-shredded hash browns and they worked out really well. I bought the plain kind because they were very low sodium. I assembled the whole casserole and stuck it in the fridge. In the evening, after the french toast was cooked, I popped this casserole in and it finished cooking right around 7:15 when people started arriving.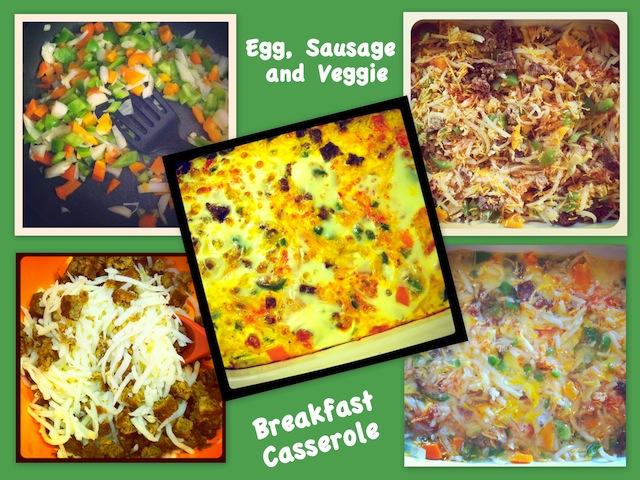 Next up, I made the egg muffins. I followed this recipe from Amy @ The Scene From Me. I've made these before and they were a hit with the hubby. This time, I left the sausage out and just used veggies and cheese (1/2 feta, 1/2 cheddar). They're a great, healthy breakfast that can be made ahead of time and re-heated throughout the week, or even frozen and eaten later. I put these in the oven last, right when people started eating and they were ready just in time for the people who came back for seconds.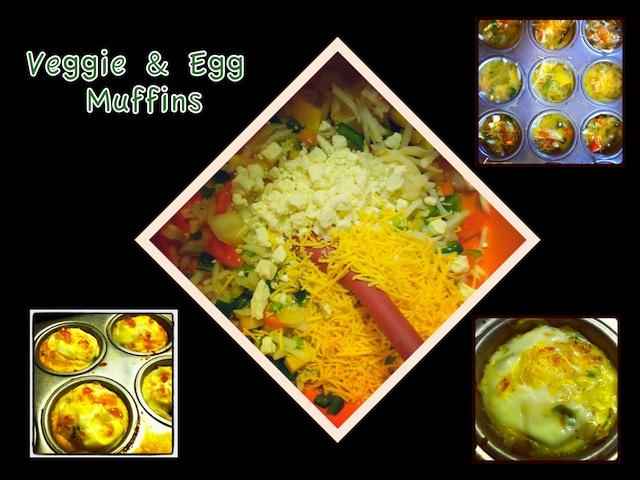 The last thing I made was breakfast burritos. They were inspired by this recipe from Katie @ Yes I Want Cake. I left out the potatoes and bacon and just used black beans, veggies and eggs, plus some avocado, tomatoes and cheese. I started cooking these around 6:30 and assembled them all and wrapped them in foil to keep them warm.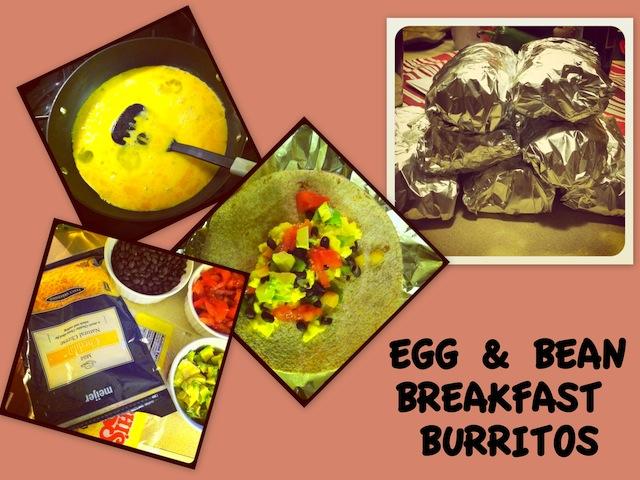 I also whipped up some of this Ranchero Sauce from Janetha @ Meals and Moves for people to top the burritos with. I used 1 poblano pepper, a can of hot, diced jalapenos and only 1 Tbsp butter.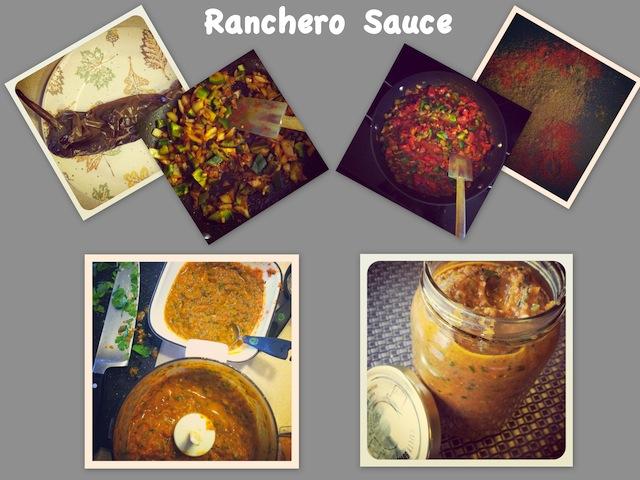 EB also sent me coupons to give away to my guests. They were a huge hit! We all like our eggs 🙂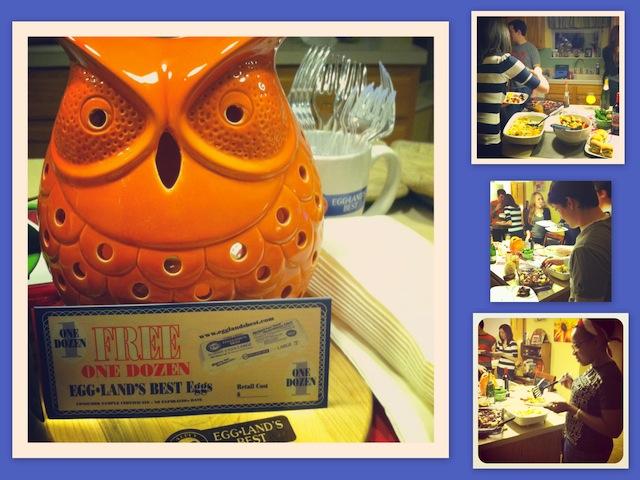 I also made a HUGE fruit salad for everyone to enjoy on the side.
And our friends brought the cocktails!
So there you go! A full party recap. In case you didn't pick up on it, everything at the party was totally vegetarian! And I'm happy to say that all the dishes were a hit, even with my meat-loving friends!!!! Hopefully this inspired you to try a few new healthy egg recipes!
And guess what…EB has offered to send one reader the same package of goodies I got.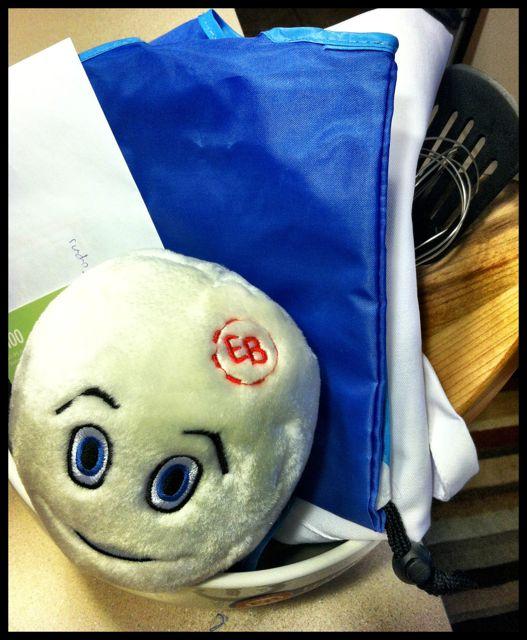 It includes:
2 Free EB Dozen coupons (Any variety- classic, cage-free, or organic)
1 Free EB Hard Cooked and Peeled variety coupon
1 EB Apron
1 EB Spatula
1 EB Whisk
1 EB Cutting Board
1 EB Mixing Bowl
1 EB Bowl Scraper
1 EB Coffee Mug
1 Plush Egg
1 EB Tote Bag
Wanna win? Just leave a comment telling me your favorite heart-healthy egg dish! I'll choose a winner randomly tomorrow night. Giveaway ends Tuesday Feb 21st at 10pm EST.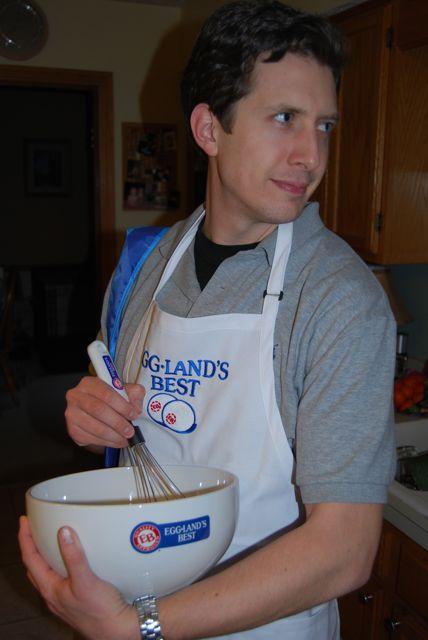 Enjoy!
–Lindsay–
LEARN HOW FOOD AFFECTS YOUR BODY.
Get my free Table Talk email series where I share bite-sized nutrition information about carbs, protein, and fat, plus bonus information about snacks and sugar!