These Gluten-Free Apple Pecan Snack Cookies are a healthy, kid-friendly snack, breakfast or dessert. They're made with coconut and oat flour, full of fresh apples and sweetened with maple syrup.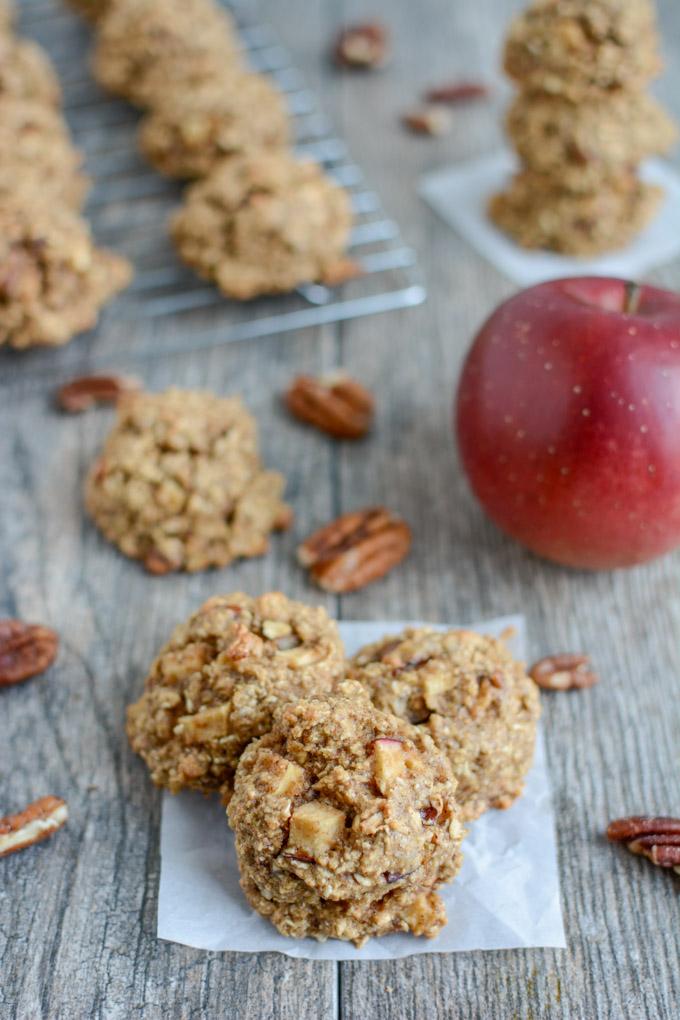 Thanks to Nuts.com for sponsoring this post.
Hi friends!
Meet my newest obsession – these Gluten-Free Apple Pecan Snack Cookies. I'm calling them snack cookies because unlike some cookies that are geared more towards being a sweet dessert treat, these cookies are relatively low in sugar and full of ingredients that add fiber, protein and healthy fats!
As you guys might remember, I'm working with Nuts.com this year to show off some of the great ingredients available on their website (hint- it's so much more than nuts!) In fact, over the summer, I shared this Nut-Free Toddler Trail Mix that's perfect for young kiddos. For this post, I wanted to push myself out of my comfort zone a little bit. I picked an ingredient that I'd never ever worked with before – coconut flour.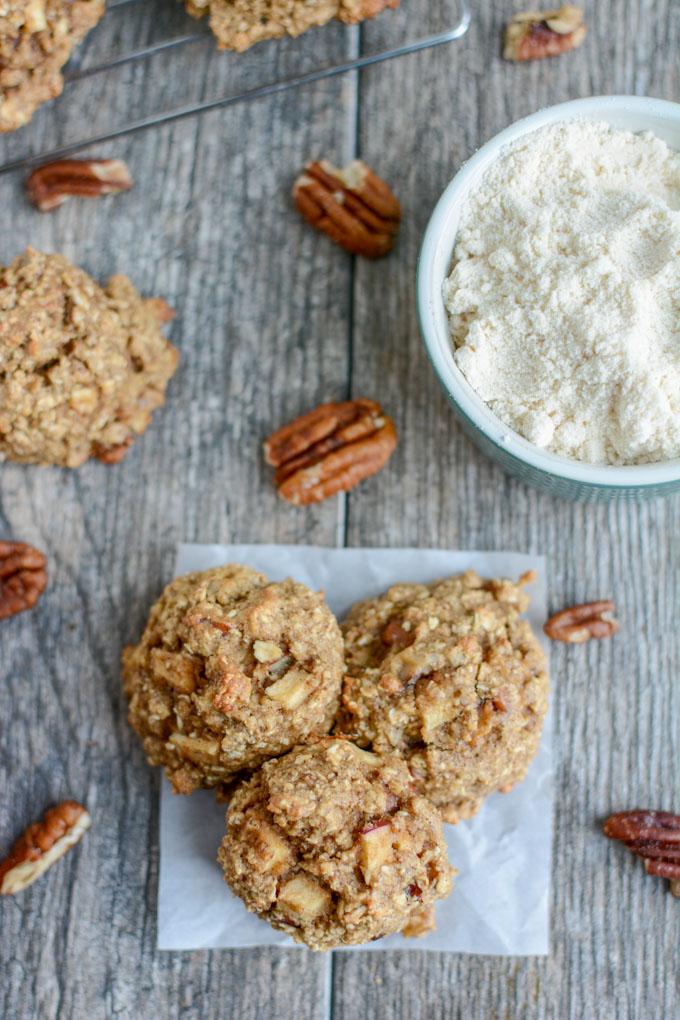 While I'd heard a lot about coconut flour and seen a lot of recipes using it, it just wasn't something I'd tried myself. So I set out to change that with these cookies.
Here's the deal with coconut flour:
It's made from ground-up, dried coconut meat. The Organic Coconut Flour from Nuts.com is organic and unsweetened, but it's actually a somewhat sweet flour thanks to the natural sugars in the coconut. It's also gluten-free and full of fiber!
There are a couple things to note about coconut flour. Here are a few helpful tips they share on their website:
1) Coconut flour behaves differently than wheat flours. It cannot be used as a one-to-one replacement for wheat flours, and generally works best in combination with other gluten-free flours.
2) Substitute 1/4 to 1/3 cup of coconut flour for every 1 cup of wheat flour as a general rule of thumb in baking.
3) Coconut flour is HIGHLY absorbent. Typically, recipes using coconut flour require more moisture, which can be provided by eggs, oils, and other liquids.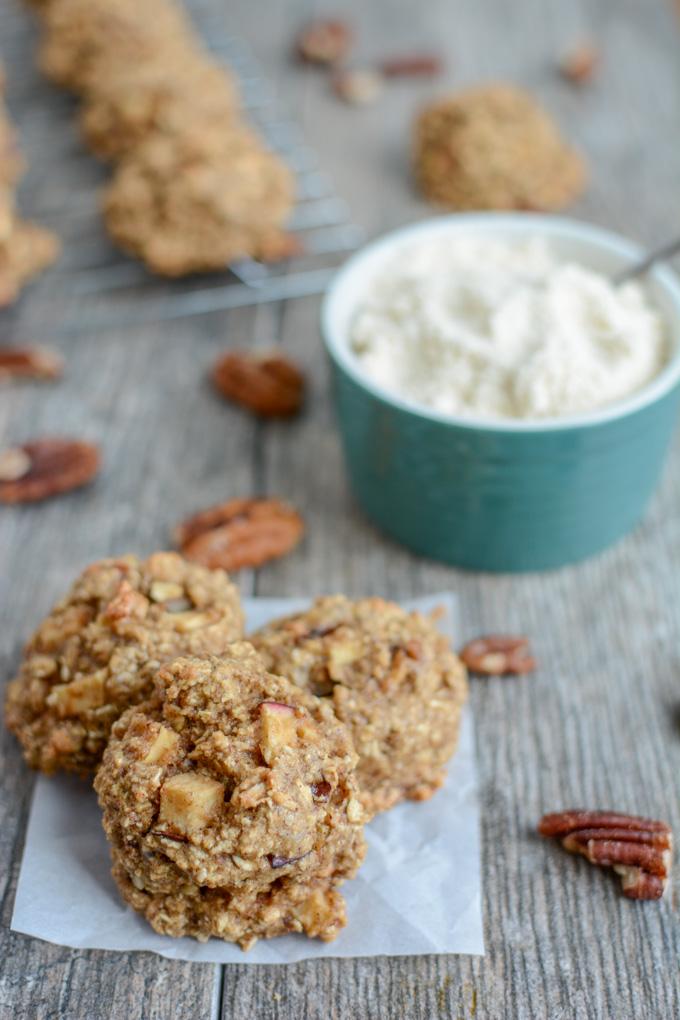 I won't lie. This was one of the hardest recipes I've developed in a while. I had to make them SIX times before I got them right. Along the way I discovered that I do not enjoy cookies made solely with coconut flour. Once I mixed it with oat flour though, I started to really like it. It definitely adds a suble sweetness to the cookies and although it does add a unique flavor to the cookies, I don't think it tastes overtly like coconut. Which is good, because I'm not a fan of strong coconut flavor.
I also learned that even one tablespoon can make a big difference. Once I got the recipe the way I wanted it, I tried adding just one more tablespoon and it was a totally different cookie.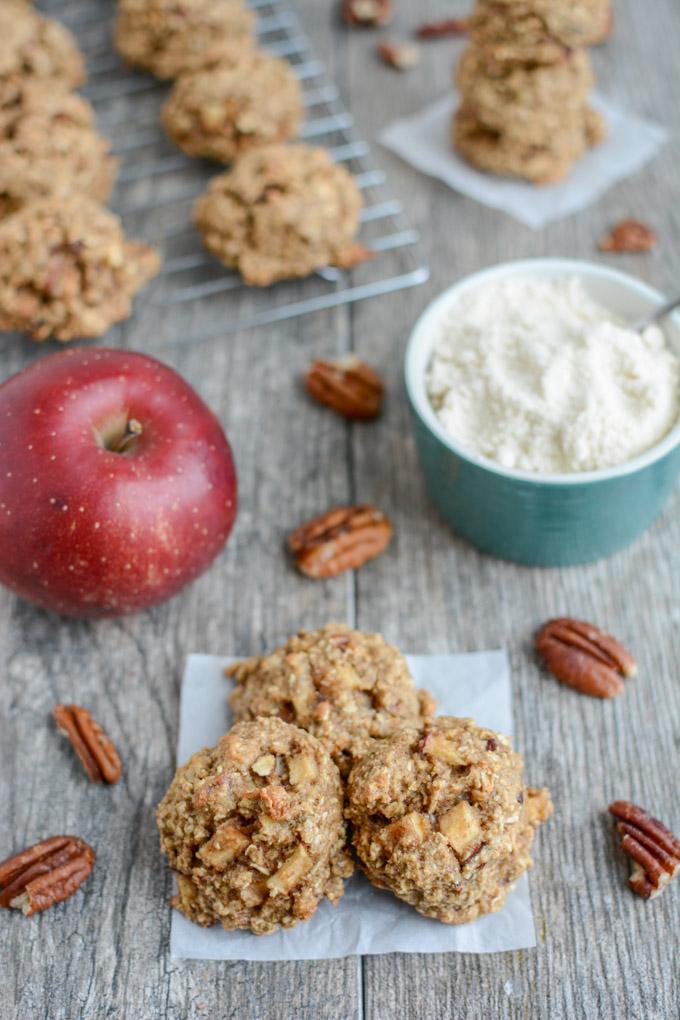 In addition to the coconut flour, I used several other ingredients from Nuts.com for these cookies including this Once Again Creamy Almond Butter. I majorly favor peanut butter over almond butter most days, but I also find peanut butter to be naturally sweeter. I think almond butter works well in these cookies because the coconut flour and maple syrup already add enough sweetness. I also added pecans. I like using pecans in cookies because they're naturally softer than nuts like almonds so if you're not going for a super crunchy cookie, they add a nice texture without being over-the-top crunchy. Plus homemade oat flour which you can make by just grinding up rolled oats in your food processor.
Aside from that you just need a few other ingredients and some freshly chopped apples (which we have coming out our ears thanks to a trip to the orchard last weekend) and you're all set!
Here's how you make them:
Print
Apple Pecan Snack Cookies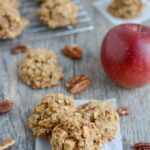 These Gluten-Free Apple Pecan Snack Cookies are a healthy, kid-friendly snack, breakfast or dessert. They're made with coconut and oat flour, full of fresh apples and sweetened with maple syrup.
Author:
Prep Time:

8 min

Cook Time:

12 min

Total Time:

20 minutes

Yield:

Makes 16 cookies
Ingredients
2 large eggs
1/4 cup almond butter
1/3 cup maple syrup
1 tsp vanilla extract
1 cup oat flour (grind rolled oats in food processor, then measure)
3 Tbsp coconut flour
1 tsp cinnamon
1/2 tsp baking soda
1 cup finely chopped fresh apples
1/2 cup chopped pecans
Instructions
Preheat oven to 375 degrees F.
Combine eggs, almond butter, maple syrup and vanilla in a large bowl and mix well.
Add oat flour, coconut flour, cinnamon and baking soda and stir to combine.
Stir in apples and pecans.
Use a cookie scoop to scoop onto baking sheet lined with parchement paper.
Bake at 375 degrees F for 12 minutes.
Notes
Be sure your apples are finely chopped. Large chunks can leave the middles slightly underbaked.
There you have it! Super easy to whip up a batch. Like I mentioned in the recipe, I found in my many tests of this recipe that small chunks of apple work best!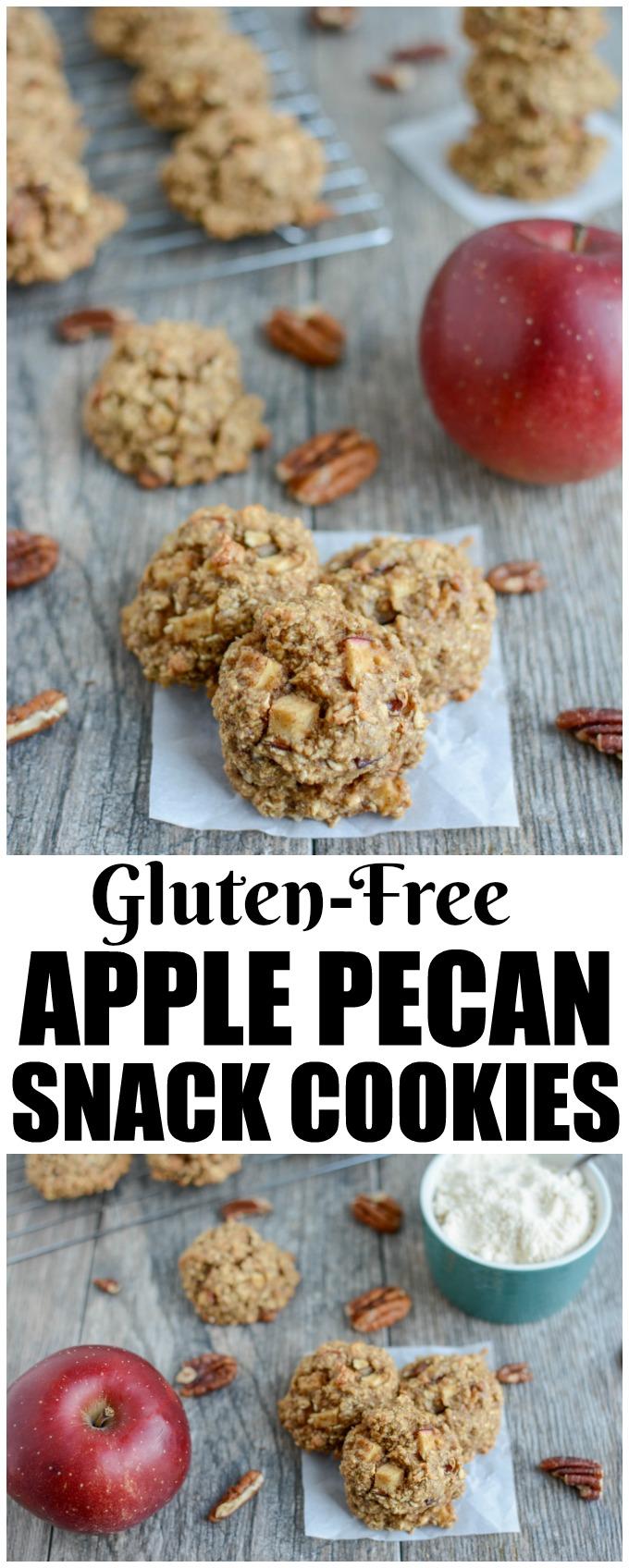 Try these Gluten-Free Apple Pecan Snack Cookies for breakfast, snack or dessert!
Click To Tweet
Be sure to check out Nuts.com for nuts, fruit, snack, cooking and baking and more!
Enjoy!
–Lindsay–