These Easy Pantry and Freezer Meals use staple ingredients, plus a few things that last a while in the fridge, to make simple, kid-friendly dinners.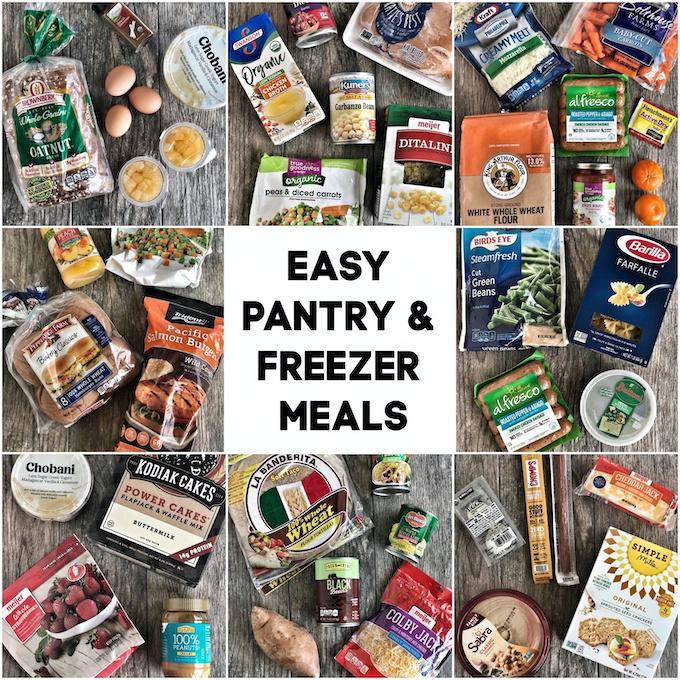 Hi friends!
I've gotten a lot of requests for easy pantry and freezer meals so I wanted to put together a post of simple ideas for you guys! I used ingredients from my pantry and freezer, along with a few things that last a while in the fridge like pre-packaged hard-boiled eggs, yogurt, carrots, cheese, pesto etc! For veggies I relied on vegetables that have a long shelf life in the pantry like potatoes, squash and onions, carrots in the fridge, plus frozen vegetables (canned vegetables also work!). For fruits, I tried to include things like apples and oranges that last a while, plus frozen and canned/packaged fruit.
Remember that these meals are flexible. You can easily swap in your favorite type of frozen vegetables, crackers, pasta, beans, frozen meat etc. I'm not sponsored by or endorsing any specific brands for this post. I took these photos using what I had on hand, without any special trips to the store because these are all actual meals I would make for my family, especially during this time when we might not be able to get to the grocery store as often as usual!
Easy Pantry and Freezer Meals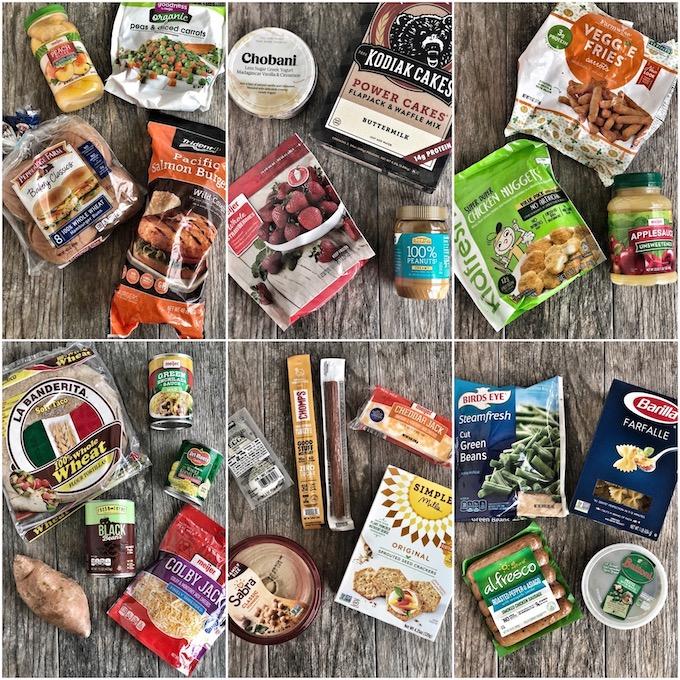 **The ideas in red do not have links. They're just general ideas!**
Burger + Fruit + Veggies

– Choose your favorite meat, fish or veggie burger and pair with steamed veggies and fruit

Pancakes + Smoothie

– Make pancakes from scratch or use your favorite mix. Pair with a yogurt-based smoothie and throw in some frozen fruits (and veggies like spinach, cauliflower or zucchini if you want!) and healthy fat like peanut butter

Chicken Nuggets + Veggie Fries + Applesauce

– Swap veggie fries for regular fries if you want and add an extra side of veggies

Sweet Potato & Black Bean Enchiladas

– Mix roasted sweet potatoes with black beans, corn and cheese. Spoon into tortillas and top with enchilada sauce and cheese before baking. If you have meat in your freezer you can cook and use that instead of sweet potatoes, or you could skip the tortillas and mix in some cooked quinoa, farro or rice and scoop with chips. You could also use canned chicken.

Snack Plate

– Make a plate with crackers, sliced cheese, meat sticks/pepperoni/smoked meats, hard-boiled eggs and hummus for everyone to share. Throw on some carrots and a side of fruit if you want!

Pesto Pasta + Chicken Sausage

– Cook the pasta, add sliced sausage and pesto and mix. Serve with steamed veggies.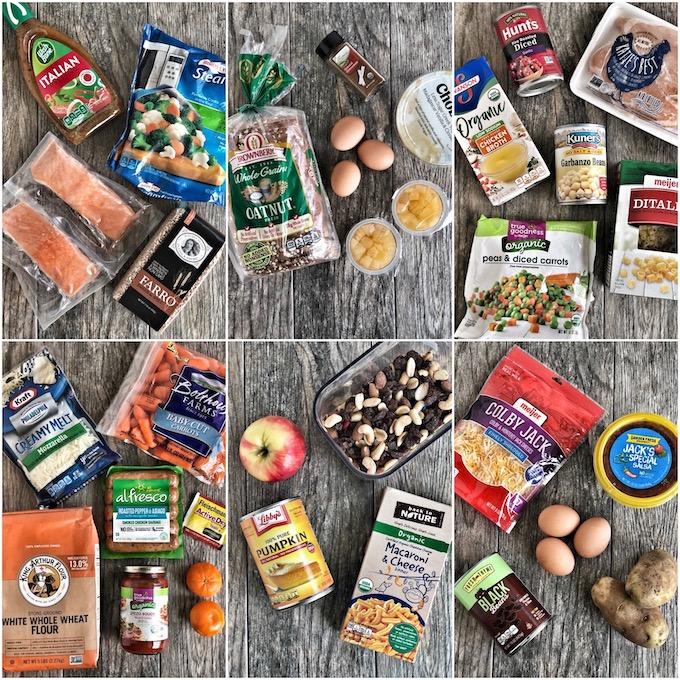 Italian Salmon + Farro + Veggies

– Drizzle salmon with dressing and bake. Serve with farro/rice/quinoa and your favorite veggies. If you have frozen broccoli or green beans etc you could roast them right on the pan with the salmon from frozen.

French Toast + Fruit + Yogurt

– Mix eggs, milk and cinnamon. Dip bread and cook on the stove or griddle. Serve with packaged fruit and yogurt. If you don't have yogurt, drizzle the french toast with peanut butter or add a handful of nuts to the plate!

Chicken & Chickpea Soup

– Cook chicken in a dutch oven with garlic, onion and some frozen veggies. Add a can of chickpeas and tomatoes, some broth and your favorite noodles. Make it vegetarian by leaving out the chicken or swap chickpeas for white beans if you prefer!

Sausage Pizza + Carrots + Oranges

– Make your own pizza dough. Top with pizza sauce, chicken sausage and cheese. Serve with carrots or another veggie and apple slices or clementines!

Pumpkin Mac & Cheese + Apples + Trailmix

– Make a box of mac and cheese but stir in some pumpkin. Or skip the pumpkin and throw in some peas.

Breakfast Hash

– Roast potatoes. Mix with black beans and scrambled eggs. Top with cheese and salsa.
And now here are some recipes already on the blog that can be made with little to no modification.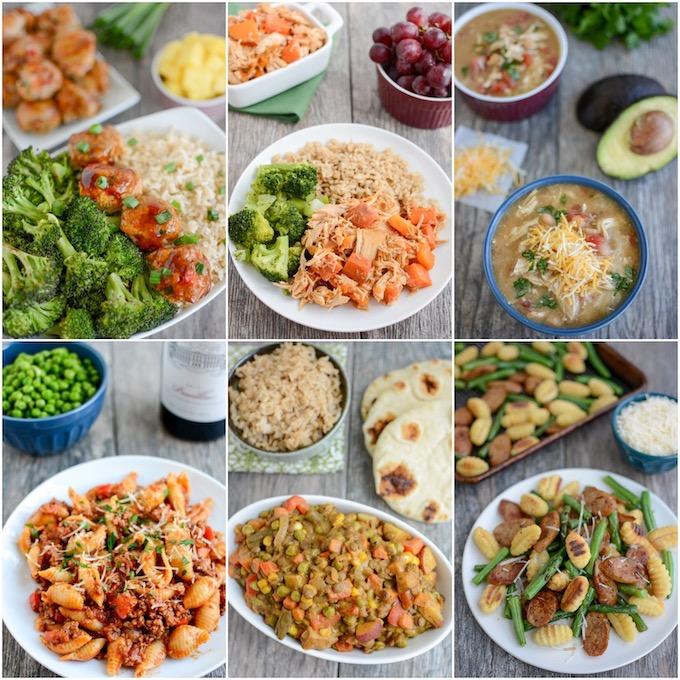 **click the recipe title to be taken to the recipe on the blog!**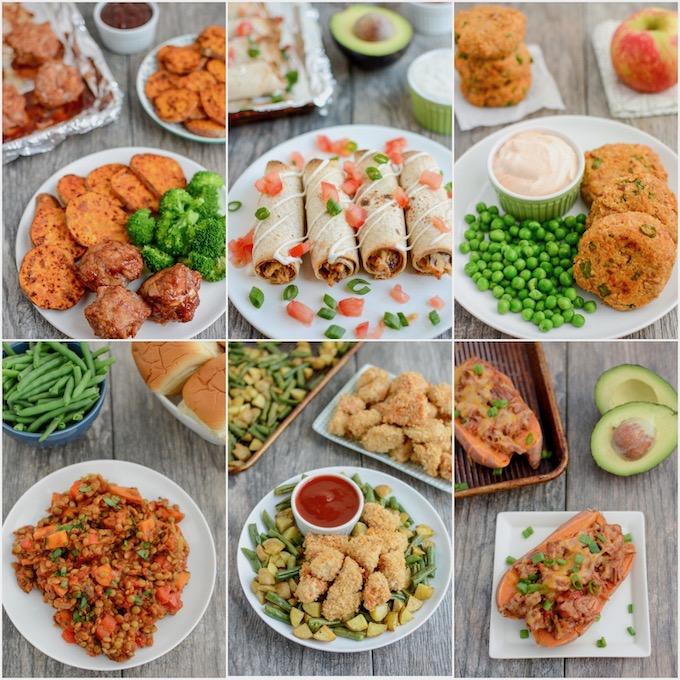 A couple of other ideas? Tuna casserole with egg noodles, frozen mixed veggies and a can of cream of mushroom soup or black bean nachos!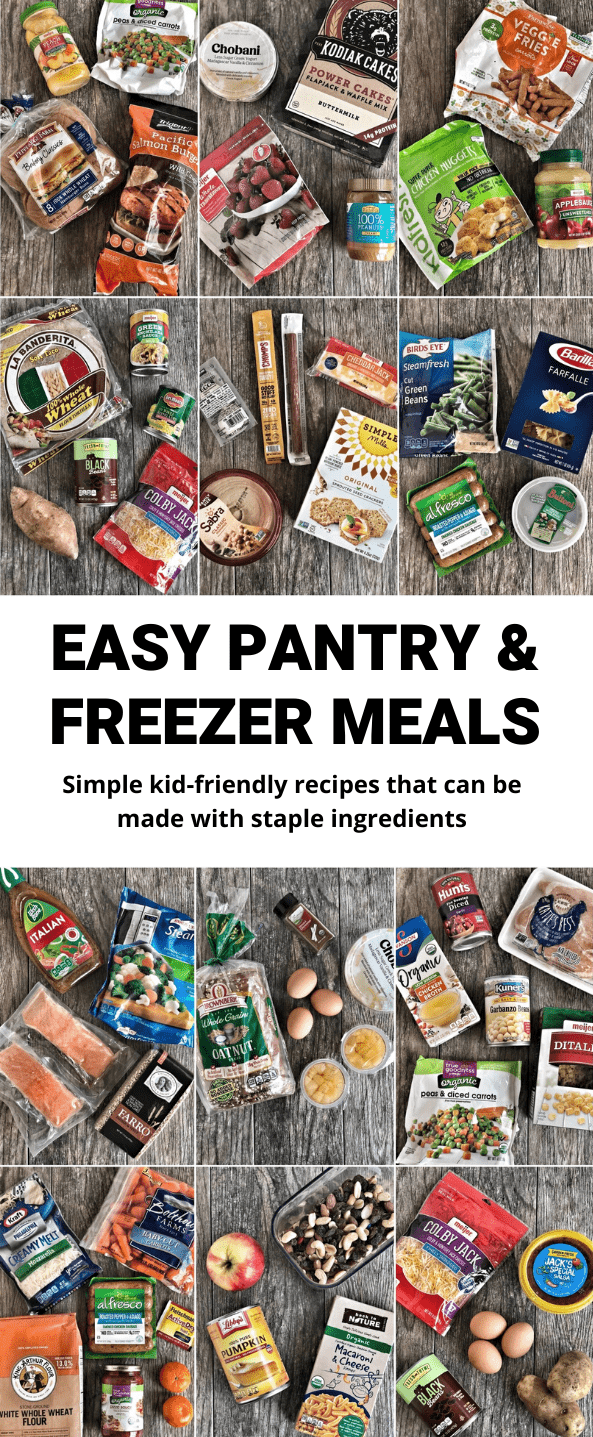 Hope this was helpful!
–Lindsay–
LEARN HOW FOOD AFFECTS YOUR BODY.
Get my free Table Talk email series where I share bite-sized nutrition information about carbs, protein, and fat, plus bonus information about snacks and sugar!