Hi Friends!
Just popping in for a quick recap of our latest Blog Smarter Twitter Chat! I'll share the questions, some answers from the participants and my own two cents!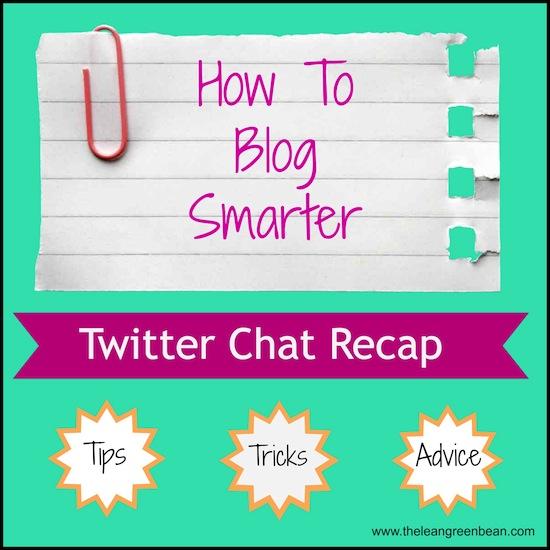 Question 1: How do you increase traffic and "fans" on your social media networks, like Twitter, Facebook, Instagram, Pinterest, etc.?
Use hashtags
Comment on other blogs
Engage as much as possible
Post valuable and relevant content
Host a challenge
Comment on and like photos on Instagram
Be genuine, different and consistent
Post content you'd like to read
Focus on quality interactions/conversations
Repin photos on Instagram
Pin your own posts on Pinterest
Join Twitter chats
My two cents:
Engage, engage, engage! Share posts you like, leave thoughtful comments on posts that resonate with you and write posts from the heart. Follow people on Twitter and Instagram who post content you enjoy. Share and retweet meaningful content on twitter, like and leave comments on Instagram.  Post interesting, exclusive content on your Facebook page to encourage people to like the page and post useful content that people might be inclined to share! On Pinterest, don't just pin your own stuff. Take the time to pin recipes/workouts/tutorials from other bloggers to spread the love.
Be you! You're most relatable when you're yourself. People know when you're putting on a show or trying to be someone you're not. Plus, you want them to like you for you, not for someone you're pretending to be!
—————–
Question 2: What are your thoughts on guest blogging? When should you agree to guest blog? When is it okay to say no?
Don't agree if you aren't comfortable with the topic
Pick something that you can add a new perspective to
Only on blogs that align with your brand
Guest bloggers can add a new perspective to your blog
Great way to reach new audiences and start conversations
Give the blogger freedom to choose the topic
Post for people if you already know and love their blog
Ask bloggers whose content you know will appeal to your readers but leave the post topic up to them
Question:  How do you decide if you know someone well enough to ask?
My two cents:
I think guest posts are a great way to keep new content on your blog when you get super busy or on vacation. When I need guest bloggers, I take some time to think about what blogs I've really enjoyed reading lately and which bloggers I think regularly feature content that my readers would enjoy. I've shied away from just stating that I need posts on Facebook or Twitter and opening the opportunity up to anyone because I like to have a bit more control. After I have my list of bloggers, I email them and ask if they're available, but always make it clear that it's not expected! Since I've been selective with who I'm asking, I usually give them pretty much free reign to write about whatever they want to…but I still ask them to run it by me before they start writing.
As far as being asked to write guest posts, I often accept if I'm asked by a blogger I have a good relationship with AND if I have the time and an idea. If I'm too busy, I don't have a problem saying no, because I'd rather write no post than a half-assed post. I often get emails from strangers/freelancers asking to write guest posts for my site and I politely decline.
If you want to write a guest post for someone, the best thing to do is ask. Take the time to form a relationship with them, then have an idea ready and let them know why you'd like to write a post for them. The worst they can say is no! 
In my opinion, there's nothing wrong with guest posts…but don't let them take over your blog. It's still your blog and you should be the main contributor. 
—————-
Question 3: What are some ways to encourage reader comments?
Ask questions at the end of posts
Respond to the comments you do get
Sometimes just writing from the heart is a great way to get comments
Ask questions that will allow all readers to learn from the responses
Don't feel like you HAVE to respond to every comment- instead of just saying thanks, comment another time when you have something meaningful to say
Write a good mix of different types of posts to keep things interesting and keep reader interested
My two cents:
I try to ask a question at the end of every post to engage readers. It usually relates to the post and prompts readers to share their opinions. One of my favorite things to do is ask people to leave me a link of a new recipe they've tried that week, a blog post they read that week that they really loved or a post of their own they have that relates to the subject matter of my post. It exposes me to new stuff and is also available for others reading the post to see as well! I also ask questions on my blog's Facebook page and on Twitter to get readers involved. 
—————-
Question 4: What tips do you have for hosting successful giveaways? What tools do you use?
Rafflecopter- free version does the job just fine
random.org
Choose quality > quantity
To promote- have people entering tweet about it, pin it, share it on facebook. PIN IT yourself! Share on Instagram
Think about whether you're getting real likes or people who just want free stuff
Don't be afraid to turn down giveaways that aren't a good fit
Make sure you actually stand behind what you are giving away and not just fishing for traffic. It can be very transparent!
Include some meaningful content other than just giveaway in the post to show your substance
My two cents:
I agree with a lot of what was said. I use Rafflecopter for my giveaways. It's super easy to set up and allows you to customize entries based on your giveaway. There's a lot of differing opinions about whether making a "facebook like" a giveaway entry is allowed based on their terms of service. I'm not really sure, so I opt to be cautious and never use FB in my giveaways…but I know there are others who do…it's just my personal preference. I also try not to make a crazy amount of giveaway entry options. To me, having more than 4-5 entry options is a little excessive…again, personal opinion.
I definitely agree that you should be selective with your giveaways. I turn down a lot of product reviews/giveaways because they're not the best fit for my blog. And don't go overboard with giveaways. That just gets annoying. 
————-
Question 5: What times of day have you found to be most effective for driving traffic to your blog? Does consistency matter?
Consistency is key
Morning and evening posts drive the most traffic
Share posts multiple times per day to hit different groups/time zones
Schedule posts the night before to be consistent
Promote some posts on Instagram, but not all
Think about other time zones
My two cents:
I post consistently every day of the week except Saturday and with very few exceptions, all my posts go live at midnight EST. I think my readers like the consistency. They know when to expect a post from me and when a new post will be published if they're waiting on a new recipe or post I've been talking about publishing. For me, I get more traffic if I have a new post waiting in the morning than I do if I post randomly in the afternoon. I've found that by posting at midnight, I can catch some of the west coast crowd before they go to bed and then the post is ready and waiting no matter how early the east coasters get up in the morning.
I share my posts on Twitter 2-3 times per day, usually morning, lunchtime and sometimes evening. I think this allows me to hit different time zones. I share my post once on my blog's FB page in the morning and some of my posts I share once on Instagram, but not all of them…typically if there's a good image in the post, ie a recipe, but not if it's just a weekly recap like Bean Bytes or Fitness Friday. I have a Pinterest board called Best of the Bean where I pin some of my posts that I think are Pinterest-worthy. This helps drive some traffic to my blog, but also let's people know that it's a recipe/post from my own blog. 
Based on some of the stuff I've read, it's best to post on Twitter and Facebook in the early afternoon for maximum exposure, but evenings and weekends are better for Pinterest.
—————
That's all friends! Hopefully some of this has been helpful to you!
In case you missed the previous two recaps, you can read them here for even more helpful advice:
Blog Smarter Twitter Chat Recap
Blog Smarter Twitter Chat Recap 2 
And a few other posts I've written that you might find helpful:
Things Blogging Has Taught Me
Things Blogging Has Taught me Part 2 
—————
Let's chat:
If you couldn't make the chat, pick a question or two from above and share your answers/tips/tricks!
Enjoy!
–Lindsay–
LEARN HOW FOOD AFFECTS YOUR BODY.
Get my free Table Talk email series where I share bite-sized nutrition information about carbs, protein, and fat, plus bonus information about snacks and sugar!