Hi Friends!
On Wednesday, we had the second Blog Smarter Twitter chat. Here's recap of the first one: Blog Smarter Twitter Chat Recap.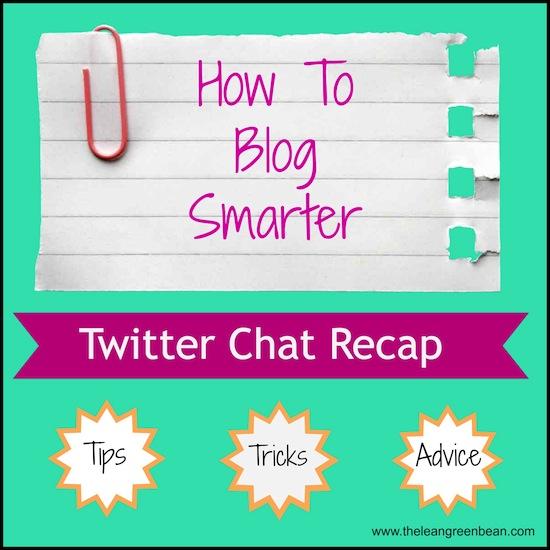 Just like we did last time, we're recapping it for those of you who couldn't make it. So much great info was shared! Here's what we talked about:
Q1: How do you protect your privacy and stay safe while blogging and using social media?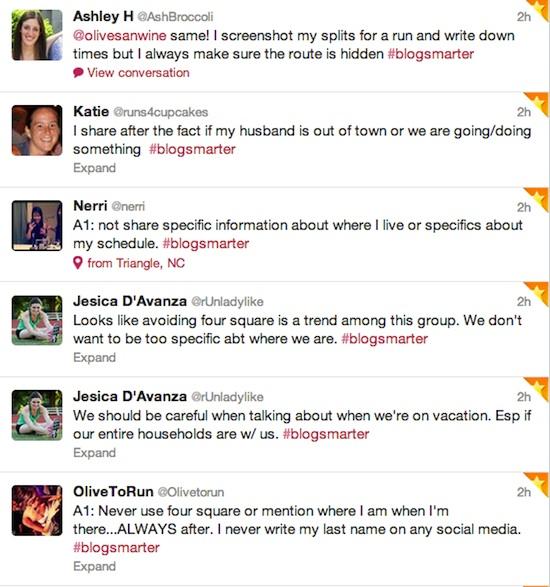 Here are some things you could consider doing:
Don't share photos that show maps of your running routes
Use nicknames for your family members, and even for yourself
Don't share personal information on your blog FB page
Avoid sharing your last name on your blog and social media
Share that you were out of town only after you return home
Keep your personal FB page separate from blog FB page
Avoid using Foursquare or check in as you're leaving, not when you arrive
Share the nearest big city to you, not actual city you live in
My two cents: I try to keep my last name off my blog and social media. I just use my last initial in my name on instagram and twitter. I call my husband hubby instead of referring to him by his first name. If he's out of town, I usually don't share that until after he returns. I don't use Foursquare or check-in to places and I say that I'm from Columbus, which is the nearest big city, instead of sharing the city I actually live in!
———————–
Q2: What tools do you use to create good audio and visual content for your blog?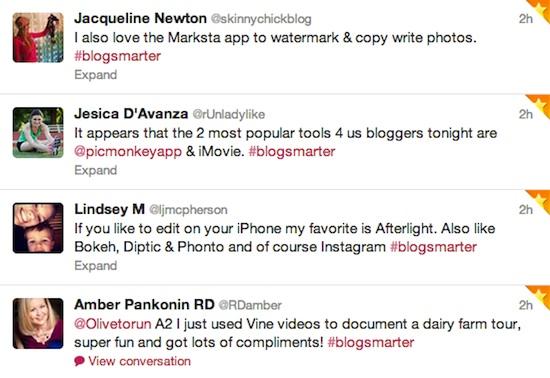 For photos:
Picmonkey– website
Snapseed App
Camera + App
Labelbox App
Diptic App (not free)
Picstitch App
Phonto App (not free)
Pixlr – website
For video:
My two cents: I LOVE picmonkey. I use it all the time. When I'm on my phone, I use diptic to make collages. It's not free, but there are plenty of free ones out there like Picstitch. I think Phonto is well worth the 99 cents. I use it fairly often. Labelbox is great if you want to block out some info in your pictures like a last name. I don't do a lot of videos on my blog, but when I do, I use iMovie, then publish it to my youtube channel and embed in a post. I use my iphone camera for 95% of the photos on my blog. Don't feel like you HAVE to spend a lot of money on a nice camera. A little editing can go a long way. However, I do have a nice Nikon that I love using…it's just not always as convenient to get it out. Focus on natural lighting whenever possible!
———————-
Q3: How do you avoid going overboard on self-promotion? How much is too much?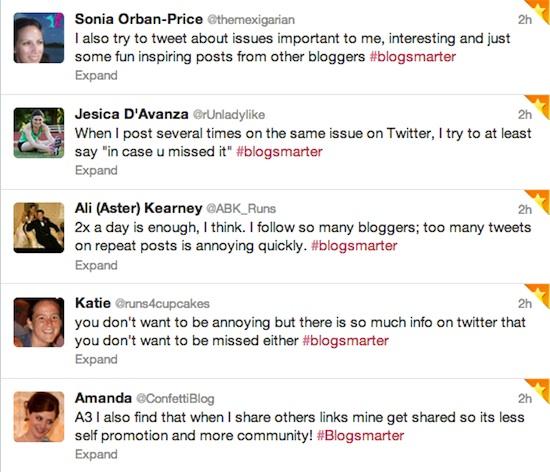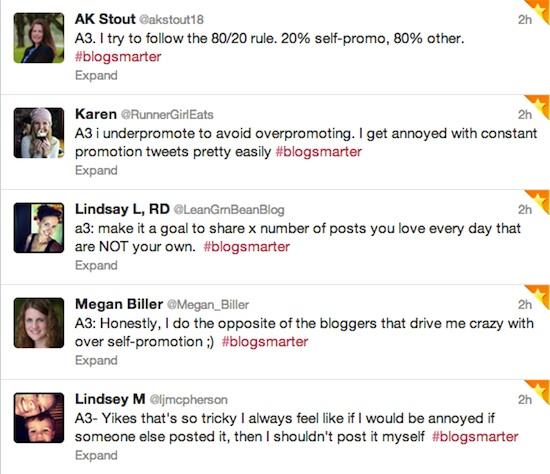 Here are some suggestions:
If you're tweeting your own post for a second time, include "in case you missed it" in the tweet
Limit the number of times you share your own posts (2-4x per day max)
Use the 80/20 rule- Share 80% other people's content, 20% your own
Share links to other people's posts and you may find yours getting shared more often
Set a goal to share x number of posts that aren't your own each day
Use multiple platforms to share
My two cents: I try not to share my own posts more than 4x per day on twitter: morning, noon, afternoon and evening in hopes that most people will see it at least one of those times. On facebook and instagram, I only share each of my posts once, and I try to do it at different times of the day, ie post to instagram in the morning and FB in the afternoon. Every morning I spend time using Buffer to schedule tweets and share other posts from others. I do the same thing in the afternoon/early evening.
————————
Q4: What's something you've seen & loved on a blog and want to know more about?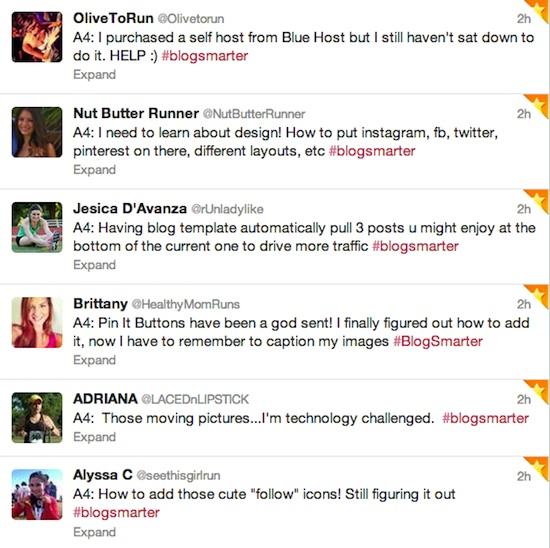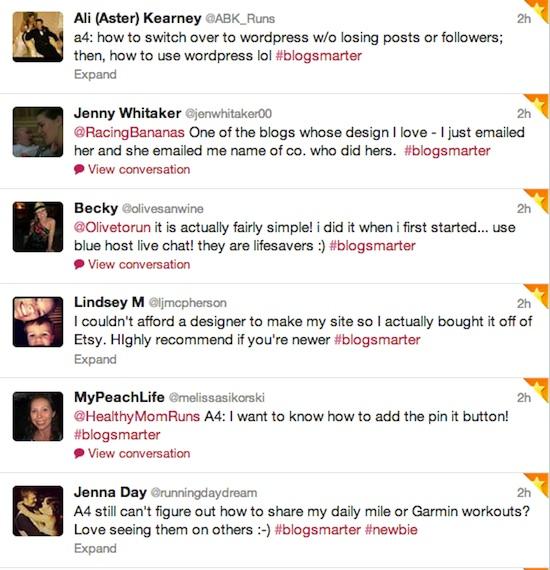 I did some research and here's what I came up with to help answer some of the most popular questions:
What is self-hosting and what are the benefits?
Basically self-hosting means you take control of your blog. You have control over your code, you can use different themes, you can install different plug-ins and you can improve your SEO which ultimately can bring you more traffic. It also gives you the opportunity to run ads on your blog through different ad networks and gives you more storage space. Some of the downsides include the annual costs you'll have to pay for hosting fees and the fact that you now have to worry about backing up your blog!
How do you switch to self-hosted?
Once you decide which host you're going to use (see question 5 below for some options) there are tons of tutorials out there that explain step-by-step what you need to do. Here's a great article on How to Launch a Self-Hosted WordPress Blog in 20 minutes. Depending on which host you choose, you should be able to find an article or video that shows you how to make the switch, like this one: Guide to Install WordPress on Dreamhost.
I use Dreamhost and have been very happy with them.
If you don't want to deal with it, you can always pay someone to make the switch for you. That's what I did. I used Rita at Blog Genie and I highly recommend her. You can also ask around on Twitter, etc. There are lots of bloggers out there that can help you make the switch for a reasonable price.
How do you switch from blogger to wordpress?
You can do it yourself…or you can pay someone else to do it. If you're going to do it yourself- Google it. Seriously. There are TONS of tutorials out there that will give you step-by-step instructions. Here are a couple very detailed posts:
Moving from blogger to wordpress- Part 2 (could help you decide whether or not you should switch)
Moving from blogger to wordpress- Part 3 (explains how to make the move)
Blogger to wordpress: How to make the switch
You could also pay someone to switch you from blogger to wordpress AND to self hosted all at once!
How do I get the hover-over Pin It Button?
If you're self-hosted, it's just a simple plug-in. The one I use is: Pinterest Pin It Button for Images. Just click Plugins on your sidebar, choose "add new", search "Pinterest Pin It Button for Images" and install!
How do you set up CommentLuv?
If you're self-hosted, it's just another plugin. Repeat the steps listed above except search CommentLuv.
How do you get the three related post suggestions to show up at the end of each post?
Same thing. Repeat the steps above, but search "linkwithin" (the one i use) or "nrelate" (another good one).
What plug-ins do you use to show your Instagram/FB/twitter feeds on your blog sidebars?
There are lots of them out there. Here are the ones I use:
Instagram: Try "Alpine PhotoTile for Instagram"
Twitter: Here's an article that tells you how to create a widget to display recent tweets (that's what i use- just create widget, then add!)…you can also search for a plug-in. If you see one on someone's blog that you like…just ask them what plug-in it is!
Facebook: To show a Like Box for your blogs FB page, try "Facebook Like Box"
How do you get the follow me icons?
Here's a video: How to add Follow Me icons to your wordpress blog
And here's how to do it without a plugin: How to add Follow Buttons without a plugin
——————
Q5: Got recommendations? Fav hosting company, designer, business card company? Let's hear it!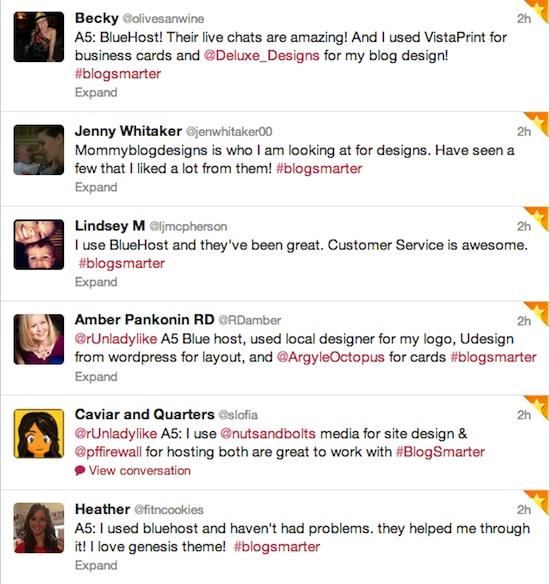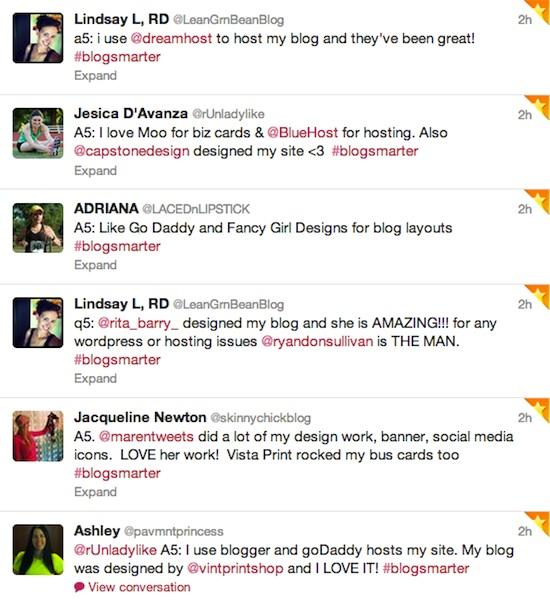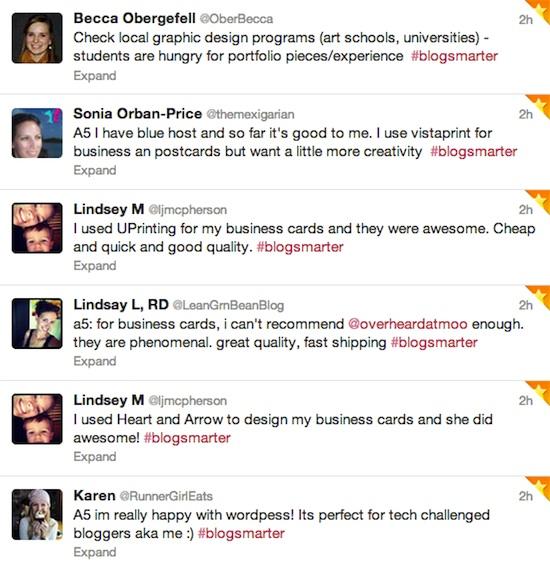 Here were some of the most popular:
Business cards: Moo.com, Vistaprint, Uprinting
Self-hosting: Dreamhost, Bluehost, Host gator, Go daddy
Design: Click the names to go to their sites: Heart and Arrow, Blog Genie, WP Site Care, Maren's Morsels, Fancy Girl Designs, VintPrint, Deluxe Designs, Mommy Blog Designs, Argyle Octopus, Nuts and Bolts Media, Julie Deneen, Etsy, local graphic designers/college students
My two cents: Like I said before…I used Rita at Blog Genie for my blog design. If I ever have problems with my host or wordpress in general, Ryan Sullivan at WP Site Care is AMAZING. For my business cards I use Moo.com. They're great quality, easy to make and always ship quickly.
Whew! World's longest post. Hope that helps!
Let's chat: If you missed this chat, feel free to leave your own answers to any of the questions above in the comments!
Enjoy!
–Lindsay–
LEARN HOW FOOD AFFECTS YOUR BODY.
Get my free Table Talk email series where I share bite-sized nutrition information about carbs, protein, and fat, plus bonus information about snacks and sugar!