Hi Friends-
No new recipes today…Today's post is straight from the heart (and a little long, sorry about that). Recently I've been doing a lot of work on my blog and it's got me thinking about some of the things I've learned over the last year and a half.
I thought I would share them with you guys in the rambly sort of way I do best, so here we go…in no particular order: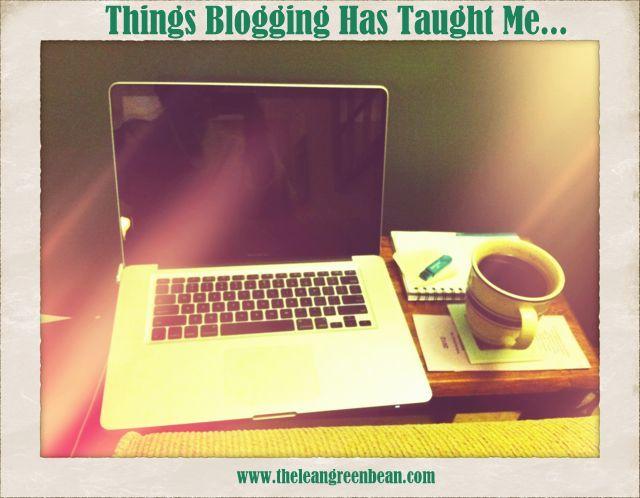 -Blogging is hard. It's hard to find several hours a day to devote to blog writing, reading, cooking and taking pictures. It's hard to constantly be creative and try to think of new things that you haven't blogged about, let alone anyone else. It's hard to be organized enough to line up guest posts or prep extra posts when you have a busy week coming up. But I make time and I put in the effort, because I love it.
-You could easily drown in the sea of social media if you let yourself. When I first started blogging, the only thing I worried about was publishing the post. Occasionally I'd share the link on my personal facebook page. That was it. Then I made a facebook page for my blog. Then I got a twitter account. Then I joined pinterest. And now, it feels like between stumble upon, posterous, tumblr, foodbuzz, youtube and others, that there are million other social media sites that I'm not even using…and quite frankly, I don't have time for all of them. So I choose to stay active on the social media sites I enjoy most, instead of stretching myself a million different directions and not enjoying any of them.
-You will get jealous of other bloggers Do I get jealous when a blogger gets their 98th picture accepted by Foodgawker while I can't get them to accept even one of mine? Yes! Or when someone makes it into the Foodbuzz Top 9 for the 10th day in a row? Absolutely. Or when someone gets the same number of pageviews in a day that I do in an entire month? Sure. But I've come a long way since I started blogging because I realized that it just doesn't matter. I can be happy for them and their successes, while still being proud of myself and the things I've accomplished. I can work really hard on a recipe or a post and just because it doesn't get a certain number of page views or pins or whatever, DOESN'T MEAN IT ISN'T AN AWESOME POST! If you find yourself being jealous of other bloggers, remember that somewhere, someone out there might be jealous of you and the amazing things you're doing!
-You don't have to do everything other bloggers are doing. On the food side- You don't have to spend 1 hour after you cook a meal taking pictures of it every single night. If you're not in the mood, snap a quick picture and dig in. Your blog can still be successful if you don't take amazing pictures. One the fitness side- You don't have to go out and run 20 miles every day to call yourself fitfluential, a runner or an athlete. If running 3 miles is hard for you, then every.single.time you run 3 miles, you should be proud of yourself because that is an accomplishment for YOU. Quit comparing yourself to others and start celebrating all the awesome things you can do.
-No one can make you feel inferior unless you let them. There is absolutely no reason why your 20 minute workout can't be considered just as good as someone else's 2 hours of running. I'll probably never run a marathon…let's be honest, I can't run more than 4 miles without a) feeling like i'm going to die and b) being just plain bored. I don't enjoy running long distances, so i'm not going to do it. I do enjoy putting together an amazing 20 minute circuit workout and calling it a day…so that's what I'm gonna do- And that's fine!
-You don't have to blog multiple times a day, or even every day to be successful. There are bloggers out there who religiously blog 3 times a day. And there's nothing wrong with that. It works for them…I admire their dedication and their ability to come up with that much stuff to talk about. And I read those blogs and love them…but I'll never be like them. AND THAT'S OK. It took me a long time, but i finally realized that I don't need to blog every day in order to keep my readers. In fact, sometimes I go three days without blogging, and guess what! NOTHING happens. People still read when I do post, they still comment, they're still there if I decide to put living life ahead of blogging. And just because I don't blog every day doesn't mean i'm not dedicated to my readers. Blogging is supposed to be fun! If I turn it into a chore/competition/requirement, then what's the point?
-Just because you're a food blogger doesn't mean you have to like all the same foods as everyone else. I don't like kale chips, or coconut water, or dates filled with peanut butter … And I don't have to pretend to like them just to fit in.
-Numbers don't have to matter I realize that some people blog to make money or as their full-time job…and to them, it probably does matter how many page views they get because for them, page views = pay check. And that's fine. But that's not me. Blogging is not really a source of income for me. Sure I make a little money here and there….like enough to treat myself to an extra frozen yogurt, or occasionally pay someone to do some behind the scenes techy stuff to my blog…but it's nothing life changing. AND THAT'S OK! When I first started blogging, I looked at my stats page every day. I let whether I had a lot of page views or not as many as normal control my mood. It stressed me out constantly and I was always feeling pressured to do something bigger and better. So I stopped looking. Quit cold turkey. Now I never look at my numbers unless I have to submit them to a company for an opportunity. And it was so freeing! I know not everyone takes this approach, and that many people will continue to check their numbers all the time…but for me, it works. It helps me keep myself in check and helps keep blogging what it's supposed to be- FUN. I blog because I want to, and it doesn't matter if there's one person reading my post every day, or one thousand.
*This doesn't mean I'm not interested in growing my blog, gaining readers or making improvements to my site…it just means that I've learned to not let the numbers dictate my feelings or rule my life!
SO, some of those things may have been viewed as blogging negatives, although I don't really think they are…but I wanted to also focus on some of the positives…
-The blogging community is the most inspirational & motivating group of people I've ever been a part of. I've never been surrounded by so many amazing people that share the same interests as me, get excited about the same things as I do or are as supportive as they are. If I'm lacking motivation to go work out, I turn to Twitter and am usually up off the couch within 5 minutes. If I don't know what to make for dinner, I just open my google reader and I usually have about 27 ideas by the time I'm done reading all the new blog posts. If I have an amazing workout and I tweet about it, I immediately have at least 5 people telling me what a good job I did or how awesome I am. It doesn't get any better than that.
-You can make good friends through blogging. Even though I've met very few bloggers in real life, there are several that I consider to be some of my best friends. I email them about life and they can relate. I text them when I'm stressed about school because they're going through the same thing. I send them packages on their birthday because I know it will make them smile. It's been an amazing way for me to find some new friends, which is something I never expected would happen when I started this blog. Embrace every opportunity. You never know when one will positively change your life for the better!
-After all your hard work, you will have something you can be proud to call your own. When I started my blog, I had no idea how long it would last, or how much a part of my life it would become. When I look back at some of my first posts, it's fun to see how much I've grown as a person, developed my identity as a blogger and gained confidence both in blogging and in life. And you know what? I'm freakin' proud of myself. I'm proud of how awesome my blog looks. I'm proud of how many hours of work I've put into blogging. I'm proud of myself for the times I've stepped outside my comfort zone. I'm proud of all the new foods I've tried. I'm proud that I've inspired other people to make healthier choices….
I'm proud of ME.
And if you can relate to this post at all, I hope you're proud of yourself too for all the amazing things you've done with your life! I hope you'll stop comparing yourself to others, stop trying to be someone else…and start to enjoy just being you!
Cheers!
–Lindsay–
Sunday's Workout: I seem to be in a running mood this week, but sometimes I like to break it up with a little break or two. I set out with the goal of running 3 miles total, one mile at a time. In between, I did three 4-min tabatas to give myself some active recovery!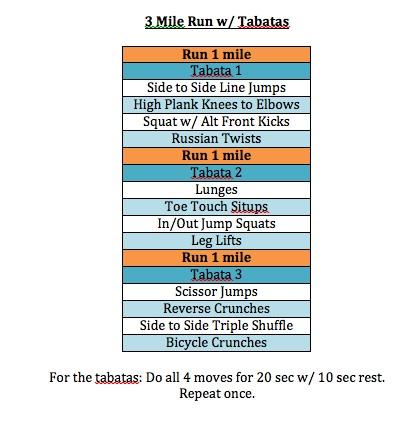 I ran the three miles in 27:52 (9:17 pace) and each Tabata took 4 minutes. I rested for 1 min after each Tabata. I set the treadmill at 6.5mph for each mile. It was tough, but not impossible. By the time I got halfway through the last mile, I wanted to take the speed down to 6.0 SO BADLY but I fought a mental battle with myself and told myself I could do it at the speed I was at, and I did!
Today's Workout:
Suddenly it was 11pm and I hadn't done my workout yet! After 2 days of cardio I decided to do some heavy weights w/ some of my fav arms & legs exercises.

For me, theses were heavier weights than I usually use to do my high rep circuit workouts so this was a challenge for me. I tried to pick a weight that I would really struggle with in the last set. This took me 20 minutes and I felt great
LEARN HOW FOOD AFFECTS YOUR BODY.
Get my free Table Talk email series where I share bite-sized nutrition information about carbs, protein, and fat, plus bonus information about snacks and sugar!