Hi Friends!
As you may recall, I co-moderated my first twitter chat on Wednesday night!
And guess what?! It was freakin' awesome. I even got put in twitter jail for a while for tweeting too much…but there was just so much good advice going around that I couldn't stop re-tweeting! Luckily it didn't happen until about 4 minutes before the chat ended so it wasn't too big of a deal. Plus my co-moderator Jes did an amazing job and the other two lovely brains behind this operation Cori and Elizabeth stepped right in to cover for me!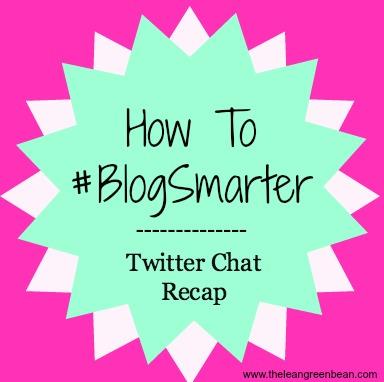 I know some of you wanted to make it to the chat but couldn't for various reasons so we've put together a little recap of what we talked about. I captured some of my favorite tweets for you guys, plus we compiled a list of responses from participants…and i'll threw in my own two cents for each question as well! Ready?
Question One : What do you think makes an effective & successful blog post?






To recap:
When a writer has a good personality
Willingness to show their flaws
Choosing topics that are relatable and/or inspire readers
Covering educational, interesting or even controversial topics
Engaging the readers
Using humor
An organized post with proper grammar and punctuation
Posts of a reasonable length
Honesty and sincerity
Letting your personality shine
My two cents: The most successful and effective posts, in my opinion, are ones that have a good mix of words and pictures, don't try to cover too many topics and serve a purpose. If you're posting just to post…to try to get pageviews…people will know. Wait until you have something worthwhile to share and then share it well. Don't write a 900 word post without any pictures to break it up or people will lose interest. Actually, don't write a 900 word post period. Most things I read say to try to keep most blog posts to about 500 words. Side note- I'm terrible at this. Mine are always long 🙂
Question Two: What do you think are the biggest mistakes people make when blogging? How can we be sure to avoid them?







To recap:
Avoiding the comparison trap.
Too many sponsored posts, giveaways or promotions
Posting just for the sake of posting
Writing posts that are too long, too wordy, too vague or don't have enough pictures
Including links that don't open in a new window
Pretending life is perfect all the time
Getting caught up in the numbers
Not proof-reading which often leads to multiple grammar issues
My two cents: Obsessing over your stats everyday doesn't do anyone any good. Check them occasionally if you have to, but don't let them dictate your mood. I had to quit looking at mine cold turkey because I was just getting way too obsessed. Now I only look at them if I have to send them to a company. Don't compare your day to day life to what you see other bloggers doing. Often, bloggers are just showing you the best of the best, not the mistakes and hard times. Don't let reading about someone else's life cause you to feel bad about yours. Live YOUR best life! Be selective about the number of sponsored posts and giveaways you do and choose the brands you work with wisely. Too much sponsored content is a total turn off for me!



Question Three: What do you think are the best ways to gain more readers and followers?




To recap:
Engage with your readers!
Comment on blogs you read and relate to
Get active on social media
Participate in twitter chats
Be responsive and supportive to your readers
Make it easy to comment on your blog
Promote other posts and bloggers you enjoy
Be authentic
Host a giveaway
Find your niche and embrace it
Don't just follow the crowd…be you!
My two cents: Read and follow blogs that you are interested in and can relate to. Comment on those blogs and share posts you like. Be active on social media. Choose a couple social media platforms and do those well. Don't try to spread yourself too thin trying to be active on them all. Interact with your readers. Ask questions and form relationships with them. Spread the love to other bloggers- it's not all about you. 
Question Four: Do you work w/ brands on your blog? What tips do you have for successfully working w/ brands & companies?





To recap:
Pick brands that you're proud to work with and represent
Make sure you set up clear expectations with that brand and there is a two way relationship- don't work for free and make sure they understand they cannot take advantage of you.
Be honest in your reviews. If you really don't like something, contact the company before writing a negative review.
Reach out via email or twitter
Just ask!
Share a business card- you can get them made at moo.com
My two cents: If there's a brand you want to work with, just ask them! The worst they can say is no. Do not, however, try to work with every single brand out there.  It can be hard to turn down free stuff or money, but it's worth it in the end if the product or brand isn't a good fit for you. Don't undervalue yourself. Don't work for brands for free. Make sure you're getting something out of it as well. Relationships with brands are a two way street!
Question Five- How do you juggle blogging w/ the other priorities in your life? What tips do you have for time management?








To recap:
Plan ahead but be flexible. 
Write on weekends or in your free time and put the finishing touches on later.
Carry around a notebook to write down ideas.
Get an editorial calendar widget to help you plan.
Treat it like a part-time job. Set your hours and stick to them.
Use buffer or hootsuite to schedule tweets and posts.
Use windows live writer if you have a PC.
My two cents: Set a schedule and stick to it! Don't let blogging and social media take over your life. Make time for relationships and other things in your life. Keep a constant list on your phone or on paper of blog post ideas so you have something to turn to when you experience writer's block. Use an editorial calendar so you can lay out post ideas and find a posting schedule that works for you. Use programs like buffer to help you schedule tweets throughout the day to help stay active on social media even when you're at work. 
We even had some brag time, where we asked participants to tell us one blog-related thing they've done that they're proud of:






That was the best part! So many awesome bloggers doing awesome things!
If you did participate and found yourself overwhelmed by the twitter chat, here's a great piece of advice from @ROJrunning:  Think of it like a party, you don't have to hear and reply to everyone. You can always go back and search the hashtag later!
That's all, friends! We're already planning the next #blogsmarter chat so stay tuned for the details! In the meantime, if you have questions you would like us to use in an upcoming chat…let me know!!
If you found this post helpful, you might also like these two posts:
Things Blogging Has Taught Me
Things Blogging Has Taught Me Part 2
Enjoy!
–Lindsay–
LEARN HOW FOOD AFFECTS YOUR BODY.
Get my free Table Talk email series where I share bite-sized nutrition information about carbs, protein, and fat, plus bonus information about snacks and sugar!