These Almond Flour Butter Cookies are made with just five simple ingredients and are so easy to make! The gluten-free recipe makes one dozen cookies – the perfect addition to your holiday cookie trays!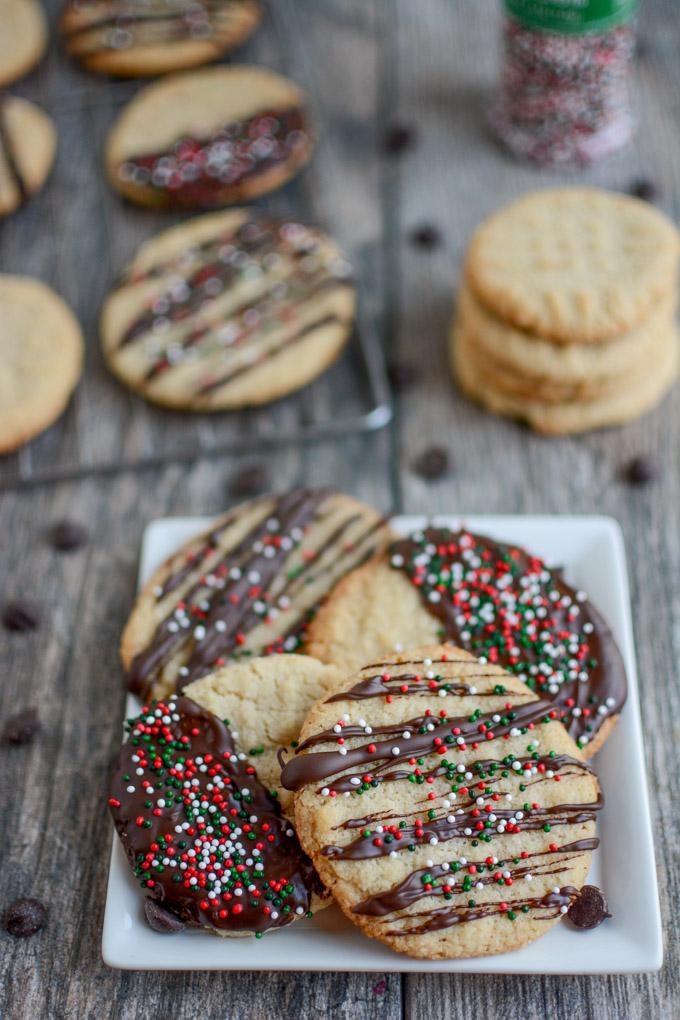 Originally published 11/18. Updated 11/22.
Hi friends!
I just couldn't wait any longer to share these almond flour cookies recipe with you. These are egg-free, gluten-free Almond Flour Butter Cookies! Aren't they just so festive for the holidays? These cookies would be the perfect addition to your holiday cookie trays this season.
They're so easy to make, require just 5 ingredients….plus some chocolate and sprinkles to make them festive if you want to…and the recipe makes only a dozen, so you can make a batch and still have room to whip up all your other holiday favorites as well.
If you need more ideas for homemade holiday treats to give as gifts, check out this post:
Homemade Edible Christmas Gift Ideas
---
Best Almond Flour Cookies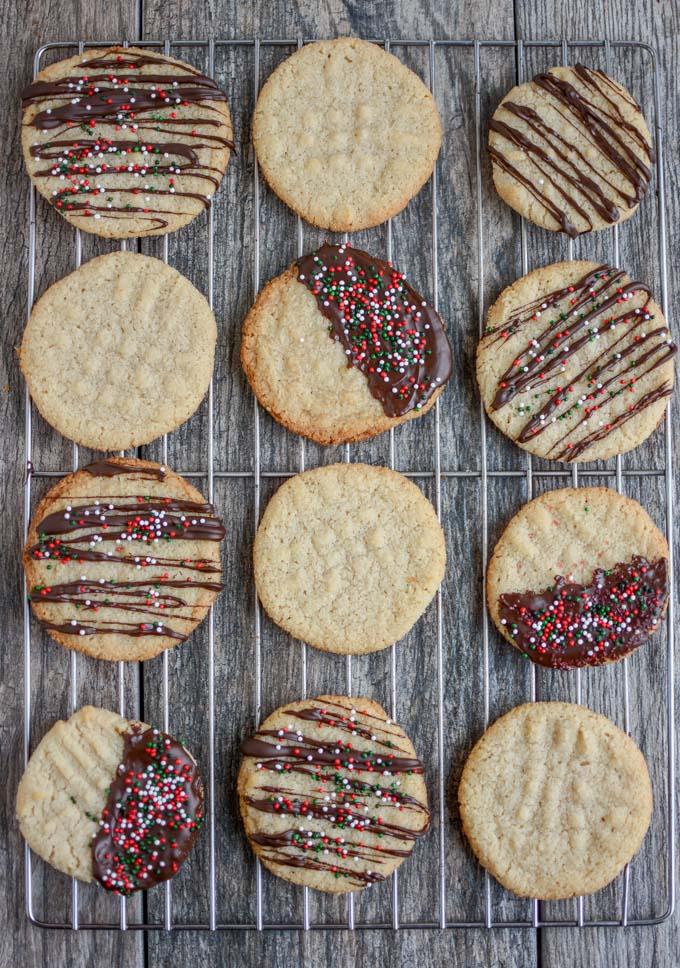 This post was originally sponsored by Bob's Red Mill. I love their Superfine Almond Flour because it is perfect for low-carb baking, which is helpful for my husband who has Type 1 diabetes. These almond flour cookies took a few tests but they turned out great!
Almond Flour Chocolate Chip Cookies
If you're looking for a more traditional chocolate chip cookie recipe made with almond flour, this probably isn't the one for you. These cookies are very tender and trying to mix in chocolate chip cookies might cause them to fall apart.
But you can still get your chocolate fix by melting some chocolate chips and drizzling them on top or even dipping the cookies into the melted chocolate! My go-to chocolate chip cookie that uses almond flour are these Chewy Gluten-Free Chocolate Chip Cookies.
Cookies with Almond Flour
There's no shortage of other recipes for cookies with almond flour. Add some of these to your baking list:
And these cookies don't have to be exclusive to the holidays! You can enjoy them year-round with a chocolate drizzle or just plain!
This recipe calls for softened butter and I've found in my testing that whatever your definition of softened is will impact how much these cookies spread so yours might come out the same size as mine or a little smaller.
Recipe for Almond Flour Butter Cookies
Print
Almond Flour Butter Cookies
These Almond Flour Butter Cookies are made with just five simple ingredients and are so easy to make! The gluten-free recipe makes one dozen cookies – the perfect addition to your holiday cookie trays!
Author: Lindsay
Yield:

one

dozen cookies

1

x
4 Tablespoons

unsalted butter, softened to room temp

1/4 cup

brown sugar

1/2 teaspoon

vanilla extract

1 cup

Bob's Red Mill Superfine Almond Flour

1/4 teaspoon

baking powder
pinch of salt
optional: chocolate chips and sprinkles for decorating
Instructions
Preheat oven to 350 degrees F.
In a mixing bowl, beat softened butter, brown sugar and vanilla using an electric mixer for one minute.
Add almond flour, baking powder and salt and mix just until a crumbly dough forms.
Press dough firmly into a Tablespoon and place onto a baking tray.
Flatten each cookie using the tines of a fork to make a criss-cross pattern.
Bake at 350 degrees F for 9-10 minutes. Let sit for at least 10 minutes on baking tray before transferring to a cooling rack. These cookies are fragile.
Let cool completely, then drizzle with melted chocolate chips and sprinkles if desired.
Notes
How soft your butter is will impact how much your cookies spread out. I've found it works best to let the butter come to soft at room temperature on it's own versus microwaving to soften.
See what I mean? So so easy and delicious.
Almond Flour Butter Cookies FAQs
What is blanched almond flour?
Blanched just means the skin has been removed from the almonds. This can change the texture of the almond flour vs leaving the skin on.
Is this an almond flour shortbread cookie?
These are butter cookies, not shortbread cookies. The main difference between the two is that butter cookies typically have more sugar while shortbread cookies typically have a higher fat content.
What is the best almond flour?
This will depend on who you ask but my favorite is Bob's Red Mill Superfine Almond Flour. I also like Blue Diamond Almond Flour.
What is the secret to baking with almond flour?
A few helpful tips include:
Use eggs as the leavening agent to help make almond flour baked goods not so dense.
Don't overmix.
Consider lowering the oven temp by 25 degrees F when substituting almond flour.
Why do my almond flour cookies fall apart?
It's often best to use almond flour in recipes specifically created for almond flour. Almond flour has more fat, protein and moisture than wheat flour and this can lead to baked goods being crumbly and falling apart. In general, some kind of extra binding ingredient is needed. It helps to let the baked goods cool completely before handling.
Can you bake with almond flour just like regular flour?
This depends on the recipe. In many recipes you can substitute in a 1:1 ratio, some you may use 3/4 cup almond flour for every 1 cup flour. However, almond flour is gluten-free and does not bind as well as regular wheat-based flour. You may need to add additional eggs to act as a binder.
---
Almond Flour Christmas Cookies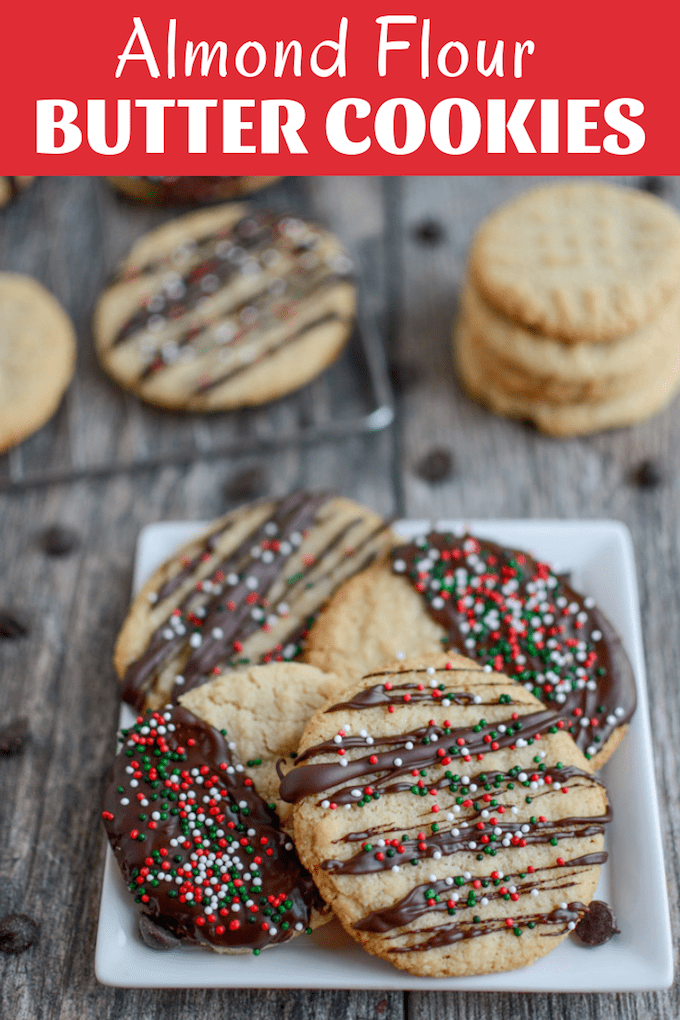 ---
Almond Flour Cookies
Looking for more almond flour cookies to try? Here are a few:
Be sure to let me know if you try these! I'd love to hear what you think!!
Enjoy!
–Lindsay–
LEARN HOW FOOD AFFECTS YOUR BODY.
Get my free Table Talk email series where I share bite-sized nutrition information about carbs, protein, and fat, plus bonus information about snacks and sugar!